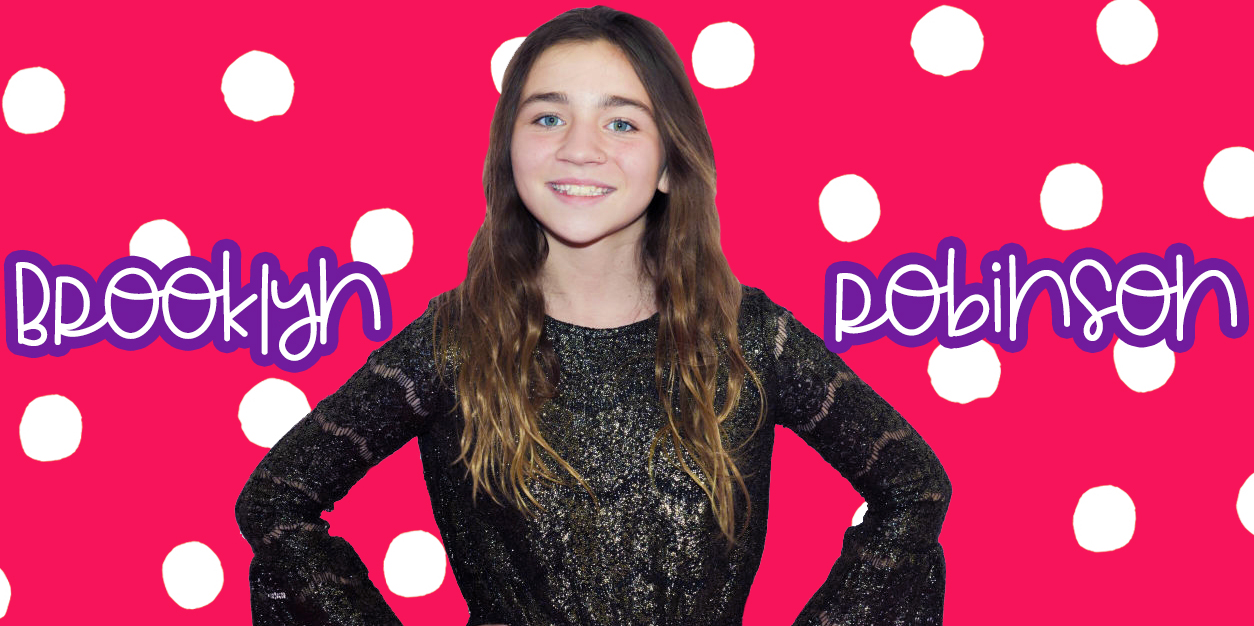 Brooklyn Robinson Shares Her Favorite Roles and Her Interest in Animal Science
Brooklyn Robinson has been acting since she was five years old. Since then, she's appeared in commercials for Skittles and Party City, shows like Modern Family, and quite a few movies that have appeared at the Sundance Film Festival.
When she's not acting, Brooklyn loves to go swimming, head to Disneyland with her family and friends, and can almost always be seen sporting a JoJo bow, even on the red carpet. If you follow Brooklyn on Instagram, you'll see that her heart is just as big as her talent. She spends much of her time attending charity events and helping others at the LA Mission.
Get to know Brooklyn as she shares her love of animal science, her favorite roles, and what she'd do on a perfect day!
Get to Know Brooklyn Robinson:
How did you first discover your interest in acting and how did you get your start?

BROOKLYN ROBINSON: My mom and brother are also actors, so it runs in the family! My first job was a Party City commercial when I was 5, and I was hooked! I then booked a pilot for a TV show in NYC.

What do you love most about acting?

BROOKLYN: I love being on set and getting to be a storyteller. I also love watching myself on TV and on the big screen.

What is your favorite role you've taken on so far and why? Do you have any upcoming projects you're excited about?

BROOKLYN: One of my favorite roles so far has to be Shasta on Sundance Film Festival's Pineapple. It was so cool to film on location, and I got to hold a real life chicken for the first time. Also, I worked with John Cena once on a commercial! It was also amazing to appear on Modern Family. I also loved working with a Sloth on Disney. There's just too many to name! I love them all. I am very excited for my upcoming project Ministry of Truth to air on Sundance Channel.
We saw on Instagram that you went to the Boys of Summer tour! Who were you most excited to see? What was the best part?

BROOKLYN: The Boys of Summer tour was soo cool! Of course, I loved seeing Mackenzie Sol. I also ran into several other guys my brother and I know there as well! The best part was the energy of the venue.

Since it's back to school season, we were curious – what is your favorite subject?

BROOKLYN: I love Science! I am, especially into Animal Science. I spend my summers at the LA Zoo learning about the different animals.

What are some of your favorite apps on your phone?

BROOKLYN: YouTube, Instagram, and Netflix.
If you were planning the perfect day, what are a few things you would do?

BROOKLYN: My perfect day would be waking up super early and going to Disneyland before rope drop. Getting on all the rides without waiting would be amazing! Also, I would love to end that day in an arcade with claw machines and those coin pusher machines.

What is a goal or dream you have for the future?

BROOKLYN: For the future, I want to continue acting and giving back to the community with charity work. Also, I absolutely love Betty White. I admire her work on the behalf of animals and at the LA Zoo. It's a dream of mine to follow in her footsteps.

What is something you are super passionate about?

BROOKLYN: I love volunteering at the Los Angeles Mission. Being able to help and make a small impact on others lives is amazing.

Would you like to share any words of wisdom with your fans?

BROOKLYN: Be the best you that you can be! Be kind and have fun!
Now that you know Brooklyn Robinson, get to know her brother Bryson!