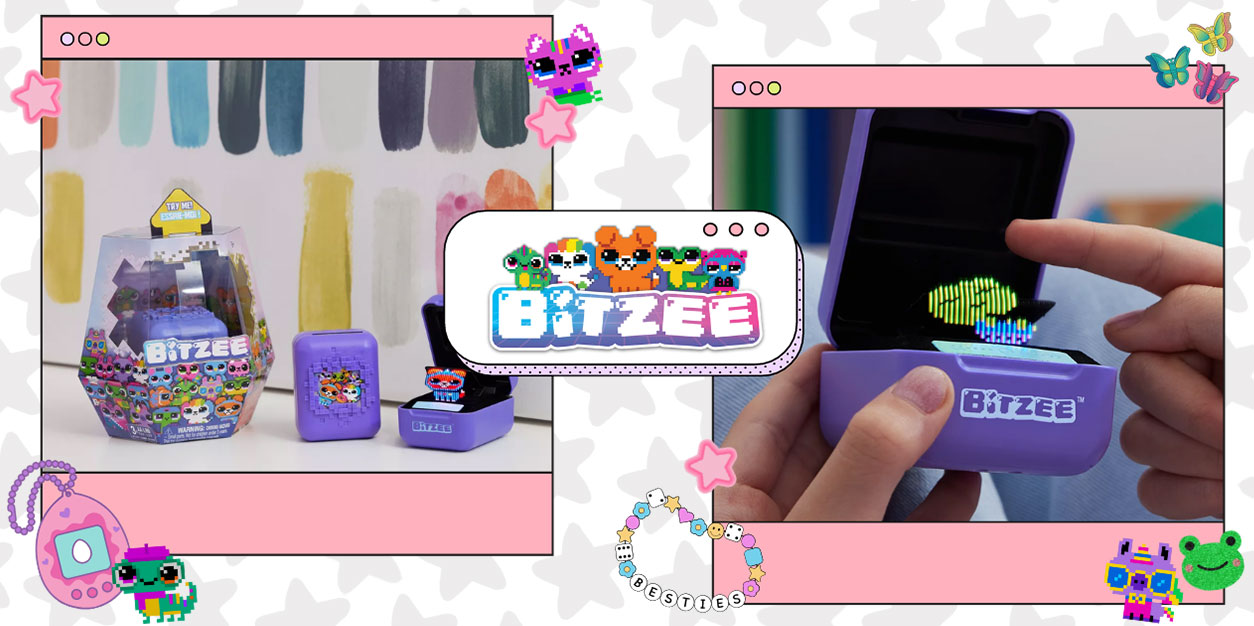 Break Out of the Box with Bitzee
Raised on virtual pets, we've cared for more digital creatures than you can imagine. Since getting our hands on the first Gen 1 pink and yellow Tamagotchi back in the day, we've been fascinated by tiny virtual creatures. That's why when we heard about Bitzee, Spin Master's latest release flipping the script on what a virtual pet can be, we raced to get our hands on one ASAP.
You know them as the masterminds behind Hatchimals and Purse Pets, two standout sensations in the space, so it's safe to say they know a thing or two about bringing digital creatures to life, and their newest creation, Bitzee, is their most innovative idea yet. Bitzee is unlike any virtual pet you've ever seen – or touched! At first glance, it just looks like a small purple box, but once you open it up, there's pure magic waiting for you inside.
Want to know what it's like to care for Bitzee and why you'll be racing to the store this August to snag one of these must-have digital friends? We went hands-on with Bitzee to give you all the deets!
Here's Why You'll Love Bitzee: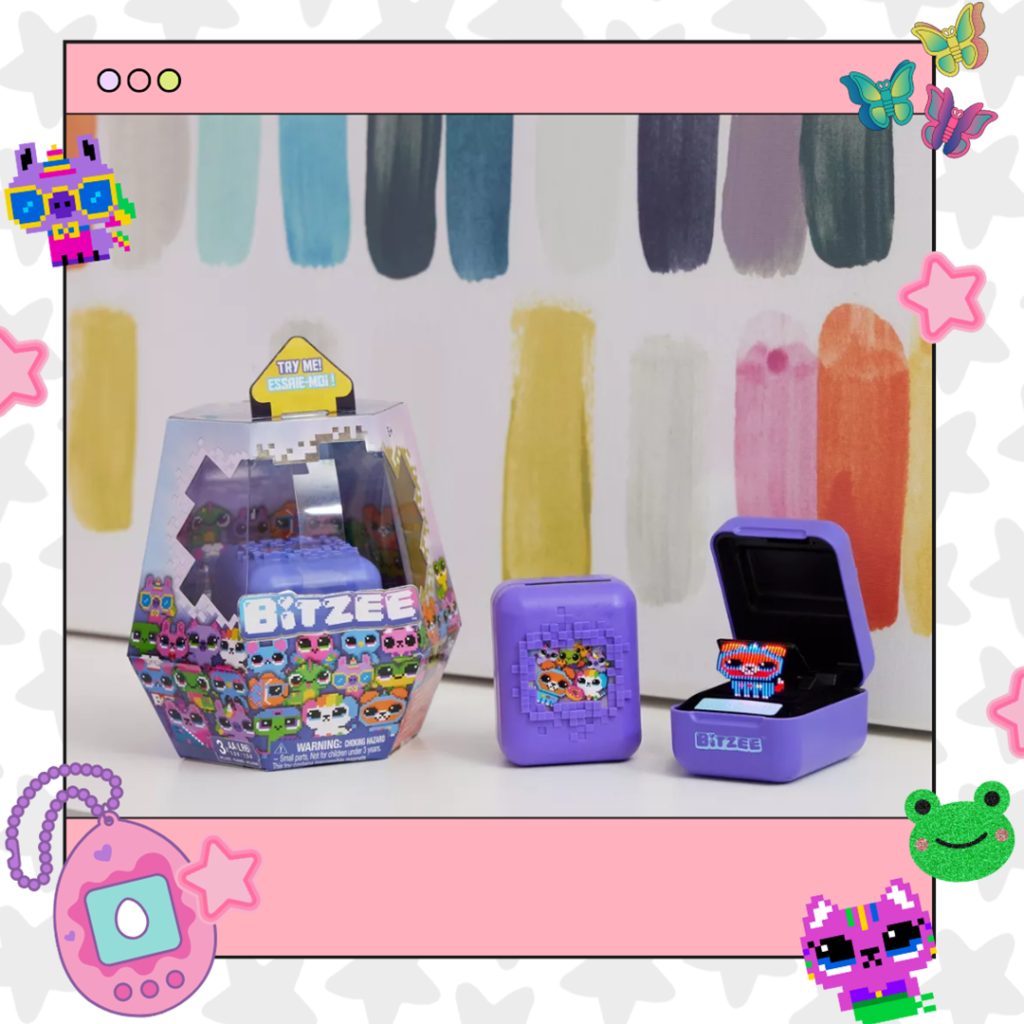 Feels Like Magic:
Our first observation? Bitzee stands out from the crowd! Nestled safely inside a purple pod the size of a ring box, Bitzee comes to life when you lift the lid. Through dazzling LEDs and unbelievably cool tech, your Bitzee floats right in front of you!
Our first instinct was to reach out and touch it, which is its most unique feature – unlike other virtual pets stuck on a screen, you can actually pet Bitzee – and it responds to your touch!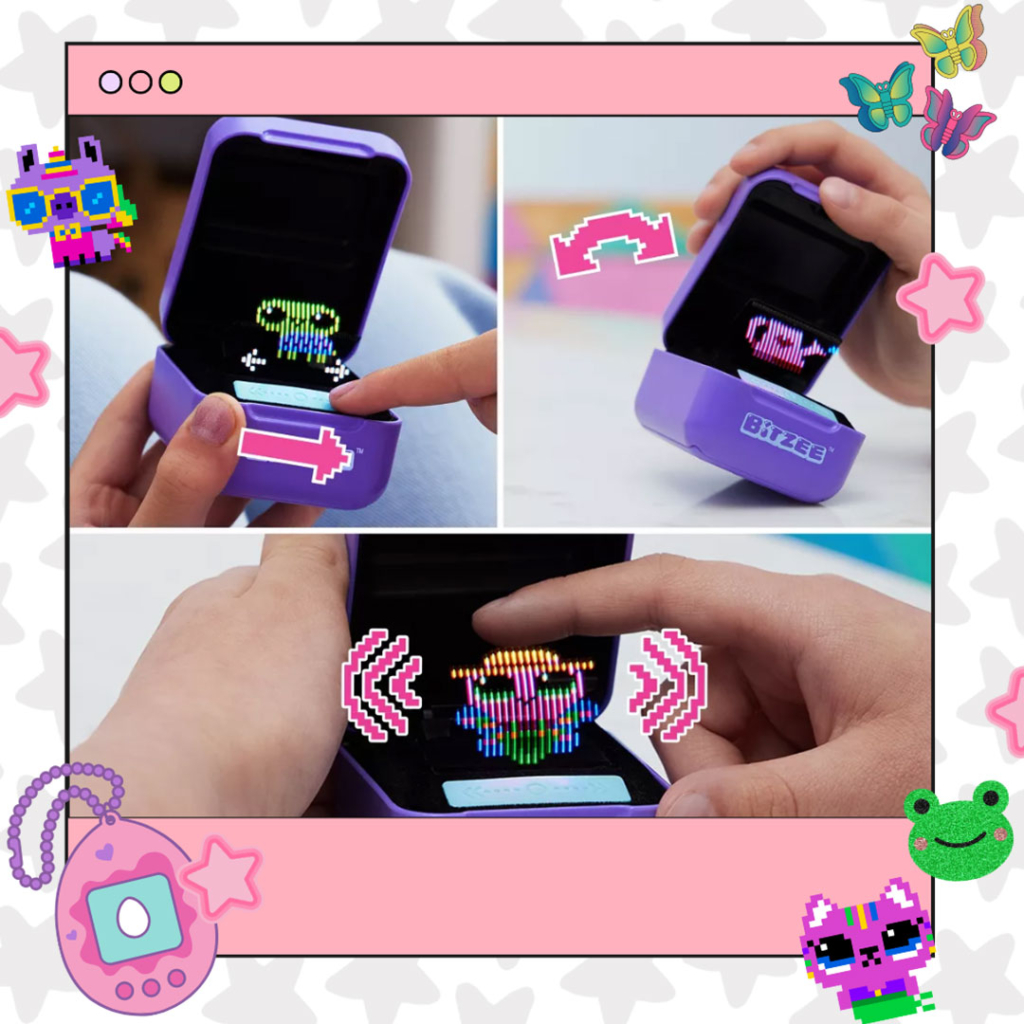 Adorable Fun:
Bitzee reacts to everything you do, and with each interaction, their love grows. As we completed each pet, swipe, tilt, and shake, we were always eager to see what Bitzee would do next. Tilt it back to watch it roll, rock it back and forth to make it sleepy, or swipe through the menu to feed it a snack. With vibrant 8-bit graphics that pop off the screen and silly sound effects, we felt super engaged as we nurtured our new animal friend. Bitzee truly feels alive in the palm of your hand.
You can play with your pet anytime, but if you hear a typing sound and see a message bubble, there's something specific your Bitzee needs. Respond to their requests by giving them what they ask for and fill up their heart meter – but be sure not to ignore them, or they might run away! (Don't worry, though, they'll always return home if you share their favorite treat.)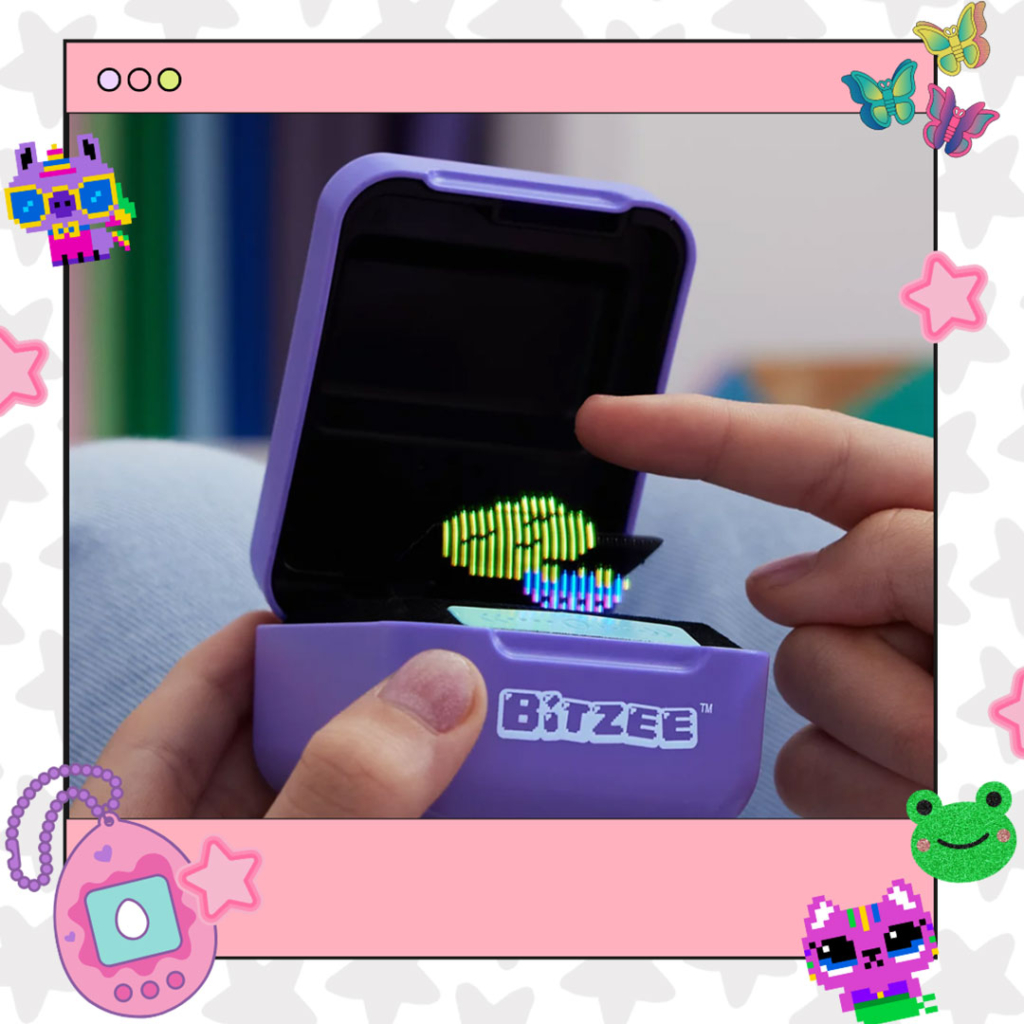 So Many to Collect:
Each Bitzee device starts out as a playful pixelated pup. While you play together, they'll grow from baby to adult to Super Bitzee, a leveled-up version rocking an adorable outfit. The Super Bitzee version of each creature unlocks a unique game you can play together, making it irresistible to try to collect them all! Party with your unicorn, surf alongside your goldfish, garden with your butterfly, and perform magic tricks with your rabbit.
As you level up, you'll receive treats in your treat jar that help you unlock the other collectible creatures. Unlock everything from snails and butterflies, to geckos and poodles, and switch between your squad whenever you like. Our first find was an adorable hedgehog we couldn't wait to take care of. We also unlocked a kitty and a bunny.
There are 15 different pets to collect, and every device is capable of collecting them all, including the legendary Mercat and Unicorn, which are trickier to find! You never know which one you'll get next, making each time you play with your Bitzee feel like a big surprise!
✨READ THESE NEXT👇🏼:
✨SNACK TIME: Discover which summer treat you should snack on this summer – take the quiz!
💖SUMMER GIVEAWAY: WIN a copy of Lolo Weaver Swims Upstream to stash in your beach tote for summer reading!
✨COOL FINDS: Our HEART EYES series is filled with must-have finds that you're sure to swoon over!