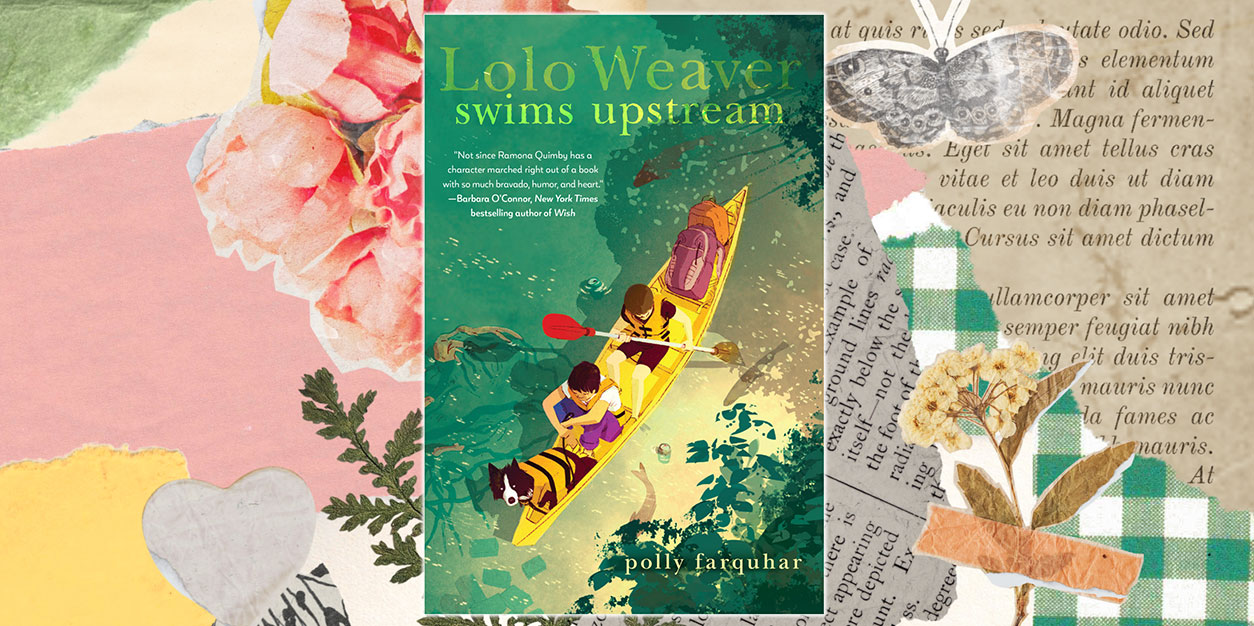 3 Life Lessons We Learned from Lolo Weaver Swims Upstream + GIVEAWAY!
NOTE: This post is sponsored by Holiday House.
If you're looking for a new book for road-trip reading, stashing in your beach bag, or just unwinding after a night of s'mores and firefly chasing, we have the perfect pick! Lolo Weaver Swims Upstream by Polly Farquhar.
This book feels like summer. As you turn each page, you can feel the muggy, humid air as Lolo walks through her lakeside town with her friends, the way the day drags on during summer school, and the laid-back vibe of summer break. Lolo isn't having the best summer, though, and it shows. She's dealing with a lot – from the loss of her grandfather, his beloved dog Hank being sent to a foster home, her mom being in the hospital, and always second-guessing if she's ever doing the right thing. Lolo is having a hard time, and things just don't feel the same as they used to.
Even her town feels empty. Her once thriving lakeside town used to be overflowing with summer tourists, but this year, the lake is drained, the stores are empty, and the families who rely on that summer business are struggling to get by.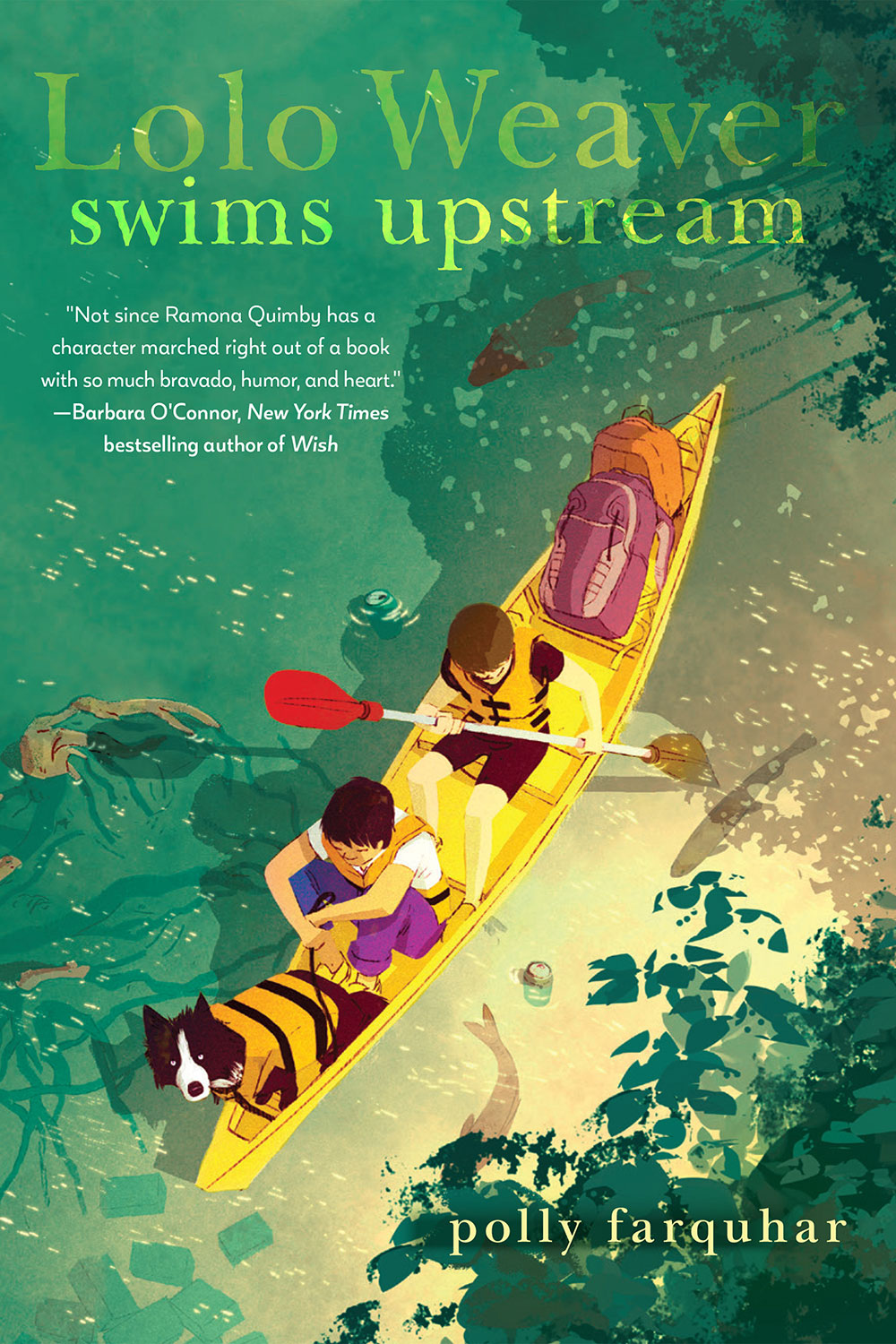 "Not since Ramona Quimby has a character marched right out of a book with so much bravado, humor, and heart."—Barbara O'Connor, New York Times bestselling author of Wish
A headstrong girl's quest to steal back her family's dog goes awry in this humorous and compassionate novel.
Lolo is stuck in summer school with a teacher who is out to get her while her family is still reeling from her grandfather's death. Even his dog is mourning, howling outside all night and every night. Finally, lovable old Hank is sent to a farm across the lake that takes foster dogs.
And it's all Lolo's fault.
Lolo knows she has to get Hank back. In a tippy canoe, Lolo crosses the almost-dried-out lake to steal her dog back. But she runs into Noah, a student in her summer school class and Hank's new owner—and he loves Hank as much as she does.
As Lolo's plan unravels and her uneasy alliance with Noah grows into a friendship, the question of what's best for Hank becomes muddier. Can Lolo manage to do the right thing—for once?
Itch author Polly Farquhar returns to Ohio with a tale of a big-hearted girl searching for answers to tough questions in all the wrong places. Fans of Gary Schmidt will love Farquhar's blend of honesty, humor, and heart.
Lolo Weaver Swims Upstream
AUTHOR: Polly Farquhar
PUBLISHER: Holiday House
DATE: April 25, 2023
With a little sister on the way, Lolo is looking for a way to prove to everyone, but mostly herself, that she'll be a great older sister and remind her grandma about how good things used to be. Feeling guilty that Hank was sent to live with another family, Lolo decides that the best way to make things feel normal again is to jump in her grandfather's yellow canoe and make her way across the lake to bring the dog back. But when her rescue mission gets out of control and her plans go awry, will Lolo be able to do the right thing?
Lolo is such a relatable character, and anyone who's ever felt a little out of place will find comfort in miss Willow Weaver. Today we're dishing on all the life lessons we learned from Lolo while reading Lolo Weaver Swims Upstream. Plus, we teamed up with Holiday House to give ONE lucky winner a chance to WIN a prize pack inspired by this heartwarming story and Lolo's summer adventures.
Ready to enter? Grab your favorite adult and have them enter below for your chance to WIN!
Life Lessons We Learned from Lolo Weaver Swims Upstream:
Lesson #1 – You're Braver Than You Think:
Lolo spends so much of the story believing that she isn't brave. It even prevents her from sharing her feelings in her summer school journal prompts because she feels like she has nothing to say. But it couldn't be further from the truth – Lolo shows bravery in so many ways, whether she realizes it or not, and we're betting you do too.
From having the courage to go after what she wants to navigating her grief while everything feels so different, our girl Lolo has so much inner strength. She's independent, courageous, and truly unique. She may not always do the exact right thing, but she does things her own way – and that's about as brave as you can get!
If you're feeling a little like Lolo, take a little time to reflect on why. We think you'll find that you're braver than you think and even the tiniest acts of courage, like standing up for what you believe in or asking for help when you need it, are all a part of being brave.
Lesson #2 – Growing Up is Tough:
When we meet Lolo, she's grieving, stuck in summer school, and feels like no one really understands her. To make matters worse, she's blaming herself for her grandfather's dog being sent away.
The truth is Lolo has a big heart, but she doesn't always know how to show it. She's sad because she loved her grandfather and her dog. She's scared she won't be a role model for the new baby. She feels she's not good enough because she's stuck in summer school. She's really going through it – something we can all relate to.
It isn't until Lolo realizes that it's okay to feel sad and that it's okay to lean on others for help that she truly starts to thrive. That's the best lesson we think you can learn from this book – your feelings are valid, you're never alone, and you can always learn from your mistakes.
Lesson #3 – People Can Surprise You:
Lolo loves her friends Ivy and Eddie, but it isn't until she meets Noah, the boy from across the lake whose family adopted Hank, that she finds the connection she didn't even realize she's been missing. The thing is, she didn't even like him at first! Bonded through the highs and lows of their adventure together, Lolo finds a true friend – and is so glad she did! She also realizes that maybe people, even strict summer school teachers, can surprise you when you least expect it.
The lesson here? Be open to letting people surprise you. Invite the new kid to sit with you at lunch. Strike up a convo with the kid on your block who's always riding their bike. Swap your usual lab partner for someone you've never worked with before. Opening your heart to new friends can lead to endless possibilities!
Lolo Weaver Swims Upstream Giveaway: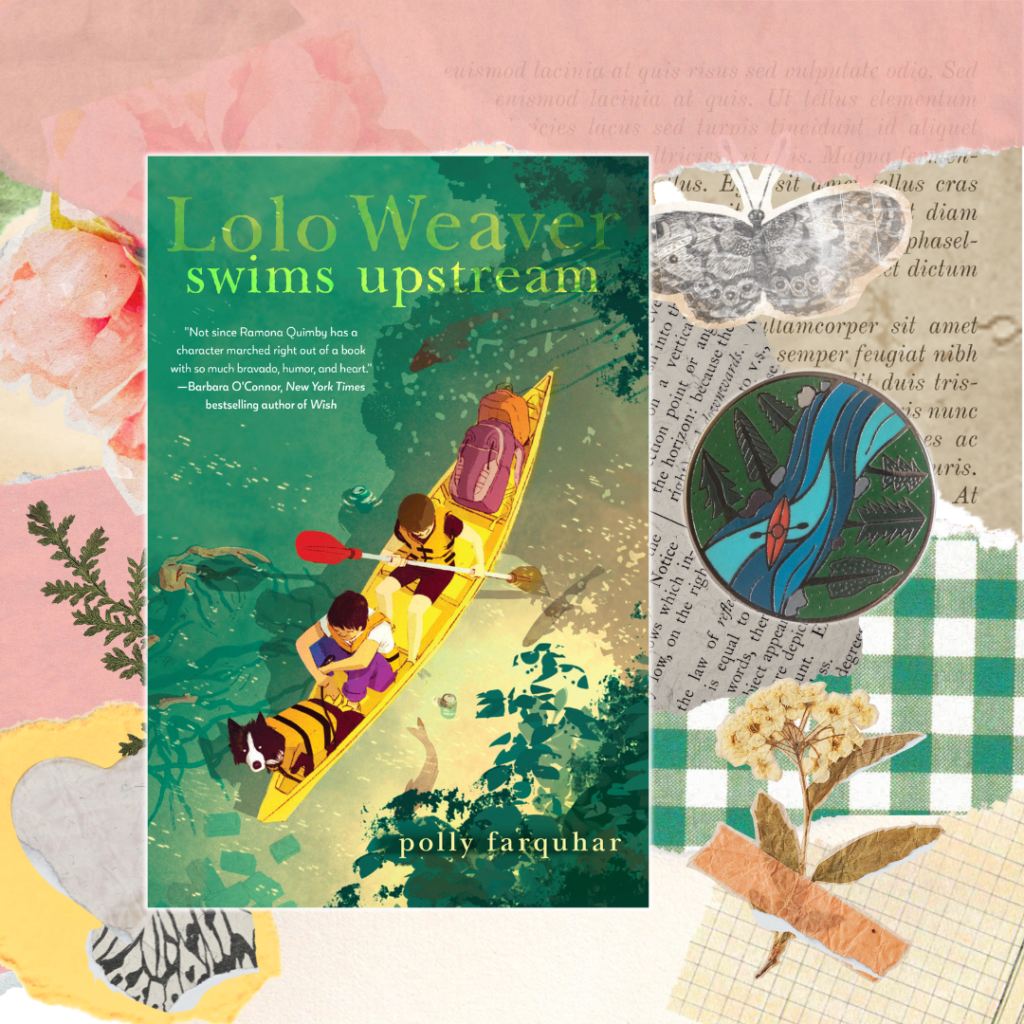 WHAT DO I WIN?:
ONE (1) lucky winner will receive a Lolo Weaver Swims Upstream Prize Pack that includes:
– ONE (1) copy of Lolo Weaver Swims Upstream by Polly Farquhar
– ONE (1) Kayak Enamel Pin
*Prizes provided by Holiday House & YAYOMG!
HOW DO I ENTER?:
Grab a parent or guardian and have them fill out the form below by August 6, 2023 at 11:59pm ET.
Giveaway runs from 07/06/23 at 10:00 am ET through 08/06/23 at 11:59 pm. Open to US residents ONLY. Be sure to read the fully detailed rules HERE before entering.
THIS GIVEAWAY HAS ENDED AND THE WINNER HAS BEEN CONTACTED.
You must be 18 or older to enter. Please, only ONE entry per person. If selected as a winner, we will provide your parent/guardian with an affidavit to confirm that you are a valid winner who has permission to win. They will be REQUIRED to sign and return the affidavit to YAYOMG! to claim your prize. Prizes will not be mailed out without signed parental consent.
🚣🏻‍♀️Ready to start reading? Lolo Weaver Swims Upstream is now available from Holiday House!