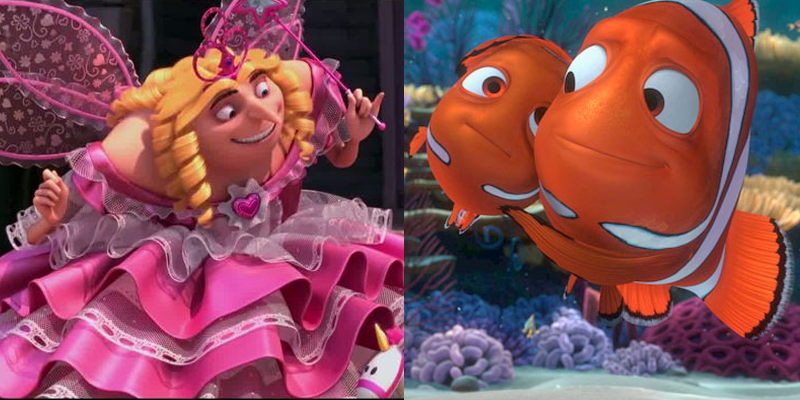 6 Best Fictional Dads
For Mother's Day, we made a list of the Best Fictional Moms – so we thought it was time to give the dads some love for Father's Day! If you can't figure out what to give your dad as a Father's Day gift this year, grab him, read this list together, and then tell him all the reasons he's even better than the best of the best of the Best Fictional Dads! (And other awesome father figures!) We're sure he'll appreciate it!
6 Best Fictional Dads:

1. Marlin – Finding Nemo
Marlin was already a totally great dad, and then he swam through the entire ocean to find Nemo. That's why he gets the #1 spot. Any dad who'd drop everything and literally swim across the entire ocean to find you definitely deserves more than just a #1 Dad Mug!

2. Spencer – iCarly
Sure, Carly has a real dad – but while he's off serving his country in the Air Force, her brother Spencer is the one who helps put a roof over her head, a smile on her face, and sets most of her things on fire. As long as there's a firefighter nearby, Spencer makes a pretty great father figure and a totally awesome brother. Some kids have dads who aren't always around, but their family fills the gap while they're not there – and that's really important to celebrate too!

3. Gru – Despicable Me
Gru may be one of the world's greatest super villains, but he's also a really great dad. Despite becoming a foster dad sort of out of the blue, he truly loves Agnes, Edith, and Margo. He dresses up as a fairy princess to make sure Agnes has a great birthday. He attends the girls ballet recitals. He reads to them and tucks them in each night. Gru is always there when Agnes, Edith, and Margo need him most – that's the very best quality a dad can have! Having Gru as a dad is probably great, but having Minions as step-brothers is probably the best thing ever.

4. Carl – Up
Sure, Russell has a dad, but no one ever said you can't have multiple father figures in your life. Russell looks up to Carl and Carl, while grumpy, has learned to love Russell like a son. Plus, anyone who brings a kid out for ice cream is definitely worth making this list!

5. Mufasa – The Lion King
Mufasa is not just a great ruler over the Pride Lands, he's also a really great dad. He's extremely wise and loving, and uses these two important qualities to help show Simba the way and how to be King when the time comes. (Spoiler Alert: he just can't wait!) Unfortunately Mufasa's reign as King and his time as a father ends much too soon, but Simba is able to grow into a great King and a great friend, companion, and lion due to his father's teachings. Always remember, even if your dad (or mom) is taken from you too soon, just look to the stars like Simba did and you'll always find them watching over you.

6. Albus Dumbledore – Harry Potter
Dumbledore isn't a dad, but he is truly a great teacher and father figure to the students at Hogwarts. Him and Harry share a very special bond, just like dads do with their kids. He helps him learn important life lessons and how to deal with hard situations. Dads are meant to teach us how to grow and become who we're meant to be – and Dumbledore is the master of this, so he makes the list! Having an all powerful wizard dad would be pretty sweet!
Now that you're done with the list – go give your dad a great big hug and tell him all the reasons you think he's great!