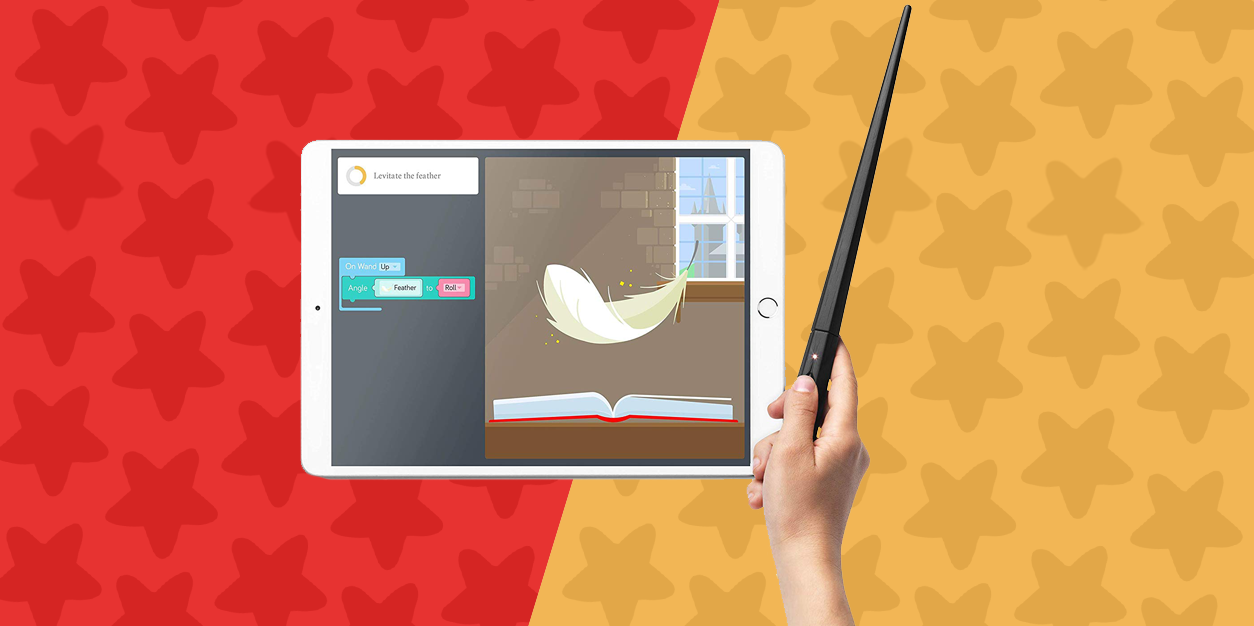 Make Magic and Learn to Code with the Harry Potter KANO Coding Kit
Note: We received the Harry Potter KANO Kit for free from KANO in exchange for a fair and honest review. All opinions are our own; we were under no obligation to give a positive review.
If you've been patiently waiting for your Hogwarts letter to arrive, you're going to love the Harry Potter KANO Coding Kit! Bring the Wizarding World into your living room by building your own wand and learning programming basics. Take on over 70 Harry Potter themed coding challenges, learn real-world coding concepts, and channel your inner witch or wizard.
Harry Potter KANO Coding Kit – Our Hands-On Review:
The Basics:
The Harry Potter KANO Coding Kit impresses from the moment you open it up. It comes packaged inside a really nice box with compartments for each piece. The kit contains the coding wand pieces, coding wand brain and button, an instruction book, stickers, a poster of wand motions, and four AAA batteries. It's so rare to see a kit include batteries at all, but KANO has gone the extra mile by including an extra set of batteries.
Using the included instruction booklet, you'll find super simple step by step instructions about how to assemble your wand. We loved how easy this was to follow, but we really loved the breakdown of the circuit board. Rather than just handing you a pre-assembled wand, KANO lets you snap it all together, using real terminology and teaching you about printed circuit boards, gyroscopes, accelerometers, and more.
This was honestly one of our favorite parts of the kit. We loved learning about the inner-workings of the wand and felt that it really connected us to the project. Assembling the wand doesn't require any tools, so it's easy enough for even the most basic beginners (aka US!).
Coding Challenges:
In order to begin your coding journey, you'll need to download the free KANO app on your tablet or computer. After downloading the app, point your assembled wand at the screen, press the button, and it will pair with your device via Bluetooth. The first thing you'll see is a map of Hogwarts and Hogsmeade. Harry Potter fans will feel right at home in this environment as it includes iconic locations from the books and movies like the Leaky Cauldron, the Forbidden Forest, and Diagon Alley.
Once you're ready, tap the Complete Challenge button to begin your very first coding challenge. Each challenge is based on objects or creatures from the Harry Potter universe and feels a bit like stepping into a coding class at Hogwarts School for Witchcraft and Wizardry.
If you've used SCRATCH or other block coding technology, you'll feel really comfortable in the Harry Potter coding universe. Each challenge asks you to complete a task that helps you bring your wand to life. Follow the steps, drag the code blocks onto your workspace, tinker with the settings, and then test your code with a flick or wave of your wand.
After you've mastered the challenge you can move on to the next to continue learning even more coding skills. You can also tinker with the settings to get a feel for how to manipulate the code to do anything you want. One thing we really liked was being able to click on the Javascript tab to see our code laid out as if we had written it for real. This is great for anyone who is hoping to take their programming knowledge to the next level and start understanding formatting and how to write their own code from scratch.
If you're ready to put your coding skills to the test, head over to the PLAY tab. This is basically a sandbox mode where you can feel free to write your own programs, test them out, tweak them, and even share them. You can also play around with some of the pre-programmed content to see how you can manipulate it to do all sorts of new things. Levitate feathers, grow and shrink Bertie Bott's Every Flavor Beans, or create a color changing spell on Cornish Pixies. Coding really is a lot like MAGIC!
Unlockables and Community:
With every completed challenge you'll earn experience points that will level up your character. Each time you reach a new level, you'll unlock outfits, accessories, and creatures to customize your avatar. Dress up just like Harry, show your Slytherin pride, or make your avatar look just like you!
You can also share the creations you've made in the PLAY tab with the rest of the KANO Community. Hit the COMMUNITY tab to explore all of the spells programmed by fellow KANO coders. You can like, comment, and even interact with everything you find within the community.
Overall Impression:
We were totally impressed with the Harry Potter KANO Coding Kit and how easy and fun it was to bring our wand to life. As complete beginners with barely any coding knowledge, we were a little hesitant that we'd be able to get too far with the challenges but found that the simple step by step process and the way the challenges build on previous techniques really helped up understand coding concepts.
We'll definitely continue playing with this kit long after our review. With more updates on the way, there's lots of room for replayability too! The more you learn, the more you'll want to make your own programs and creations. We recommend it for any Harry Potter fan or kid who has an interest in learning to code.
The Harry Potter KANO Coding Kit costs $99.99 and is available at kano.me and is currently on sale for $79.99 as of the date of this review. You can also find the kit at Target, Walmart, Best Buy, Amazon, and more.
We featured the Harry Potter Coding Kit on our YAYOMG! Holiday 2018 Gift Guide. If you're looking for items to add to your holiday wishlist, check it out!