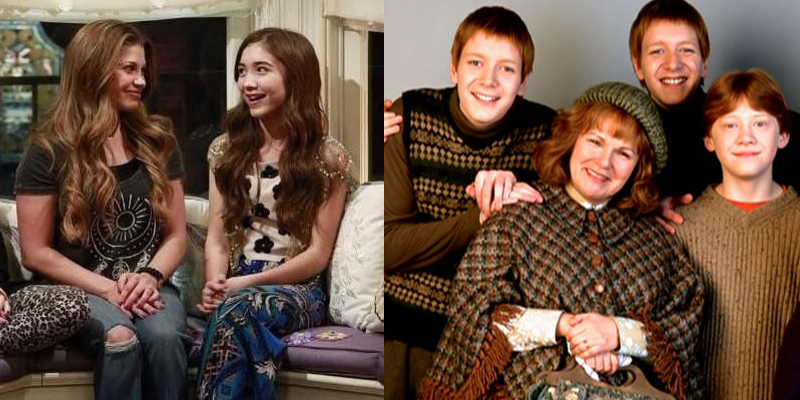 7 Best Fictional Moms
In honor of Mother's Day, we've put together a list of the 7 Best Fictional Moms we could think of from TV Shows, Movies, Books, and more! Moms who totally kick butt and stand out from the rest, and like real moms, are always there when you need them most.
Here's our picks for the 7 Best Fictional Moms:
1. Topanga – Girl Meets World
Can you name a better mom than Topanga? She's caring, she's cool, and she's always got a life lesson to share. She balances out Cory's well intentioned, but sometimes a little overbearing dad-ness perfectly and is a mom anyone would be lucky to have in real life. Not only is she a great mom to Riley and Auggie, she treats Maya like a daughter when Maya's mom isn't around. She's pretty much the best fictional mom out there.

2. Perdita – 101 Dalmatians
Perdita is a loving mother of 101 adorable puppies. That's reason enough to make the list, but she also protects them in the face of danger, aka Cruella. Being a mom is a tough job, but being a mom of over 100 puppies definitely isn't easy. Let's give an extra round of applause to Perdita for totally kicking butt.
3. Mrs. Weasley (Molly) – Harry Potter
Growing up Weasley (which sounds like the title of a reality show that should totally exist) isn't exactly glamorous, but having a mom like Molly definitely makes it much easier. Despite not being well off, she always makes sure Ron, Ginny, Fred, and George, Bill, Charlie, and Percy have everything they need. Mrs. Weasley is a great representation of all those quirky, hard working moms out there who always try their best.

4. Elastigirl (Helen Parr) – The Incredibles
We can't think of anything more awesome than having a superhero for a mom. Except for having a superhero mom who's also a super mom! Elastigirl totally rocks her double life and we can't wait to see her back in action in The Incredibles 2!

5. Jessie Prescott – JESSIE
Okay, so, Jessie isn't actually Emma, Luke, Ravi, and Zuri's mom – but she IS a really great nanny and that deserves some credit. Sometimes moms can't always be there, so having a great babysitter or nanny you can trust to help out with your kids is really helpful and important. Great babysitters and nannies can become just as important as a family member. Shoutout to all the great babysitters out there – we're hoping you're taking notes from Jessie!

6. Carrie Dawson – Bella and the Bulldogs
Bella's mom Carrie may not really understand sports, but she's supportive of her daughter's interests and passions anyway. That's one way to make your way to the top of the Best Mom list any day! Remember, your mom may not always understand you, but she'll always be there for you no matter what – and that's what makes her great!

7. Cass Hamada – Big Hero 6
Some kids grow up without a mom or dad and are raised by a family member. Hiro's aunt Cass is always there for jim, even when things get really hard. She helped raise Hiro and Tadashi to be two strong, smart boys who she's very proud of and loves as if they were her own. If you're a kid being raised by your aunt or uncle, you know how special they can be. Just because it's a little "different", doesn't make it any less wonderful.
Now that you're done reading about the Best Fictional Moms, go give your real mom (or whoever you want to celebrate on Mother's Day) a big ol' hug and maybe send them a Geeky Mother's Day Card!