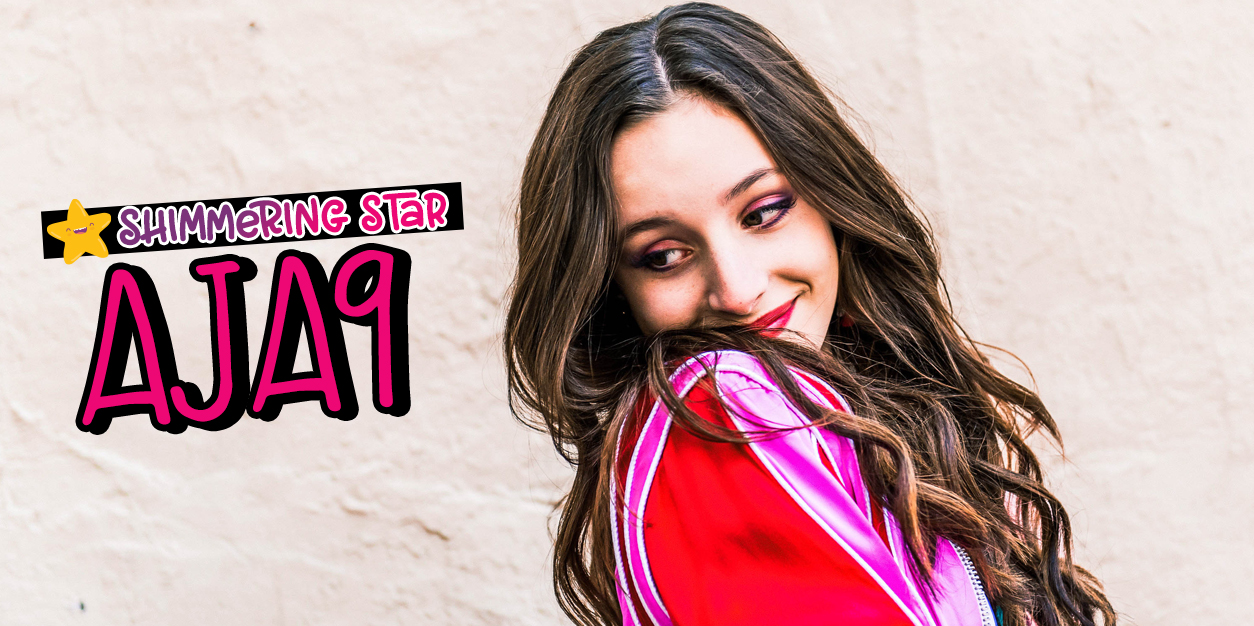 Shimmering Star Spotlight: AJA9
Shimmering Star is a brand new series on YAYOMG! Follow along each month as we shine a light on girls who represent kindness, positivity, empowerment, philanthropy, drive, and confidence. They're sure to inspire you!
Our April Shimmering Star is Aja Neinstein! Best known as Aja9, she is a talented teen singer with a soulful voice and an authentic story to share.
Aja has had a passion for singing her entire life, but her career started to take off after winning Perez Hilton's Can You Sing Cover Contest for her rendition of Sia's Chandelier. Since then, Aja9 has released a mix of amazing covers, collaboration tracks, and original songs that her fans love. You can catch her tracks being played on Radio Disney, stream them on your favorite streaming service, or check out her YouTube channel for music videos and vlogs about her life.
Aja recently returned from an 18 city tour across the US and Canada and has already announced that she'll be back on the road this Summer. You can catch her supporting Alex Aiono on the Fun 23 tour.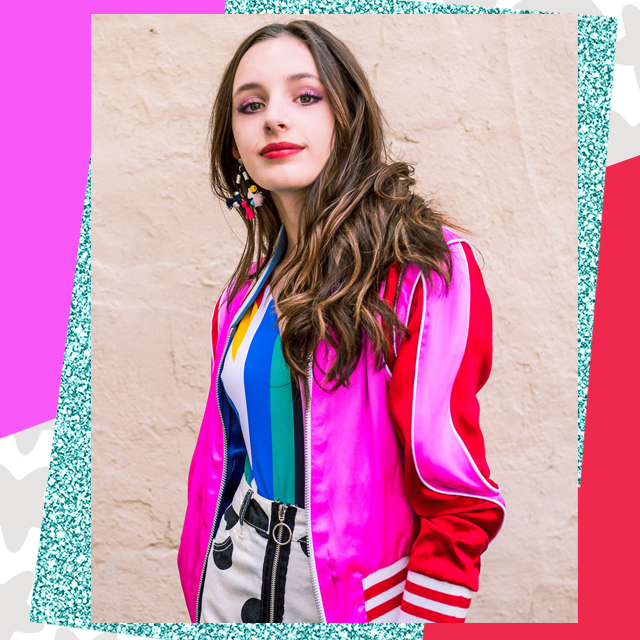 Outside of her blossoming career, Aja shines just as bright! She's learning to channel her voice not just as an artist, but as a young woman who isn't afraid to stand up for what she believes in. Aja also spends much of her time giving back in her community, lending her amazing vocal talents to support causes that aid others in need.
Get to know Aja9 as she chats about living her dream, channeling her life experiences into her music, and why she believes that girls need to stick together.
Get to Know AJA9: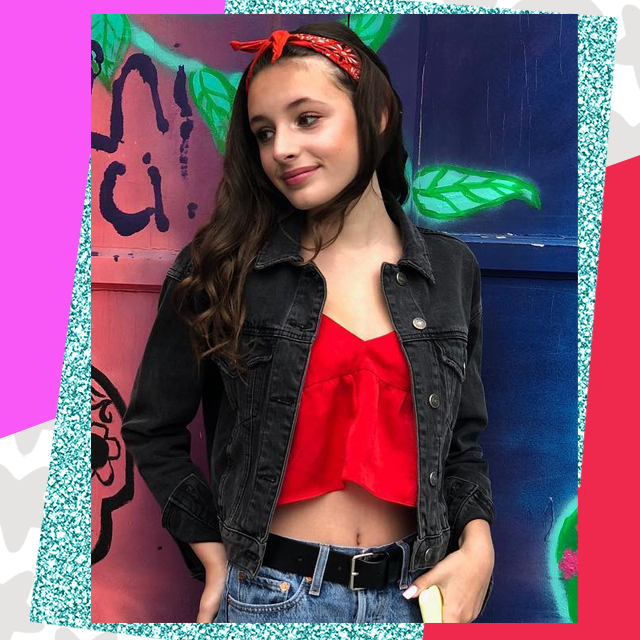 Tell us a little bit about YOU!

AJA9: I am 14 years old and I have been singing my entire life. I am best known for my cover of Sia's Chandelier which I won the Perez Hilton "Can You Sing?" cover contest for. Music is my passion. I play guitar, piano, violin, and trumpet, and I'm Canadian.

5 things I can't live without: My puppy Georgie, candy, my phone, Netflix, and family.
You recently spent a few weeks on the road with 4th Ave, Elle Winter, and Rayla on the Initiation Tour. Tell us a little about your your tour experience and what it meant to you.

AJA9: I just went out on tour 4th Ave and I had the time of my life. The boys are so much fun. Elle Winter was with us for the first few weeks and Rayla for the second half. We are all so close. Elle is like an older sister. I loved hanging out with her, her mom, and her amazing sister Lizzie.

We've been having an amazing time with Rayla too, I really love her. Everyone is so sweet and insanely talented. I am constantly singing songs from their sets.

For me the boys of 4th Ave are like having 4 crazy, fun older brothers. I learned so much being on tour with them. This has been an incredible experience for me. I can't wait until my next tour!
Your song, Limbo, such a relatable anthem. How do you handle that stuck in Limbo feeling?

AJA9: My song Limbo is about me feeling stuck. People are surprised when they find out I am only 14. Often I am too young to do certain things or too old. I think most people can relate to Limbo because everyone has struggles and tough decisions.
What are you most proud of in your career so far?

AJA9: I am most proud of my songs that I have co-written with some amazing people. We wrote about stuff that matters to me and the lyrics really expose who I am. I am also really proud at completing my first tour! I did 18 shows in 18 cities. It is so much fun and I am loving it so much!
How do you shine bright?

AJA9: I feel I shine bright by spreading positivity and focusing on things that really matter. Being kind is simply easy to do. We live in a highly competitive world where everyone is looking to advance themselves. Likes and follows seem to be very relevant to my peers. I try to not take it too seriously or worry about it.

If someone is not interested in me because they don't think I have a big enough following, oh well. I love engaging with people on my social media platforms. I love reading and responding to comments on my posts, and I DM many of my fans. I have so many special people who write to me daily and I am so thankful for that. I feel so lucky to be able to connect to people through my music.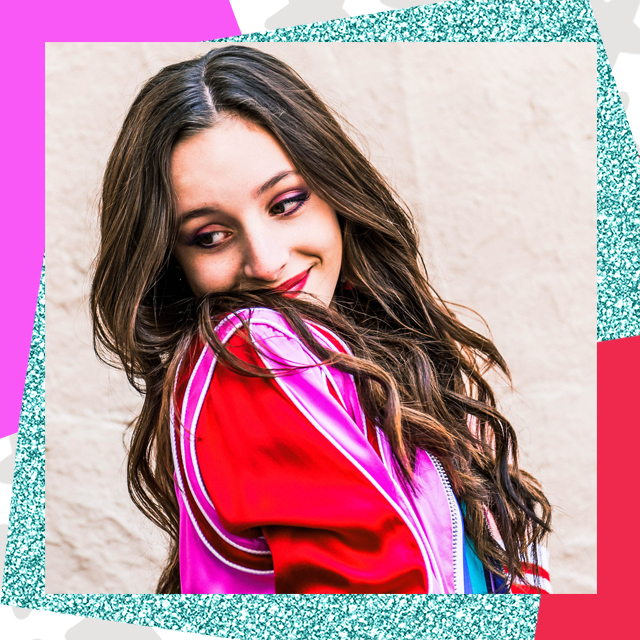 How do you give back?

AJA9: I often do charity work throughout my community. Sometimes I get to sing at events to help raise awareness and funds for a good cause. A few that I have been involved in would are: ICRF (Israeli Cancer Research Fund), JDRF (Juvenile Diabetes Research Fund – my brother Billy has T1D), Autism Speaks Canada, Jacob's Ladder, Stand With Us, and several others.

I can't explain the way I feel when I get to be involved in these amazing events. Some of these performances have been my most emotional ones. I feel so fortunate to be able to be involved. Everyone should find a charity they can connect to.
The women who inspire me are…

AJA9: Ariana Grande, Beyonce, and Rhianna. They are 3 very different artists who are female powerhouses! I really look up to them.
I am most passionate about…

AJA9: I am most passionate about my music. I love anything music and I love being around other musicians!
I feel most confident when…

AJA9: I feel most confident when I am performing in front of large groups. But I have learned to really appreciate and engage smaller groups as well. I also find as I am getting older that I am standing strong on what feels right for me. If I don't want to wear a certain outfit to perform in or be photographed in, if I don't like the way a song sounds for my voice, I have started voicing my firm opinion more as opposed to letting others decide. I definitely know what I do and do not like.
My biggest dream is…

AJA9: I already feel like I'm living my dream. I'm doing things at a steady pace, and not rushing. Once this tour is over, I hope to do another tour and eventually headline my own tour. That would be amazing!

I plan to write as much as I can. I'm getting older and am having so many amazing experiences, so I have so much to write about.
The advice I want to share with other girls…

AJA9: Advice I would give to other girls would be to stick together. Stop worrying about being competitive and just have fun. Inclusion is always the way to go. When you walk away from someone you want them to LOVE you not FEAR you.
Be sure to give Aja9 a follow on Instagramso you don't miss any of her upcoming announcements. She's been working on a lot of new music that she's extremely excited to share with her fans.
Want to meet our previous Shimmering Stars? Click here!