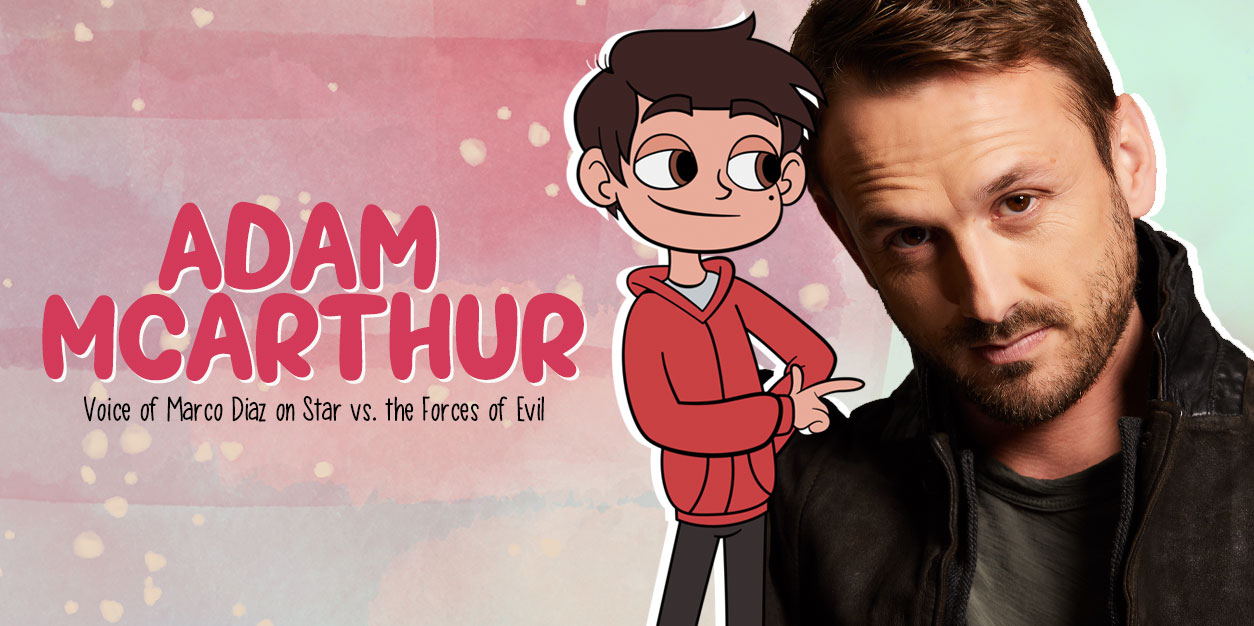 Adam McArthur Opens Up About Voicing SVTFOE's Marco Diaz
If you've ever seen the Disney Channel animated series, Star vs. the Forces of Evil, then you're familiar with the amazing Marco Diaz. But how much do you know about his voice actor, Adam McArthur?
Since SVTFOE recently came to an end after its fourth and final season, we wanted to catch up with Adam to see what it's been like saying goodbye to such a beloved series.
Step into the booth and find out more about Adam McArthur as he opens up about voicing Marco Diaz, what it's like being a voice actor, and more!
Get to Know Adam McArthur:
Our readers know you best as the voice of Marco Diaz from Star vs. the Forces of Evil. What have you loved most about bringing this character to life?

ADAM MCARTHUR: There are so many things to love about working on this show! I love everything from working with the other cast, to my connection and similarity to Marco, as well as the fandom! It's a ton of fun!
The series recently wrapped up an amazing 4 season run. Do you have a favorite episode or storyline from the series? Was it hard to say goodbye to Marco?

ADAM: It's been so hard to say goodbye! I feel like I just graduated from college all over again and am having to say goodbye to a ton of my closest friends. Looking back, there are so many great episodes from our 4 seasons. I think one of my most favorites was Running with Scissors. I also really loved the finale episode, Cleaved.
Take our readers into the booth. What is a day in the life of a voice actor like?

ADAM: It's the best! You know, wearing your pajamas to work, not fixing my hair – haha, just kidding! A lot of people think that's what VO is. It's actually a lot of work!

My days are always different which is fun. If I'm recording an episode of Star or working on another animated series, typical sessions are about a couple hours. I get my script when I arrive and from there I hop in the booth. Sometimes I record with other people and sometimes I'm all by myself! There's always a voice director in the other room listening and watching closely. From there, it's all about play and having fun!
Do you have any advice you can share for kids interested in breaking into voice acting?

ADAM: Definitely! There's a great website Dee Bradley Baker put together called iwanttobeavoiceactor.com. It has SO much info and anyone who's wanting to break into the industry should read it! If you're looking for some more hands-on advice, do improv! It's incredibly helpful.
What were some of your favorite cartoons growing up? (And any current favs too!)

ADAM: Oh man! I loved Ninja Turtles, Thundercats, Spider-Man, Batman the Animated Series, Darkwing Duck, and Talespin!

Right now I'm super into My Hero Academia. I also love Full Metal Alchemist Brotherhood, Wander Over Yonder was a great show, and I always enjoy watching the Mickey Mouse Shorts.
What are 3 things your fans might not know about you?

ADAM: Oooh…I'll tell you two things that are true and one thing that's not. You can figure out which is which. Heights make me nervous, I've stayed at a monastery in China and trained with Kung Fu monks, and I would eat ramen everyday if I could.
SVTFOE fans are known to be extremely passionate. Is there favorite fan encounter or moment that has stuck with you?

ADAM: San Diego Comic Con has had some of the best fan interactions, although right now I've been blown away by the fan response to the end of the show. There's a petition going around for a Season 5 or a Star movie and in just over a month it's got more than 100k signatures! That's crazy!
Who is someone that inspires you?

ADAM: My older brother.
How do you make a positive impact?

ADAM: I'd like to think lots of ways! One of my most proudest ways, and for people who don't know I actually own my own non-entertainment industry related business. I employee several people. I've built a company that provides a living wage to several people and I think that's pretty cool!
Do you have anything you'd like to share with your fans?

ADAM: Yes! I love you guys! I'm super excited for the next chapter and the next show I can take them on a ride on. I'm so grateful for all the love and support. They are the best!
Are you more like Star or Marco? Find out in our SVTFOE Quiz!