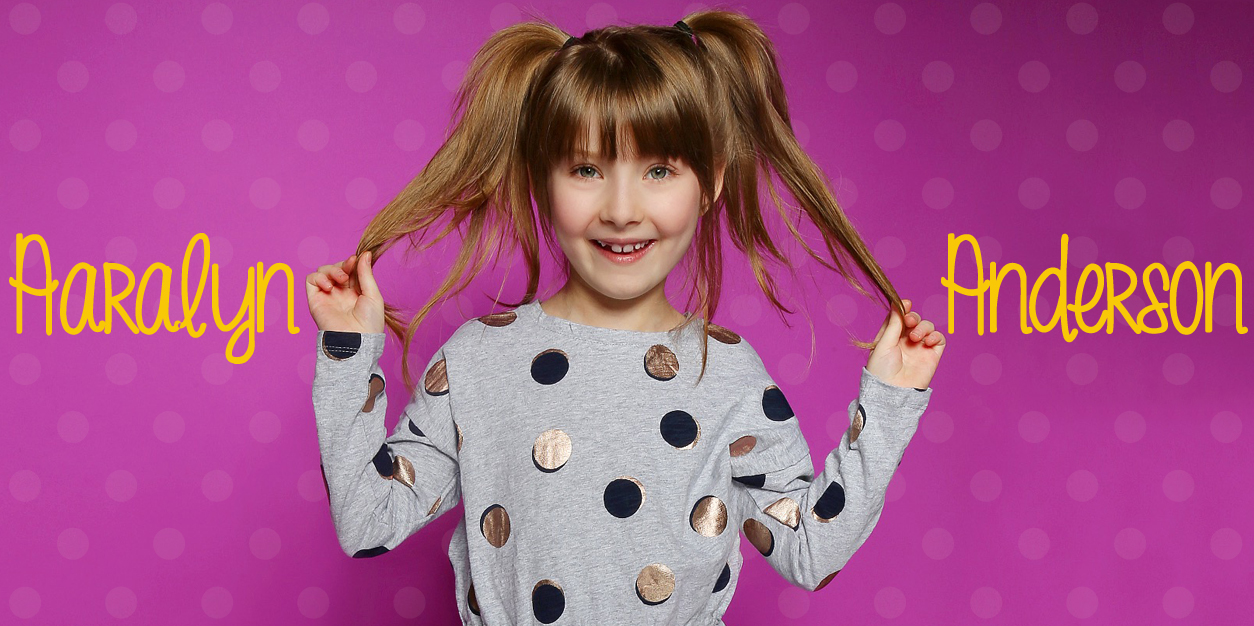 Aaralyn Anderson on Maniac, Teddy Celebearty, and all her Favs
Aaralyn Anderson is just 8 years old, but she's already making a huge splash in the acting world. Her most recent role is also her biggest yet, starring alongside Jonah Hill and Emma Stone in the hit Netflix miniseries, Maniac. Her acting talents really shine through in every role she takes on, but her biggest dream is to star in a feature film or tv series for kids.
Aaralyn isn't the only famous one in her family, though! Her teddy bear has also been making quite a name for himself. His name is Teddy and Aaralyn brings him along on all of her auditions and adventures.
Get to know Aaralyn Anderson as she shares the story behind her iconic teddy bear, her favorite foods, and her love of acting!
Get to Know Aaralyn Anderson:
You've been acting since you were just 2 years old. What do you love most about acting?

AARALYN ANDERSON: The thing I love most about acting is a good script. Especially one that allows me to develop a character and really get to know them.

Your new Netflix series, Maniac, is a huge success! What was the best memory from working on the show?

AARALYN: Thank you very much!! My favorite part was working on the dinner scene on episode 4. It was so funny because Cary ad me memorize 50 jokes. I told them to Jonah (Owen) and had to keep myself from laughing so I could keep a clean, crisp delivery. The baby started to cry and Jonah was like "Oh I know I wanna cry too," and I started laughing so hard!

Which shows and movies do you love to watch?

AARALYN: My favorite movie is Jack and the Cuckoo-Clock Heart. When it comes to TV, I like shows that keep me guessing or really entertained. I LOVED Kevin Probably Saves the World (with Jason Ritter), but sadly it was canceled. Admittedly, I watch REBA in the morning when I get up, it really gets me going and puts a smile on my face!
Tell us about the teddy bear we keep seeing on your Instagram. Does he go along with you on all of your adventures?

AARALYN: His name is Teddy and he thinks he is a real Celebearty. He goes everywhere with me!! He is always trying to sneak into the commercials, shows, and films I do. Now we have a game when something I did comes out we do like a Where's Waldo except it is Where's Teddy. He has his own Twitter page @teddycelebearty!

What food could you eat over and over and never get tired of?

AARALYN: Pomegranates, oh, and peas!

When you're not busy acting, what do you like to do for fun?

AARALYN: Drawing, playing with my friends, going to the movies, playing Roblox, going to the beach, you name it!

Who is someone you look up to or admire?

AARALYN: Emma Stone, my mom, and my dad.

What is something you hope to accomplish in the future?

AARALYN: I would love to be in a kid audience Feature Film and have a series regular role on a primetime sitcom or on Disney or Nickelodeon that lasts a few years. A kid can dream right?!
Now that you know Aaralyn, we think you'll love getting to know fellow Netflix star, Finn Carr from Alexa and Katie!