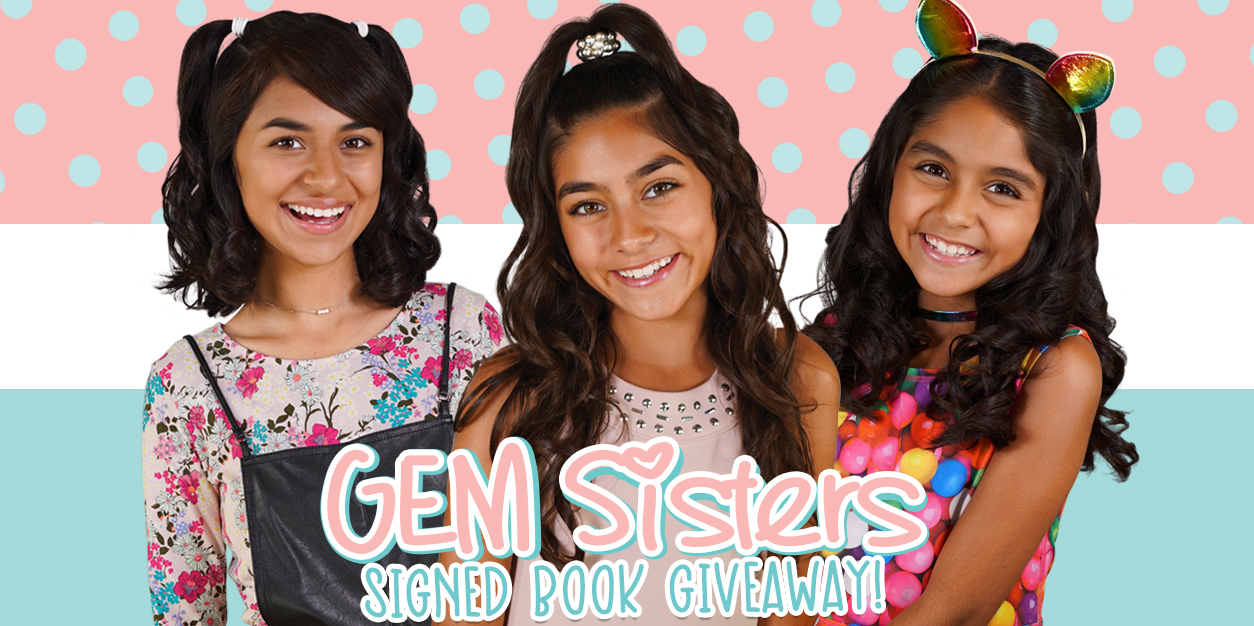 GEM Sisters Talk Haunted Horse Camp and Their Reading Routines + SIGNED BOOK GIVEAWAY!
The newest GEM Sisters book has finally arrived and this time, Giselle, Evangeline, and Mercedes are in for a spooky surprise! In Sister Detectives: Haunted Horse Camp, the girls are so excited to head to camp together and learn to ride horses. That is – until they discover that the camp might be haunted! Will they be able to crack the case before the camp closes for good? You'll have to read it to find out, and you're in luck! We teamed up with GEM Sisters to give away TEN autographed copies of their new book!
Whether you're a GEM Sisters fanatic or just someone who loves to read, Haunted Horse Camp is a super funny, silly, and spooky adventure that's a perfect choice to read during the Halloween season. Grab your flashlight, a stash of fun-sized candy, and head under the covers to read this hilariously haunted tale!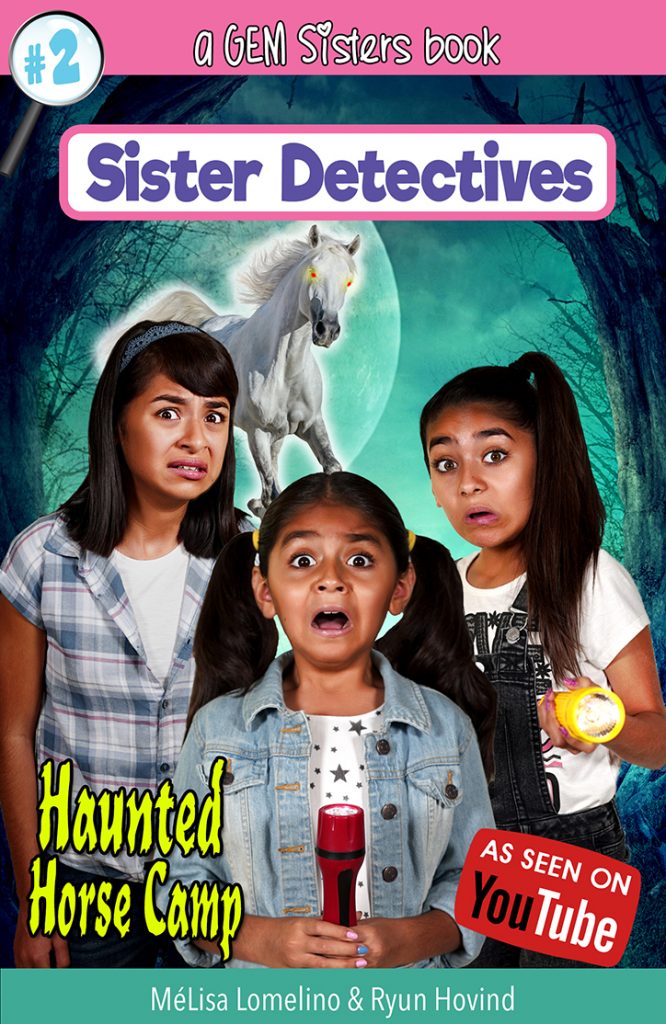 The GEM Sisters can't wait to spend a whole fun week at camp together learning to ride horses. That is, until they find out that the camp is haunted! Mercedes and Evangeline totally believe all the camper's stories who swear they've seen the scary ghost horse running through the camp. Giselle, on the other hand, doesn't think ghosts are real until she comes face to face with the ghost! Now the Sister Detectives have to solve the mystery of the ghost horse before all of the campers leave and the camp is forced to close forever!
AUTHOR: MéLisa Lomelino and Ryan Hovind
DATE: September 24, 2018
In addition to the giveaway, we got to chat with Giselle, Evangeline, and Mercedes about Haunted Horse Camp, their reading routines, and more!
Giselle, Evangeline, and Mercedes on Haunted Horse Camp and Why They Love to Read:
Your new book, Sister Detectives: Haunted Horse Camp just released this week! What three words would you use to describe the book?

G: Mysterious, Exciting, Hilarious.
E: Hilarious, Spooky, and Crazy. You never know what happens next!
M: Funny, Spooky, Wow!

Do you have a favorite Haunted Horse Camp moment?

G: My favorite is when Evangeline gets stuck upside down on her horse!
E: I like how Mercedes and Giselle continue their social media wars. I laughed so hard!
M: I love Giselle's romantic moments with the cute boy Ty!

How do you think you'd react if you actually attended a haunted camp?

G: I would be terrified and lock every window and door in my cabin so nothing could come in. Then I would sit on my bed nervously eating snacks.
E: I would probably leave because I get scared very easily.
M: I would be scared, but I would still want to stay at the camp.

What do you think the best part of being a detective would be?

G: I think it would feel so awesome when you finally solve the case.
E: I would love to make everyone happy solving the mystery.
M: It feels great being able to solve people's problems.

What are some of your favorite books to read and what do you love most about reading?

G: I love to read fantasy and romantic books. They make me feel happy.
E: I just finished American Girl Mini Mysteries. I love reading because it lets your imagination run wild.
M: Right now I'm reading Wonder. I read every single night before bed because it helps me have amazing dreams!

Do you have a reading routine?

G: Everytime I read I always need my fuzzy blanket, some sort of chips and of course PJs!
E: I love reading to my plushies, and then I quiz them about their favorite parts in the book.
M: I like reading in PJs all cuddled up in my blankets with my Pusheen pillow!

You recently teamed up with Yoobi to help bring school supplies and early copies of Haunted Horse Camp to kids in need. Tell us a little about that experience and what it meant to you.

G: I loved being able to talk to the kids. I got to meet so many great people, and the students were so excited to get our book.
E: It felt so good to help kids and meeting them was so much fun. They were the sweetest!!!
M: It made me feel so happy because all of the kids loved the school supplies. And we got to encourage them to Read For Your Dreams!
Sister Detectives: Haunted Horse Camp GIVEAWAY!:

WHAT DO I WIN?:
TEN lucky winners will receive:
– ONE (1) copy of Sister Detectives: Haunted Horse Camp, signed by Giselle, Evangeline, and Mercedes!
– ONE (1) GEM Sisters Read for Your Dreams mini poster
*Prizes generously provided to YAYOMG! by GEM Sisters.
HOW DO I ENTER?:
You must be 18 or older to enter. If you are under 18, please have a parent or guardian enter on your behalf by filling out the form below by October 12! Giveaway begins on September 28, 2018 at 12:00 pm ET and ends on October 12, 2018 at 11:59pm ET. Open to US residents ONLY. Please, only ONE entry per person.
THIS GIVEAWAY HAS ENDED.
*If selected as a winner, we will provide your parent/guardian with an affidavit to confirm that you are a valid winner who has permission to win. They will need to sign and return this affidavit in order to claim your prize. This step is non-negotiable and REQUIRED to claim your prize. Be sure to read the fully detailed rules HERE before entering.
Want to know even more about Evangeline, Mercedes, and Giselle? Click here to see what they had to say about their Lazy Summer music video!