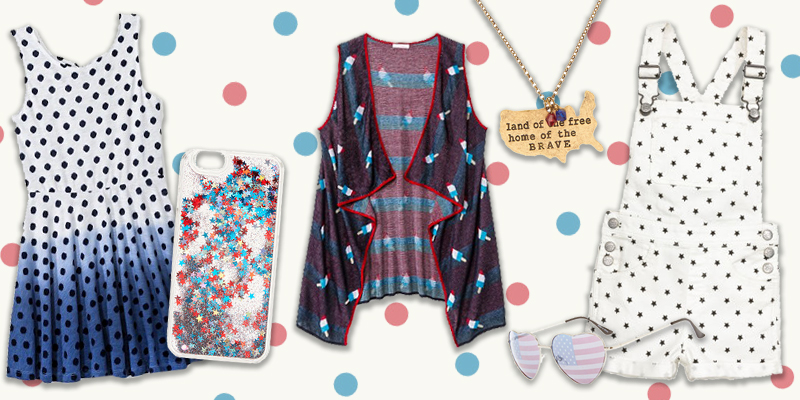 4th of July Style Series
July 4th is nearly upon us, which means it's time for fireworks, BBQs, picnics, and of course – tons of red, white, and blue! You may think planning your Independence Day style so close to the big day might be a bad idea, but it's actually the best idea because all the patriotic red, white, and blue, flag patterned goodness goes on sale.
Whether you're looking for a fireworks headband, a sweet pair of sunnies, or shorts with flags on them, 4th of July fashion is totally easy to come by on July 4th weekend. Plus, even if you can't find something with a flag or fireworks on it, stores always have basic red, white, and blue stuff. It's probably the easiest holiday to dress for! Just in case you're having trouble picking out your look, we put together a super cute 4th of July Style Series to inspire your looks for this Independence Day.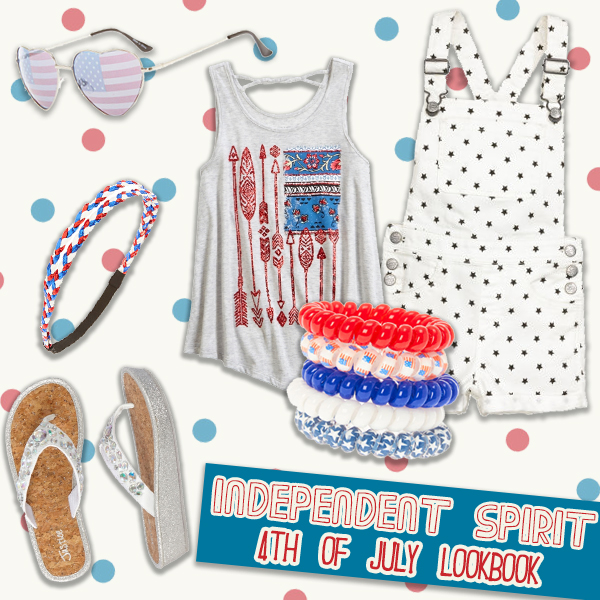 Let's start with the Independent Spirit outfit. If you've constantly got a case of wanderlust or are always getting lost in a daydream, this is the outfit for you. You're in charge of your own destiny and you totally own it, which is why we picked this particular flag tank from Justice. You follow your own arrow, go your own way, and this look will totally suit you.
Those starry shortalls can be worn for the 4th, but definitely can be rocked all Summer long on camping trips, beach walks, or whatever else you've got going on. Accessorize your look with some sweet sunnies, a braided headband, and some coil bracelets. Kick the red, white, and blue up a notch for Independence Day or rock any color that your heart desires any other day of the year! It's up to you.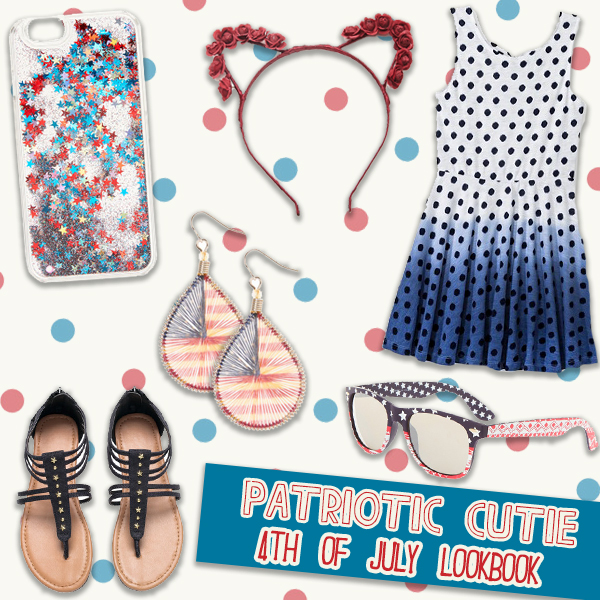 Next is the Patriotic Cutie look. This is the girliest look of the bunch. If you like to look a bit more dressed up or are headed to a fun 4th of July party, this is the look you'll want to rock. A cute ombre polkadot dress that looks like it was basically made to be worn on July 4th paired with some cute starry stud sandals are the main pieces of this outfit.
Since the dress is only blue and white, you'll need to add in your red in other ways, like a floral cat ear headband, yarn flag earrings, patriotic sunnies, or that awesome starry glitter phone case that you'll definitely never want to remove. Like the Independent Spirit outfit above, swap out the colors of your accessories to transform the look from patriotic to just plain Summery. A true fashionista like you probably has tons of accessories you're just dying to show off.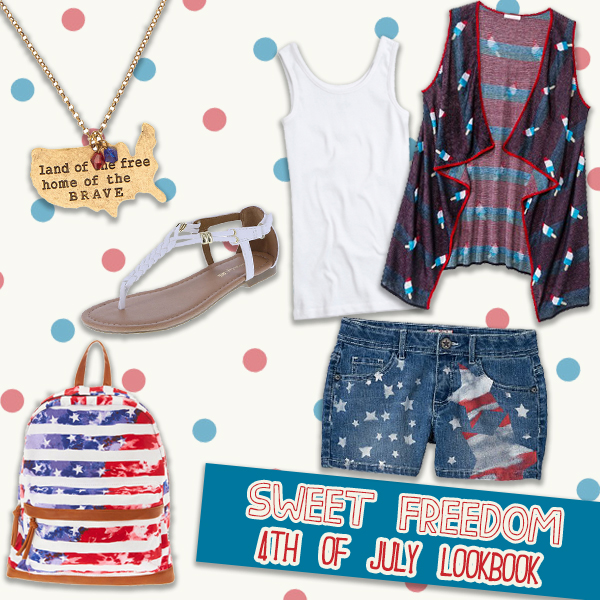 It wouldn't be the 4th of July without Rocket Pops/Bomb Pops – they're literally the most patriotic food of all time. That's why when we found this Rocket Pop cardigan at Target, we KNEW we had to use it in our lookbook. Layer it over a simple tee or tank, preferably red, white, or blue. You can rock it with any shorts, but these worn-in flag print shorts were just way too cute to pass up.
Pop in those Patriotic accessories like a flag backpack and that awesome USA necklace, and you're ready to go. Both of those accessories are from Claire's, because it's our favorite place for holiday themed accessories. They've always got the cutest stuff, it's always affordable, and it ALWAYS goes on sale right before and right after every holiday, so you can pick stuff up for super cheap.
Now that you've got your 4th of July style picked out, why not check out these Totally Cute Patriotic Animals? Let freedom ring!