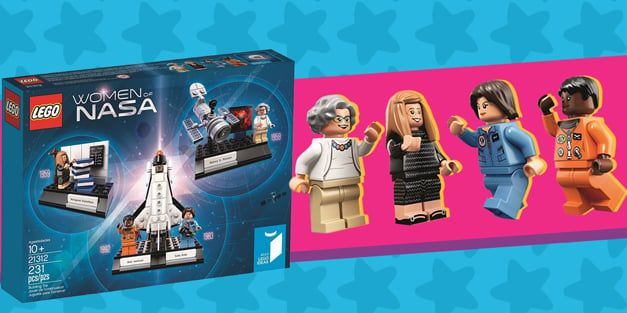 Meet the Amazing Scientists in the Women of NASA LEGO Set
Budding scientists, aspiring engineers, and rockstar mathletes, we have exciting news to share! LEGO is celebrating the iconic scientists who have helped shape NASA's successes in space exploration with a brand new set of minifigure builds. Each of the four minifigs and builds in the Women of NASA set features women who helped pioneer space exploration and research at NASA.
From brilliant physicists and computer scientists who worked behind the scenes to make it all happen to the astronauts who made it to space, this new set is all about celebrating the girl power, intelligence, and hard work of these four iconic scientists.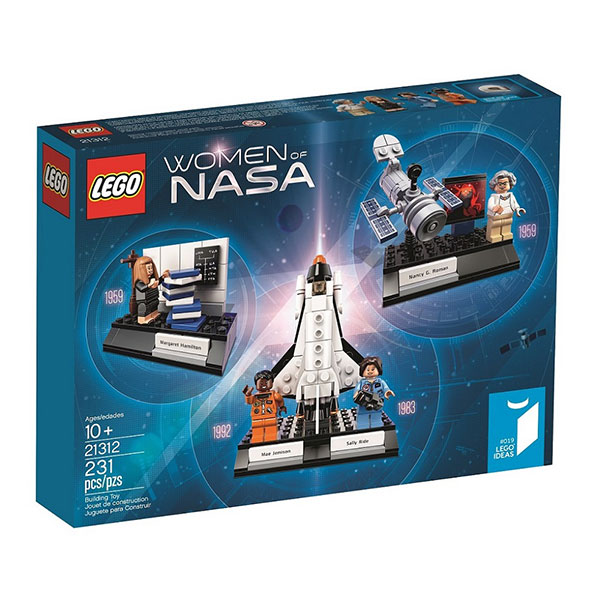 The Women of NASA set is based on an idea submitted through LEGO Ideas, a platform where LEGO fans and creators can share ideas they'd like to see tr into LEGO sets. Creator, Science editor, and STEM-advocate Maia Weinstock submitted the idea last year with the goal of celebrating girls and women in STEM and honoring the accomplishments of women in the history of space exploration.
The set is now almost a reality, hitting shelves on November 1st! The set will contain 231 pieces, allowing LEGO fans to build three mini-scenes, each focused around a different female scientist. You can, of course, dream up your own big ideas and ways to bring these builds to life.

Meet the Scientists in the Women of NASA LEGO Set: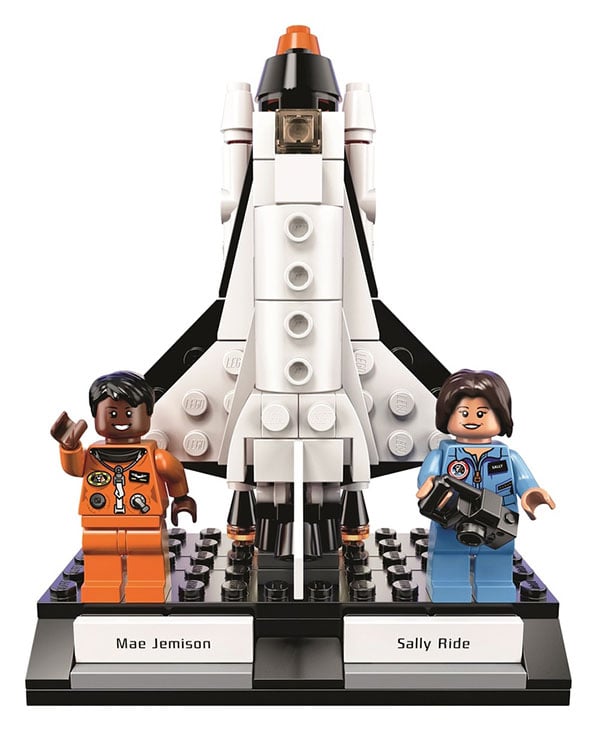 Sally Ride:
Sally Ride was the first American woman in space in 1983, but before making it all the way to the stars, she was a brilliant physicist. After retiring from her career as a NASA astronaut, Sally became a physics professor and even created her own educational company that encouraged girls and young women to pursue science.
Mae Jemison:
Mae Jemison initially studied to be a medical doctor, and was even a physician with the Peace Corps. After being inspired by Sally Ride's first mission to space, Mae applied to the space program In 1992; she became the first African-American women to travel to space. Inspired by the ever-advancing fields of Science and Technology, Mae left NASA and created the Jemison Group, a company that researches, develops, and markets new and exciting technologies.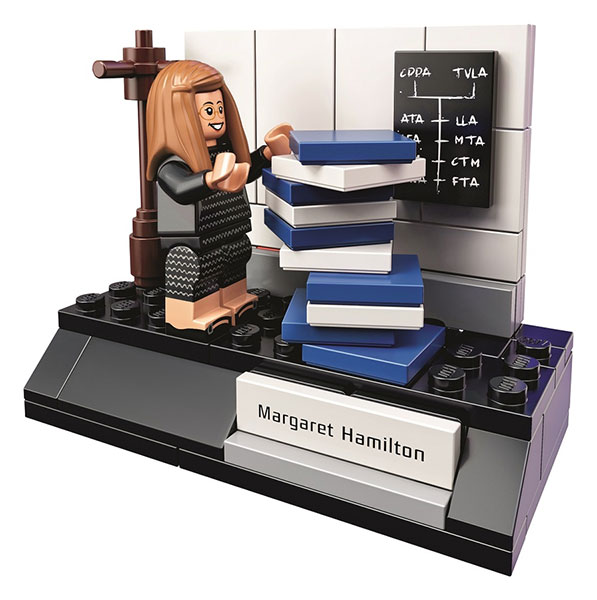 Margaret Hamilton:
While you guys live in an era where you can earn Computer Science badges with the Girl Scouts or further your love of coding with cool products like Jewelbots or clubs like Girls Who Code, women like Margaret Hamilton didn't have it so easy. In the 1960's, it was pretty rare to see female computer scientists on a team, let alone one who worked on such an important project. Margaret's hard work and sharp mind didn't just help land men on the moon; it changed the shape of technology – she's best known for popularizing the modern concept of software.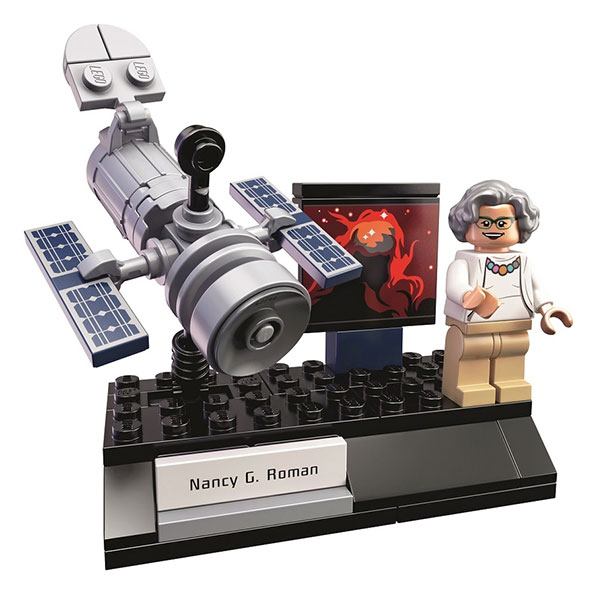 Nancy Grace Roman:
Known to most as the "Mother of Hubble," Nancy Grace Roman became Chief of Astronomy at NASA, making her one of the first female executives at the company. Her hard work and dedication despite the discouragement from those around her helped lead to many significant advances, like launching the Hubble Space Telescope and developing NASA's astronomy research program.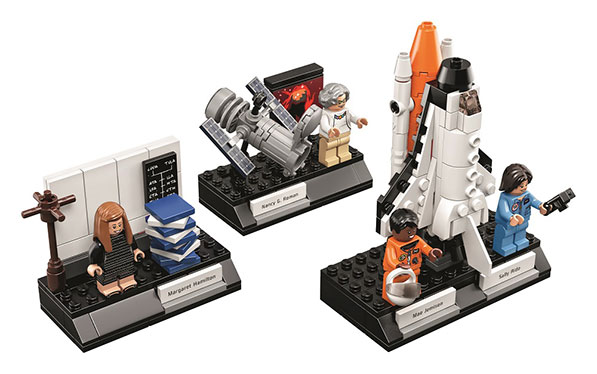 Each of the women featured in this
LEGO
set faced hardships in the workplace at and in their personal lives just for being women. Their amazing efforts, courage, and dedication have shaped the future we live in, and that's why it's so important to see them celebrated by
LEGO
and by kids and collectors all around the world who will bring these sets to life and tap into their imaginations right in their living rooms. While we've come a long way since then, there's still so much work to do, but we're so grateful for all of their accomplishments.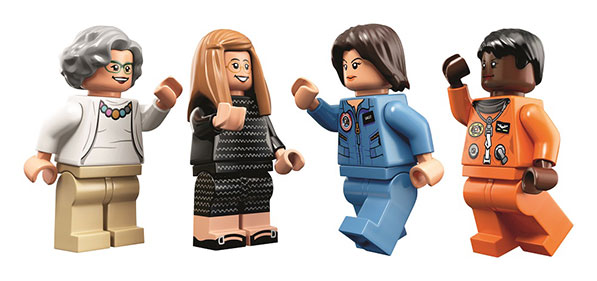 By being able to build a tiny version of the Hubble Telescope, develop software, or launch space shuttles into space, you can dream big and be inspired to reach for the stars just like Sally Ride, Margaret Hamilton, Mae Jemison, and Nancy Grace Roman. We're hoping this isn't the last female inspired LEGO set we see, as there's plenty of ladies out there who deserved to be honored in iconic brick form. Hello, Hollywood? Is that you? We're ready for a girl-power fueled LEGO Scientist Movie now.
If you live in or near NYC, you can pick up the Women of NASA set a few days early at a special event happening at the LEGO Store in the Flatiron District. The event will be held on October 28th from 10am-2pm and set creator Maia Weinstock will be there to meet fans and sign their sets. Kids will also be able to participate in an extra special science model build and take home their creation for free. If you're planning on hitting up this awesome event, definitely get there early as availability will be limited, and we have a feeling this new set will be launching off the shelves. For more info on the event, visit LEGO.com.
Need some more amazing female scientists to be inspired by? We think you'll love Women in Science: 50 Fearless Pioneers Who Changed the World!