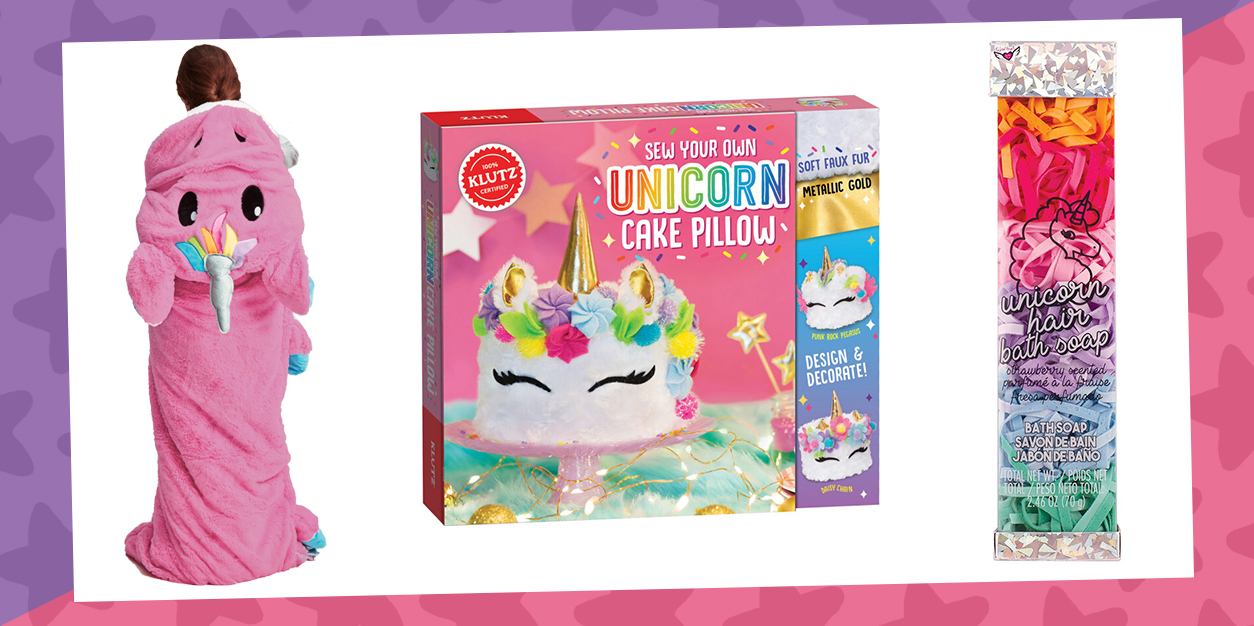 Celebrate Your Inner Unicorn with These Magical Finds + GIVEAWAY!
NOTE: Our Unicorn Product Roundup was curated by the YAYOMG! team. Some of our picks are items that we have recieved for free for review consideration. Our recommendations are based on items we think our readers will love. We do not use affiliate links. Opinions are our own.

Giveaway products generously provided by Klutz, Ooly, Iscream, Fashion Angels, and PixPerfect.
Do you believe in unicorns? We do! That's why we're rounding up some of the cutest unicorn stuff we can find to keep you in the know about all things magical!
Our list a mix of DIY kits, self-care must-haves, and other unicorn products that will have you sparkling everywhere you go. The very best part? We're giving one lucky unicorn lover a chance to win ALL the stuff on this list, thanks to our friends at Ooly, Klutz, Iscream, Fashion Angels, and PixPerfect!
Scroll down, make a wish, and enter to win the unicorn giveaway of your dreams!
All Our Fav Unicorn Stuff of the Moment: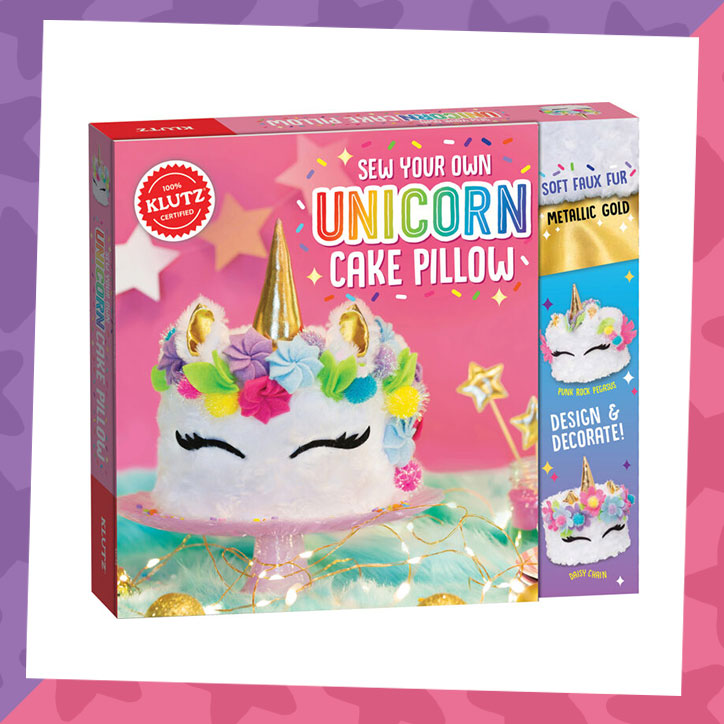 Sew Your Own Unicorn Cake Pillow from Klutz:
Obsessed with the unicorn cakes you always see when scrolling through your feed? Us too! But since we're not expert-level bakers, we prefer this plush version from Klutz!
This cute DIY kit comes with everything you need to create your own impossibly soft unicorn cake plush pillow, complete with metallic horn and dainty decorations. Follow the design ideas found within the instruction booklet or use your inner magic to decorate your unicorn pillow any way your heart desires. It's the perfect project to transform a boring rainy weekend into an enchanting craft sesh!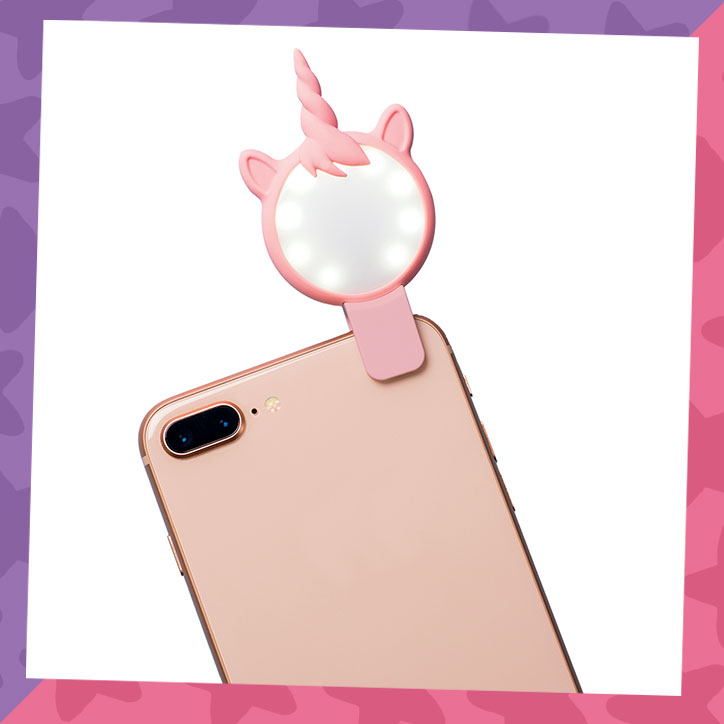 Unicorn Selfie Light from Iscream:
It can't always be golden hour, so a selfie light is the next best thing. If you believe in unicorns, this pocket-sized selfie light is essential for snapping all your best selfies and stories!
Rather than lugging around a bulky ring light, this unicorn-shaped light fits in your bag and easily attaches to the top of your phone, allowing you to capture the perfect selfies on the go.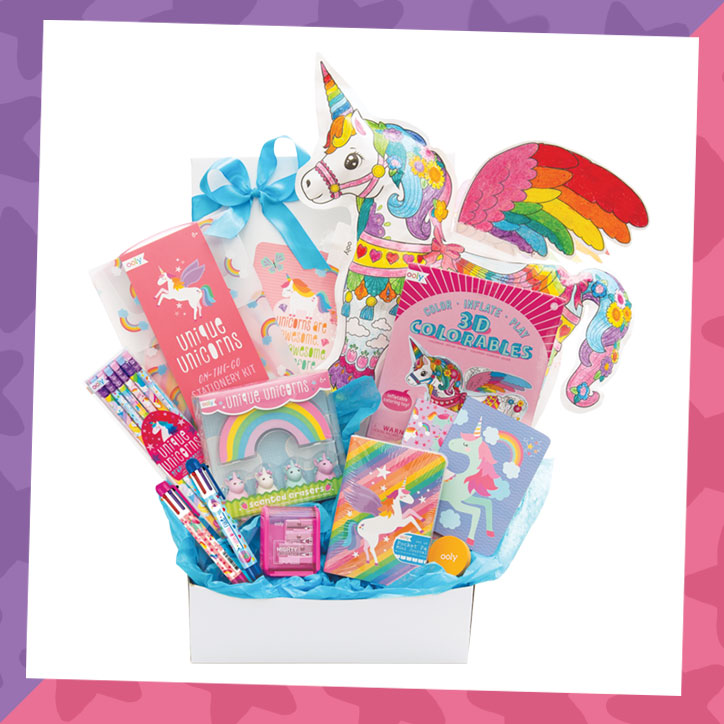 Unique Unicorns Writing Super Set from Ooly:
Deck out your desk with this absolutely amazing set of unicorn-inspired supplies. Colorful notebooks, scented erasers, stationery, pens, pencils, it's a unicorn lovers dream!
Dream up fantasy stories, doodle mythical unicorns, and cute up your homework with these infinitely adorable supplies. If you're as kind-hearted as a unicorn, there's plenty in this set to share with friends and siblings! Our personal favs of the bunch are the scented unicorn-shaped erasers and the pastel mini notebooks.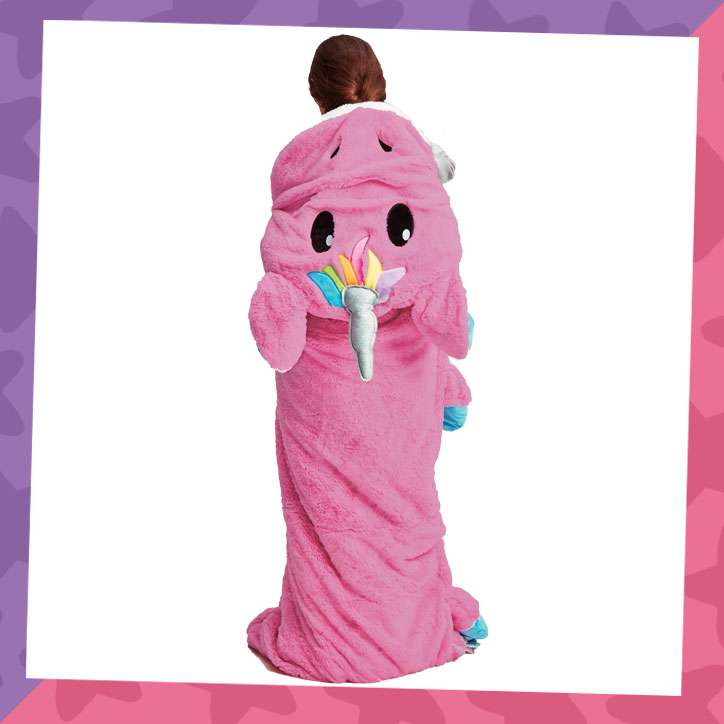 Unicorn Furry Sleeping Bag from Iscream:
There is no better way to get cozy on a warm winter night than with this luxe unicorn sleeping bag. Complete with super fluffy pink fur, a rainbow mane, and a shimmering horn, this is one of the most fabulous sleeping bags we've ever seen!
Whether you're spending a quiet night at home re-reading your favorite book series or headed out to a birthday sleepover, this unicorn is sure to keep you comfy all night long. This might just be our favorite unicorn product of all time!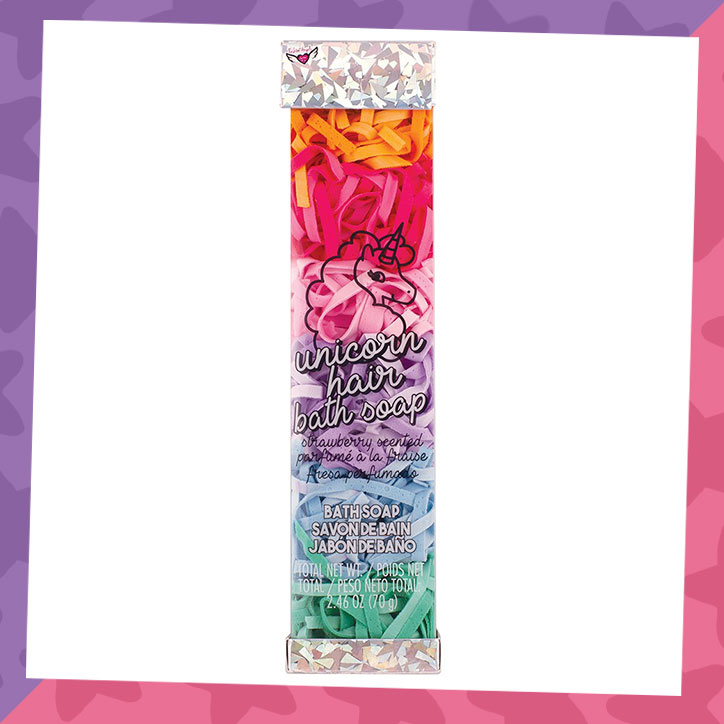 Unicorn Hair Bath Soap from Fashion Angels:
At first glance, we thought this unicorn hair bath soap was some kind of magical pasta. Thankfully, we didn't try to eat it (and you shouldn't either!)
Self-care is all about you, and if you love chasing rainbows, then you should be able to pamper yourself in unicorn style! Inspired by the flowing manes of a unicorn's iconic hair, this fragrant strawberry-scented soap dissolves in water to create soapy suds.
Pixel Art Starter Kit from PixPerfect:
PixPerfect is one of our favorite new ways to get our DIY on. Similar to Lite-Brite or Perler Beads, you'll create your design on a base grid. Rather than glowing pegs or colorful beads, you'll bring your design to life in true unicorn fashion – by using giant sparkly sequins!
Create the dazzling unicorn you see on the front of the box or dream up your own design. Either way, when you're done, lift it up and watch as the sequins flow and sparkle, bringing magical life into your creation!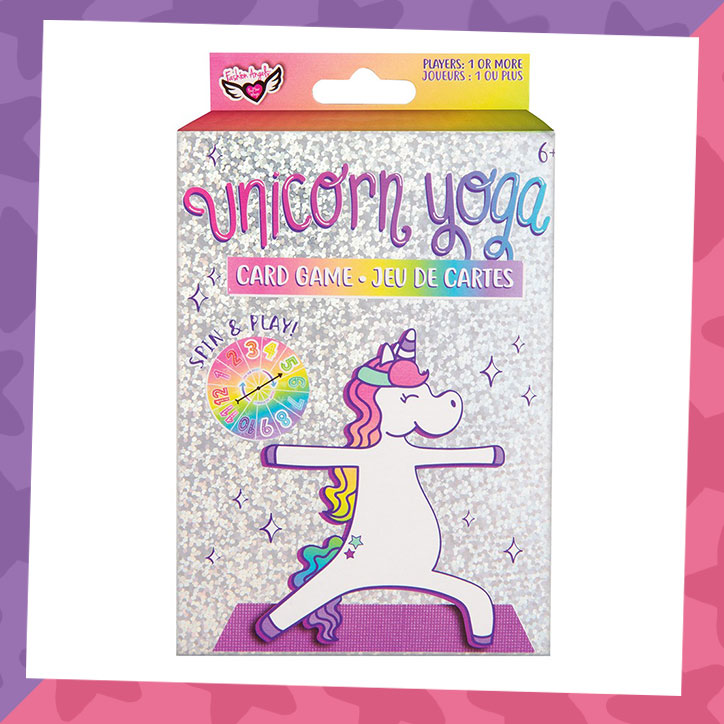 Unicorn Yoga Card Game from Fashion Angels:
We're big fans of Fashion Angels original Unicorn Yoga game, we even included as must-have sleepover item!
The Unicorn Yoga Card Game takes everything you love about the original and turns into a fun on-the-go game. Spin the spinner and try to do all 12 yoga poses before anyone else. On your own? It's easy to organize the cards into a relaxing flow you can do in your room when you need to find your zen.
We still think they're a great pick for sleepovers, but these are easy to take with you – think vacations, summer camp, and more!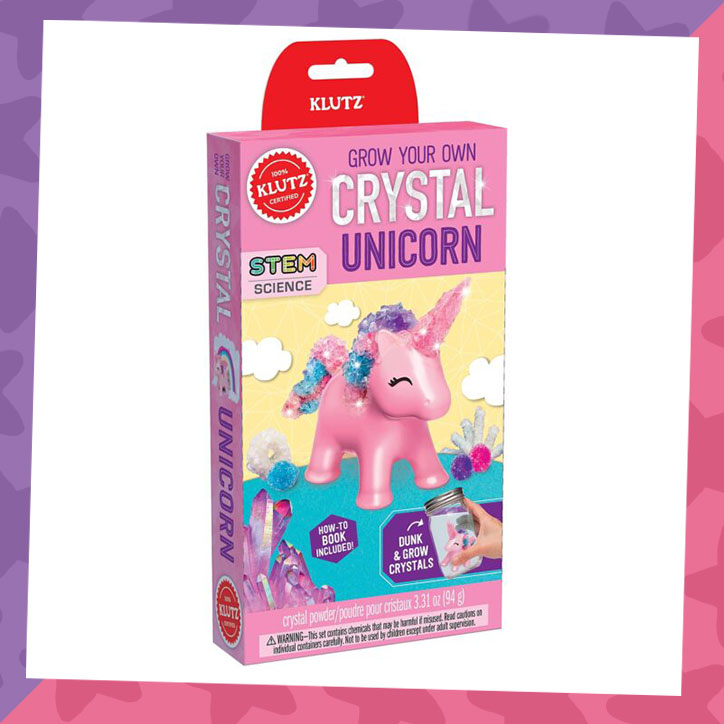 Grow Your Own Crystal Unicorn Kit from Klutz:
Who wouldn't want to grow their own unicorn? This amazing kit allows you to step into the shoes of a sparkling scientist as you grow your very own crystals and learn how geodes are formed.
Your new unicorn bestie will grow a stunning, twinkling mane, tail, and horn right before your eyes. Are narwhals more your thing? Klutz has a similar kit starring the unicorns of the sea! Sparkle on!
Unique Unicorn Giveaway: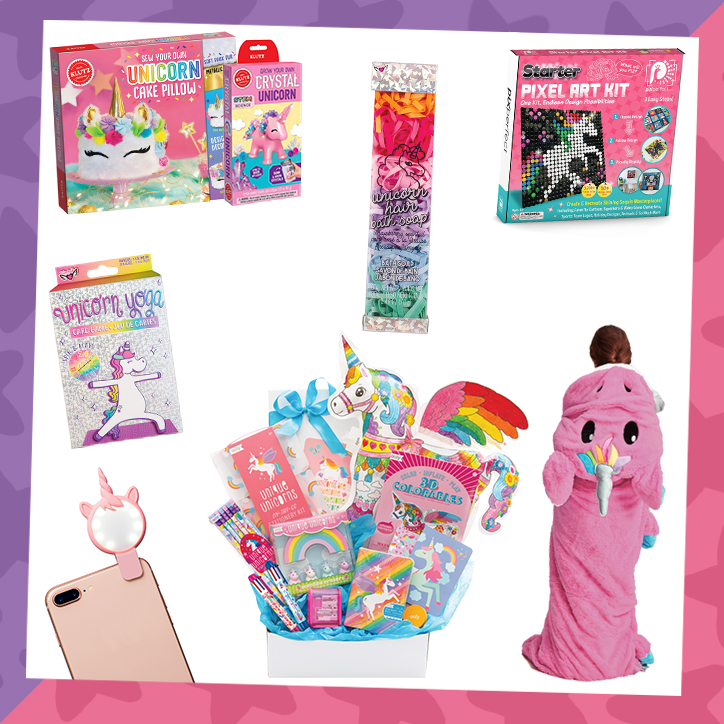 WHAT DO I WIN?:
ONE lucky winner will receive a Unique Unicorn Prize Pack that includes:
– ONE (1) Sew Your Own Unicorn Cake Kit from Klutz
– ONE (1) Grow Your Own Crystal Unicorn Kit from Klutz
– ONE (1) Unicorn Selfie Light from Iscream
– ONE (1) Unicorn Furry Sleeping Bag from Iscream
– ONE (1) Unique Unicorns Writing Super Set from Ooly
– ONE (1) Unicorn Yoga Card Game from Fashion Angels
– ONE (1) Unicorn Hair Bath Soap from Fashion Angels
– ONE (1) Pixel Art Starter Kit from PixPerfect
*Prizes generously provided by Klutz, Iscream, Ooly, Fashion Angels, and PixPerfect
HOW DO I ENTER?:
Grab a parent or guardian and have them fill out the form below by November 29, 2019 at 11:59pm ET.
Giveaway runs from 11/15/19 at 05:00 pm ET through 11/29/19 at 11:59 pm. Open to US residents ONLY. Be sure to read the fully detailed rules HERE before entering.
THIS GIVEAWAY HAS ENDED AND THE WINNER HAS BEEN CONTACTED.
You must be 18 or older to enter. Please, only ONE entry per person. If selected as a winner, we will provide your parent/guardian with an affidavit to confirm that you are a valid winner who has permission to win. They will be REQUIRED to sign and return the affidavit to YAYOMG! to claim your prize. Prizes will not be mailed out without signed parental consent.
Are you more VSCO Girl than unicorn? Be sure to enter to win a VSCO Girl inspired PopGirl Box filled with scrunchies, stickers, and other adorable accessories!