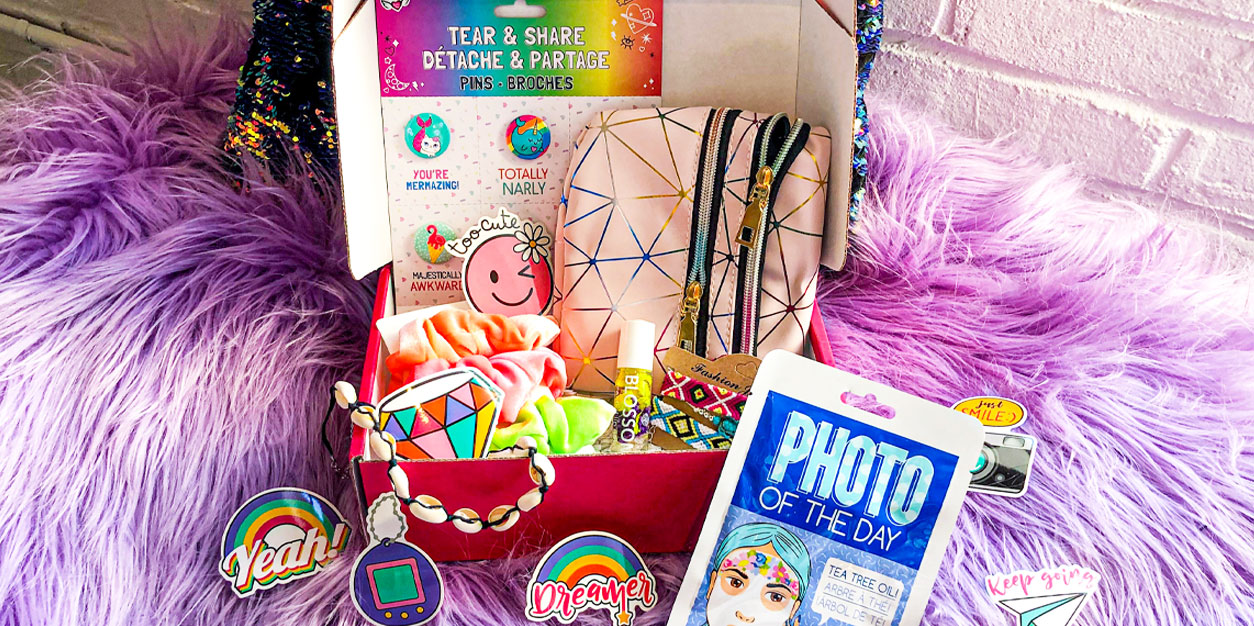 Radiate VSCO Girl Vibes With Our PopGirl Box GIVEAWAY
NOTE: We teamed up with PopGirl Box for this VSCO Girl Giveaway. All opinions are our own; we were under no obligation to give a positive review. Giveaway prize provided by PopGirl Box.
Anyone who follows YAYOMG! knows that we're utterly obsessed with the tween-subscription box, PopGirl Box. This month, we've teamed up with them to give away their GLO-VEMBER box, inspired by all things VSCO Girl.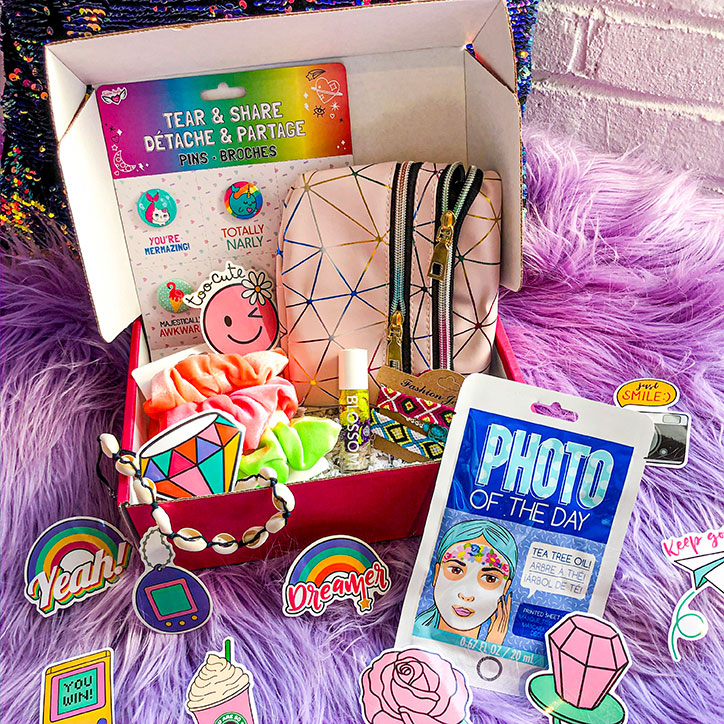 For those not in the know, PopGirl Box is a monthly subscription box made for tween girls. Each box costs around $29 and is filled with tons of amazing goodies from sparkling accessories to colorful stationery items and everything in between. This month, the box is riding the VSCO girl wave, featuring a ton of trendy VSCO-inspired accessories that'll have you radiating good vibes wherever you go.
We're giving you a peek at everything you'll find inside the November box and a chance to win your very own PopGirl Box!
Unboxing the GLO-VEMBER PopGirl Box: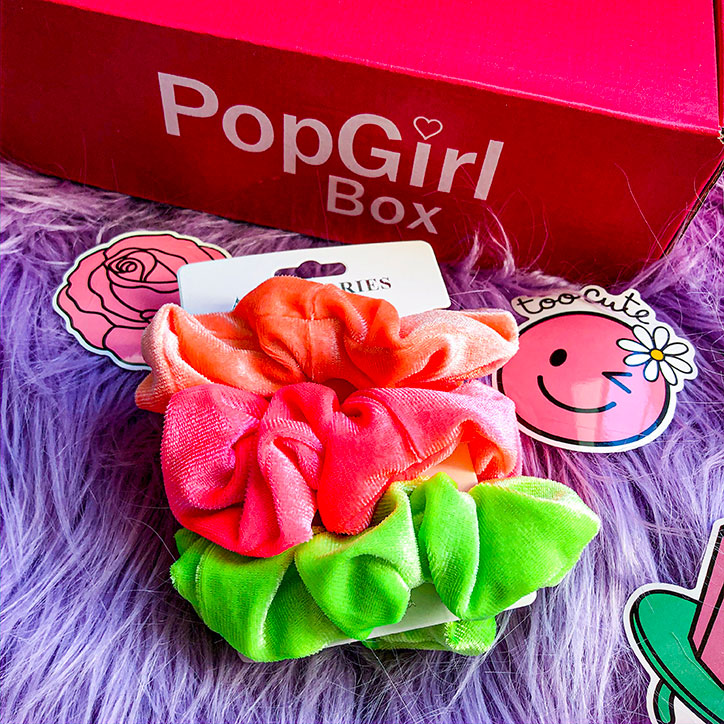 Neon Velvet Scrunchie Set:
What's a VSCO girl without a massive collection of colorful scrunchies? These velvety neon scrunchies will look awesome on your arm, or as the shining star of your messy bun.
Since it comes with three, you can accessorize to heart's content or share them with your squad!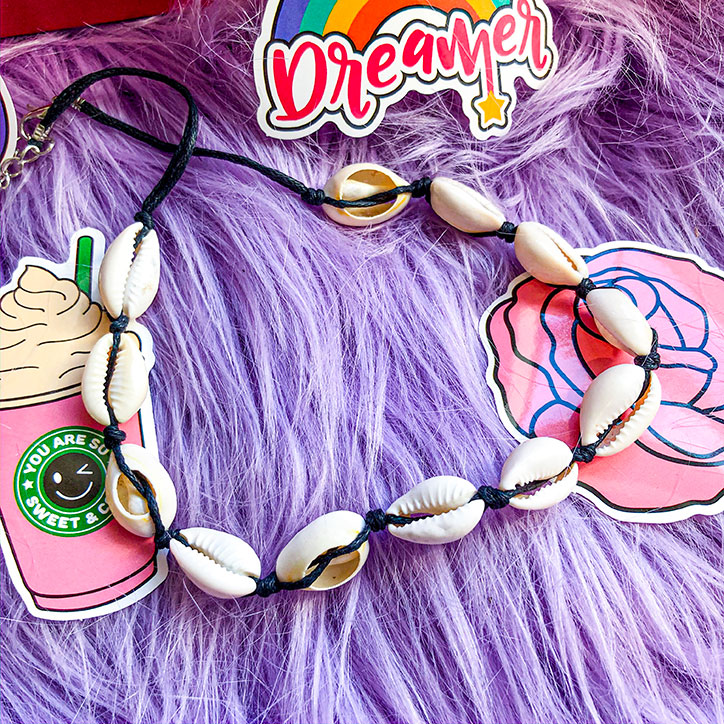 White Shell Choker Necklace:
The thing we love most about puka shell necklaces is their simplicity. They're such a great accessory to add a bit of subtle flair to your #OOTD and give off such a specific vibe.
Whether you're looking to tie together the ultimate VSCO girl look or just radiate beachy vibes, a white shell choker is a perfect choice.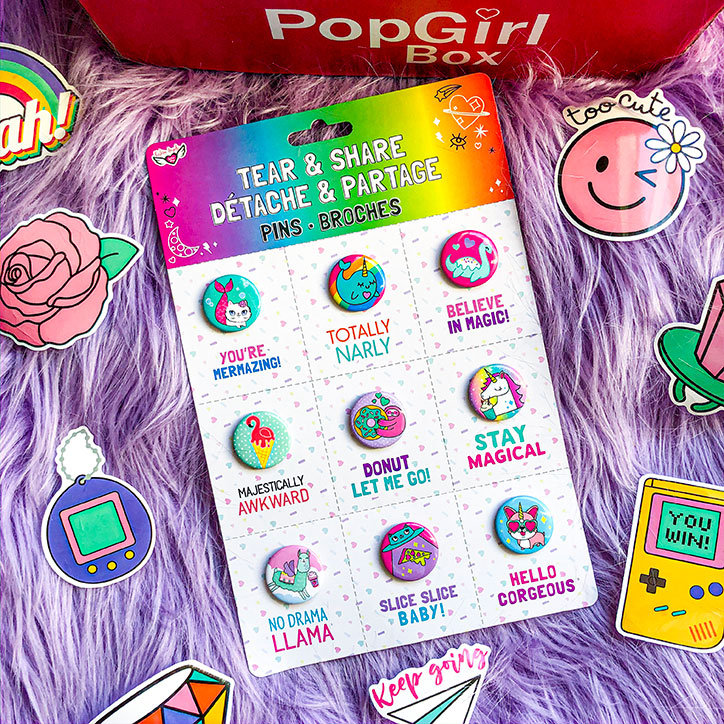 These tear and share pins are perfect for decorating everything from your jean jacket to your backpack. We also love making pin collages on our corkboards!
Whether you're feeling majestically awkward or totally mermazing, you'll find a pin that compliments your personality with style. This set comes with 9 colorful animal pins that you can steal for yourself or share with your friends.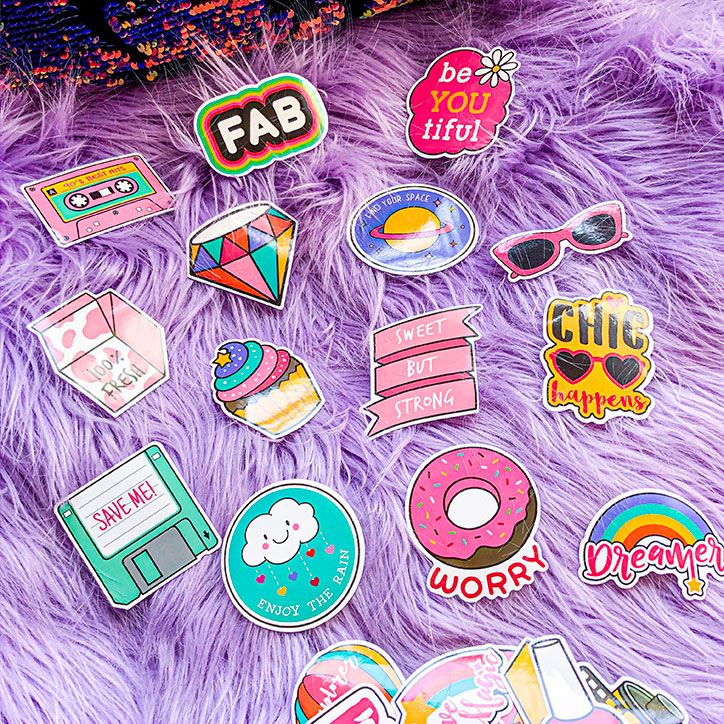 PopGirl Pink Fashion Sticker Set:
These vinyl stickers are legit amazing! Stick 'em all over your water bottle, laptop, and notebooks to show the world exactly who you are.
We're completely crushing on the adorable designs and '90s vibes and will for sure be giving all our stuff a super cute glow up.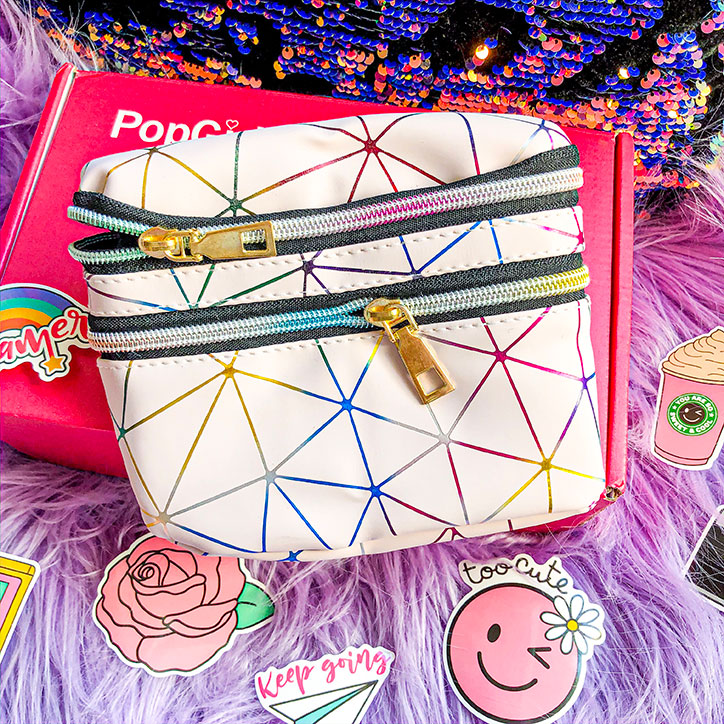 PopGirl Pink Holographic Belt Bag:
Hands down, our favorite item in this month's box is this geometric belt bag. It's a lovely shade of baby pink with colorful metallic accents, perfect for stashing your stuff so you can be hands-free for spur of the moment hugs and selfies!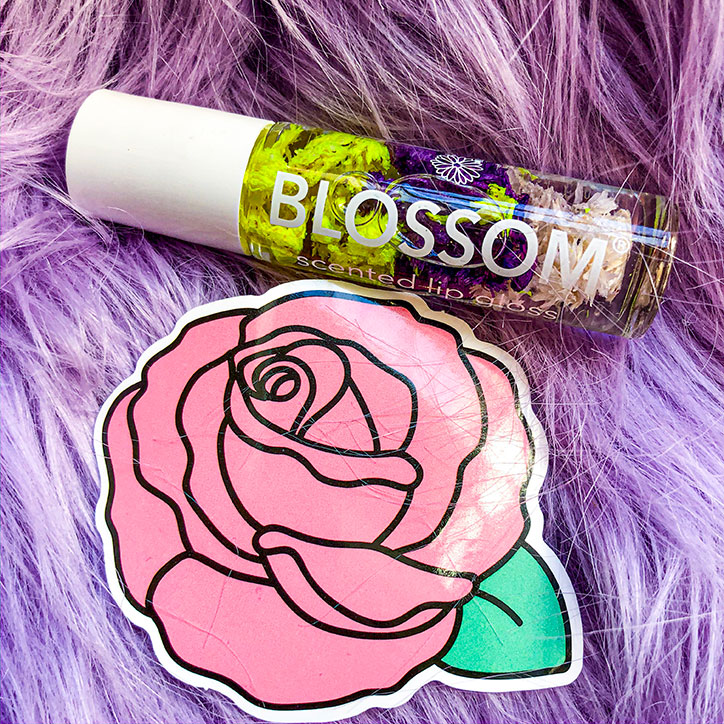 Is this not the most beautiful lip gloss you've ever seen? It's flipped with dried flowers, making it Insta-worthy both in the bottle on your lips!
Blossom Beauty's products are infused with real flowers and nourishing mineral oils that will leave your lips soft and shiny. The one we got has a vanilla bean scent, and it's absolutely delectable!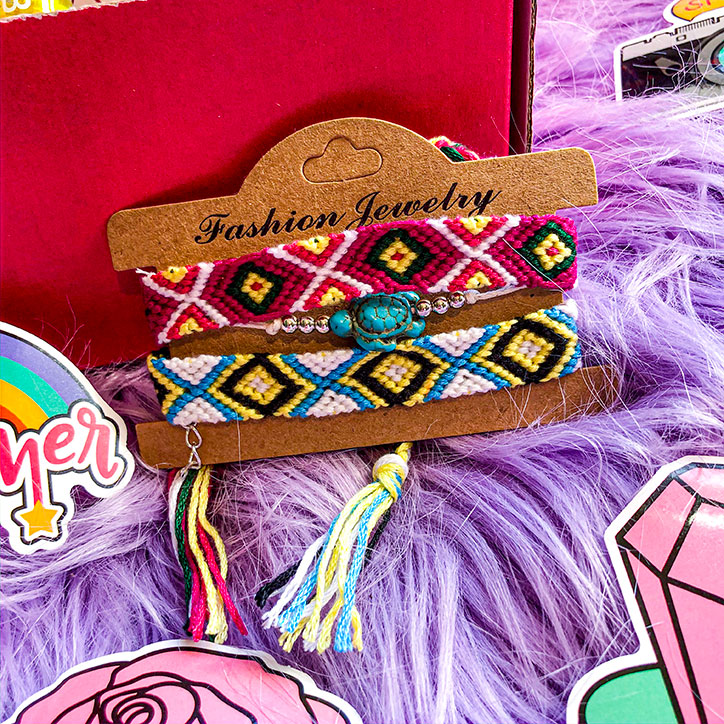 Woven Friendship Bracelet Set:
If you and your BFF are destined to save the sea turtles, you'll love wearing and sharing these trendy woven friendship bracelets.
How adorable is that turtle charm? Wear it on your wrist to remind you to make environmentally sound choices, like swapping your plastic straws for metal ones or re-using your Hyrdo Flask instead of plastic bottles that can end up in the ocean!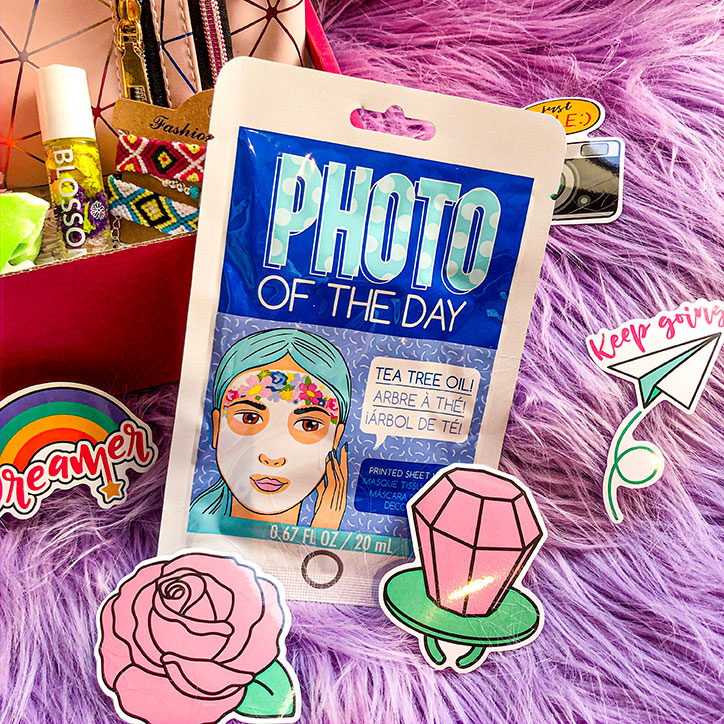 Photo of the Day Sheet Mask from Fashion Angels:
After a long school week, why not unwind with a little self-care? This tea tree oil-infused sheet mask is the perfect way to relax while nourishing your skin. Breathe in the soothing jasmine scent, lay back, and let your stress melt away.
Don't forget to snap a selfie and show off the pretty flower crown design!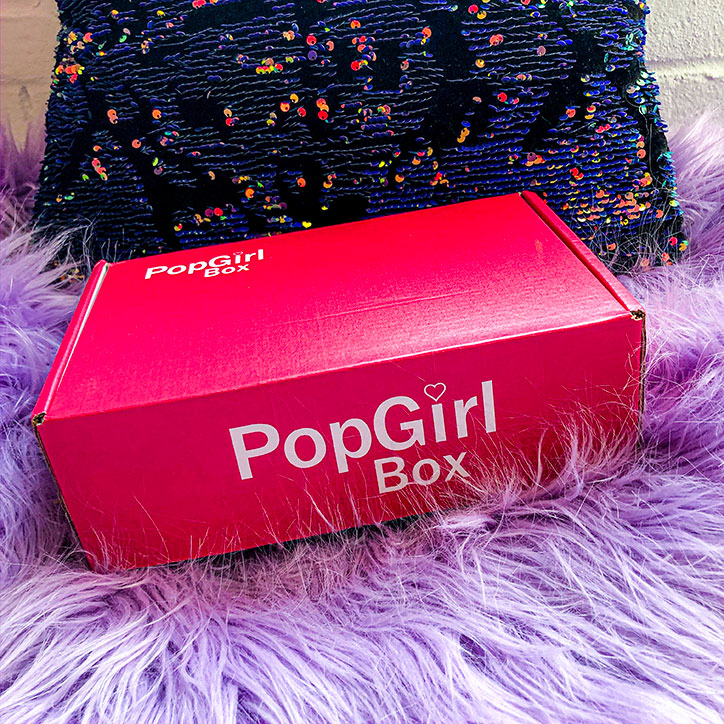 HOW DO I SUBSCRIBE?
– Grab an adult and head to the PopGirl Box website, POPGIRLBOX.COM.
– Use our code YAYOMG when you check out for $5 off your first box!
Cost Per Box: $29.00 + S/H. The boxes ship out monthly, and you can cancel at any time.
What Do You Get?: Each month you'll receive a new box with a new theme. Each box contains 6-8 surprise items worth over $50 in value! According to the website, items can be anything including: "jewelry, hair accessories, beauty products, school supplies, sweet treats, and the latest swag for young girls!"
This November VSCO GIRL box has already sold out, but the December box is on sale now. Be sure to make your purchase before November 25th to lock in your spot for the POP HOLIDAY box. We can't wait to see what's next!
Dying to get your hands on THIS amaze GLO-VEMBER box? Enter below for your chance to win!
PopGirl Box VSCO Girl GIVEAWAY: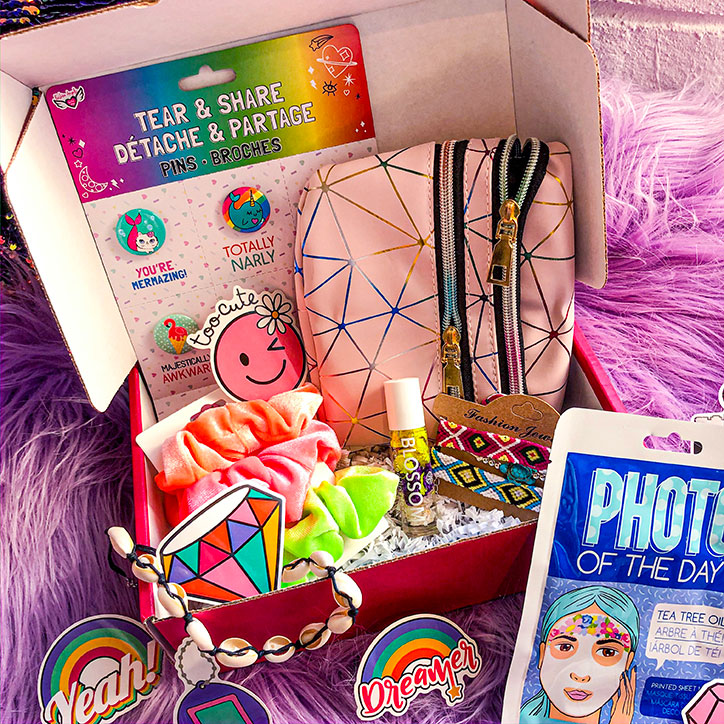 WHAT DO I WIN?:
ONE (1) lucky winner will receive the GLO-VEMBER PopGirl Box that includes everything detailed in the post above.
*Prize generously provided by PopGirl Box, item varieties and colors may vary.
HOW DO I ENTER?
Grab a parent or guardian and have them fill out the form below by November 21, 2019 at 11:59pm ET.
Giveaway runs from 11/14/19 at 12:00 pm ET through 11/21/19 at 11:59 pm. Open to US residents ONLY. Be sure to read the fully detailed rules HERE before entering.
You must be 18 or older to enter. Please, only ONE entry per person. If selected as a winner, we will provide your parent/guardian with an affidavit to confirm that you are a valid winner who has permission to win. They will be REQUIRED to sign and return the affidavit to YAYOMG! to claim your prize. Prizes will not be mailed out without signed parental consent.
Want to win even more FREE stuff? Enter to win a prize pack filled with Frozen 2 goodies or baking essentials!