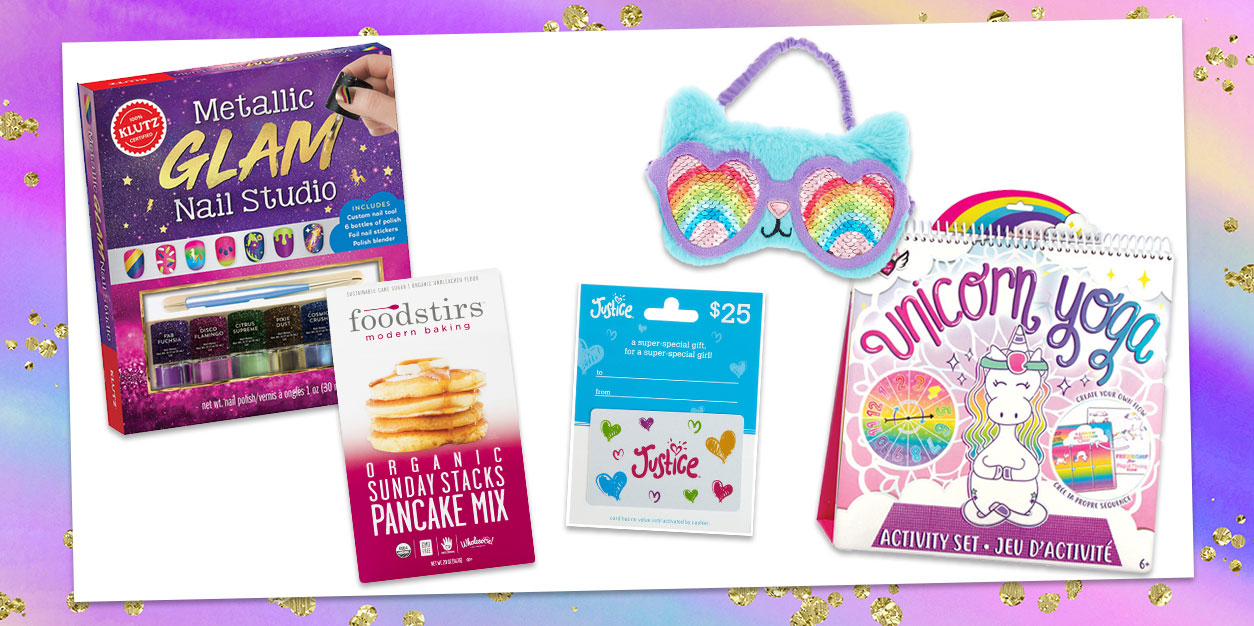 Throw an Epic Sleepover with Our Sleepover Day GIVEAWAY!
NOTE: Some of the items in our Sleepover Day Giveaway Prize Pack were provided by the brands Klutz, ZURU, and Fashion Angels. Other prizes were purchased by YAYOMG! No money was exchanged, and all opinions are our own.
It's National Sleepover Day and we're here to help you throw a seriously awesome slumber party that your besties will remember forever. Nothing compares to gathering up your squad on a Saturday night ordering pizza, binge-watching movies, and staying up all night talking about anything and everything.
We're sharing some of our best sleepover favs and are giving you the chance to win a fabulous Sleepover Day Prize Pack!
How to Throw an Amazing Sleepover: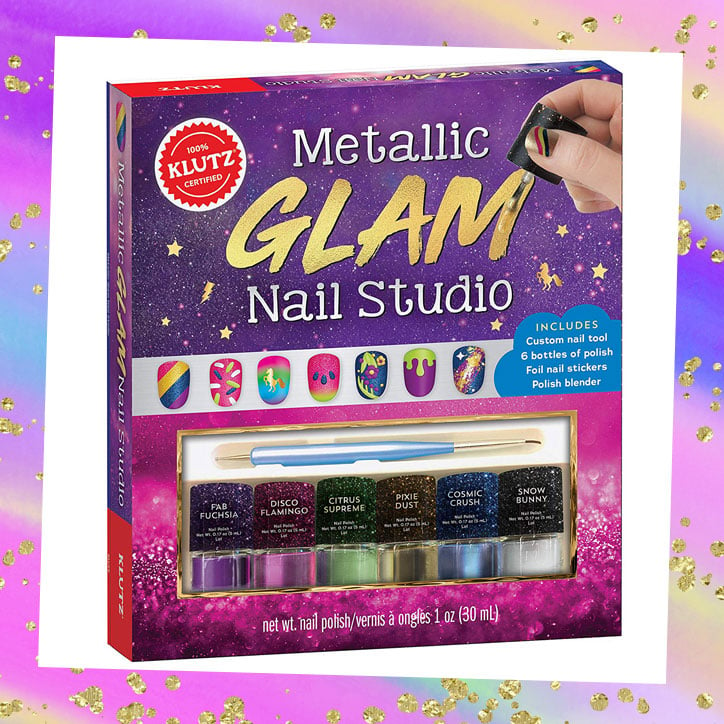 Get Creative with Mani-Pedis:
Every great sleepover requires a little makeover fun. Not because you aren't beautiful – but because when all your besties are in one room with their hair ties, nail polish, and lip gloss – why not put them to good use?
Even if you aren't allowed to wear makeup yet, you can still turn the iconic sleepover makeover into a fun activity for all your friends. We think nail art is an excellent choice because it inspires creativity and makes for a fun group activity. Even if you have a friend who doesn't like to paint their nails, they can still participate by helping pick out colors and designs or helping paint someone's nails for them.
Our Sleepover Day Giveaway includes the Metallic Glam Nail Studio from Klutz. With six shimmery metallic nail polish colors, foil nail art stickers, and a book filled with over 30 creative nail art design ideas, the ideas will flow all night long!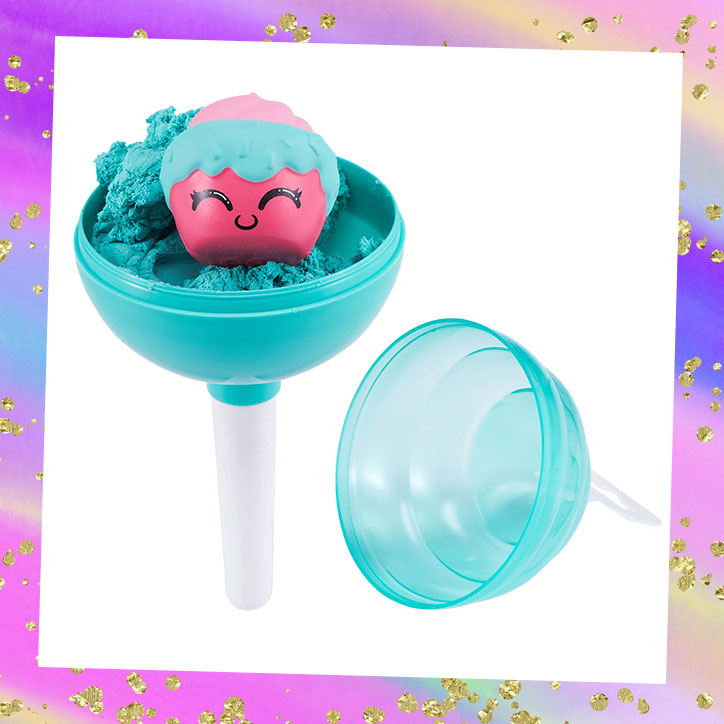 Unbox Some Fun:
If you and your friends love collectible toys and unboxing videos, why not bring the fun of unboxing to the party? Rather than goodie bags filled with candy, give each of your guests one or two toys to unbox during the slumber party.
It's a super fun activity that everyone can enjoy, plus, you'll be able to get your trade on. You can even record your own unboxing video for added fun! Your guests will love that they get to bring home something special to remember the night by.
If you win our Sleepover Day Giveaway, you'll receive 4 Cotton Candy Cuties from ZURU to share with your party guests. Not only are they fun to open, but there's fluffy slime and adorable squishies inside that smells absolutely amazing. A perfect party choice!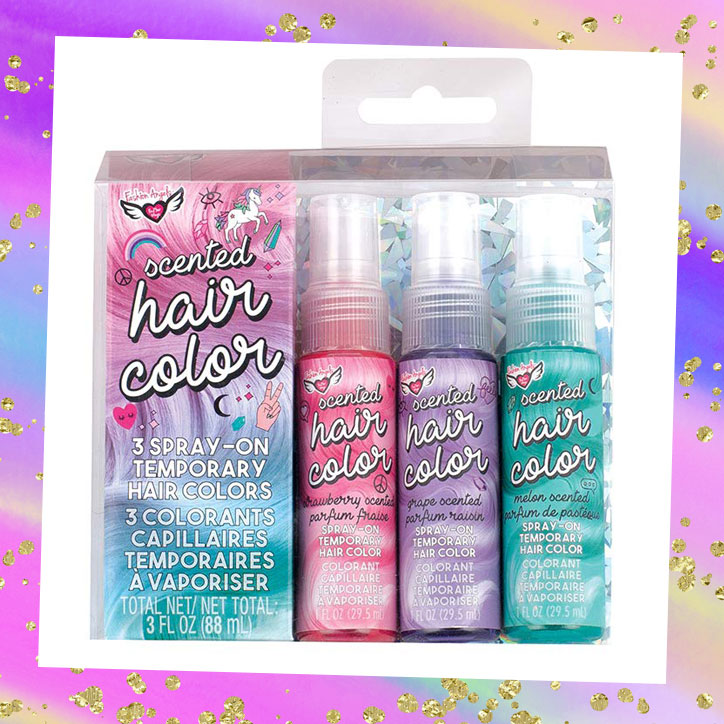 Try a Wild Hairstyle:
After your nail art has dried and you've played some party games, it's time to pop on a few movies and unwind. While you get your pizza on and watch your favorite flicks, we think it's a great opportunity to do each other's hair.
Getting your hair brushed and braided can be relaxing, plus, it feels SO good to be pampered! Have your friend who's always rocking killer space buns show you how to do them or test out a bold style you've always wanted to try. Add in some face masks for a bonus way to relax!
To encourage your most creative styles, we're including a pack of Fashion Angels Scented Temporary Hair Color in our prize pack! It includes three pretty shades that smell great and will easily wash out when the party is over.
Practice Magical Mindfulness:
Move over, Twister! We're crowning Unicorn Yoga from Fashion Angels as the ultimate sleepover activity. Yoga isn't just good for you, stretching is also a great way to unwind and be kind to your body after a night of sugary snacks and over-excited energy.
Get your stretch on and breathe out the sleepover sillies before bed to help get everyone in a zen mindset for sleeping. It's also a great activity to get everyone moving again in the morning as well!
We're including a copy of Unicorn Yoga in our prize pack, courtesy of our friends at Fashion Angels!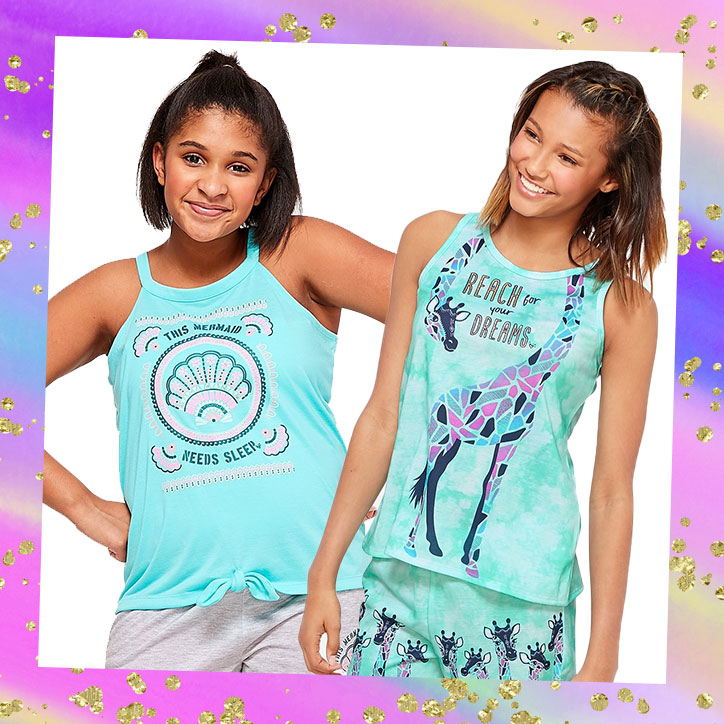 Wear the Snuggliest PJS:
When the whispers and giggles have come to an end, and it's finally time to catch some zzz's, you'll want to be as comfortable as possible. We suggest rocking a cute pair of PJs that will look great in selfies during the party but make sure they're comfy for sleeping in too. Be a gracious host and see if any your guests need any extra blankets or pillows before you go to sleep.
That's why our Sleepover Day Giveaway includes a $25 Justice Gift Card! If you win, you can snag some snuggly slippers or comfy PJs to rock at the big event. Comfort is key!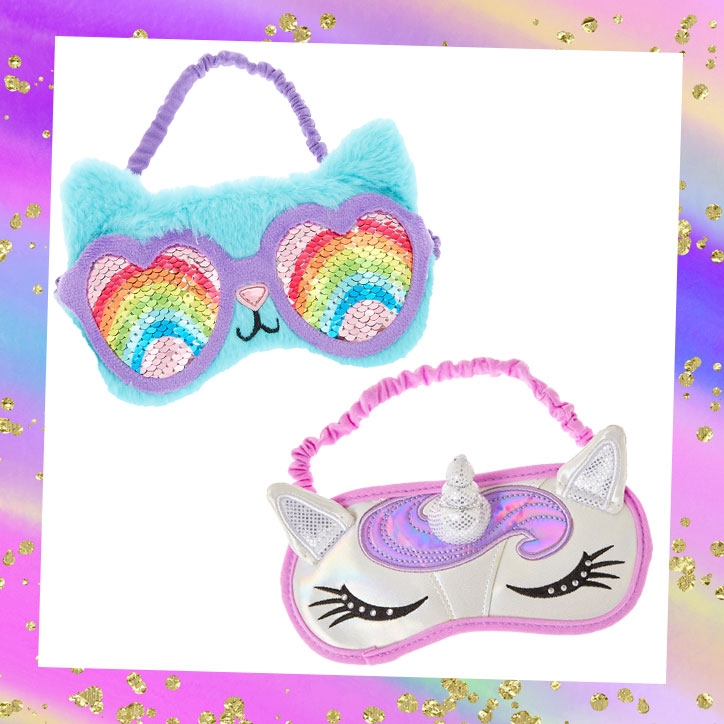 Rock a Cute Sleep Mask:
Sometimes it can be hard to sleep in a new place, especially with the buzz of the party still running through your mind as you drift off to dreamland. We suggest a cute sleep mask to block out any unnecessary light and to help you sleep easy. We know it's fun to stay up as late as you can, but when the time comes to actually sleep, you'll be thankful that you brought one!
We love the sleep masks from Claire's because they're incredibly adorable. From unicorns to bunnies – there are quite a few fluffy, sparkly, and fabulous choices. Our giveaway includes five sleep masks for you and all your party guests so everyone can get their beauty rest in style!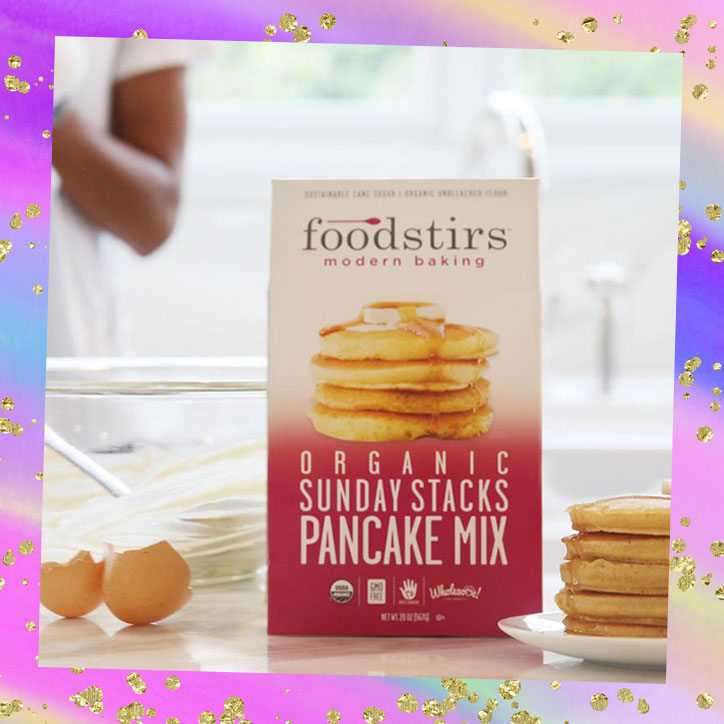 Make Breakfast Together:
Who says the party has to end after the sun comes up? Making breakfast together is a super fun group activity and gives you a final way to bond before you send your besties on their way home.
It's not a weekend morning without fluffy, delicious pancakes! That's why we're giving the winner of our giveaway a package of Foodstirs Pancake Mix. Their baking mixes are made from natural and organic ingredients, are simple to make, and taste great.
Be sure to grab some toppings and mix-ins like fruit, nuts, chocolate chips, and whipped cream so everyone can get creative and make their perfect pancake!
Sleepover Day Giveaway:
WHAT DO I WIN?:
ONE lucky winner will receive a Sleepover Day Prize Pack that includes:
– FIVE (5) Sleep Masks from Claire's
– FOUR (4) Cotton Candy Cuties from ZURU*
– ONE (1) $25 Justice Gift Card
– ONE (1) Metallic Glam Nail Studio Kit from Klutz*
– ONE (1) 3-Pack Scented Hair Color from Fashion Angels*
– ONE (1) Unicorn Yoga Activity Set from Fashion Angels*
– ONE (1) Organic Sunday Stacks Mix from Foodstirs
*Prizes generously provided by ZURU, Klutz, and Fashion Angels. Styles may vary. Other prizes purchased by YAYOMG! for the purposes of this giveaway.
HOW DO I ENTER?:
Grab a parent or guardian and have them fill out the form below by May 23, 2019 at 11:59 pm ET.
Giveaway runs from 5/09/19 at 06:00 pm ET through 5/23/19 at 11:59 pm. Open to US residents ONLY. Be sure to read the fully detailed rules HERE before entering.
THIS GIVEAWAY HAS ENDED AND THE WINNER HAS BEEN CONTACTED.
*You must be 18 or older to enter. Please, only ONE entry per person. If selected as a winner, we will provide your parent/guardian with an affidavit to confirm that you are a valid winner who has permission to win. They will be REQUIRED to sign and return the affidavit to YAYOMG! to claim your prize. Prizes will not be mailed out without signed parental consent.
Be sure to check out our latest HEART EYES roundup for even more awesome games and activities that double as sleepover fun!