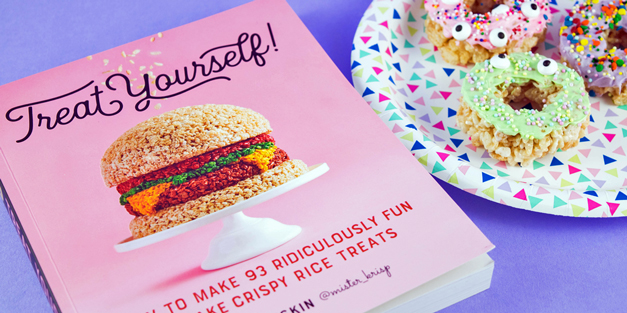 Treat Yourself! Will Teach You to Create Amazing Crispy Rice Treats
Is there anything more magical than dessert? Whether you're eating it, baking it, or just scrolling through your Insta feed drooling over it, there's nothing better than an over the top, sugary dessert to perk up your mood. What if there was a way that you could create one of those wildly over the top desserts you've seen online in your very own kitchen? Jessica Siskin, aka Mister Krisp, makes that possible with her new cookbook, Treat Yourself! Thanks so much to our friends at Workman Publishing for sharing this book with us!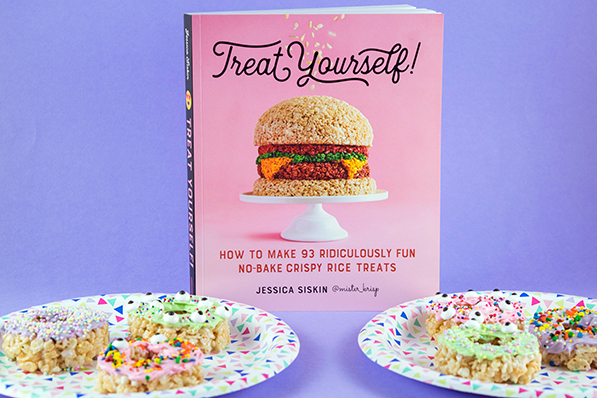 This isn't just an ordinary cookbook. It's 93 totally amazing crispy rice treat creations that you can easily create at home (with the help of mom and dad!). Each of the colorful and totally amazing ideas in this book all start from one base recipe that can be doubled, tripled, or quadrupled – making it really simple for you to work from.
All the important stuff is laid out right in front for easy reference. Jessica's story, her go-to recipe, ingredients to use, and even storage methods. From there, you can use all that great advice to create literally anything. There's 93 ideas for you to try out between the covers of Treat Yourself!, but the only limit is your imagination.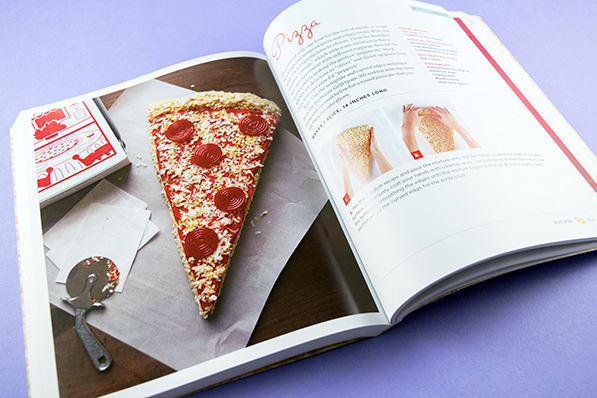 The book features everything from quick, cute, and easy projects like emoji faces and donuts to intricate designs that are hard to master, like golden retrievers and even self-portraits. No matter what your skill level, you'll be able to create something that's not just eye catching, but incredibly delicious. We tried our hand at the Donut recipe found on page 89 of Treat Yourself! Here's how it turned out: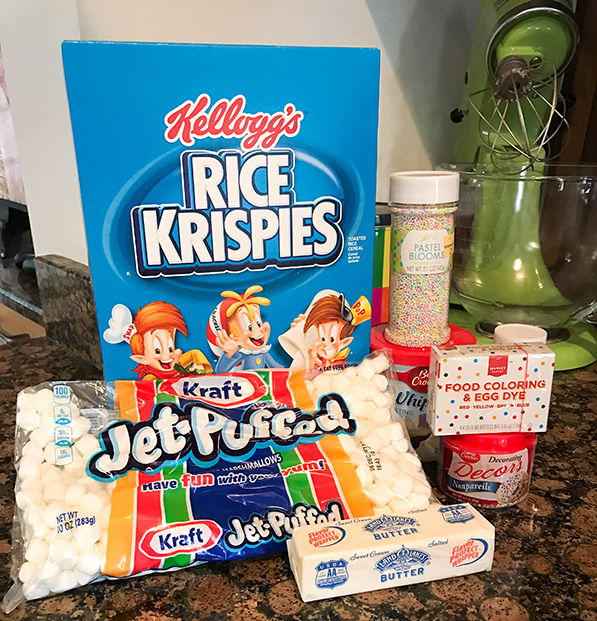 It was really easy to understand all of the steps and the amount of ingredients we'd need. We gathered up our Rice Krispies, mini marshmallows, butter, and other ingredients and got started. As always, we recommend measuring and laying out all necessary ingredients before getting started.
This is called Mise en Place and it's a cooking industry standard for setting up your work station and staying organized. Timing really matters in this recipe, so having to scoop out your marshmallows on the fly isn't really going to work.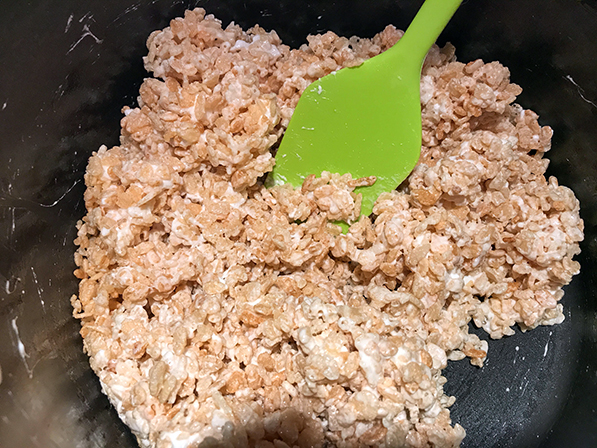 Once we were set up, we lit the stove and got started. We dropped in our butter, poured in our marshmallows, and mixed in our crispy rice exactly as the recipe called for. Making the base mixture took just a few minutes and the whole process was super smooth.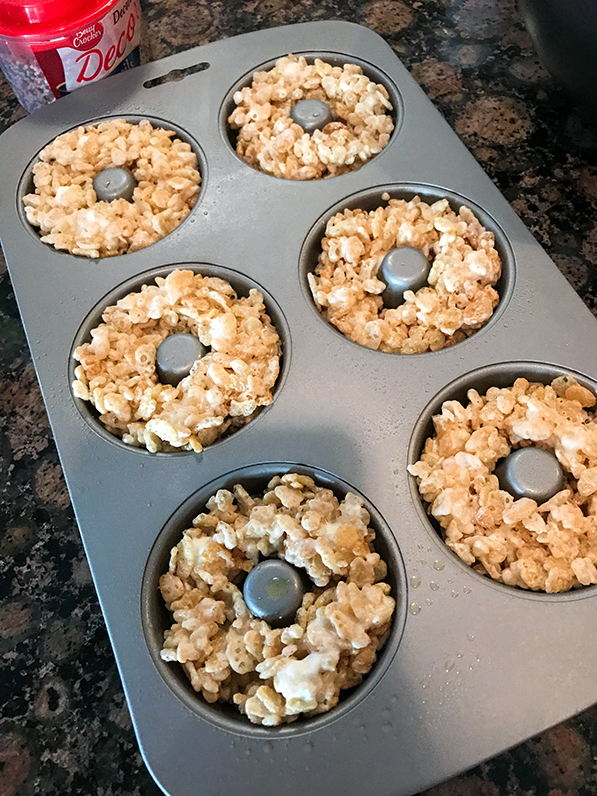 The next step in most of the recipes is shaping. Whether you're shaping by hand or using a mold, you'll want to work quickly and efficiently. We loved Jessica's tip of spraying your hands with cooking spray before getting started on this step. It really saved us from a sticky mess! Since we were making the donuts, we pressed our rice mixture into the donut tray and popped them in the freezer once we were done. We also tried shaping a few by hand, but we definitely had better luck with the molds. Circles aren't an easy shape to get right, so we're not too sad about it.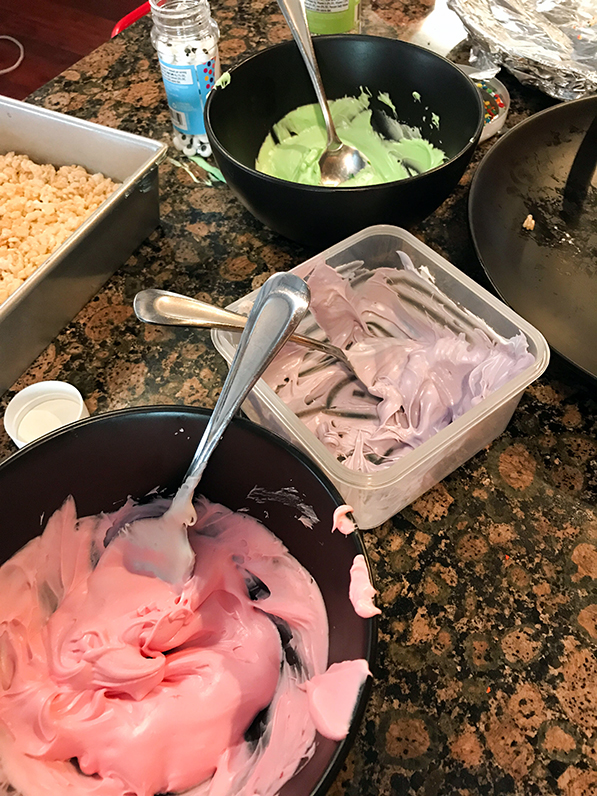 While the treats were setting in the freezer, we worked on mixing our icing colors. You can use pre bought icing with tips attached or make your own frosting and use a pastry bag. We had some Betty Crocker Whipped Vanilla Frosting on hand, so we went with that. We made our colors by mixing food coloring together – three lovely shades of pink, purple, and green.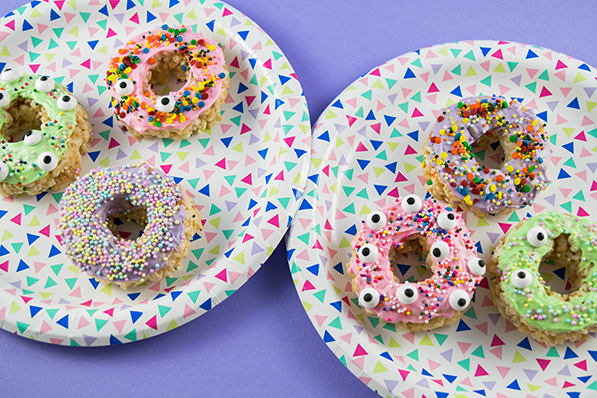 Once the molds set for 15 minutes as the Treat Yourself! recipe called for, we got to frosting. We frosted the top of each of our donut treats with the colorful frosting we just whipped up. Now for the best part – the sprinkles! We found some adorable pastel sprinkles and eyeball candies at our local kitchen store and went to town with the decorating. We loved turning some of our donut creations into donut monsters! It's that easy to bring a recipe to life in your own way.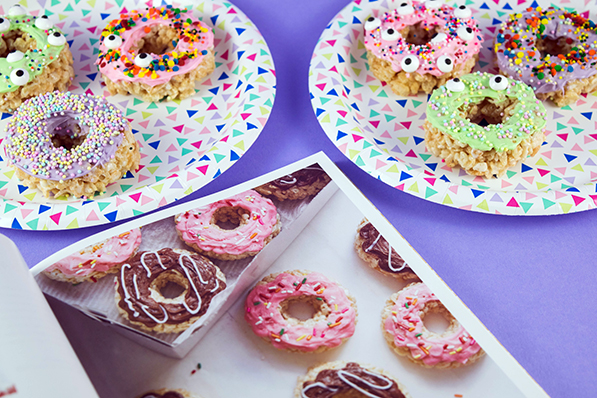 We were pleasantly surprised by Treat Yourself! Every instruction and photo is really easy to follow and even inexperienced bakers like us were able to make some ridiculously cute and tasty treats. Next time we feel confident that we could step up our game and get into something on a harder skill level. Treat Yourself! is a great choice to gift to your friends who love to bake OR for aspiring bakers looking to get creative in the kitchen and is now available for $14.95. Follow @mister_krisp to get inspired by all of her incredible creations.
Can't use the stove? Try out the the Yummy Nummies Marshmallow Treats Maker!
Note: We received this book for free from Workman Publishing in exchange for a fair and honest review. We were under no obligation to write a positive review.