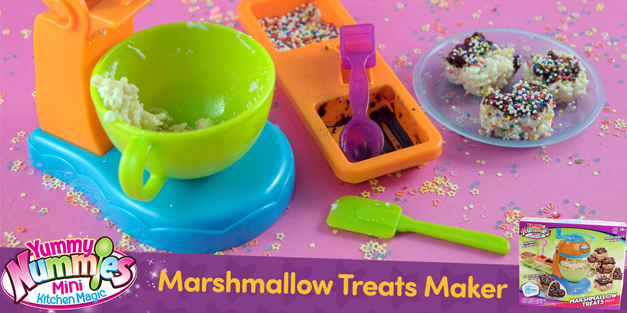 Hands On With the Yummy Nummies Marshmallow Treats Maker
When Blip Toys offered us a chance to try out the Yummy Nummies Marshmallow Treats Maker, we jumped at the opportunity! An easy way to make ooey gooey Instagram worthy treats? Count us in! While we love baking in our own kitchen, we know a lot of you guys are probably looking for the freedom to work on your cooking and baking skills without always having a kitchen mess to clean up or beg mom and dad for permission to use the stove. Who knows, you might just be the next Rosanna Pansino!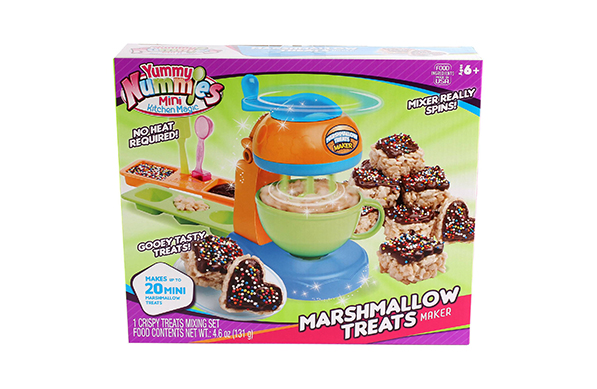 That's what makes the Yummy Nummies Mini Kitchen Magic Playsets so great. All their cooking sets give you everything you need right inside the box. The most you'll ever need to use from your kitchen is a microwave. The Marshmallow Treats Maker doesn't require any additional appliances or supplies, making it a great way to try your hand at baking. Thanks so much to Blip Toys for sending us this deliciously cute product!
Hands On With the Yummy Nummies Marshmallow Treats Maker: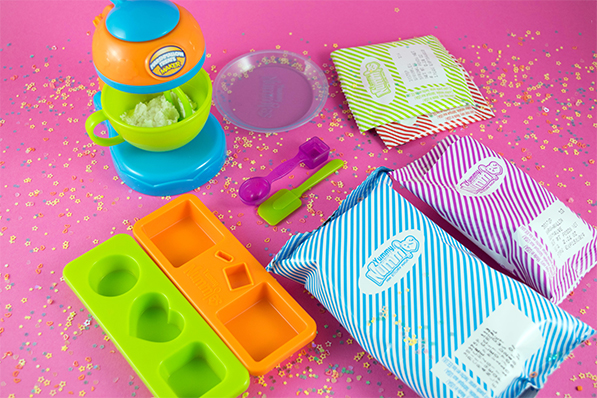 First, here's what you'll find inside the box:
– Mini Mixer
– Shape Mold & Toppings Tray
– Spatula & Measuring Scoop
– Plate
– Rice Cereal Packet
– Marshmallow Flavored Mix
– Chocolate Flavored Mix
– Sprinkle Packet
The only thing you'll need to add is a little bit of water. There's no heat or additional supplies required – super easy!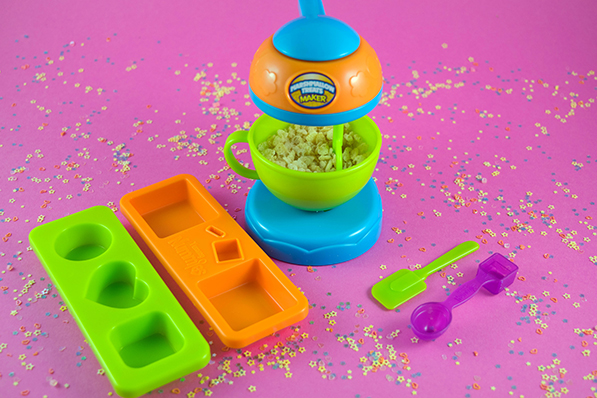 We started by washing and drying all the pieces and assembling the mixer. It was super easy, the pieces just popped together. They can all pull apart again when you're done to make cleanup a breeze, too.
Following the instructions, we used the purple scoop to combine marshmallow mix and water in the mixer bowl and then added in the rice cereal. The mix smells AMAZING. Seriously, the delicious sweet scent had us so excited to finish the recipe and taste our creations.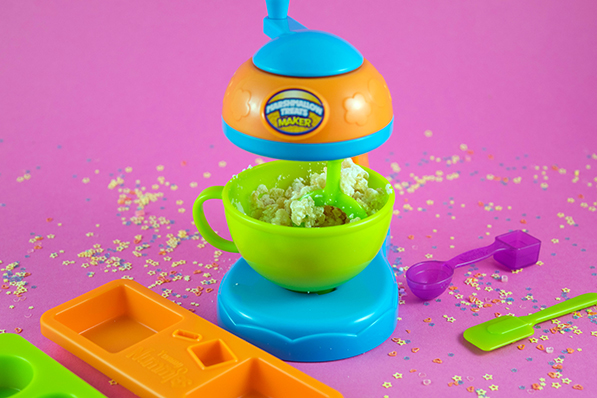 Now that we had the marshmallow mix, water, and rice cereal added to the bowl, it was time to mix! Using the handle on the top of the mixer, we mixed up the ingredients until all the rice cereal was covered with marshmallow. Coating the rice in marshmallow makes it taste delicious, but it also is how it all stays bonded together and keeps it's shape. The mixer was really easy to use and worked pretty well, so even the most novice chefs will be able to do it themselves.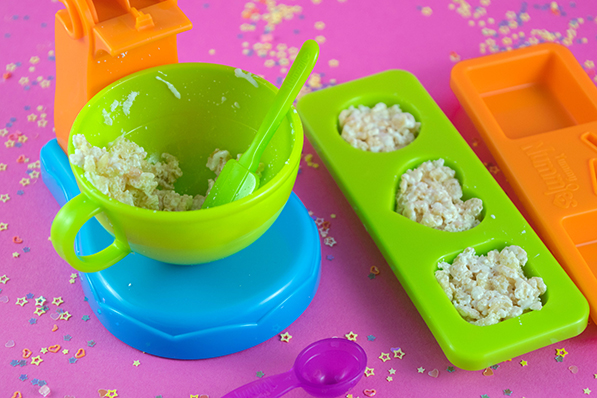 Once it was mixed to our liking we used the spatula to scoop the mixture into the shape tray. You'll have enough to make a circle, a square, and a heart shaped treat. We packed the molds to make sure there was enough to form to the shape and popped it in the fridge for 10 minutes. Cooling the treats solidifies the marshmallow to help keep the treats from falling apart when you're ready to eat them.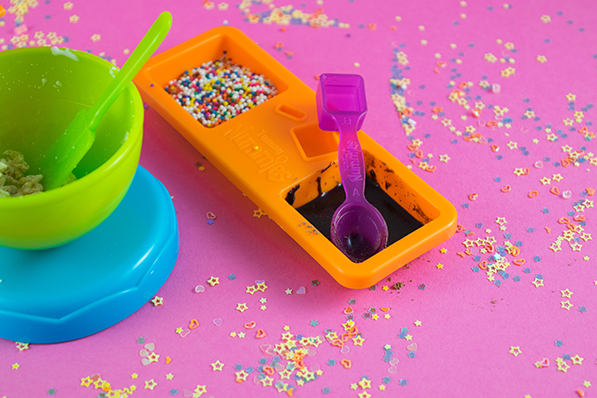 While waiting for our treats to chill, we got started on the toppings. We mixed our chocolate mix with water on one side of the toppings tray until it was thick and fudgy. (This also smells sooooo good!) The sprinkles can just be poured right into the other side of the tray.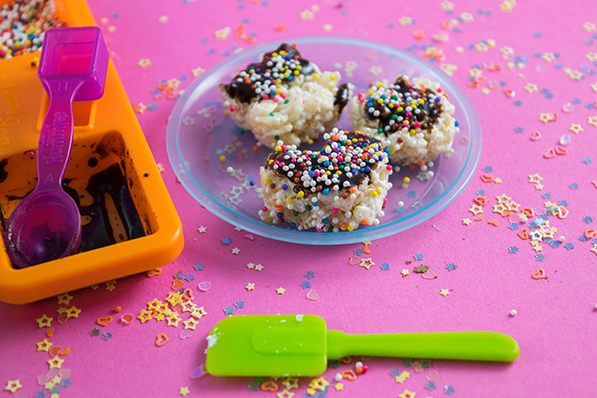 After 10 minutes we grabbed our tray out of the fridge and used the spatula to scoop our treats onto the plate. If it loses shape a little, don't fret – you should be able to kind of shape it back together with your fingers if needed. Now for the most fun part – decorating! You can use the spatula to coat your treat in chocolate or make stripes or other designs. Add sprinkles, and then it's time for the taste test!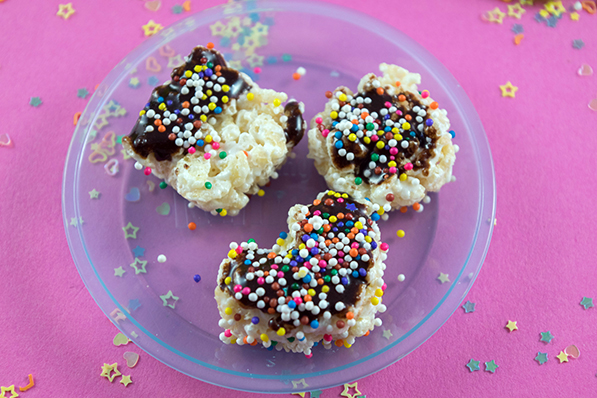 The treats were perfectly sized little bites and they were pretty tasty too! We definitely recommend this activity for any of you who are looking to try baking for the first time or has a fun activity when your bestie comes over. You have enough ingredients inside the box to make 20 treats, which is a pretty solid snack!
All in all the Yummy Nummies Marshmallow Treats Maker was really easy to use and a fun weekend activity. It only took about 20 minutes from start to finish to make one batch and that includes clean up time, truly making it a quick and easy project. We can see kids with more baking experience wanting more of a challenge, but those of you looking for a kitchen experience you can tackle on your own without turning on the oven will be all about this.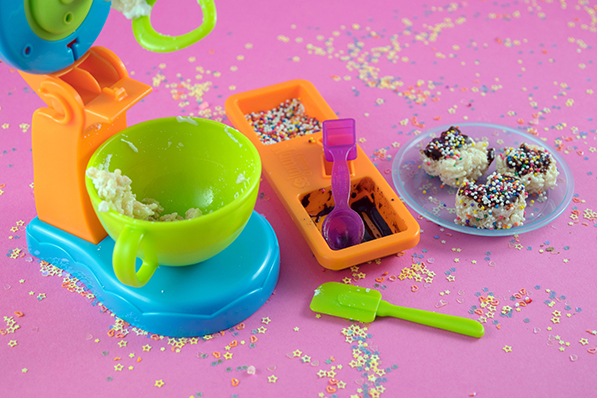 Convinced you need one in your life? The Marshmallow Treats Maker just hit shelves this weekend, so you'll be able to find them at pretty much anywhere you shop for toys. Yummy Nummies makes lots of other cool cooking kits including other tiny treats like s'mores and donuts to savory favs like burgers and pizza. Blip Toys also sent us a Sweet Straws Maker, so we're excited to dive in and get our sugar high on!
Are you a baker in training? We think you'll love Cooking Mama: Sweet Shop!
Note: We received this product for free from Blip Toys in exchange for a fair and honest review. We were under no obligation to write a positive review.