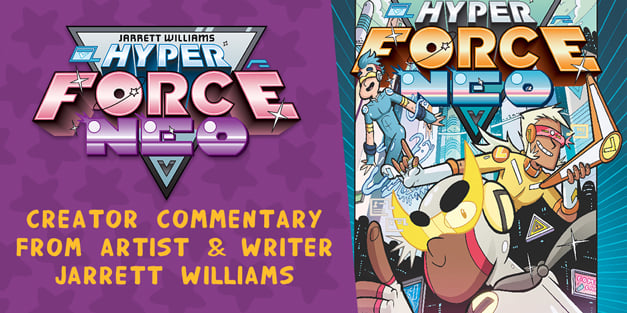 Hyper Force Neo: Go Beyond the Panels with Jarrett Williams
Hyper Force Neo is a high-energy, high-tech, highly hilarious adventure of an ordinary 9th grader and other techie teens who's lives change for the exciting when they're hand-picked to help save the city against an alien invasion.
You may recognize the creative stylings of writer and illustrator Jarrett Williams from his work on his wrestling inspired comic series, Super Pro K.O. Other impressive credits include Adventure Time (BOOM! Studios), Powerpuff Girls (IDW) and a whole slew of other awesomeness. We're beyond excited to help him share his amazing new original story with the world!
Every panel of this 168 page graphic novel pops off the page and is just dripping with really fun details. Hyper Force Neo is a book you'll read for the story and then re-read over and over to scour every page for details you may have missed upon your last read and it's destined to become a quick favorite.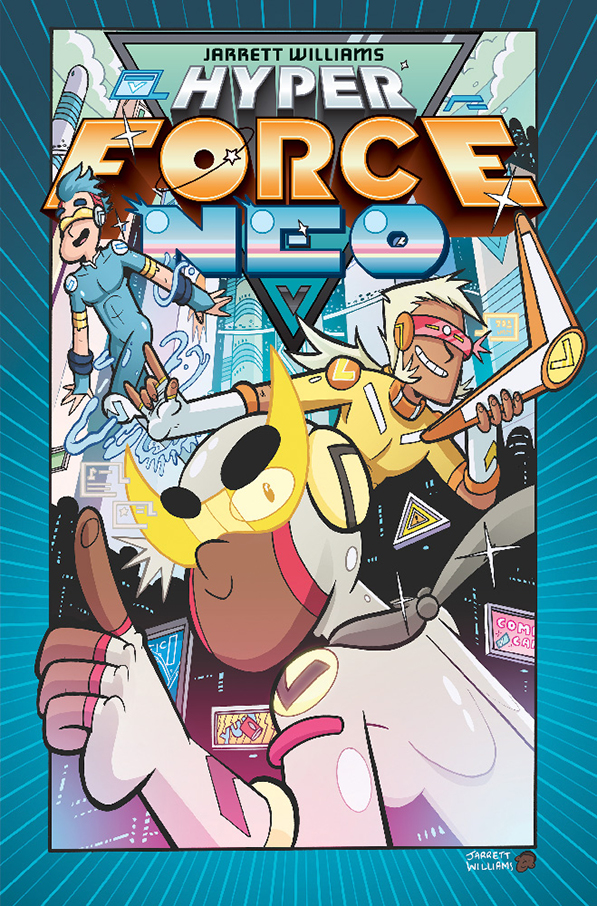 Here's what you're in for:
When a mysterious foe rises from ancient history to threaten New Sigma City, a team of rookie teens blasts into action, trying to stay out of detention as they go!
It's the first day of 9th grade and things are already off to a rocky start; Dean Masters is late for his first class, a kid named Hall Monitor is handing out demerits, an affable-yet-dangerous robot named Amp is keeping the peace, and a squishy-looking alien is skulking around hiding spy crystals. Welcome to New Sigma City in the year 21XX! This impossibly fun metropolis has everything: retro arcades, amazing food, and cool people trying to make it, connected by the Sunshine Network where everyone uploads pics of their fast-paced lives and keeps updated in real time. It's a blast, but what exactly are those aliens up to? With a long-vanquished evil on the rise again, "little robot helper dudes" hand-pick an elite squad of techie-teens known as Hyper Force Neo to defend the city!
Led by Dean (known as Silver Hype when he's on the job), these rookie superheroes have a lot to learn. Trained on video games, comic books, and movies, aided by helpful avatars they mostly ignore, and mastering killer moves like Hyperclash Beam, Star Punchie, and Headbutt, Hyper Force Neo has to figure things out fast while taking out the bad guys, minimizing property damage, keeping up with their feeds, and trying to avoid demerits from Hall Monitor.
Suit up, sign on, and level up with Hyper Force Neo in their very first high-tech, pizza-fueled adventure!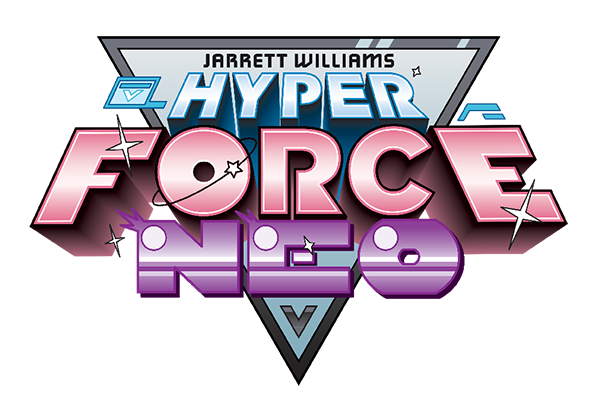 Pizza, robots, teens, and the threat of impending doom. What more could you even ask for? This is one of the most FUN comics we've read in a while. Flipping through these pages feels like eating Froot Loops and watching your favorite cartoon heroes kick butt on a Saturday morning. All the characters feel like home and are so easy to relate to. While we might not be living in the year 21XX, you'll definitely find yourself wishing for a robot companion of your very own.
Jarrett Williams graciously agreed take YAYOMG! readers beyond the panels with his Creator Commentary. This means you guys get an extra-special inside look at his thought process while writing and illustrating Hyper Force Neo. Power up and get excited!
HYPER FORCE NEO – Creator Commentary from Artist and Writer Jarrett Williams: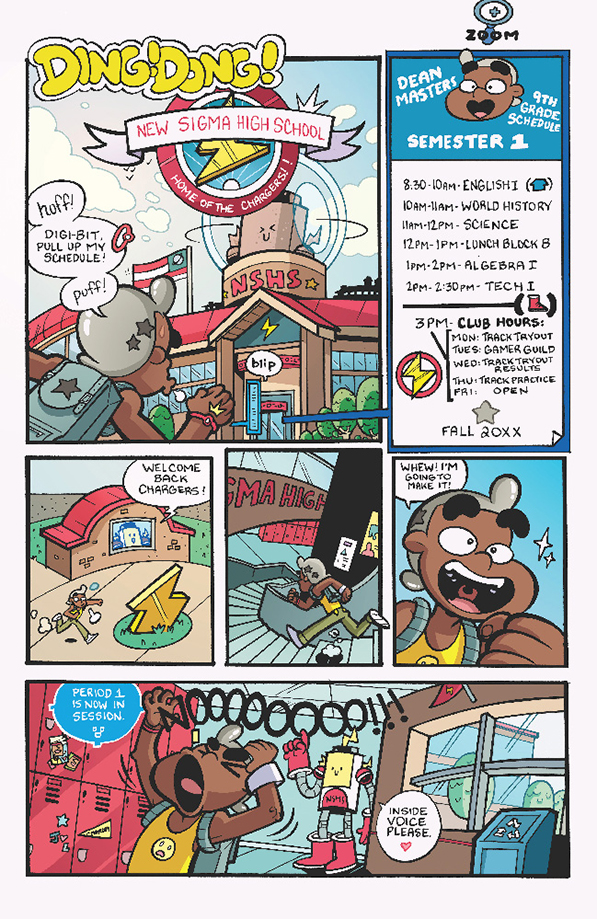 JARRETT: This scene was a lot of fun to draw. It's our first introduction to Dean Masters, leader of Hyper Force Neo (HFN). But I really wanted to show how fun this world would be and that the school would be an important location. I didn't want this to feel like a comic where the teenagers were doing everything but going to class. *laughs*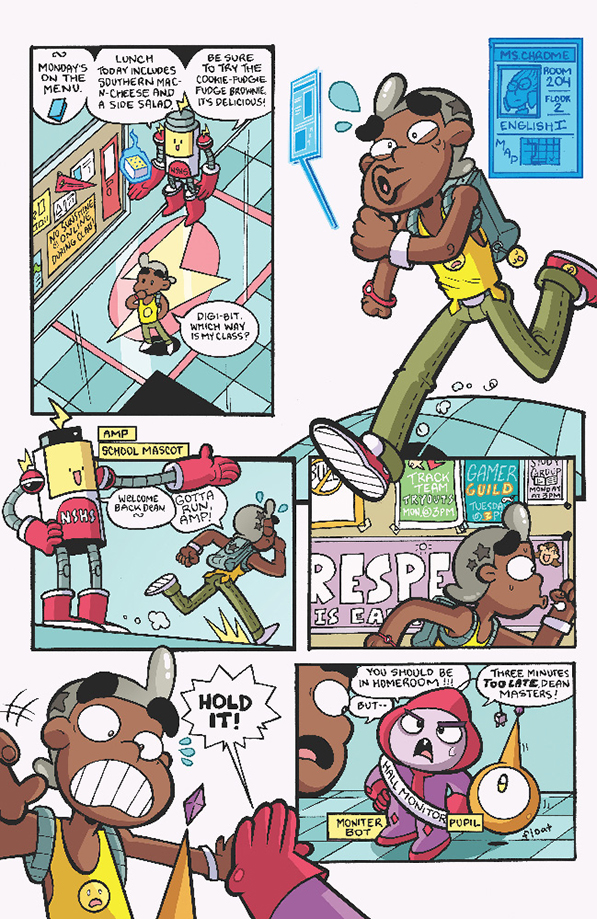 JARRET: Dean being late to class is something I can relate to a lot *laughs*. I'm always rushing to things. I also thought it would be a cool way to set up how unprepared for the hero life he really is. The sign behind him in Panel 4 ("Respect is earned!") is something I strongly believe in. And it definitely applies to the role Dean is about to take on as team leader of Hyper Force Neo.
During the time I was developing the script for HFN, I was a traveling rep for a college, so I was walking in and out of about 30 high schools a year. You start to really see how schools are designed and how they're covered in flyers to encourage the students to be active in clubs or planning for college. I tried to litter New Sigma High with those things. I've always been a sucker for details in books like Where's Waldo that were chock full of information. I think that's why I include so many details (like Dean's class schedule for example). Those kinds of notes appeal to me so I wanted to give readers as much info as possible.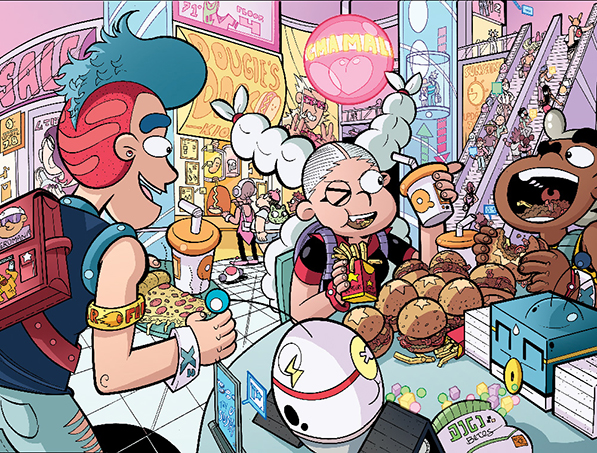 JARRETT: This is one of the many chapter breaks in the book but it was originally the wraparound cover for Issue #2. Before the decision was made to produce this as a trade paperback instead, I was planning to have wraparounds for all the single-issue covers. I thought it would be a cool way of standing out on stands.
I really dug the design for this one. This is actually New Sigma Mall, another hangout spot for the kids in the series. As a kid, my friends and I would regularly hang out at the mall. I like the idea of kids in the future hanging at the mall with their robot companions (though online shopping patterns suggest otherwise) *laughs*. You'll even see a small escalator for the "robo-helpers" in the background. You can also see food kiosks versus your traditional food courts. I think vending machines will be a constant in the future!
Lastly, the kids hairstyles in HFN are so wild. I have no idea how many of them would work but I wanted their styles to be pretty important throughout the series. I used to express myself in all sorts of random ways from colored socks and du-rags to my afro and braids, so I wanted the HFN kids to express themselves pretty wild, too!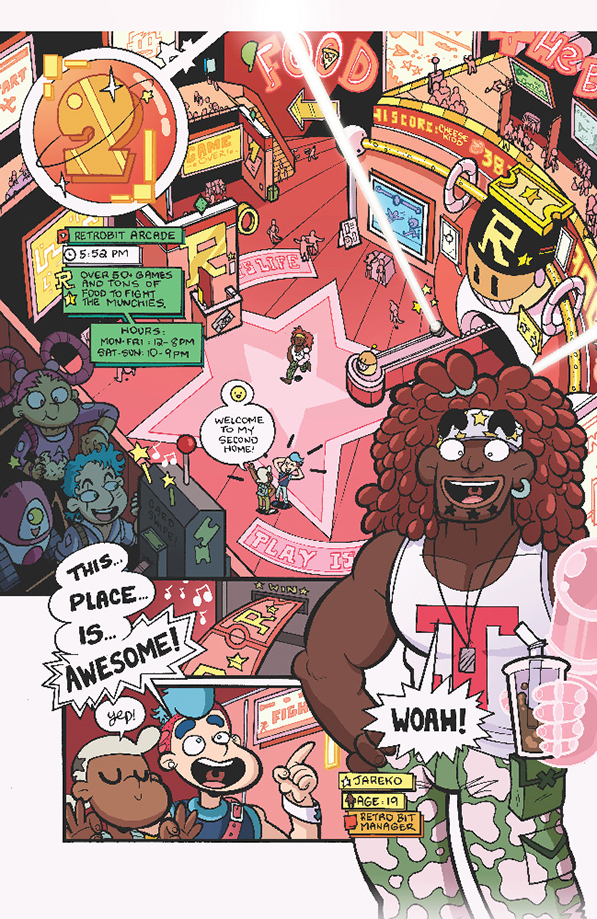 JARRETT: So there was this awesome arcade around 20 minutes by bus from my house as a teenager. The kids would be DDR'ing it up on Saturdays and that really stayed with me. It was such a cool place to go for a few hours, even if I could only play a few games because…money. *laughs*. Anyway, I wanted the HFN kids to have a base of operations, and The Retrobit Arcade seemed like a fun idea. Jareko, the owner, is representative of many of the older mentor types I idolized in my community as a teen. He's 19 and a business manager! I thought he'd be a cool kid for Dean to look up to. And there's a cool story behind his left arm that I won't spoil here.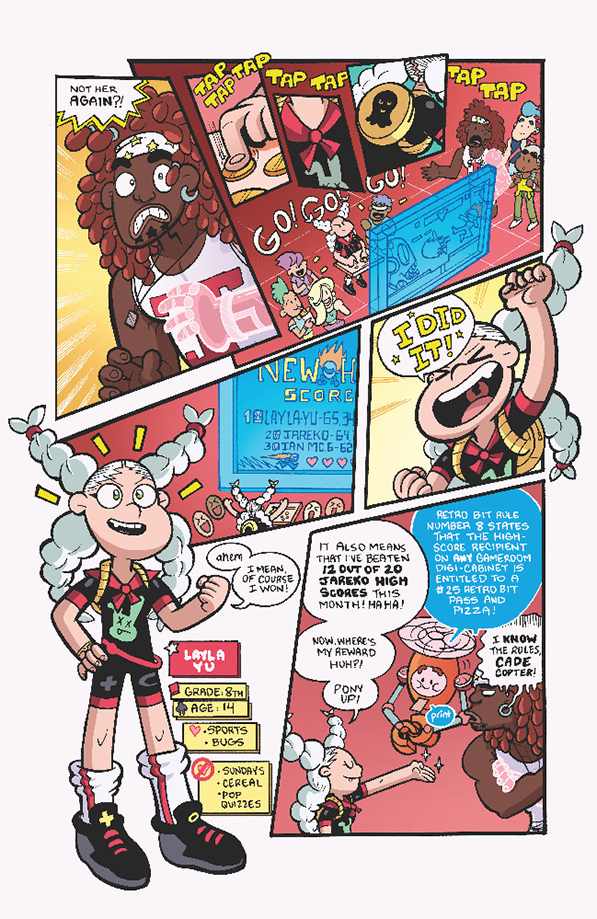 JARRETT: Layla is one of my favorite characters in the comic. She reminds me of one of my childhood friends who I based a few of her mannerisms on. Layla has a lot of hobbies and achieving high scores at the arcade is just one of them. I think my love for her shows throughout the comic but I try not to give her too much preferential treatment! *laughs*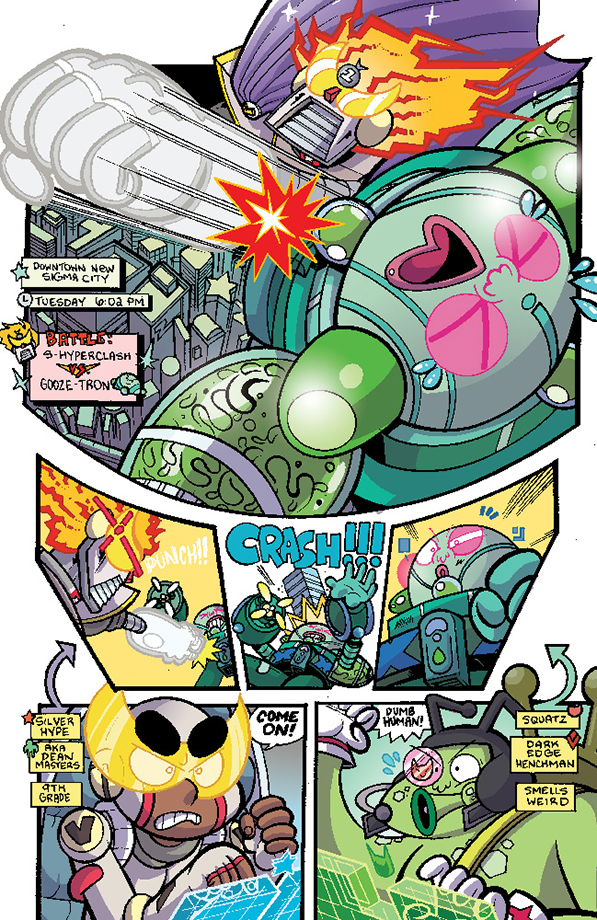 JARRETT: The Neo Mechs are some of the most fun elements of this comic. I really wanted to capture the feeling of what a teen would experience piloting one of these giant robots. I also wanted them all to feel unique to their Hyper Force Neo hero. They're difficult to draw sometimes but they've definitely helped me feel more comfortable drawing robots! The egg-shaped seats the heroes sit in while inside the robot are definitely inspired by those vintage egg chairs from the '60s! They look even more egg-like in the newer pages I've been drawing.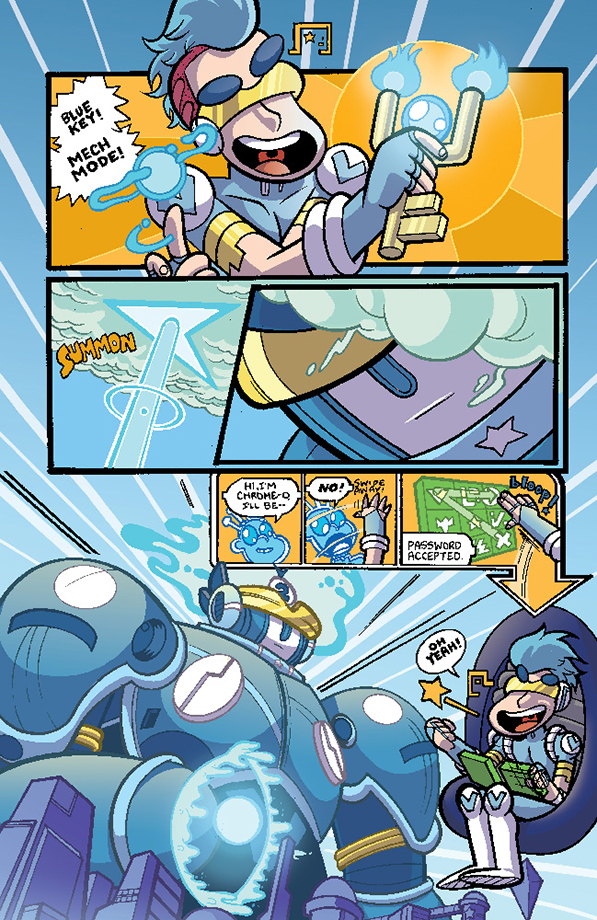 JARRETT: I was in deadline hell while drawing a couple of these Neo Mech pages. It's so cool to step back and look at them now since it was a blur while I was creating most of these. They actually came out pretty awesome! Now that I've established the universe in Hyper Force Neo #1, I'm excited about the possibility of expanding on it. Everything is starting to feel second nature in the drawing phase. I hope you all dig this first volume! I'm so happy it's out.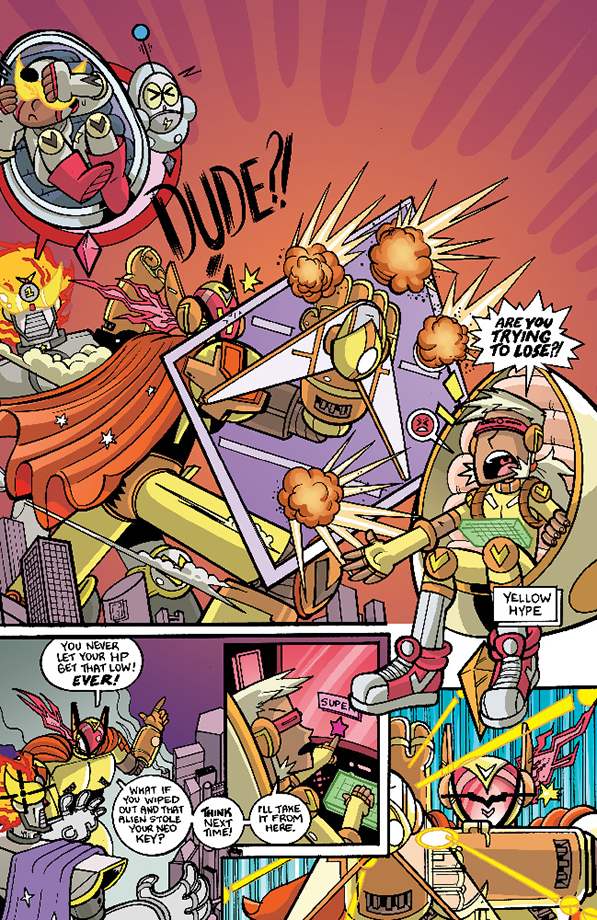 Are you guys hyped on this book yet? We sure are! Everything from the diverse, authentic characters to the high energy story left us wanting so much more. Hopefully Jarrett has more Hyper Force Neo adventures up his sleeves for readers in the future, because we know we'll be first in line to buy them! We all need heroes to look up to and Dean Masters and the HFN gang are totally our new favs. Thank you SO much to Z2 Comics and Jarrett Williams for taking the time to share the inner-workings of your creative process with our readers. We know kids everywhere are going to love Hyper Force Neo.
Ready to get in on the action? You can pick up a copy in your favorite comic store for $14.99. For more Hyper Force Neo updates or to tell him how much you love the book, be sure to follow Jarrett on social media.
Instagram: @jarretwilliams
Twitter: @JarrettWilliams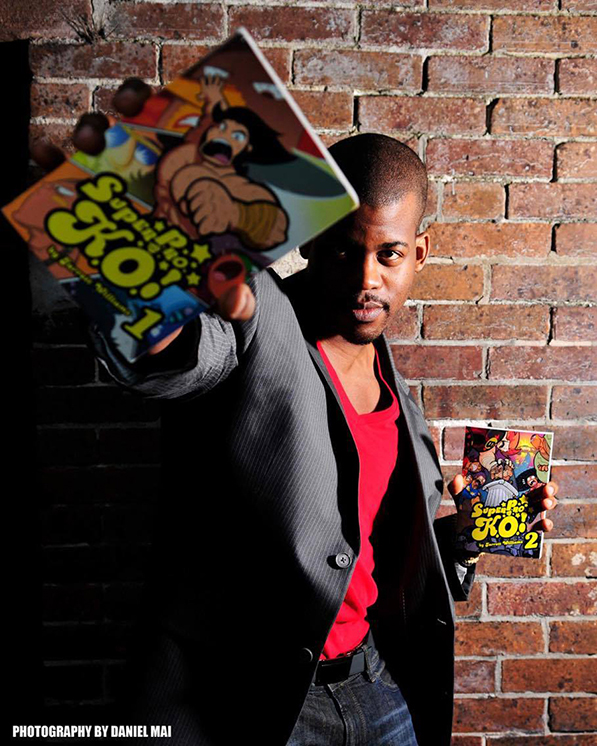 HYPER FORCE NEO
by Jarrett Williams

GENRE: Sci-Fi / Humor / Superhero
AGE RANGE: Middle Grade (9-12)
SRP: $14.99
FORMAT: Trade Paperback
PAGE COUNT: 168
PUB DATE: July 25, 2017
PUBLISHER: Z2 Comics