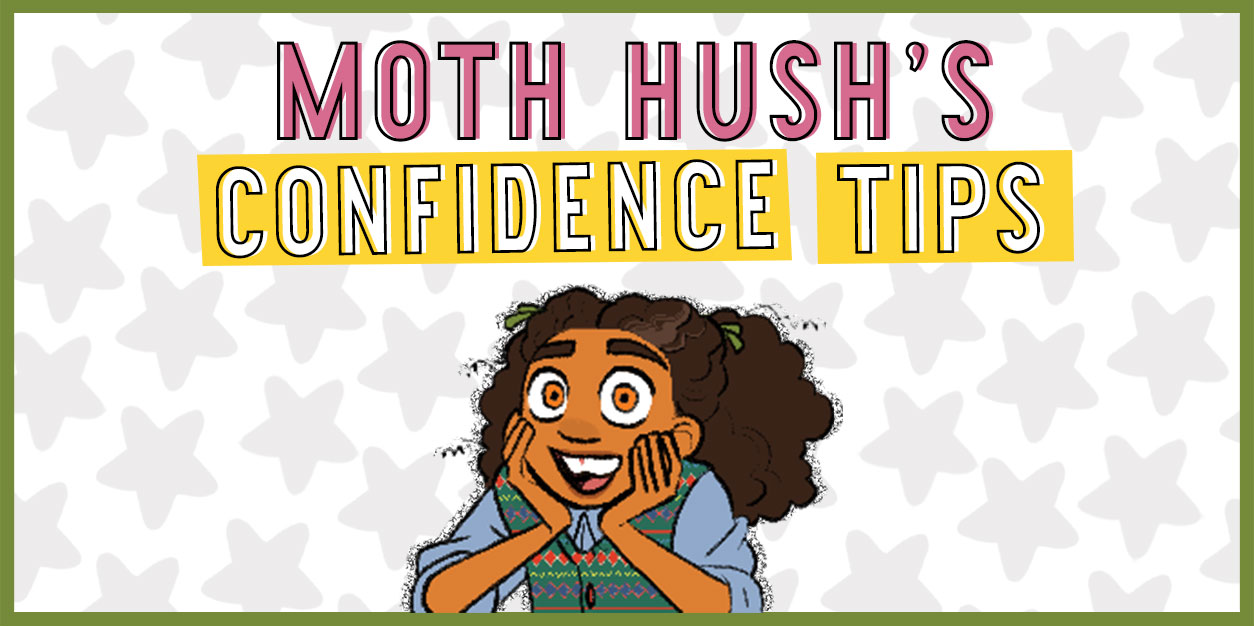 The Okay Witch & the Hungry Shadow: Moth Hush Dishes Out Confidence Boosting Tips in this EXCLUSIVE Minicomic
The Okay Witch is one of our absolute favorite graphic novels, which is why we were SO excited when we heard a sequel was on the way! Out today, The Okay Witch and the Hungry Shadow brings us back into Moth's witchy world of magic, family, and growing up!
This story picks up right after Moth and her BFF Charlie have a seriously amazing winter break, and Moth is dreading heading back to school. She's finally settling into her newfound magical abilities and witchy heritage at home, but school is a different story. As if the eighth grade weren't tough enough, she's dealing with a bully who's always teasing her about who she is, her BFF doesn't really understand Moth's struggles, and her mom is dating a super dorky teacher! Moth is already pretty anxious and shy, so it's tough for her to handle the added drama she's dealing with on top of everything else that's been happening.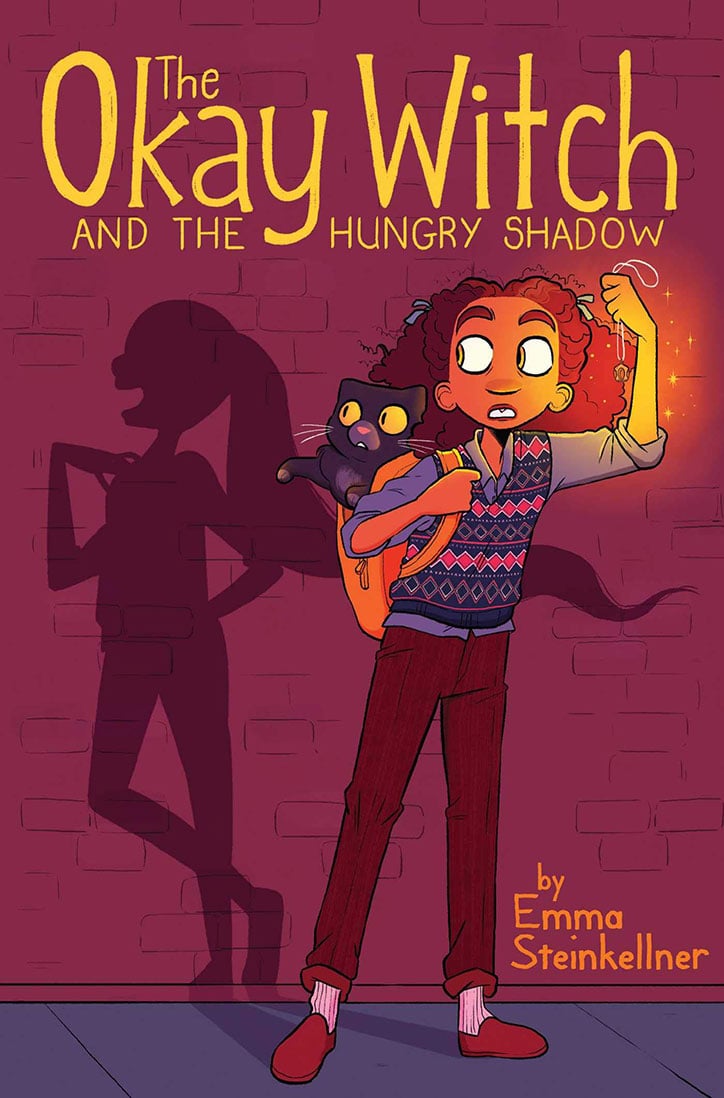 In this hilarious and heartwarming sequel to the bestselling and critically acclaimed graphic novel, The Okay Witch, half-witch Moth Hush uses magic to boost her confidence with disastrous results—perfect for fans of Raina Telgemeier and Molly Ostertag!
Moth Hush is starting to settle into her newfound witch heritage and powers, but life at school continues to be rough. Even her best friend, Charlie, doesn't entirely understand what it's like for her to always be the one who gets mocked, and things only get worse when Moth's mom starts dating one of the dorkiest teachers in the school! Then Moth gets hold of a mysterious charm that can unleash another version of herself—one who is confident, cool, and extremely popular. What could possibly go wrong?
The Okay Witch and the Hungry Shadow
AUTHORS: Emma Steinkellner
PUBLISHER: Aladdin
DATE: July 6, 2021
After a visit to Hecate for a celebration, Moth gets a hold of a mysterious charm called a nyklum that allows her to transfer qualities from others into herself. She uses its power to become confident, cool, and stand up to her bullies – but of course, magic and quick fixes are never quite what they seem, and Moth ends up face to face with the consequences of her actions. We won't spoil the story for you, but Moth definitely learns a thing or two about finding her confidence and her self-worth, which is why we asked her to share her advice with our readers!
Check out the minicomic below for an EXCLUSIVE minicomic inspired by Moth's adventures in The Okay Witch and the Hungry Shadow, written and illustrated by Emma Steinkellner!
The Okay Witch and the Hungry Shadow Minicomic: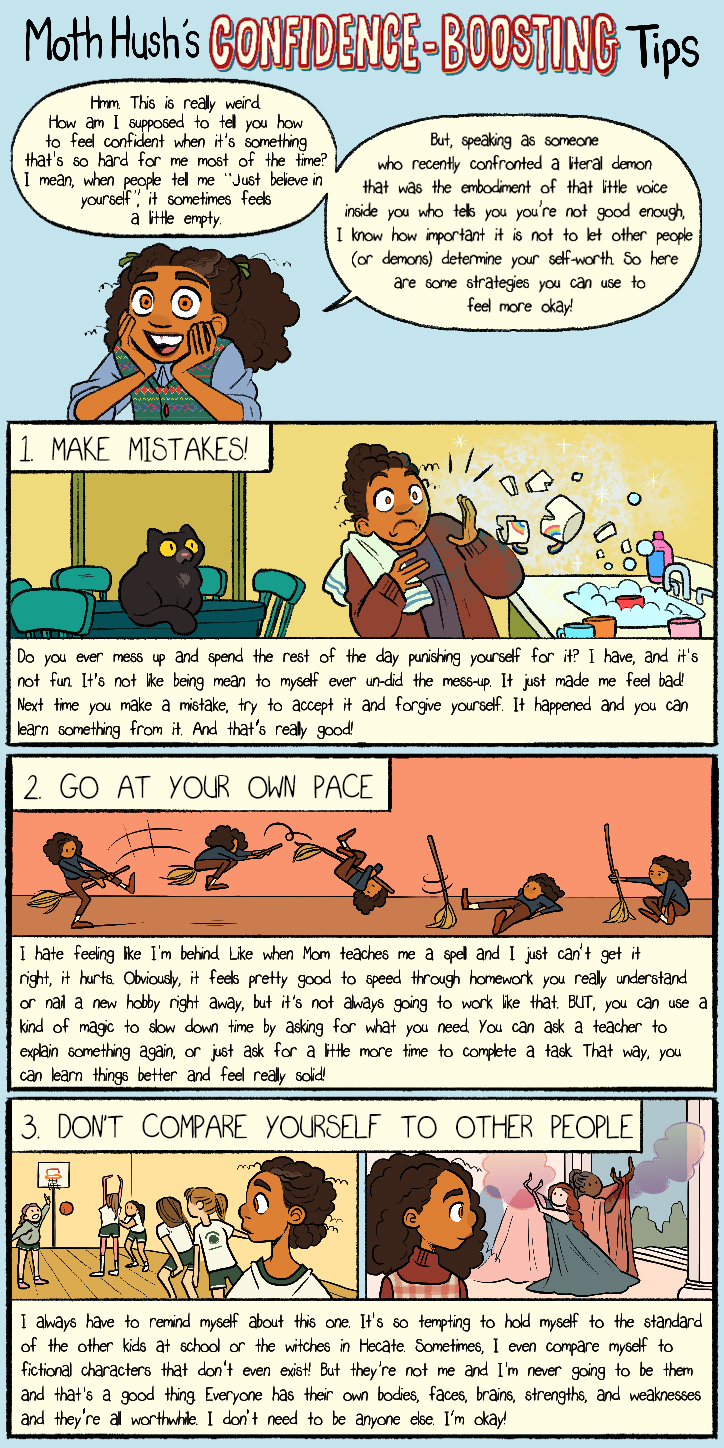 Want even more advice from Moth? Check out our other minicomic based on The Okay Witch where Moth shares her most magical advice for surviving a new school year!