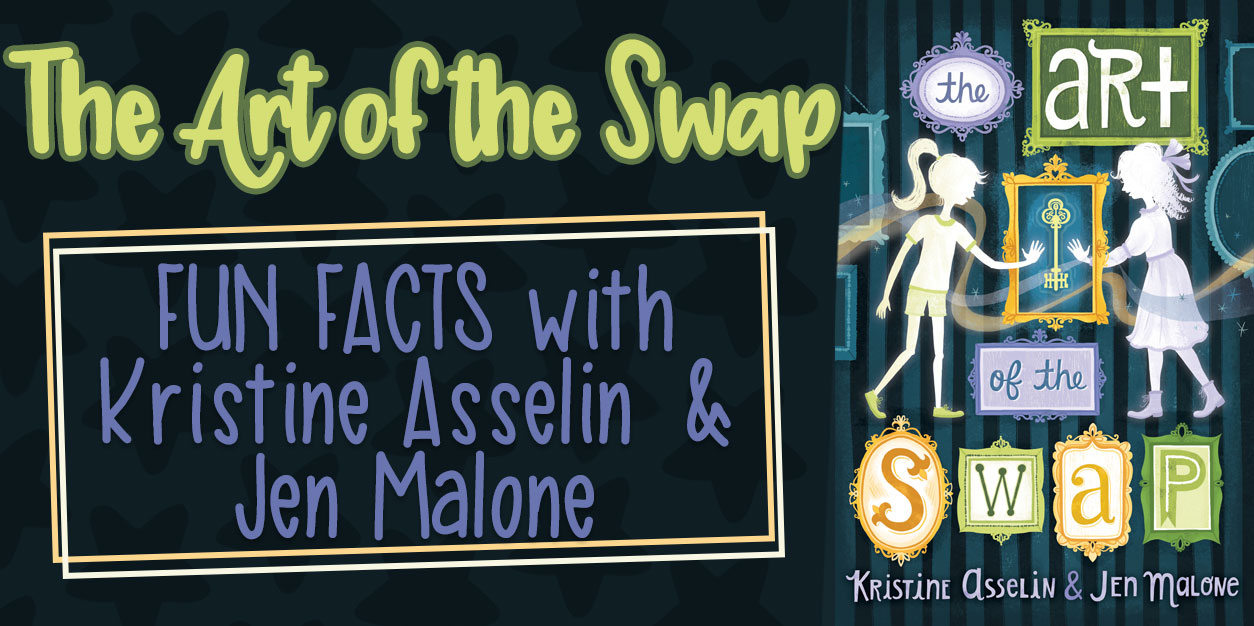 The Art of the Swap Fun Facts with Authors Kristine Asselin and Jen Malone
Today we've got something super exciting for all the book lovers out there! Authors Kristine Asselin and Jen Malone have put together an amazing list of Fun Facts to help celebrate the release of their brand new middle-grade mystery, The Art of the Swap. The book is being called "Freaky Friday meets Downton Abbey," and features a life-swap between a modern day girl and Gilded Age heiress who must solve a famous art heist! It also has hands down one of the most gorgeous book covers, maybe ever.
Here's a little more about this fantastic read, from the authors themselves.
"Hannah Jordan lives in a museum…well, sort of. She is the daughter of the caretaker for mansion-turned-museum The Elms in Newport, Rhode Island. Hannah's captivated by stories of The Elms' original occupants, especially Maggie Dunlap, the tween heiress subject of a painting that went missing during a legendary art heist in 1905.
But when a mysterious mirror allows Hannah and Maggie to switch places in time, suddenly Hannah is racing to stop the heist from happening, while Maggie gets an introduction to iPhones, soccer (which girls can play!), and freedoms like exploring without supervision. Not to mention the best invention of all: sweatpants (so long, corsets!).
As the hours tick off to the art heist, something's not adding up. Can the girls work together against time—and across it—to set things right? Or will their temporary swap become a permanent trade?"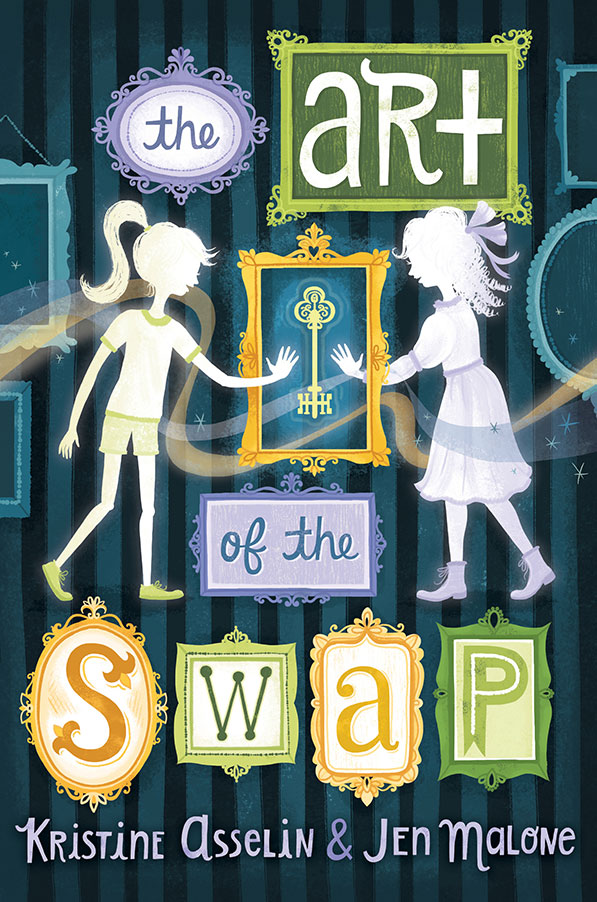 It's such a fun read, trying to piece together the mystery while watching these girls explore completely different eras in time. It's hilarious to watch Maggie figure out modern day life and technology while Hannah finally gets a glimpse of the era she's always dreamed to be incredibly glamorous. This book celebrates female friendship, women's rights, and girl power in a big way. We think you guys are going to absolutely love it! We thought it was fascinating how The Elms, the mansion that most of the story takes place in, is actually a real place in Newport, Rhode Island. Not only that, it's steeped in history!
Authors Kristine Asselin and Jen Malone share a little more about how The Art of the Swap came to be, their visit to The Elms, and how Hannah and Maggie's story changed and evolved due to the results of the presidential election in the form of Fun Facts!
10 Fun Facts About The Art of the Swap: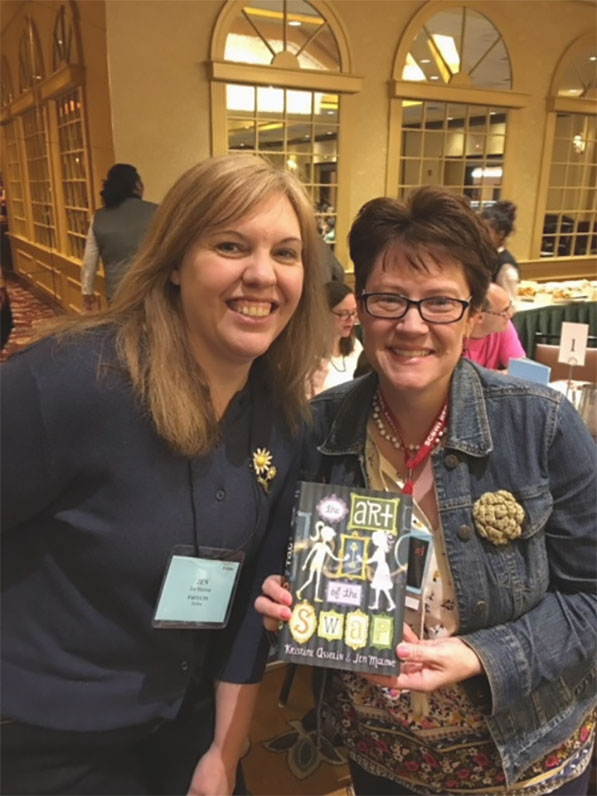 Fact #1:
We hatched this idea up on a piece of scrap paper while we drove from New Jersey to Boston together one hot summer day (we were driving back from a writing conference together). The conversation started with us trying to pass time while stuck in traffic by helping each other brainstorm plot ideas for books we wanted to write and when Kristine mentioned this idea, Jen said, "Wait, I want in on that one!!"
Fact #2:
In our first draft of this book, which we turned in two months before the presidential election, Maggie (the character from the past who switches bodies with the girl who lives in modern times) is completely stunned to learn that we have a female president, especially since in her day, the suffragist movement to demand the rights of women to vote was just getting started. Guess we got a little ahead of ourselves! In revisions, we changed it so that she was learning instead about female senators, governors, astronauts, and CEO's.
Fact #3:
Related to Fact #2, while we were initially pretty bummed to make that change, since this book is such a celebration of the role of girls and how it's changed over time, the good thing about being forced to reevaluate that plot point is that we then had the opportunity for Hannah (the modern-day girl) to realize that, while women have achieved a lot, there still need to be big changes to hearts and minds before females will truly be equal. She ends the story resolved to continue the fight… and that is very much in line with the Girl Power book we set out to write.
Fact #4:
We took a field trip one day to tour The Elms, the mansion (now museum) that is the setting for the book, and we'd both just discovered the soundtrack to Hamilton, so we blared it loudly the whole drive and sang along (badly).
Fact #5:
Related to Fact #4, on that same field trip, we had a meeting with Harold Mathews, the real-life caretaker of The Elms who gave us a private tour, and gave us lots of interesting tidbits of things that have happened during his 30+ years living and working at The Elms.
Fact #6:
There is no formal portrait of Maggie Dunlap hanging at The Elms, but she was a real person—niece of E.J. Berwind. In fact, many of the people mentioned in the book are real—even though everything that happens to them is fiction. Other real people mentioned include Mr. and Mrs. Berwind, artist Mary Cassatt, butler Earnest Birch, socialite Alva Vanderbilt Belmont, and Elizabeth Drexel Lehr and her dogs to name a few.
Fact #7:
One of the most heartbreaking parts of our research was reading about all the mansions and other parts of Newport that had been destroyed in the last century, in particular, Arleigh and Villa Rosa—the two closest mansions to The Elms. Kris (as the voice of Maggie) felt that Maggie would take the disappearance of these properties harder than being introduced to new technologies.
Fact #8:
While the main plot in the book is 100% fiction, we tried to include some interesting details about The Elms. For example, the party mentioned in the first chapter by Hannah that took place in August 1901 really happened. And there were really monkeys.
Fact #9:
There's a mysterious hole about three-quarters of the way up a very tall wall in the basement of The Elms that no one has ever investigated. When the caretaker giving us a tour of the property told us he'd never peeked inside in his decades of working there, our hearts raced. We were kind of hoping he'd offer to right then and there, but no such luck. Here's a picture of it. How could you not be curious!!?
Fact #10:
We named all the servants in the story after real-life staff that worked at The Elms during its early days as a private residence. We got their names from the poster above.
All of these amazing facts make reading The Art of the Swap even better! The book is available starting today, so head to your favorite place to get books to pick up a copy. Want an even closer look at Kris and Jen's trip to The Elms? Check out their The Art of the Swap Padlet! Thanks so much to Kris and Jen for stopping by the site and for sharing all of these amazing behind the scenes facts with our readers!
Love getting an inside look at the places and stories that inspired your favorite reads? We think you'll love our interview with Smart Cookie author, Elly Swartz!