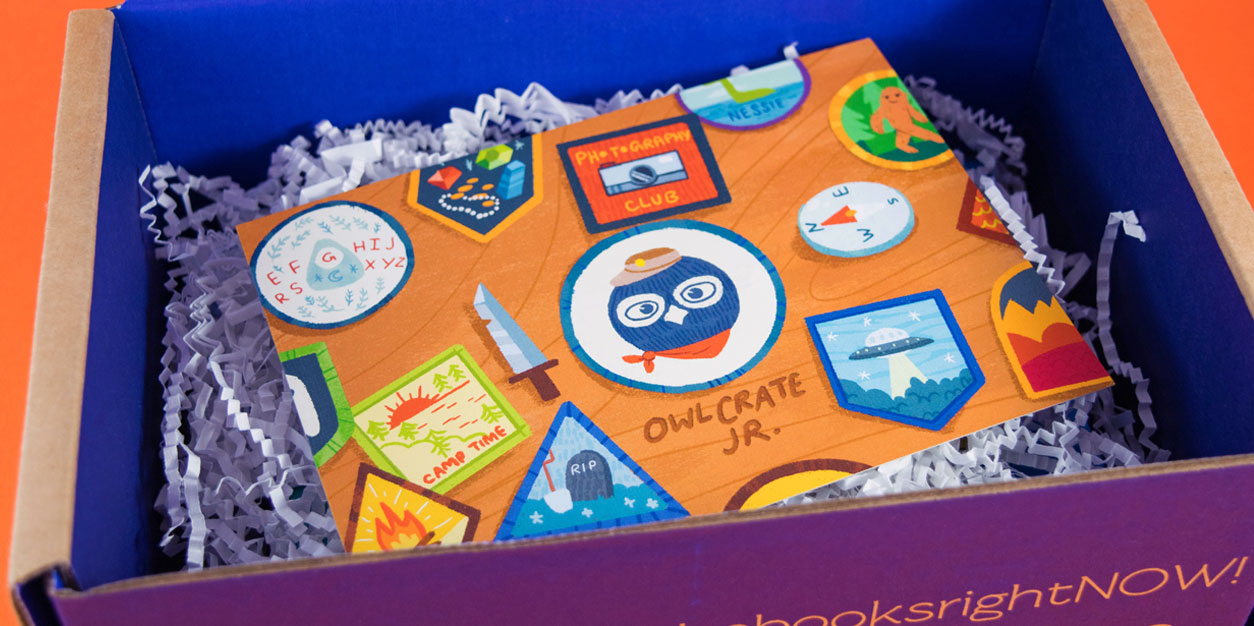 OwlCrate Jr.'s WILD MAGIC Box Takes Readers into a Mysterious Forest
Note: As OwlCrate Jr. Reps, we received this box for free in exchange for a fair and honest review. All opinions are our own; we were under no obligation to give a positive review.
This month's OwlCrate Jr. doesn't just deliver an exciting new fantasy novel to your doorstep, it gives you everything you need to have an adventure of your own. With a theme like WILD MAGIC, how could you not be dying to tear into this box and find out what's inside? Arlo Finch in the Valley of Fire will have you ready to swap your snow gear for your most comfortable, worn-in pair of boots so you can get outside and explore the world around you. We think the items in this box pair really well with the items from the Great Outdoors box from September 2017. If you're an OwlCrate Jr. subscriber, you've got pretty much everything you need to put together a fantastic adventure pack for your next hike or camping trip.
OwlCrate Jr. Unboxing – Wild Magic – February 2018 Unboxing: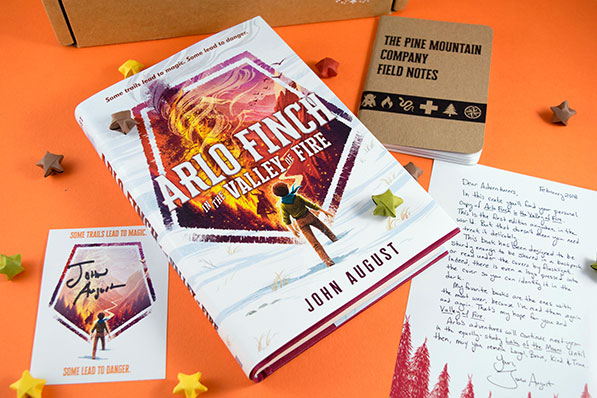 BOOK OF THE MONTH: Arlo Finch in the Valley of Fire by John August
This month's book is perfect for readers who love magic, mysterious creatures, and a whole lot of excitement. Arlo's journey is one not to be missed, especially for those of you in Girl Scouts, Boy Scouts, or anyone those loves a thrilling adventure through the woods. The best part? It's the first in a series, so Arlo's journey will continue on long after the final pages of this book! We think it's a great read to bring into your treehouse or other secret hideout as the Spring weather starts to roll in.
About the Book:
"When Arlo Finch moves to his mom's hometown in the mountains of Colorado, he quickly discovers that things are more than a little different in Pine Mountain. His new friends in the local ranger troop help him learn his way around, but dark forces are after Arlo, and he'll need to put all of his new skills to the test to fight back!"
Along with the book, subscribers also received a handwritten letter from the author, a signed bookplate, and a Pine Mountain Rangers notebook for jotting down all your adventure notes. The back features The Rangers Vow so you can carry it with you always.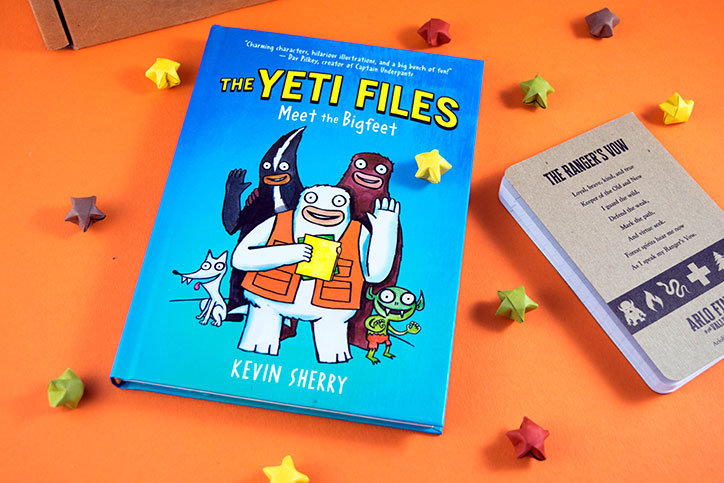 The Yeti Files: Meet the Bigfeet by Kevin Sherry:
Surprise! A second book was included in this month's box! The Yeti Files is a hilarious, yet informative series all about Yetis and other legendary creatures. Follow Blizz on his mission to study these hidden cryptids, help keep their secrets safe, and hit up the Bigfoot family reunion. The illustrations really stand out and are guaranteed to give you a good laugh. We loved meeting all the unique creatures in this book!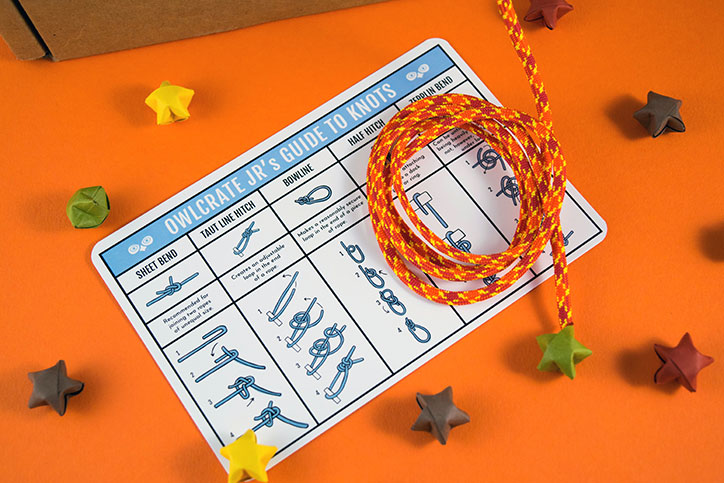 Knot Tying Kit:
Every good scout knows their knots, and now you can too! Without the skills Arlo learns from his friends and fellow Pine Ranger scouts, he wouldn't stand a chance against the danger headed his way. This knot tying kit gives you a rope to work with as well as instructions on how to tie ten useful knots.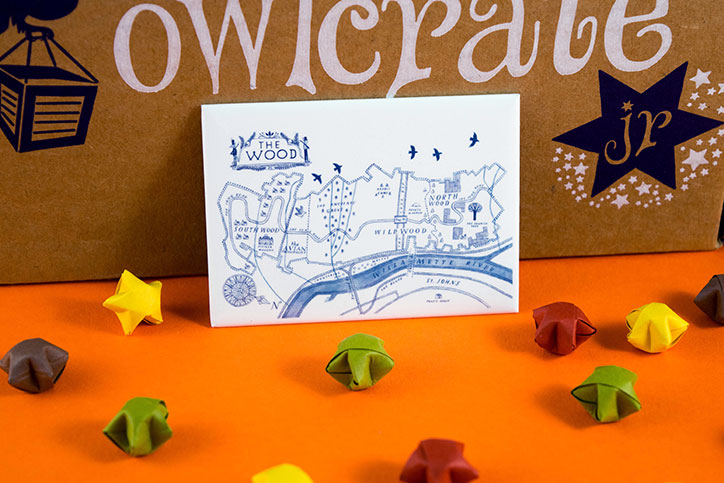 Magnet Map of Wildwood from Carson Ellis:
This magnet features a map of Wildwood, the mysterious setting from The Wildwood Chronicles by Carson Ellis and Colin Meloy. This series is absolutely fantastic and filled with stunning illustrations that really bring the story to life. We think it should definitely be your next read while you wait for Arlo's next adventure.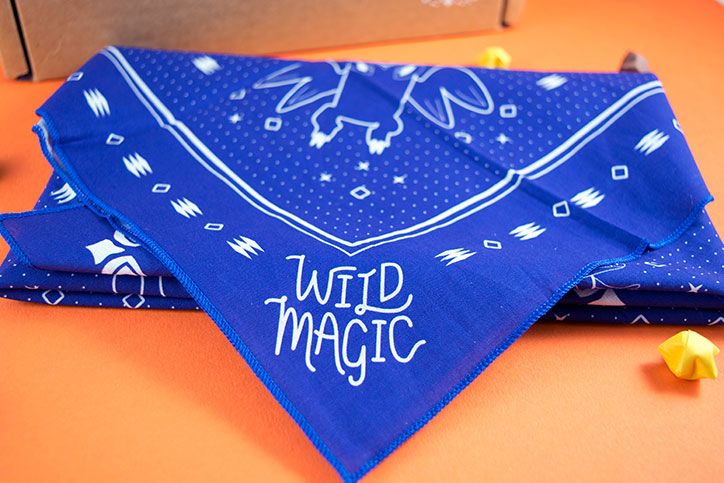 OwlCrate Jr. Bandana from OwlCrate:
We're loving how the boxes have been including more of the OwlCrate Jr. mascot lately – we love showing off our OwlCrate Jr. pride! This bandana is extra special because it doesn't just feature Ozwald the Owl, but other fascinating cryptids including Sasquatch, Frogman, the Jersey Devil, and more! Tie it into a headband, a scout scarf, or just stash it in your backpack to use as a make-shift trail marker on your next hiking trip.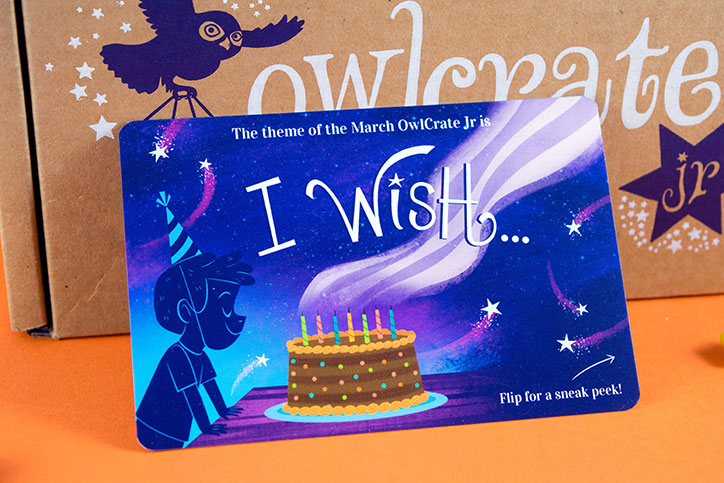 What's next? The theme for March is I WISH. This is an extra-special box for a few reasons. The most important reason? March marks OwlCrate Jr.'s first anniversary as a subscription box! We've been subscribed since the very beginning and can honestly say that this is one of the best subscription boxes out there, especially for kids. They're always so thoughtfully curated and overflowing with useful, educational, and fun items that perfectly match the theme each month. The books they've included this year have all been incredible, and we're so excited to cheer them on and see what's to come in year two!
The other reason the March box is so special? After a tremendously successful holiday season, OwlCrate Jr. is finally open for new subscriptions again – and they've added hundreds of new spots! If you've been on the wait-list or just waiting around for your chance to subscribe, your wish has been granted. Subscription info is below, but if you're a new subscriber, be sure to use our code OMG10 for 10% off your purchase. Our code also works on the original OwlCrate boxes as well, so if you have a YA lover in your life, be sure to let them know.
From the Card Insert:
"Close your eyes and make a wish this March – it might just come true! Next month's book is a captivating story from a much loved middle grade author, all about what happens to the wishes made by people all over the world. This modern fairytale perfect for fans of Rump, Jinx, and Ella Enchanted!"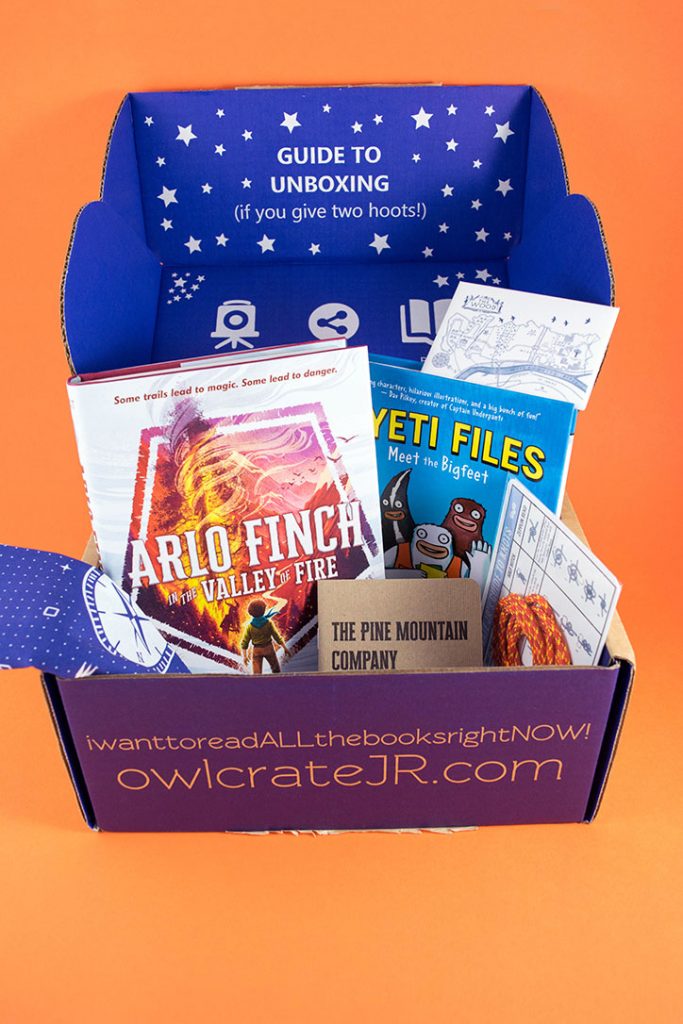 HOW TO SUBSCRIBE:
Grab your favorite adult, and head to owlcratejr.com!
Cost Per Box: $27.99 + S/H, 3 month and 6 month pre-paid subscriptions also available!
What Do You Get?: "A magical delivery featuring a brand new middle grade novel, exclusive goodies from the author, and 3-5 unique and usable items built around that month's theme that encourage curiosity, creativity, and imagination!"
Need another riveting adventure to add to your TBR? Check out our interview with James R. Hannibal, author of The Lost Property Office series!