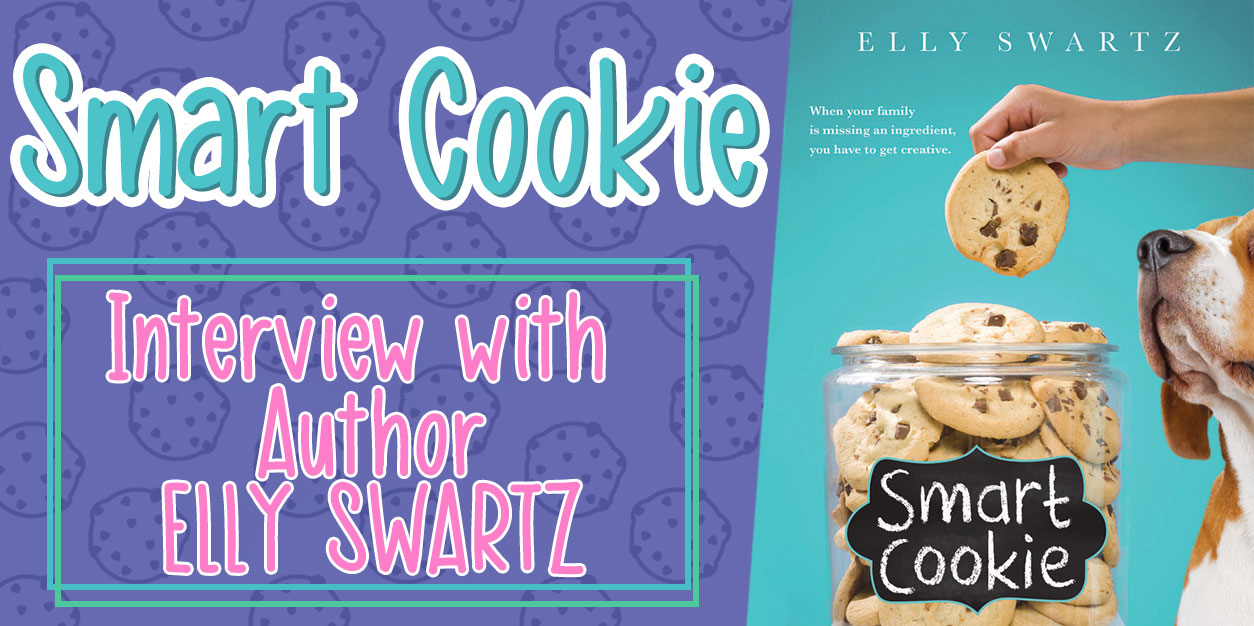 Smart Cookie: Interview with Author Elly Swartz
"Sometimes to fix your family, you need to keep a few secrets." That's what 11-year-old Frankie Greene believes, at least. Frankie's story is one of friendship, ghost hunting, mystery, and the ingredients that don't just make up a family – but hold them together. In Smart Cookie, Frankie loses her mom at a very young age and is determined to replace that hole in her family and her heart.
Frankie's plan? Secretly sign her dad up for a dating app, meet each of the candidates herself first to make sure they're mom-worthy, and then introduce him so they can fall in love and Frankie's life can feel whole again. The mom search isn't the only she's got going on, though. She's noticed that lately, the family's B&B guests keep canceling, there have been some strange people hanging around, her Gram isn't around as much as usual, her best friend Elliot thinks he's discovered a ghost, and on top of it all, her ex-BFF has been giving her the silent treatment.
Reading Frankie's story is about as warm and gooey as a delicious cookie, straight out of the oven – and not just because there are many baked throughout the course of the book! We found it so easy to connect with Frankie and her story because her life just felt so real. From her secret hideouts, her journal filled with letters to her mother, the rules of the family B&B, and Frankie's struggles, it all felt like we were spending time with a close friend. Her story feels very personal, and that's because it is – well, some of it, at least!
As you'll see in the interview below, much of author Elly Swartz's heart and life experiences were baked into Smart Cookie. She shares the inside scoop on how she became inspired to write Smart Cookie, her personal experiences that made their way into the story, and of course – her favorite type of cookie! Grab some of your favorite cookies and keep on scrolling!
Smart Cookie – Interview with Author Elly Swartz:
What inspired you to write Frankie's story in Smart Cookie?
ELLY SWARTZ: Frankie came to me with all her spunk and heart. I loved her from the first moment she whispered in my ear and told me her secrets. Her story felt like one I had to tell. It's all about family, and, for me, family is at the heart of everything I do and everything I am. I grew up with a very close family, and now have one of my own. But when I was thirty, my mom died. She was 55. Her loss opened a hole in my heart. (That's me and my mom above. This was taken at camp. I was 12.) And after 22 years, I've realized some holes just aren't meant to be filled. Not in the same way.
And that is ultimately what Frankie learns. Family isn't about having all the pieces in place. It's about having people in your life who love you unconditionally. And that circle of people is so much bigger than those with whom you've shared a childhood or a name. That circle is ever-expanding. That circle is a gift.
We thought the setting of the Bed & Breakfast was so great and brought a lot of personality to the story. Why did you choose this setting?
ELLY: I guess you could say the setting chose me! My husband and I spend a lot of time in B&Bs when we travel. They are warm and friendly and filled with family. And many of these B&Bs have been nestled in wonderful small towns in Vermont. I love the mountains, the charm, and the warmth of these special places. And, the more time I spent in them, the more I felt they would be the perfect home for Frankie and her herd.
Frankie, her dad, and Gram bake lots of different delicious types of cookies throughout the book. We need to know, what's your favorite type of cookie?
ELLY: I love a good cookie! My favorites are the oatmeal chocolate chip ones that my husband used to bake. But over the years, I've become allergic to dairy and can't eat gluten. So, it's particularly special when I get a warm, gooey cookie that I can eat.
Truly, the best thing about cookies is that they bring people together. I mean who can resist a kitchen that smells like freshly-baked cookies!
What is something you learned or were surprised by while working on this book?
ELLY: I think I was most surprised by how much of me and my life and my heart were wrapped up in Frankie and Smart Cookie! That wasn't the plan going in, but looking back, there's a lot of me in these pages.
As shared, Frankie and I both have moms who had passed away. Moms who made an indelible imprint on our hearts. Additionally, Frankie and I share a nickname. Smart Cookie was the nickname my very loving, feisty, almost 102-year-old gram gave me. She passed away before my first book was published. But, I know she's hanging with my mom, reading Smart Cookie, and loving my girl, Frankie. (The photo above is from her 100th birthday celebration. All she wanted was a hotdog and McDonald's french fries.)
And, there's the ghost hunting. Frankie's friend Elliot's ghost hunting was sparked by my youngest son and one of his childhood friends. When they were eleven (now 22), they went ghost hunting at my husband's office – the old John Ebenezer Hancock House built in 1767 in Boston, MA. And as legend has it, they found a ghost!
Frankie's snow globe collection was inspired by my oldest son. He collected snow globes when he was young. When I started this book, I found the box marked 'snow globes' in our basement and shared them with Frankie. She loved them as much as he did!
Finally, Frankie's pets came to the page right from my home. Lucy, my beagle, was eight weeks old when I started writing Smart Cookie. And every day I wrote, she sat in my lap. So, I wrote her and all her crazy and loving puppiness into the story. (That's her, below, as a puppy!) And we can't forget, Winston, who was inspired by my youngest son's African Pygmy Hedgehog named Hippie. (He now has a guinea pig, so stay tuned!)

Looking back, my biggest surprise was how much of me I found sprinkled in the pages of Frankie's story.
Can you share a few of your favorite middle-grade reads?
ELLY: Wow! There are so many middle-grade titles that I love. But there were a few along the way that inspired me to want to write a story that I hoped would connect with readers and enable them to feel all the feels. Those books were every story ever written by Judy Blume, The Giver by Lois Lowry, The True Confessions of Charlotte Doyle by Avi, and Mick Harte Was Here by Barbara Park. I also loved Rain Reign by Ann M. Martin, Footer Davis Probably is Crazy by Susan Vaught, Marcelo in the Real World by Francisco X, Fish in a Tree by Lynda Mullaly Hunt, and everything by Kwame Alexander.
Happily, this list could go on. There is a bevy of talented authors and wonderful MG reads available in every bookstore and school library!
What is your favorite thing about writing books for kids?
ELLY: I love kids' honesty, vulnerability, and willingness to share. And, sometimes what they share tugs at my heart. A reader sent me a letter that opened with, "I just want you to know that you changed my life." A teacher shared how a student realized after reading my first novel, Finding Perfect, that she had OCD and was now getting help and resources to cope. And most recently, I received a letter from a boy who confided that my book has become a place where he seeks refuge from anxiety "like an anchor in an ocean."
I always knew that books mattered. Made a difference. But it wasn't until I became an author, that I felt the true impact of a story. It's those authentic moments with kids that are so meaningful to me.
Can you share a little about your next book, Give and Take?
ELLY: In Give and Take (Coming Spring 2019), you'll meet twelve-year-old Maggie. Maggie has a big heart and a hard time letting go. Of stuff. Of people. Of the past. With the help of her turtle Rufus, a baby named Izzie, and the almost all-girls trap shooting team, she begins to understand that people are more than the things that hold their memories.
Do you have any advice for our readers who love to write?
ELLY: My advice is to read everything. And write because you love writing. Because you have a story to tell. Write what matters to you. If you write from that place of true authenticity, the place that tugs on your heart, your words and your story will connect with your readers. Then follow your heart and embrace the journey!
Ready to laugh, cry, ghost hunt, and piece together the secrets and mysteries of Frankie Greene's life? Smart Cookie out today from Scholastic, so head to your favorite bookstore or library to snag a copy and be sure to have lots of cookies at the ready!
You can also order from any of these online retailers, just grab a parent first! Amazon | B&N | Indie Bound You'll If you like Smart Cookie, you'll probably also love Elly's first novel, Finding Perfect.
Love learning more about your favorite books and authors? Check out all of our author interviews here!