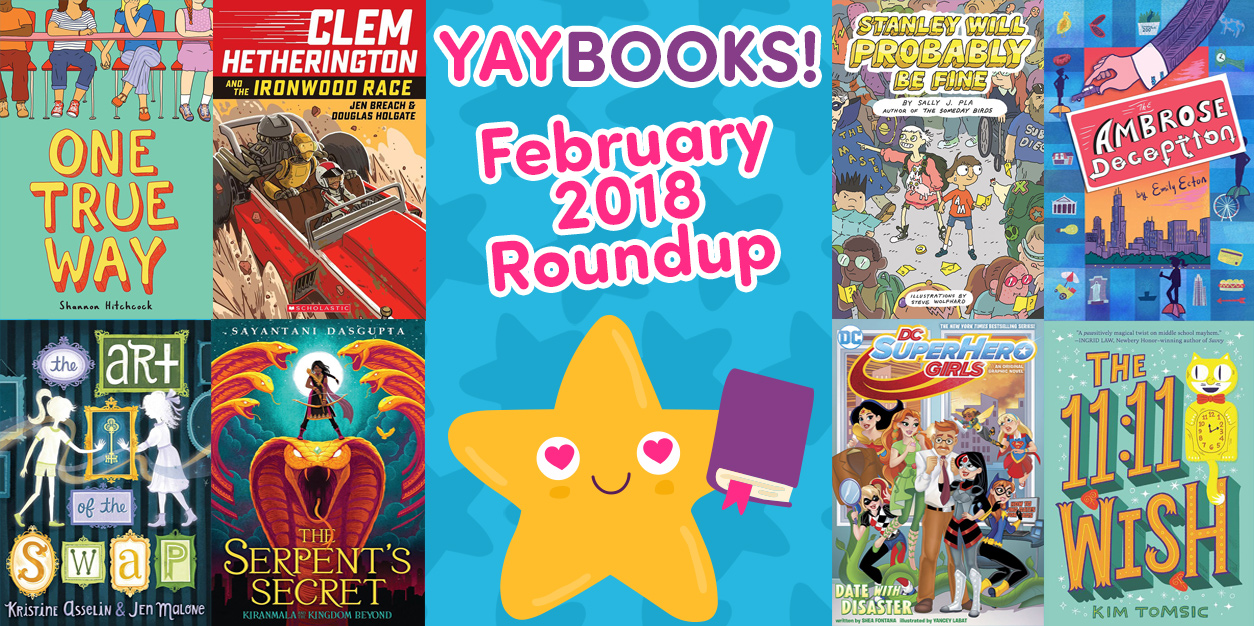 YAYBOOKS! February 2018 Roundup
We did it, everyone! We made it to February! You know what that means? Groundhogs, Valentines, and Girl Scout Cookies! It also means a brand new month filled with brand new books! Hunker down for the rest of the Winter (or just kick back and relax if you live in one of those warm winter climates!) by tearing through these 30 new releases.
This month's books feature stories of facing your biggest fears, exploring new places, and just knowing that you can take on any challenge life throws your way. Snag a few on your next trip to the bookstore or library, you won't regret it.
YAYBOOKS! February 2018 Roundup: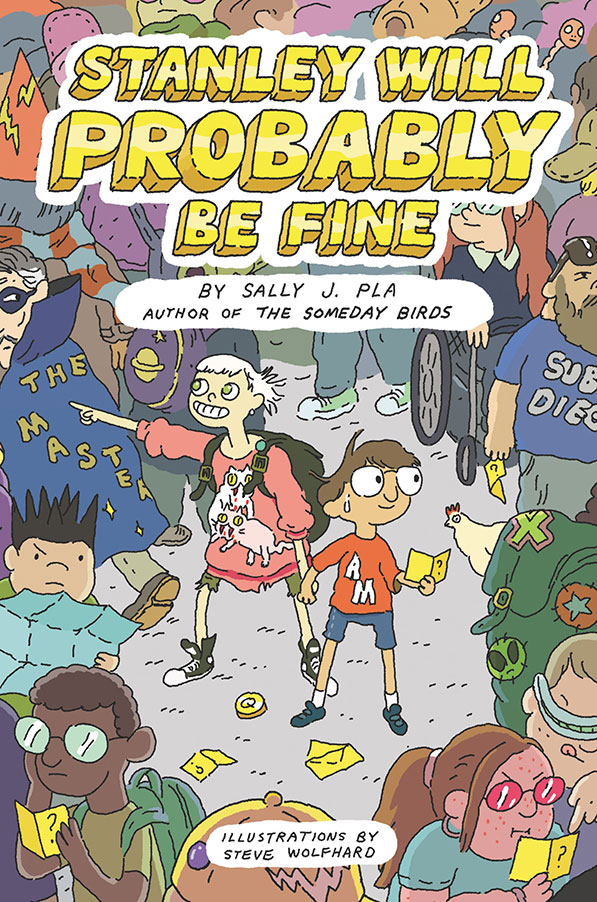 Stanley Will Probably Be Fine
Author: Sally J. Pla
Date: February 6
Publisher: HarperCollins Children's Books
SYNOPSIS:
A funny and moving second novel from the author of The Someday Birds.
Nobody knows comic trivia like Stanley Fortinbras knows comic trivia.
It's what he takes comfort in, when the world around him becomes too much—which, lately, is all the time. Dad's abroad for work, Mom's overwhelmed, Grandpa is cranky, his brother Cal is a moody teenager, and at school, Principal Coffin is obsessed with running safety drills that give Stanley anxiety attacks.
After he faints during a fire assembly, Stanley gets permission to spend the drills in a "safe room," where he imagines his own personal safety superhero — John Lockdown — coming to the rescue. Stanley doodles a John Lockdown comic, and the next time he's in the safe room, he discovers that a mystery artist has doodled back. Who could it be?
Meanwhile, both Stanley's BFF Joon and his new neighbor Liberty want him to enter the giant Trivia Quest treasure hunt downtown, to win VIP passes to Comic Fest. The fateful day becomes a test of courage for Stanley. He needs to prove to his friends, family, and himself, that he can face his worries.
Stanley faces a Quest that is sure to be overwhelming and challenging.
What would John Lockdown do?
Stanley's about to find out.
Sally J. Pla's second novel is both funny and tender, a heartwarming tale of one boy learning to manage his anxiety—and learning what, exactly, it means to be brave.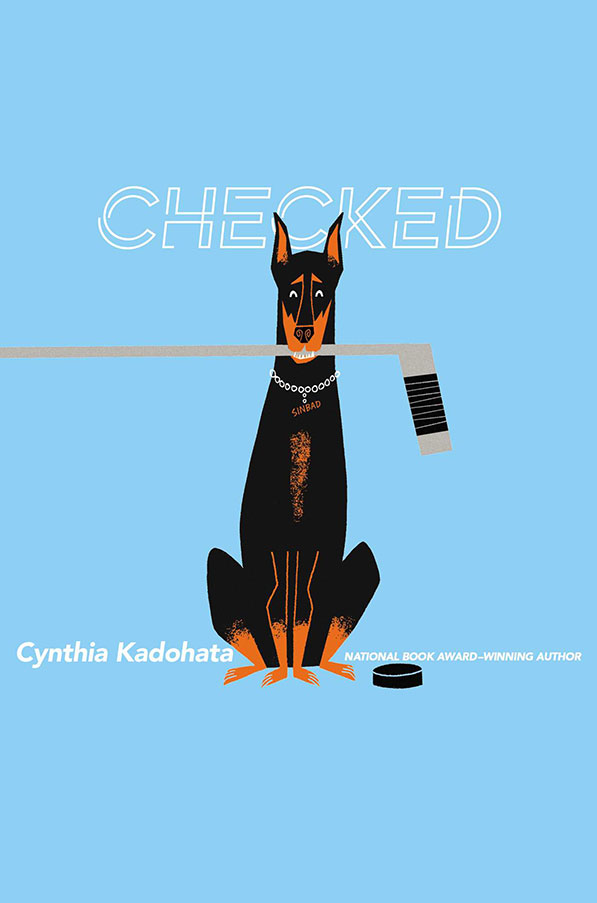 Checked
Author: Cynthia Kadohata
Date: February 6
Publisher: Atheneum Books for Young Readers
SYNOPSIS:
From Newbery Medalist Cynthia Kadohata comes a brilliantly realized sports novel about a hockey player who must discover who he is without the sport that defines him.
Hockey is Conor's life. His whole life. He'll say it himself, he's a hockey beast. It's his dad's whole life too—and Conor is sure that's why his stepmom, Jenny, left. There are very few things Conor and his dad love more than the game, and one of those things is their Doberman, Sinbad. When Sinbad is diagnosed with cancer, Conor chooses to put his hockey lessons and practices on hold so they can pay for Sinbad's chemotherapy.
But without hockey to distract him, Conor begins to notice more. Like his dad's crying bouts, and his friend's difficult family life. And then Conor notices one more thing: Without hockey, the one thing that makes him feel special, is he really special at all?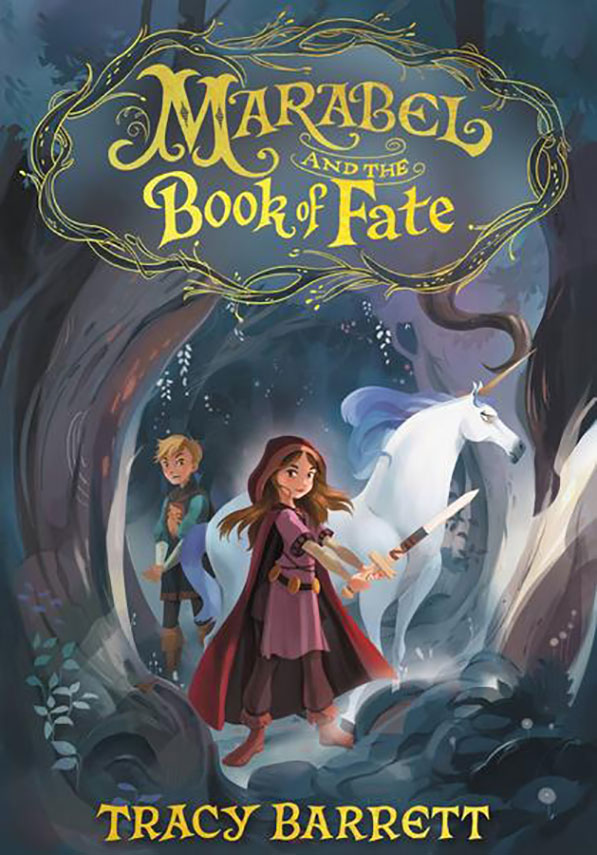 Marabel and the Book of Fate
Author: Tracy Barrett
Date: February 6
Publisher: Little, Brown Books for Young Readers
SYNOPSIS:
Free-spirited Marabel must defy expectations to rescue her brother–and their kingdom.
In Magikos, life is dictated by the Book of Fate's ancient predictions, including the birth of a royal Chosen One who will save the realm. Princess Marabel has grown up in the shadow of her twin brother, Marco, who everyone assumes is the true Chosen One. While Marco is adored and given every opportunity, Marabel is overlooked and has to practice her sword fighting in secret.
But on the night of their thirteenth birthday, Marco is kidnapped by an evil queen, and Marabel runs to his rescue. Outside the castle walls for the first time, accompanied by her best friend and a very smug unicorn, Marabel embarks on a daring mission that brings her face-to-face with fairies, trolls, giants–and the possibility that all is not as it seems in Magikos.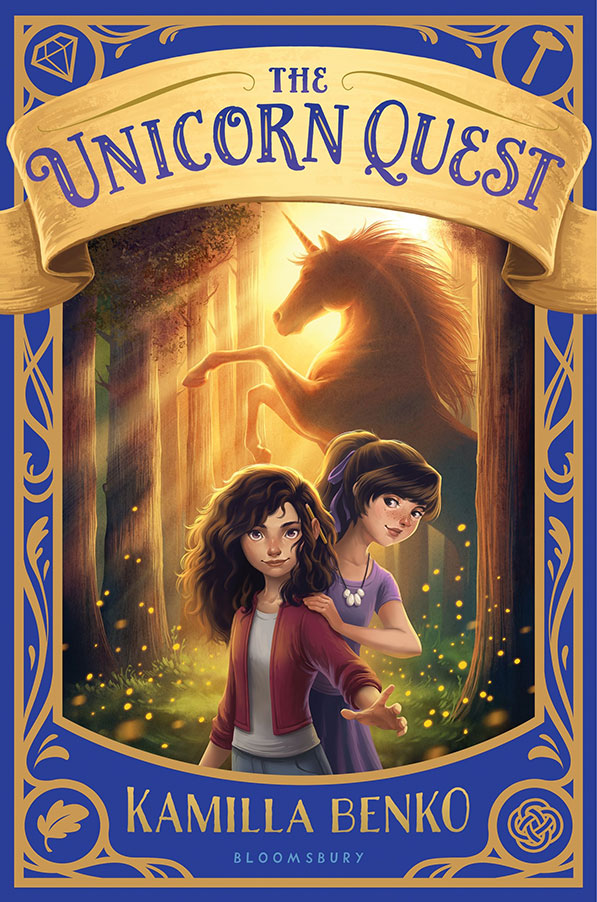 The Unicorn Quest
Author: Kamilla Benko
Date: February 6
Publisher: Bloomsbury Childrens Books
SYNOPSIS:
Claire Martinson still worries about her older sister Sophie, who battled a mysterious illness last year. But things are back to normal as they move into Windermere Manor… until the sisters climb a strange ladder in a fireplace and enter the magical land of Arden.
There, they find a world in turmoil. The four guilds of magic no longer trust each other. The beloved unicorns have gone, and terrible wraiths roam freely. Scared, the girls return home. But when Sophie vanishes, it will take all of Claire's courage to climb back up the ladder, find her sister, and uncover the unicorns' greatest secret.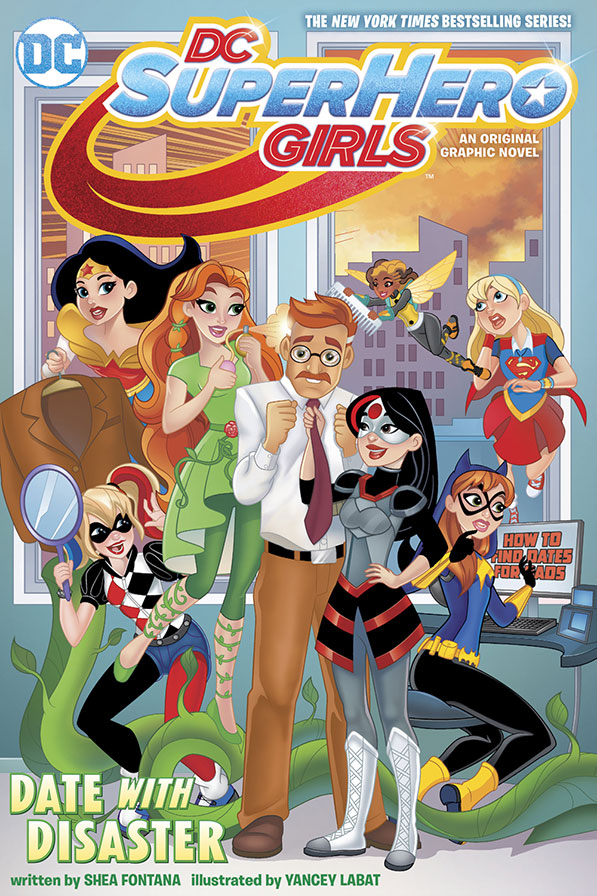 DC Super Hero Girls: Date With Disaster!
Author: Shea Fontana
Illustrator: Yancey Labat
Date: February 6
Publisher: DC Comics
SYNOPSIS:
Catwoman is out on the prowl one night when kaboom! An explosion at S.T.A.R. Labs rouses the heroes from their slumber. Star students Batgirl and Lois Lane both know the lab incident is fishy, and they meet later to share clues. But nothing could've prepared Batgirl for what they see next: Batgirl's dad out on a date! Batgirl is grossed out until her friends convince her that dads get lonely, too. And with the school dance coming up and everyone pairing off—heck, even Principal Waller has a date with a guy called Deadshot—maybe it'll be okay. The girls place a personal ad for Commissioner Gordon while they delve deeper into the mystery surrounding the explosion, but they're about to discover more than who is behind the attack on S.T.A.R. Labs. Could it be that posting an ad looking for dates for the commissioner is like advertising catnip for criminals?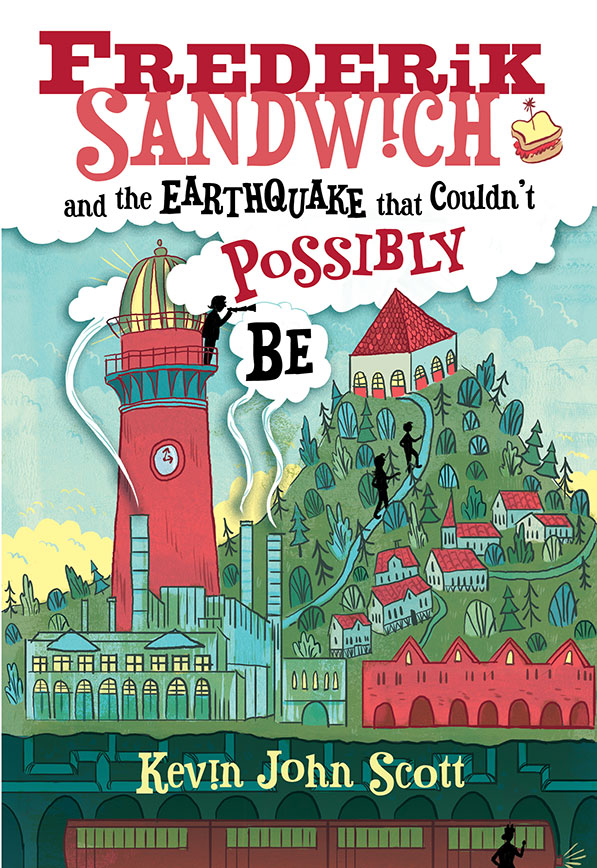 Frederik Sandwich and the Earthquake That Couldn't Possibly Be
Author: Kevin John Scott
Date: February 6
Publisher: Sourcebooks Jabberwocky
SYNOPSIS:
At the age of eleven Frederik Sandwich awakens to an earthquake that couldn't possibly be. His town is nowhere near a fault line and no earthquake has ever been recorded there. But when he questions what could have caused the shaking, he realizes he may have uncovered more than he bargained for.
Desperately wanting to know what happened, but not the type of person to break rules or push adults for answers, Frederik is lucky (or not, depending on how you look at it) to meet a mysterious stranger, Pernille. She is the sort of person to break rules and demand answers, and is determined to partner with him to get to the bottom of the mystery. It's a mystery that will lead the two outsiders through abandoned train tunnels, into hidden library rooms, and to the shadowy corridors of City Hall in the dead of night as they try to figure out what could have caused inexplicable rumblings in their small town.
A delightfully strange and hilarious debut novel perfect for Lemony Snicket and Trenton Lee Stewart fans—the first book in a new middle-grade mystery series that will keep you guessing and laughing all along the way.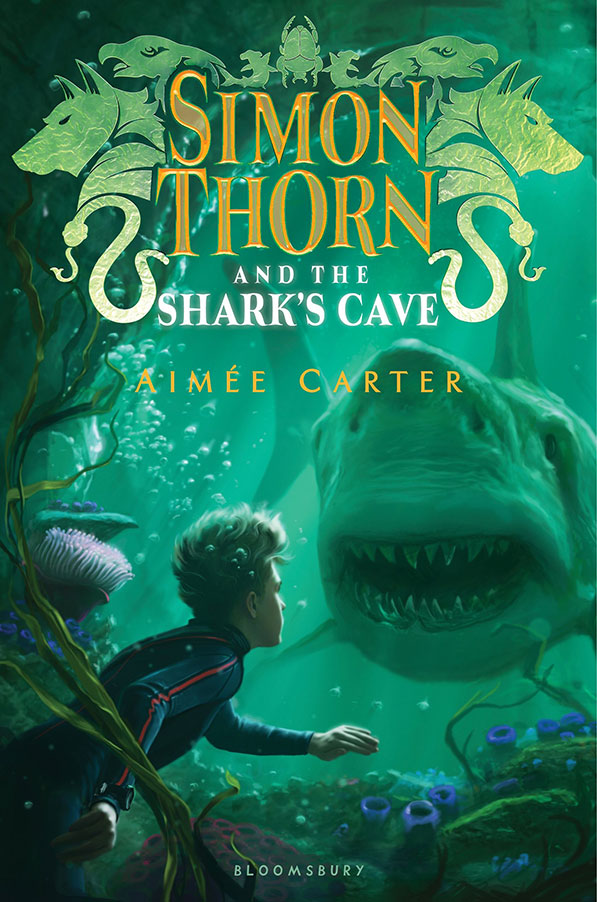 Simon Thorn and the Shark's Cave
Author: Aimee Carter
Date: February 6
Publisher: Bloomsbury Childrens Books
SYNOPSIS:
Simon Thorn has only recently discovered that he's an Animalgam, a member of a secret race of people who can shift into animals, and found a home where he truly belongs. But not everything is as good as it seems. Simon's evil grandfather, Orion, is bent on taking over the entire animal kingdom, and to do so, he'll need to gather the pieces of a terrible weapon–one that could shred the very foundations of the Animalgams' world. . . unless Simon can gather the pieces first.
So when Simon's dolphin Animalgam friend Jam is summoned home to the underwater kingdom's headquarters, Avalon, Simon sees it as an opportunity to secure another piece. But as soon as he and his friends arrive in Avalon, their search is complicated by Jam's strict family–and a potential traitor. Can they locate the piece before it falls into Orion's hands and puts the entire underwater kingdom at risk?
With plenty of action and adventure and characters full of heart, this story is perfect for fans of Rick Riordan and Brandon Mull.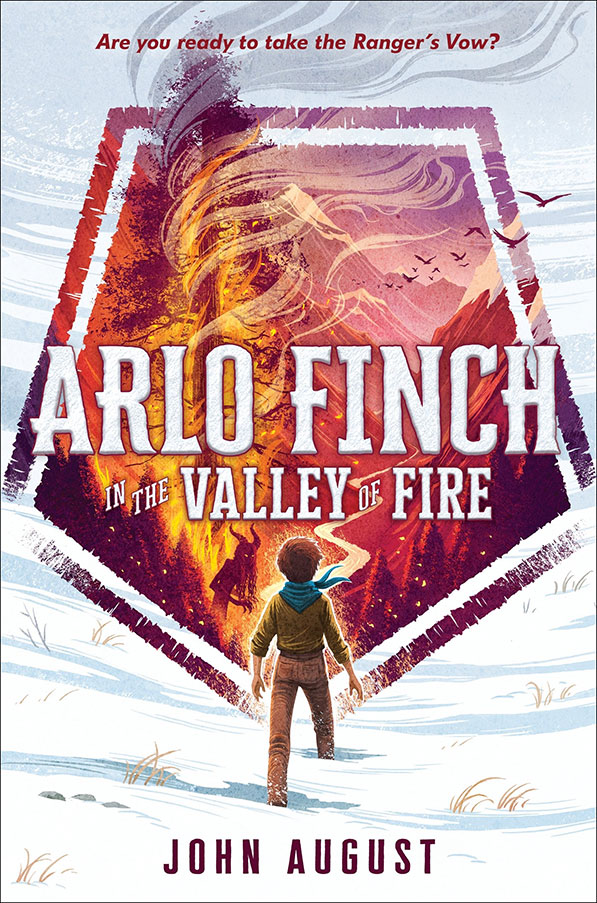 Arlo Finch in the Valley of Fire
Author: John August
Date: February 6
Publisher: Roaring Brook Press
SYNOPSIS:
As Arlo looked around, the walls of his room began to vanish, revealing a moonlit forest. Only his bed remained, and the frame of his window, through which he saw the girl. The world on her side of the glass was sparkling with silver and gold, like a palace made of autumn leaves.
She looked off to her right. Someone was coming. Her words came in an urgent whisper: "If I can see you, they can see you. You're in danger. Be careful, Arlo Finch."
Arlo Finch is a newcomer to Pine Mountain, Colorado, a tiny town of mystery and magic, but he's already attracted the attention of dark and ancient forces. At first, he thinks these increasingly strange and frightening occurrences are just part of being in Rangers, the mountain scouting troop where he learns how to harness the wild magic seeping in from the mysterious Long Woods. But soon Arlo finds himself at the center of a dangerous adventure, where he faces obstacles that test the foundations of the Ranger's Vow: Loyalty, Bravery, Kindness, and Truth.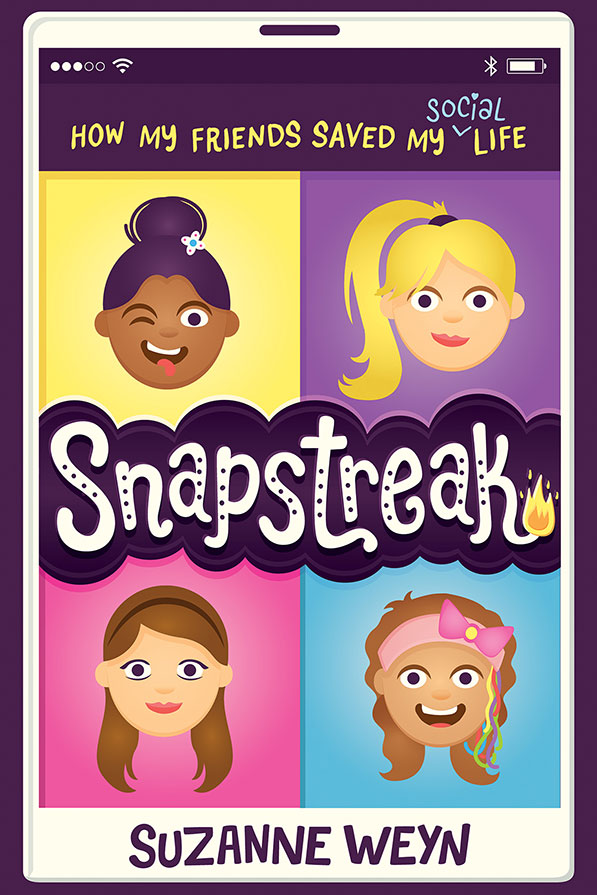 Snapstreak: How My Friends Saved My (Social) Life
Author: Suzanne Weyn
Date: February 6
Publisher: HMH Books for Young Readers
SYNOPSIS:
Eighth-grader Vee is doomed to move to a new town, away from her BFFs Megan and Lulu. To get a jump on her new social life, she starts snapping with local Queen Bee, Gwynneth. Megan and Lulu have mixed feelings about G., but Vee's snapstreak with her is well under way when they get the biggest news EVER: The local radio station is hosting a Boys Being Dudes concert for the pair of students from different schools who can prove the longest running snapstreak! Vee could win this!
The girls' BBD dreams are in reach when a gym class concussion lands Vee in bed, under a strict phone ban. It's up to Megan and Lulu to keep the streak going.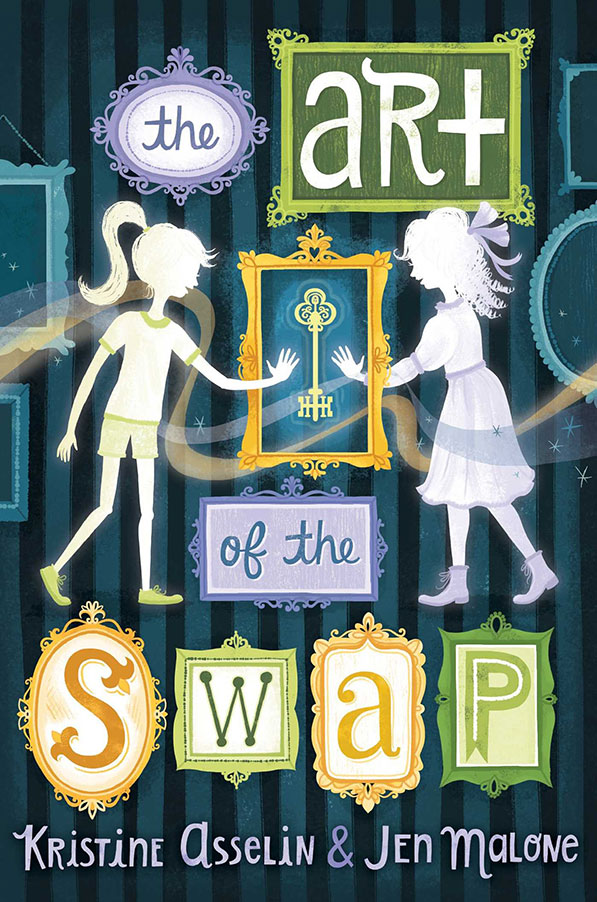 The Art of the Swap
Authors: Kristine Asselin and Jen Malone
Date: February 13
Publisher: Aladdin
YAYOMG!:
We've got an awesome behind the scenes look at this Freaky Friday style life swap coming later this month! Authors Kristine Asselin and Jen Malone will be sharing lots of girl-power fueled fun facts about The Art of the Swap, so be sure to check back!
SYNOPSIS:
Two girls trade places in time to solve a legendary art heist across two centuries!
As the daughter of a caretaker for a mansion-turned-museum, twelve-year-old Hannah Jordan has spent nearly all her life steeped in the history of the Gilded Age of Newport, Rhode Island. The Elms, the mansion where her dad works (and they both live), is one of the most esteemed historical properties on famed Bellevue Avenue. Mysterious legends and priceless artifacts clutter every inch of the marble floors and golden walls, but Hannah is most drawn to the reproduction portrait of Maggie Dunlap, the twelve-year-old subject of a famous painting stolen in a legendary art heist on the day of its scheduled unveiling in 1905.
Hannah dreams of how glamorous life must have been for the young oil-heiress, Maggie, at the turn of the century, but she never expects she'll have a chance to experience it herself… until the day a mysterious mirror allows the two girls to change places in time!
In 1905, Hannah races to stop the art heist from happening—something she is convinced will allow the girls to trade back to their own eras—while in current times, Maggie gets a hilarious introduction to the modern digital age and a new perspective on women's roles in society while reveling in the best invention of all: sweatpants. So long corsets!
As the hours tick off to the recorded moment of the legendary art heist, something's not adding up. Can the girls work together against time—and across it—to set things right… or will their temporary swap become a permanent trade?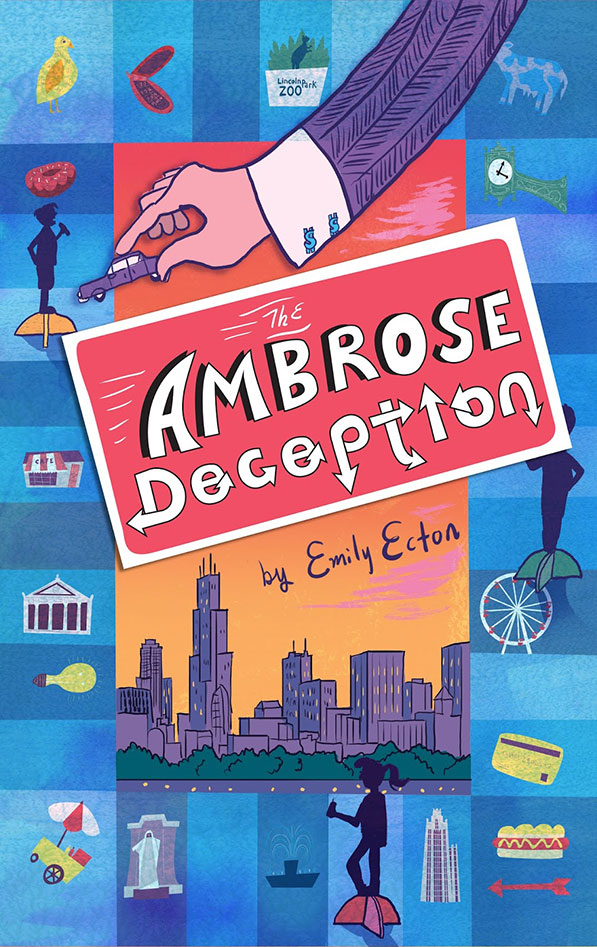 The Ambrose Deception
Author: Emily Ecton
Date: February 13
Publisher: Disney-Hyperion
SYNOPSIS:
Melissa is a nobody. Wilf is a slacker. Bondi is a show-off. At least that's what their middle school teachers think. To everyone's surprise, they are the three students chosen to compete for a ten-thousand-dollar scholarship, solving clues that lead them to various locations around Chicago. At first the three contestants work independently, but it doesn't take long before each begins to wonder whether the competition is a sham. It's only by secretly joining forces and using their unique talents that the trio is able to uncover the truth behind the Ambrose Deception–a truth that involves a lot more than just a scholarship.
With a narrative style as varied and intriguing as the mystery itself, this adventure involving clever clues, plenty of perks, and abhorrent adults is pure wish fulfillment.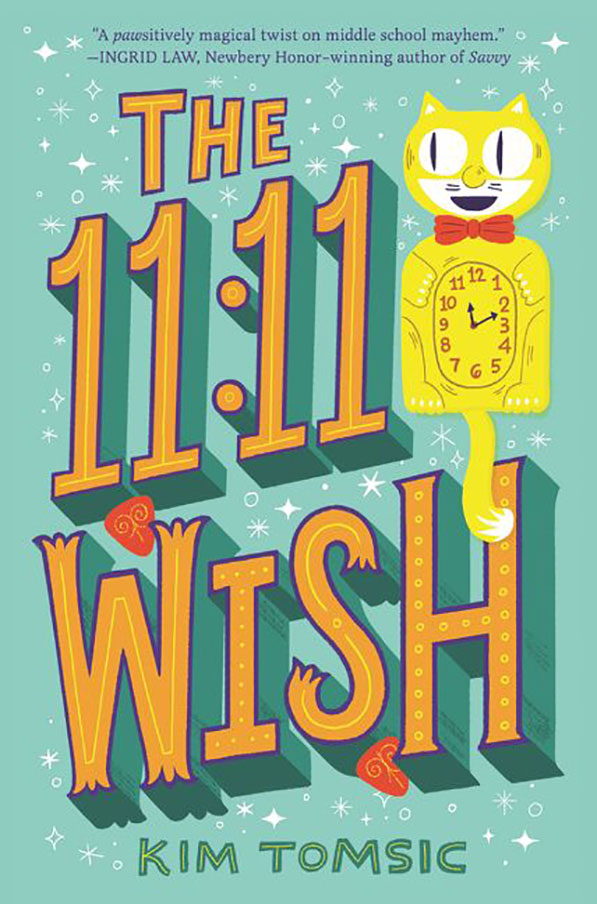 The 11:11 Wish
Author: Kim Tomsic
Date: February 13
Publisher: Katherine Tegen Books
SYNOPSIS:
Wishes, magic, and dares abound when a tween math whiz tries to fit in at her new school by wishing on a magical cat clock only to suffer catastrophic consequences! Perfect for fans of Sarah Mlynowski, Wendy Mass, and Ingrid Law.
Megan Meyers has a foolproof plan to reinvent herself at her new middle school. But when she's dared to make something exciting happen by the end of her first day, Megan gets stuck in the middle of an epic rivalry between the two most popular girls in the seventh grade. And totally panics! Megan's reputation has always been more science-geek-meets-Humane-Society-volunteer than party-planner-fun-maker. So, with nothing to lose as her classroom's strange cat clock chimes 11:11 a.m., Megan makes a wish. And it comes true! In the form of an enchanted teen magazine that promises back-to-school makeovers and the secrets to winning over friends and crushes.
But each wish comes with its own Pinocchio-esque side effects, and soon Megan finds herself coughing up hairballs as she makes bigger and bigger promises to her new friends. Now, if she can't impress the school with the most spectacular kickoff event for Spirit Week they've ever seen—without using magic—her social life will be doomed and Megan may remain feline and friendless forever.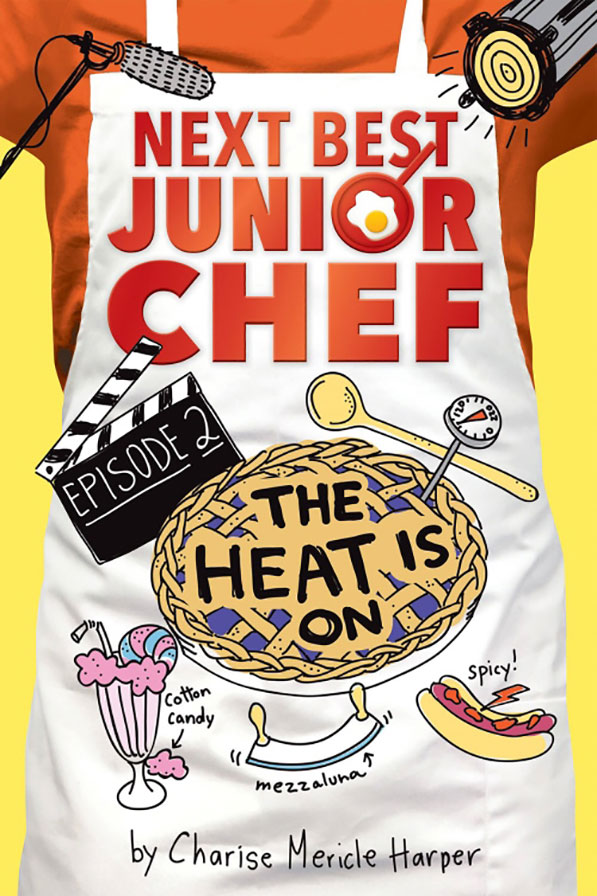 Next Best Junior Chef: The Heat is On
Author: Charise Mericle Harper
Illustrator: Aurélie Blard-Quintard
Publisher: HMH Books for Young Readers
SYNOPSIS:
The competition heats up in episode two of this zesty series for fans of MasterChef Jr. and Kids Cook-off! With this episode's theme of family and tradition, from a diner challenge to a quinceañera to the farmer's market, the junior chefs will have to sauté their way through the chewiest challenges yet. They're the best in the nation, but can they handle the twists and turnovers week two has in store, on- and off-camera? Which junior chefs can stand the heat? And which one will need to get out of the kitchen?
We are one episode closer to discovering just who will earn the title of Next Best Junior Chef. Bonus: Includes real cooking techniques for the aspiring young chef!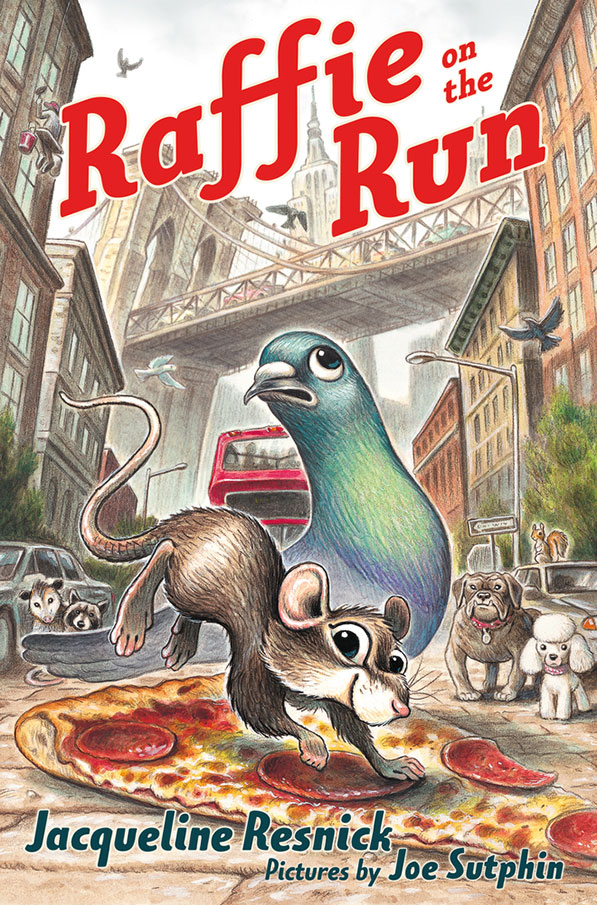 Raffie on the Run
Author: Jacqueline Resnick
Illustrator: Joe Sutphin
Date: February 13
Publisher: Roaring Brook Press
SYNOPSIS:
The Cricket in Times Square meets Finding Nemo―a subway rat must cross New York City to bring his lost little brother home.
Raffie Lipton lives a rat's dream life. In his family's subway station home, he has all the food he can forage from the treasure chests humans call trash cans, and the perfect shoebox bed for telling his brother his famous adventure stories. But when one of those stories goes awry and his little brother is taken from their Brooklyn subway station, Raffie must set out on an adventure across the city to find him. Along the way, he meets other urban animals―a street-wise pigeon, a pampered show dog, a genteel cockroach―and he faces hungry cats, greedy squirrels, and sewer rat kings.
In Raffie on the Run, Jaqueline Resnick crafts a tale of friendship and adventure, where a little rat with a big imagination must embark on his own real-life story, and find the inner hero he isn't sure he has.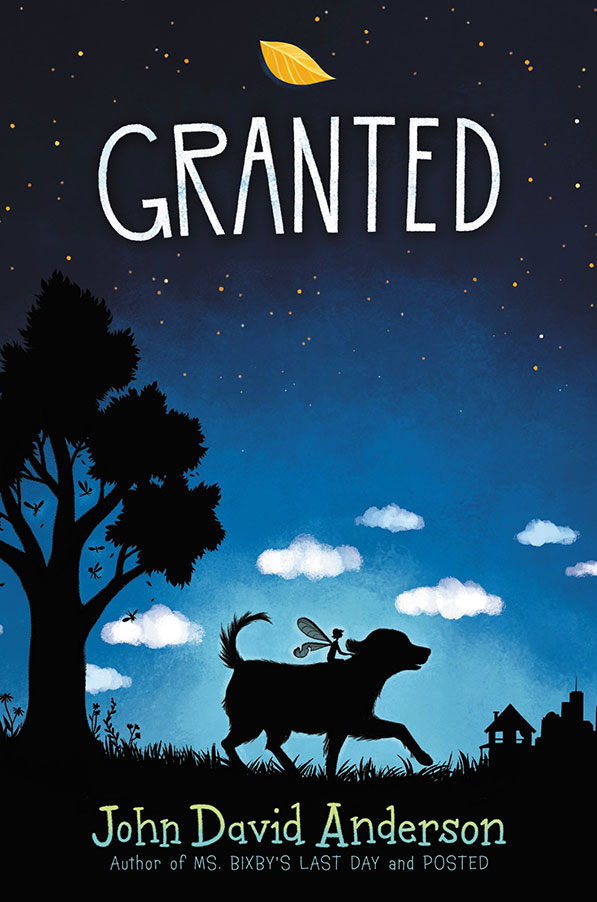 Granted
Author: John David Anderson
Date: February 13
Publisher: Walden Pond Press
SYNOPSIS:
From John David Anderson, author of the widely acclaimed and beloved novels Ms. Bixby's Last Day and Posted, comes Granted, a hilarious, heartfelt, and unforgettable novel about a fairy-in-training and her first wish-granting assignment.
Everyone who wishes upon a star, or a candle, or a penny thrown into a fountain knows that you're not allowed to tell anyone what you've wished for. But even so, rest assured: There is someone out there who hears it.
Ophelia Delphinium Fidgets is no ordinary fairy—she is a Granter: one of the select few whose job it is to venture beyond the boundaries of the Haven and grant the wishes of unsuspecting humans every day. It's the work of the Granters that generates the magic that allows the fairies to do what they do and to keep the Haven hidden and safe. But with worldwide magic levels at an all-time low, this is not as easy as it sounds. On a typical day, only a small fraction of the millions of wishes made get granted. And even granting those promised few means navigating a human world fraught with danger.
Today, however, is anything but typical. Because today Ophelia is going out on her first assignment. And she's about to discover that getting what you truly want takes much more than a handful of fairy dust.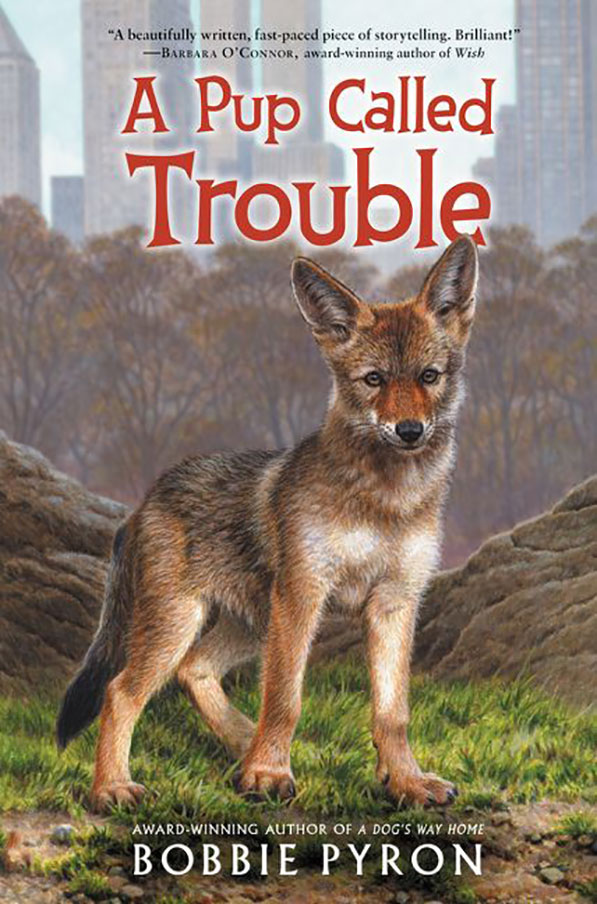 A Pup Called Trouble
Author: Bobbie Pyron
Date: February 13
Publisher: Katherine Tegen Books
SYNOPSIS:
Fans of classic animal stories like Pax and A Dog's Way Home will howl over the heartwarming adventures of a coyote pup lost in New York City.
Brimming with curiosity, Trouble can't wait to explore the world beyond Singing Creek. So one morning the coyote pup stows away in the back of a truck and ends up lost in the heart of New York City. While Trouble misses his siblings, he quickly makes friends in Central Park's Ramble: a prankster crow, a timid opossum, and a poetic poodle.
Before long, he goes from howling for home to wondering if he could make a life in the city forever. But when word gets out that a coyote is running wild on city streets, Trouble must choose between the risks of being caught and the dangers of a long journey home.
Inspired by true stories, this accessible read from the award-winning author of A Dog's Way Home will resonate with anyone who's ever felt torn between the longing for adventure and the call of home. An appendix with real accounts of wild animals trapped in the city adds to the fun!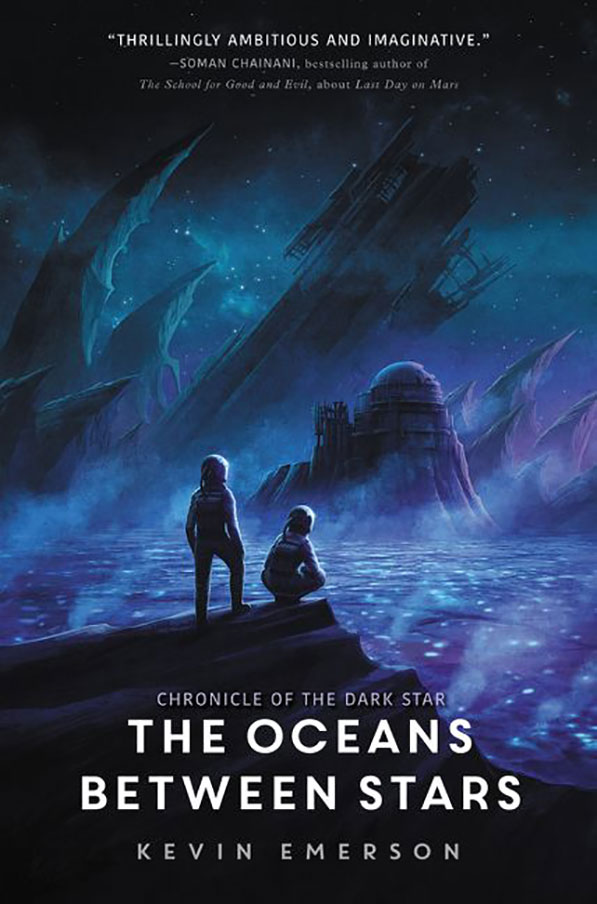 The Oceans Between Stars
Author: Kevin Emerson
Date: February 13
Publisher: Walden Pond Press
SYNOPSIS:
It is Earth year 2223, but the Earth, along with the entire solar system, is gone.
Liam and Phoebe, having barely escaped our exploding sun with their lives, are in stasis for the decade-long journey to the rogue planet Delphi, where they hope to meet up with the rest of the human refugees, find help for their injured parents, and pass along the devastating things they discovered on Mars: that someone destroyed their world intentionally, and that someone might still be after them, trying to finish the job.
Phoebe is carrying her own dark secret. One that finds her waking up secretly at various points in their journey, changing their path through space. One that will decide the fate of the human race, and many more besides. One that, very soon, she must reveal to Liam, whether he's ready for the truth or not.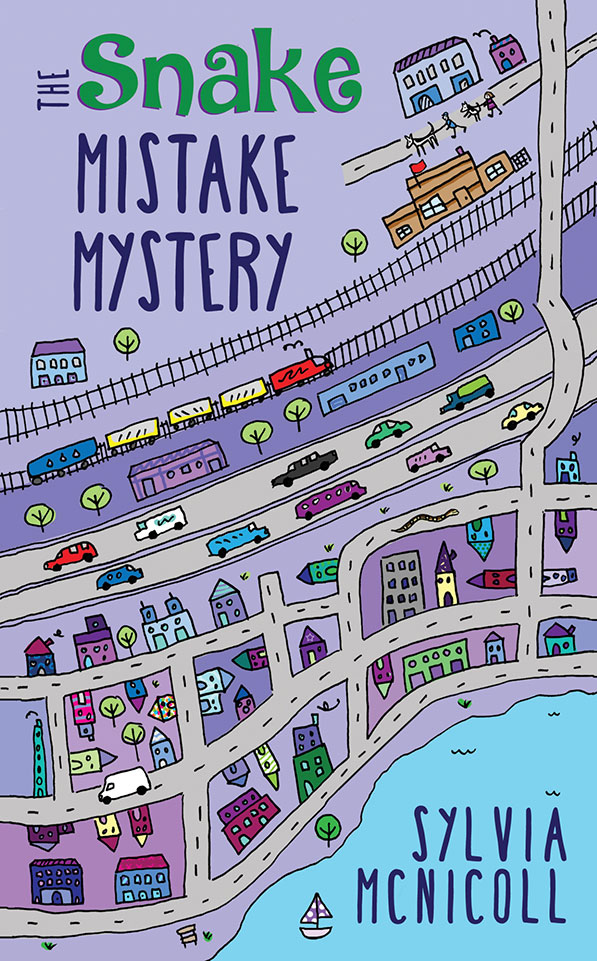 The Snake Mistake Mystery: Great Mistake Mysteries #3
Author: Sylvia McNicoll
Date: February 20
Publisher: Dundurn Group
SYNOPSIS:
Noble Dog Walking takes care of pets, even if they slither.

When a ball python they're looking after disappears, Stephen Noble and Renée Kobai join forces with their favourite clients, Jack Russell Ping and greyhound Pong, to find that snake. The local animal shelter proves no help at all. The only thing they care about is their annual cat sale.
It's starting to look like the ball python may have been stolen, when Stephen and Renée get word that more homes have been broken into, all of them clients of Noble Dog Walking. The case turns desperate as one by one, their clients leave. After losing Ping and Pong as clients, too, Stephen and Renée pin their last hope on gathering all the suspects at the animal shelter, and a real Cat-astrophe ensues.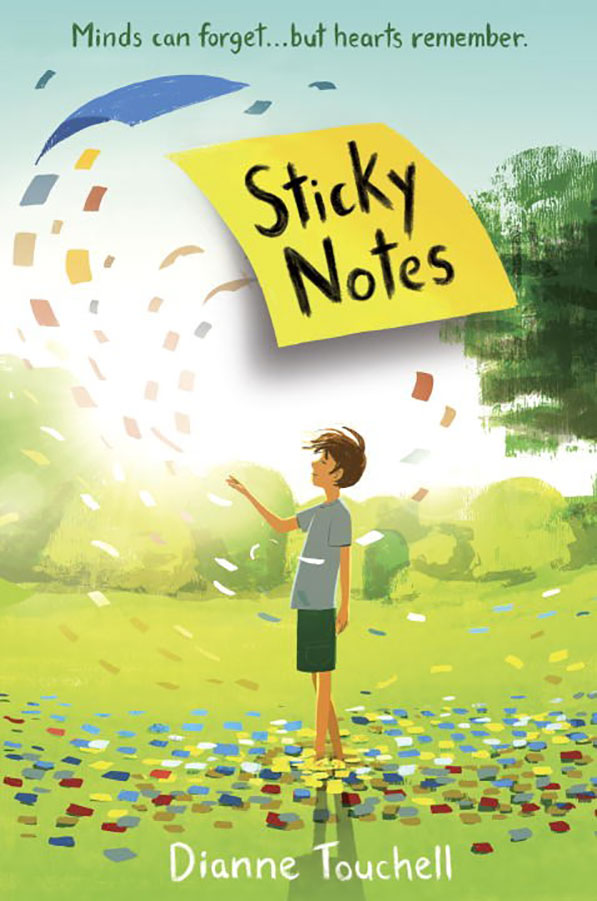 Sticky Notes
Author: Dianne Touchell
Date: February 20
Publisher: Delacorte Books for Young Readers
SYNOPSIS:
For fans of Counting by 7's and Fish in a Tree, a touching story about the power of love and family in the face of a parent's early-onset Alzheimer's disease.
Foster Sumner is ten years old. He likes toy soldiers, tadpole hunting, going to school, and the beach. Best of all, he likes listening to his dad's stories.
But then Foster's dad starts forgetting things. No one is too worried at first. Foster and Dad giggle about it. Dad would go out for milk and come back with cat food, when the cat had been dead for five years. But then the forgetting gets worse. And suddenly no one is laughing anymore.
A heartbreaking story about what it means to forget and to be forgotten, as well as the devastating effects of Alzheimer's and the strong families behind those who suffer from it.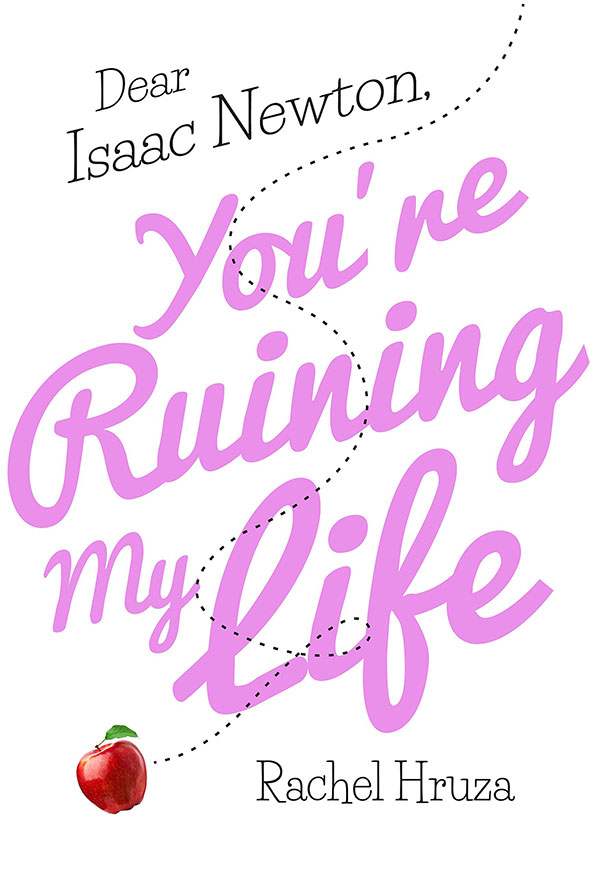 Dear Isaac Newton, You're Ruining My Life
Author: Rachel Hruza
Date: February 20
Publisher: Sky Pony Press
SYNOPSIS:
As if seventh grade isn't hard enough, Truth Trendon learns she has to wear a back brace to help her worsening scoliosis. She decides gravity is to blame for curving her spine and ruining her life. Thanks for nothing, Isaac Newton!
Truth's brace is hard plastic, tight, and uncomfortable. She has to wear a t-shirt under it and bulky clothes over it, making her feel both sweaty and unfashionable. She's terrified that her classmates are going to find out about it.
But it's hard keeping it a secret (especially when gym class is involved), and secrets quickly turn into lies. When Truth's crush entrusts her with a big secret of his own, it leads to even more lying. Add to that a fight with her best friend, a looming school-wide presentation, and mean rumors, and it's a recipe for disaster.
As Truth navigates the ups and downs of middle school, can she learn to accept her true self, curvy spine and all?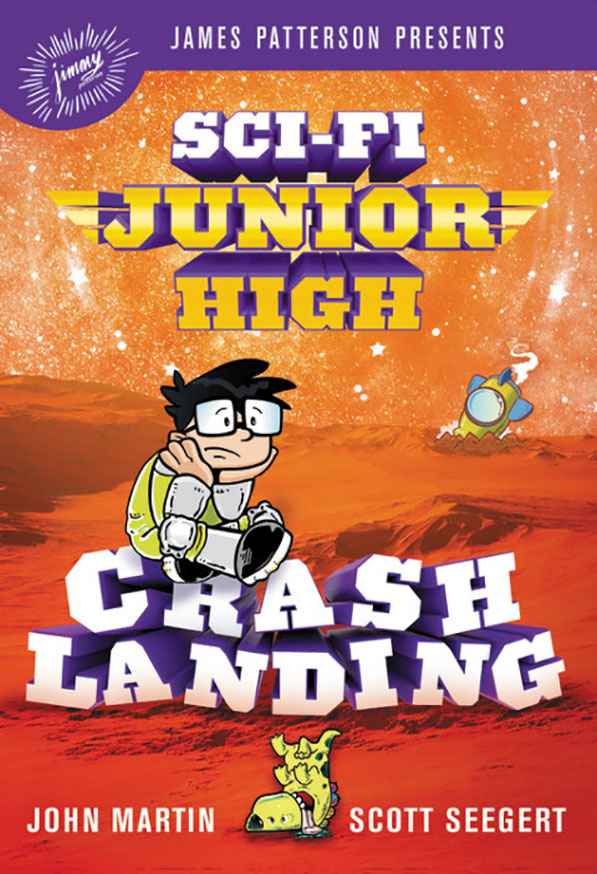 Sci-Fi Junior High: Crash Landing
Author: John Martin
Illustrator: Scott Seegert
Date: February 20
Publisher: Jimmy Patterson
SYNOPSIS:
Middle school in space! An alien dog! A mad scientist! Hundreds of illustrations! Sci-Fi Junior High is galactically good! James Patterson presents a hilarious space adventure featuring an average human kid getting into a universe of trouble.
Kelvin is the new kid at Sci-Fi Junior High–a floating space station filled with alien kids from across the universe. And he arrived just in time for the annual school dance: The Galactic Get Down!
Kelvin is desperate to take luminous Luna (her species literally glows), but now that his secret about not being a Mega Supergenius is out, Kelvin doesn't have a shot. He has to think of a way to become super cool so everyone forgets he lied about his average intelligence…
Cue mad scientist Erik Failenheimer's escape from his asteroid prison, an army of Pinions (any similarities to the MinionsTM is purely coincidental), and a battle to save Sci-Fi Junior High from imminent doom. Let's dance!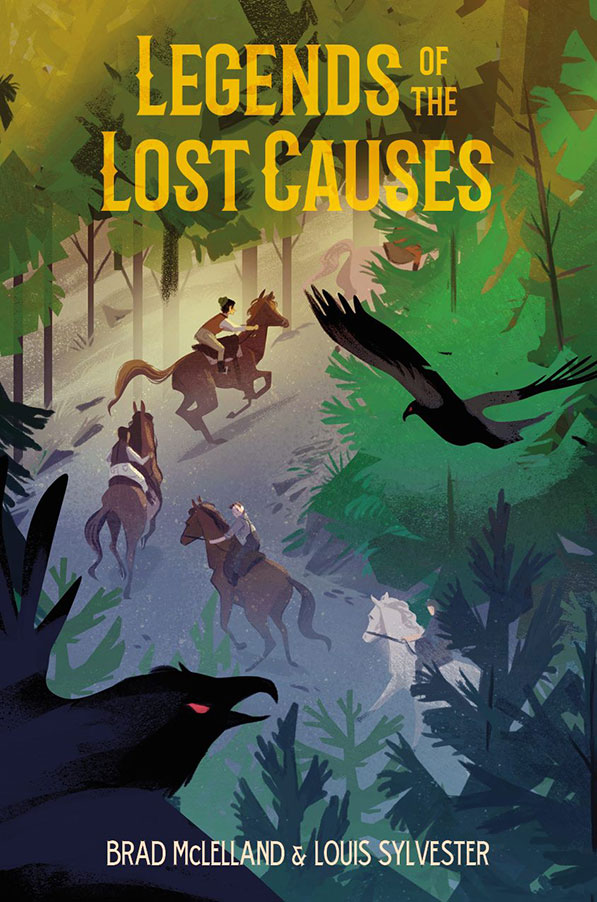 Legends of the Lost Causes
Authors: Brad McLelland and Louis Sylvester
Date: February 20
Publisher: Henry Holt & Co.
SYNOPSIS:
The first book in a new middle-grade fantasy action-adventure series set in the Old West.
A band of orphan avengers. A cursed stone. A horde of zombie outlaws. This is Keech Blackwood's new life after Bad Whiskey Nelson descends upon the Home for Lost Causes and burns it to the ground.
With his home destroyed and his family lost, Keech will have to use the lessons he learned from Pa Abner to hunt down the powerful Char Stone. Luckily, he has the help of a ragtag team of orphans. Together, they'll travel through treacherous forests, fight off the risen dead, and discover that they share mysterious bonds as they try to track down the legendary stone. Now, it's a race against the clock, because if Bad Whiskey finds the stone first. . . . all is lost.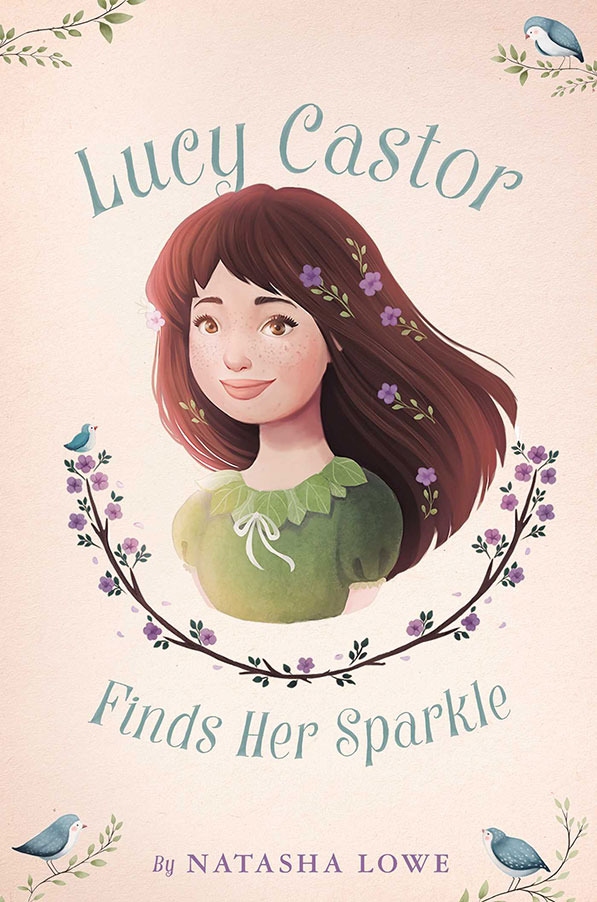 Lucy Castor Finds Her Sparkle
Author: Natasha Lowe
Date: February 20
Publisher: Paula Wiseman Books
SYNOPSIS:
Try though she might, ten-year-old Lucy Castor can't seem to stop the world around her from changing in this charming and funny novel by Natasha Lowe in the tradition of the Penderwicks series.
Lucy's life is perfect and she doesn't want to change a thing. With everyone growing up around her, Lucy just wants everything to just stay the way it is. Then she discovers her mother is having another baby and Lucy is sure that her parents don't want her anymore. Classic, heartwarming, and quirky, this cozy story is about holding onto the magic of childhood.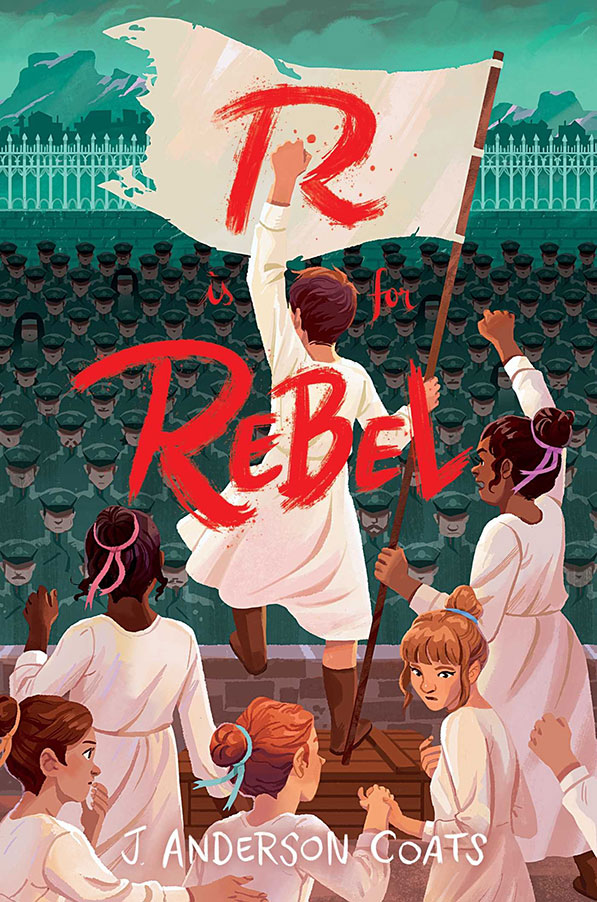 R is for Rebel
Author: J. Anderson Coats
Date: February 20
Publisher: Atheneum Books for Young Readers
SYNOPSIS:
Princess Academy meets Megan Whalen Turner in this stunning novel about a girl who won't let anything tame her spirit—not the government that conquered her people, and definitely not reform school!
Malley has led the constables on a merry chase across her once-peaceful country. With her parents in prison for their part in a failed resistance movement, the government wants to send her to a national school—but they'll have to capture her first.
And capture her they do. Malley is carted off be reformed as a proper subject of the conquering empire, reeducated, and made suitable for domestic service. That's the government's plan, anyway.
But Malley will not go down without a fight. She's determined to rally her fellow students to form a rebellion of their own. The government can lock these girls up in reform school. Whether it can break them is another matter entirely…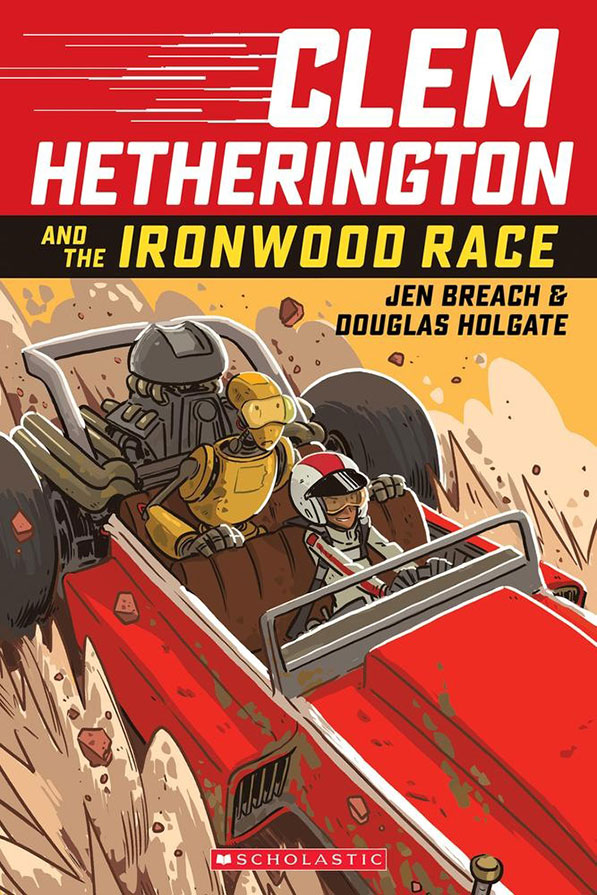 Clem Hetherington and the Ironwood Race
Author: Jen Breach
Illustrator: Douglas Holgate
Date: February 27
Publisher: Scholastic Graphix
SYNOPSIS:
A dangerous rally race… and archaeology?!
Clementine Hetherington and her robot brother, Digory, have run away from the orphanage they've been living in since their parents died. Clem and Dig want to follow in their famous archaeologist mother's footsteps, but no one will take them seriously. Their chance arrives when a man from their past saves Digory's life, and to repay the debt they enter a multiday rally race… to recover stolen artifacts! Clem and Dig hope to win so they can give them to a museum, but their opponents want to sell them on the black market. The Ironwood Race has no rules, and Clem and Dig might be in over their heads!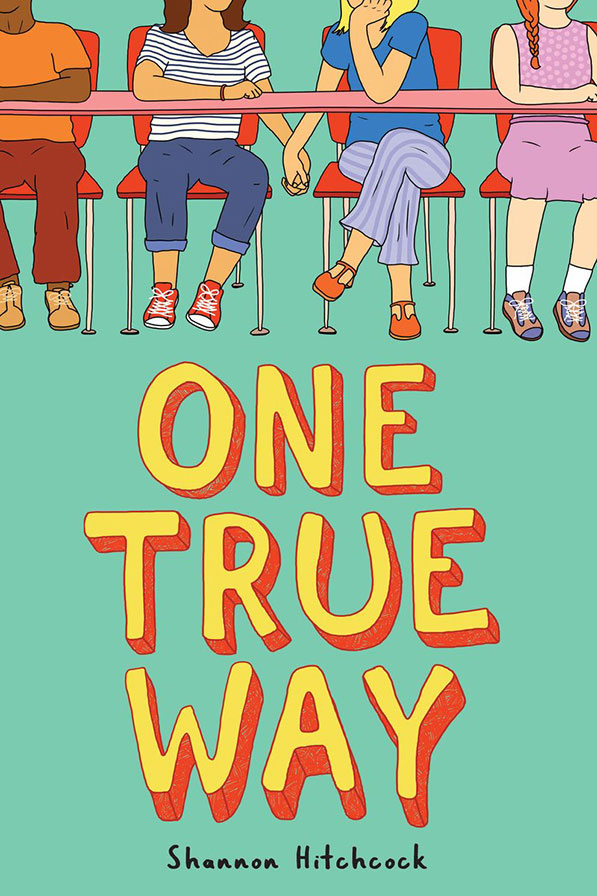 One True Way
Author: Shannon Hitchcock
Date: February 27
Publisher: Scholastic
SYNOPSIS:
A heartening story of two girls who discover their friendship is something more. But how, among their backward town, will Sam and Allie face what they know is true about themselves?
Welcome to Daniel Boone Middle School in the 1970s, where teachers and coaches must hide who they are, and girls who like girls are forced to question their own choices. Presented in the voice of a premier storyteller, One True Way sheds exquisite light on what it means to be different, while at the same time being wholly true to oneself. Through the lives and influences of two girls, readers come to see that love is love is love. Set against the backdrop of history and politics that surrounded gay rights in the 1970s South, this novel is a thoughtful, eye-opening, look at tolerance, acceptance, and change, and will widen the hearts of all readers.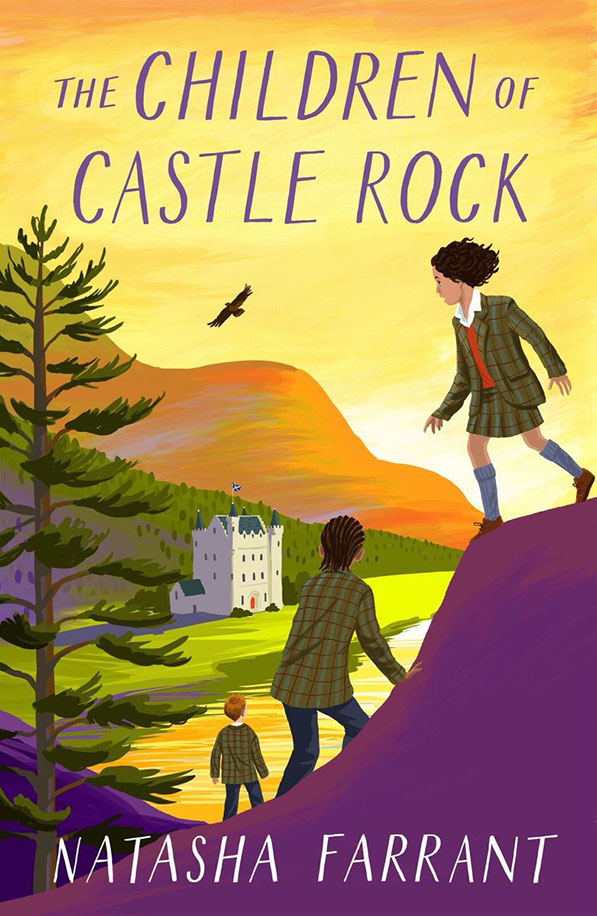 The Children of Castle Rock
Author: Natasha Farrant
Date: February 27
Publisher: Faber Faber
SYNOPSIS:
Like many girls, Alice Mistlethwaite idolizes her father, Byron. He is a hero: brave, kind and impossibly funny. It's just a shame that he's always in and out of prison… After a particularly naughty outing, Alice's Aunt Patience decides to take action. Alice is to be sent to St Cuthbert's School for Winners – where competition runs deep, and being 'outdoorsy' is not optional.
Much to her own surprise, Alice fits in far better than she ever has before, swiftly making friends and enjoying running wild in the Scottish countryside. But then Byron disappears – or rather his letters stop – and Alice becomes convinced something has happened to him. Aunt Patience is much less sure (and worse, seems to think he has something to do with a robbery that's making the news), but Alice is undeterred. Armed with her new friends, and a handy opportunity to escape from school, she sets off on an epic quest to find her father, prove everyone wrong about him – and perhaps discover some home truths about herself and her family along the way.
Both hilarious and heartfelt, this is a classic adventure story brought bang up to date, and told in Natasha's inimitably perfect voice.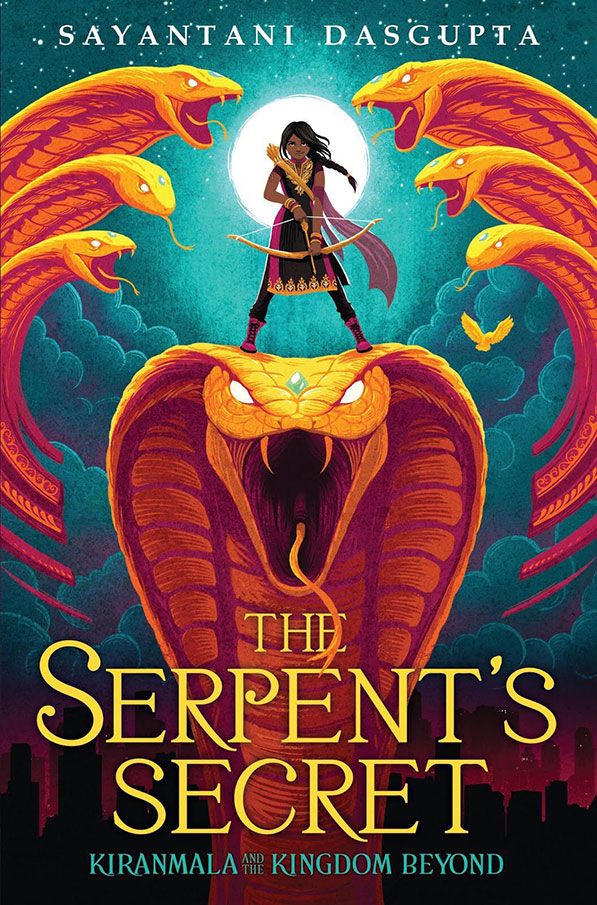 The Serpent's Secret
Author: Saytani DasGupta
Date: February 27
Publisher: Scholastic
SYNOPSIS:
MEET KIRANMALA: INTERDIMENSIONAL DEMONSLAYER
(But she doesn't know it yet.)
On the morning of her twelfth birthday, Kiranmala is just a regular sixth grader living in Parsippany, New Jersey… until her parents mysteriously vanish later that day and a rakkhosh demon slams through her kitchen, determined to eat her alive. Turns out there might be some truth to her parents' fantastical stories—like how Kiranmala is a real Indian princess—and a wealth of secrets about her origin they've kept hidden.
To complicate matters, two crushworthy Indian princes ring her doorbell, insisting they're here to rescue her. Suddenly, Kiran is swept into another dimension full of magic, winged horses, moving maps, and annoying, talking birds. There she must solve riddles and slay demons all while avoiding the Serpent King of the underworld (who may or may not want to kill her) and the rakkhosh queen (who definitely does) in order to find her parents and basically save New Jersey, her entire world, and everything beyond it…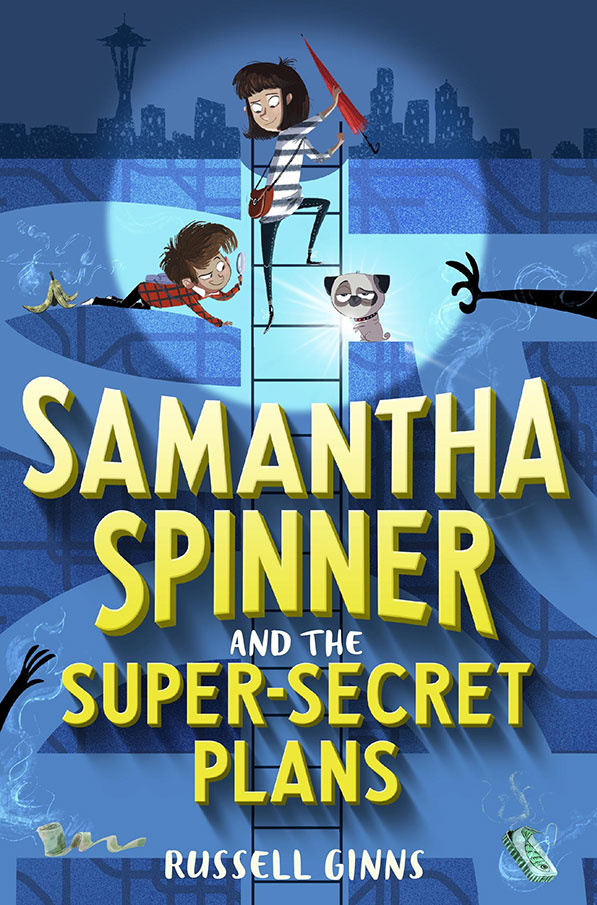 Samantha Spinner and the Super Secret Plans
Author: Russell Ginns
Date: February 27
Publisher: Delacorte Books for Young Readers
SYNOPSIS:
The first in a hilarious new series, Samantha Spinner and the Super Secret Plans combines the brilliant plotting of classics like Holes and The Westing Game, with the clever, wry humor of bestsellers like Escape from Mr. Lemoncello's Library, for a completely original listening adventure.
For Samantha Spinner it just isn't fair. Her uncle Paul disappeared, and here's what he left:
Samantha's sister got a check for $2,400,000,000. Samantha's brother got the New York Yankees. And Samantha…got a rusty red umbrella with a tag hanging off of its worn handle. The tag says "Watch out for the RAIN." Thanks, Uncle Paul.
Even harder for Samantha to understand is, after all the strawberry waffles they've shared, how could Uncle Paul leave without saying goodbye?
The answer is simple. Sam knows in her heart that uncle Paul is in danger. If only he'd left a clue…Well, if Sam's uncle Paul taught her anything, it's that not everything is exactly what it seems. Which is why we should pay close attention to that rusty red umbrella, and never trust a monkey at a hula-hoop contest.
The RAIN is coming and whether she likes it or not, Samantha Spinner is about to find herself mixed up in some super-puzzling, super-dangerous, super-secret plans. And if she's brave enough, she might just find Uncle Paul.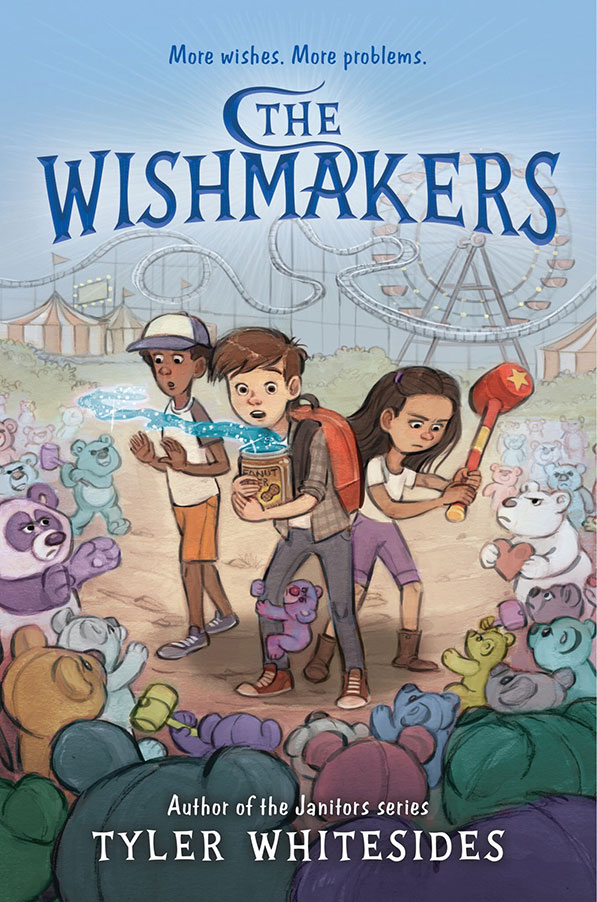 The Wishmakers
Author: Tyler Whitesides
Illustrator: Jessica Warrick
Date: February 27
Publisher: HarperCollins Children's Books
SYNOPSIS:
Twelve-year-old Ace's life is about to change in the most unexpected and magical ways—all because of a peanut butter jar.
When he opens it, he inadvertently releases a genie named Ridge. Now a Wishmaker, Ace is given a week to complete a seemingly impossible quest, and if he fails the world will end in the most tragic (but cuddly) way imaginable.
Luckily, Ridge can help by granting Ace an unlimited number of wishes…as long as Ace is willing to accept the consequences. The bigger the wish, the greater the consequence. So, if Ace wants to avoid having pogo sticks for legs or his clothes turn invisible, he'll have to be careful what he wishes for and get a little creative.
Perfect for fans of Dan Gutman and Max Brallier, this new middle-grade series by Tyler Whitesides (author of the Janitors series) is a wonderful mix of unpredictable magic, zany humor, and daring adventure. You'll wish it never ends!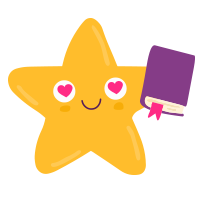 Still need more books in your life? Check out our latest OwlCrate Jr. unboxing!