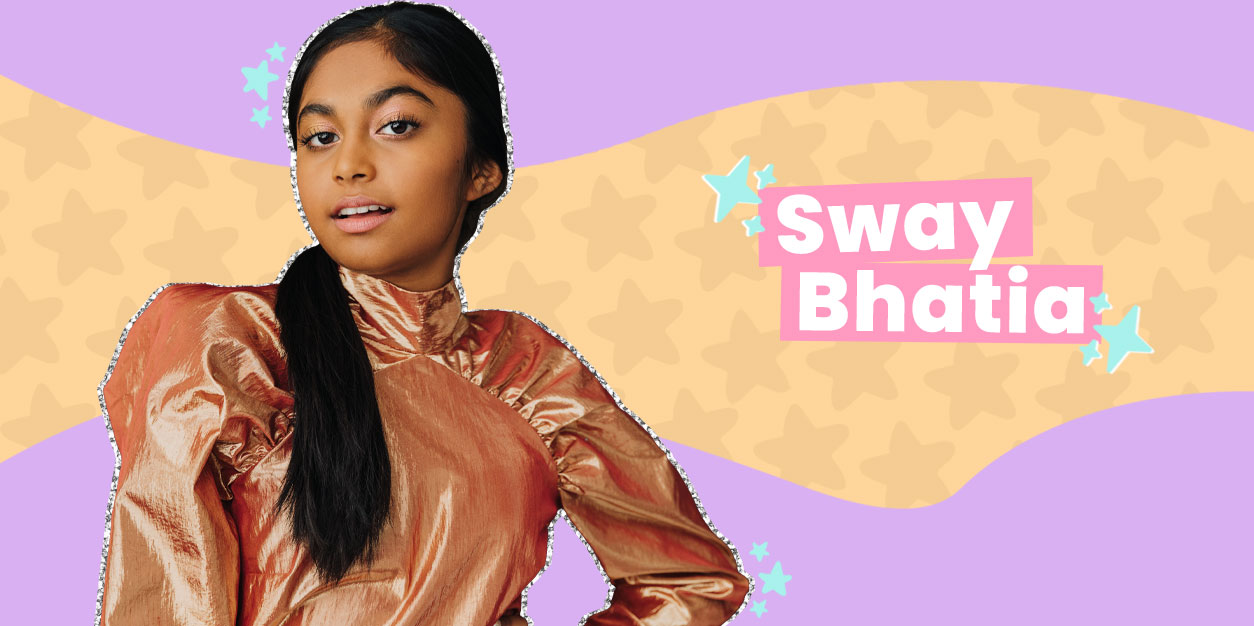 Shimmering Star Spotlight – Sway Bhatia
Each month YAYOMG! selects a Shimmering Star to spotlight. Follow along as we shine a light on girls who represent kindness, positivity, empowerment, philanthropy, drive, and confidence. They're sure to inspire you!
If you've been keeping up with The Mighty Ducks: Game Changers, then you already recognize this month's Shimmering Star, the amazing Sway Bhatia!
Sway stars as Sofi, a straight-A student, and a seriously awesome hockey player. She feels pressure from her family to always be the best in everything, including at school and on the rink so that she can one day get into a top-tier college – but she finds herself torn between living up to her family's expectations and just enjoying being a kid.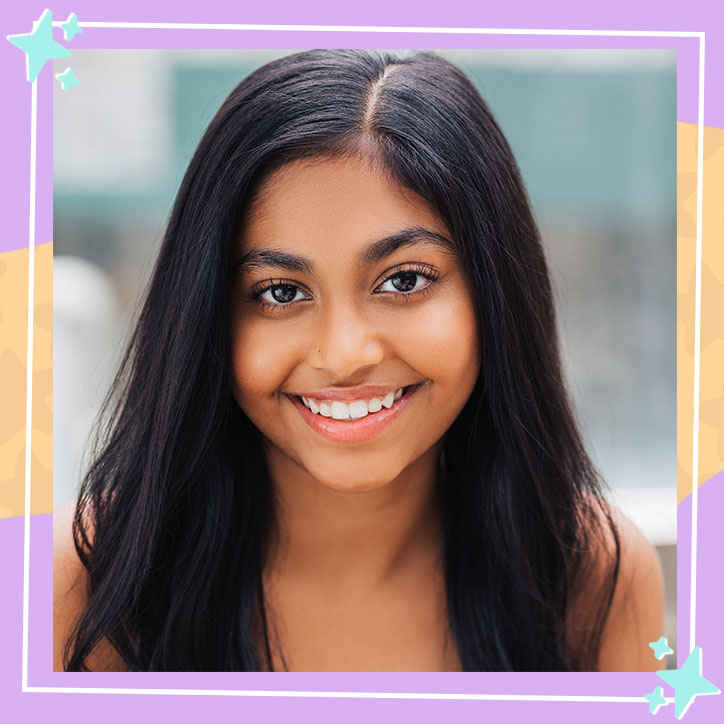 When she's not busy acting or auditioning, Sway is all about coding and technology, giving back, and making guacamole. She is also a songwriter, dancer, drummer, model, and comedian – there's nothing this talented teen can't do! Sway draws inspiration from Vice President Kamala Harris and her journey as a strong, passionate Indian American woman. Empowered by Kamala's story and her own name, Swayam, Sway hopes to inspire other girls to live their dreams and shine bright like she does!
Get to know Sway Bhatia as she dishes on The Mighty Ducks: Game Changers, her passion for giving back, and how her name empowers her!
Get to Know Sway Bhatia: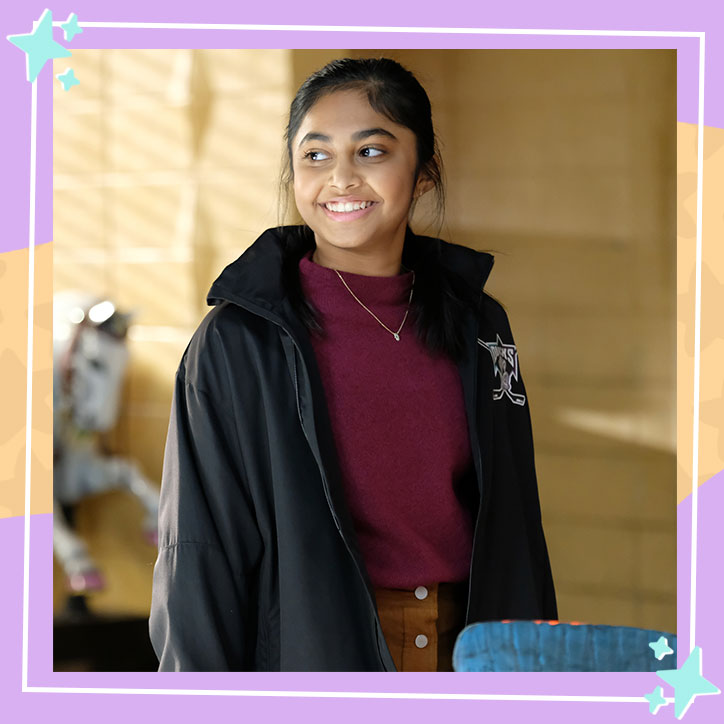 Tell us a little bit about YOU!

SWAY BHATIA: Well, to tell you a bit about me, I'm very interested in coding and technology, with math being my favorite subject. I love to travel, even though we can't do that much right now. However, my favorite vacation spots have been Japan and Maldives, and I hope to explore more of the world as soon as I can. I love cooking and making fun recipes with my dad because I am the queen of making guacamole.

Watching TV is something I have done a lot of during quarantine, and some of my favorite shows are Stranger Things, WandaVision, The Office, The Golden Girls, and of course, The Mighty Ducks: Game Changers.

Last but definitely not least, I love giving back, supporting women, and making people laugh because I'd like to say that I'm pretty funny.
You star as Sofi in the new Disney+ series, The Mighty Ducks: Game Changers. What was it like joining the iconic Mighty Ducks squad?

SWAY: I'm so excited that we are bringing the show back for the 90's generation, and to also be introducing it to those of a younger generation that might not be so familiar with it – YET!

I'm so honored to be part of the Mighty Ducks family, knowing that it's such a big franchise and legacy. Having Emilio Estevez guide me through the process and welcoming me into the Mighty Ducks family was a big bonus. He is the sweetest guy and is so supportive of all the kids, always giving us advice. For example, he'd give up tips on how to really become your character and step in their shoes by thoroughly studying them. By watching Mr. Emilio and Lauren Graham become Gordon Bombay and Alex Morrow, it made me more knowledgeable and inspired me when I become Sofi.
Even though the Mighty Ducks are an elite team in the new series, the heart of the franchise has always been about underdogs, friendship, and teamwork. What are some of your fav underdog stories from movies/tv/books?

SWAY: I love watching TV, so I have many favorite underdog movies, but my top has to be The OG MIGHTY DUCKS! Besides that, I have to say Charlie Brown. The Peanuts movie has a beautiful underdog story and it's such a classic.

In addition to film and TV, my favorite underdog book is Harry Potter.

I've only read the first book, but I've seen the first 4 movies, and I mean, it's Harry Potter and magic. Lastly, Racing in the Rain is one of my favorite books and I loved the movie. Who doesn't love a good story with a dog that loves cars?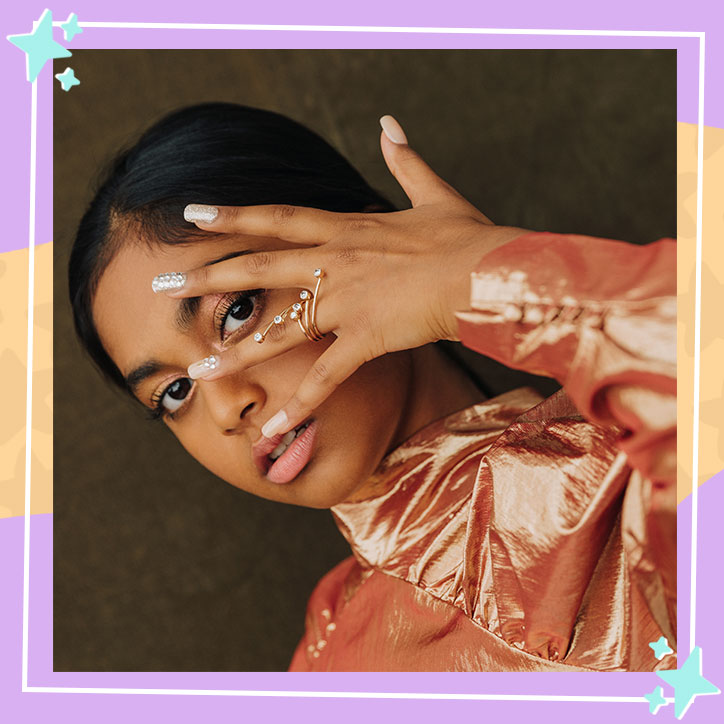 You wrote a beautiful piece for The Wrap about the power of owning your Sanskrit name and feeling inspired by Vice President Kamala Harris. Can you share a bit about how this has empowered you?

SWAY: My name is who I am, and I'm empowered by it in many ways. I'm empowered by its meaning, its symbol, and its roots. Swayam means ownself and I represent that by being an independent young woman and being myself because that is all that matters. It symbolizes me. It represents my journey of being a Game Changer. Knowing that Vice President Kamala Harris's journey is similar to mine and that her name has held power like mine is empowering itself.

Ever since the article was published, I've received so much positive feedback and messages from other people finding inspiration, not only young girls.
How do you shine bright?

SWAY: I use my platform to inspire and empower. I love creating videos to inspirational songs either by dancing or singing/rapping. I also enjoy making funny videos, like sketch comedy, because I enjoy doing impressions of celebrities. Last year on Instagram, my friends and I made home runway videos, and every time somebody participated, I'd donate to NoKidHungry and encourage others to do the same.

I was given the opportunity to read books to children in the hospital, and it was one of the best days of my life. The Lollipop Theater invited me to talk with the children and tell them about myself and the show. I had so much fun. They were so sweet! I hope to give back more and more.
The women who inspire me are…

SWAY: Kamala Harris, Pryianka Chopra, Cathy Yan, Lilly Singh, and Elisabeth Olsen.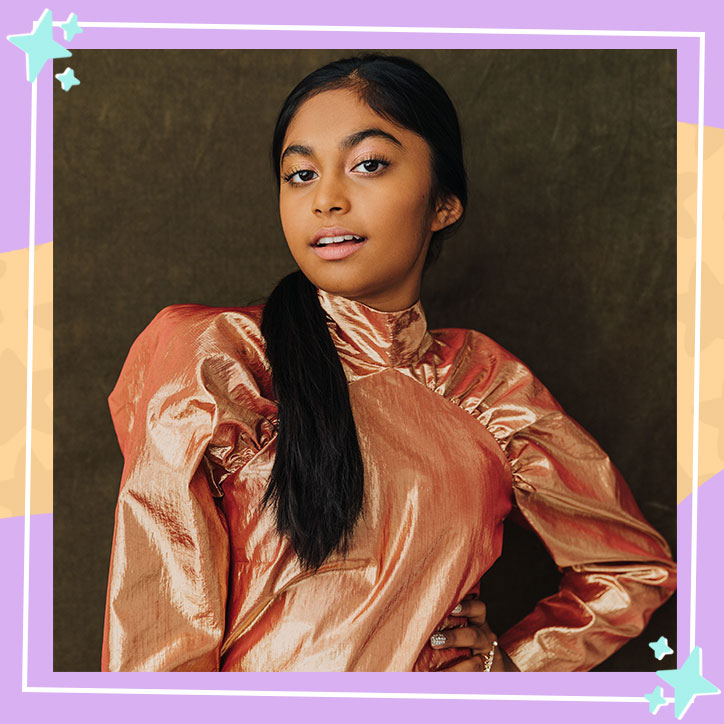 I am most passionate about…

SWAY: Being an artist (songwriting/musician), giving back, and technology/coding.
I feel most confident when…

SWAY: I am myself.
My biggest dream is…

SWAY: To write, direct, and act in my own movie!
The advice I want to share with other girls…

SWAY: Remember to be yourself, don't be afraid, and push to reach your goals!
If you're feeling inspired by Sway's story, we think you'll love catching up with our previous Shimmering Stars as well – click here!