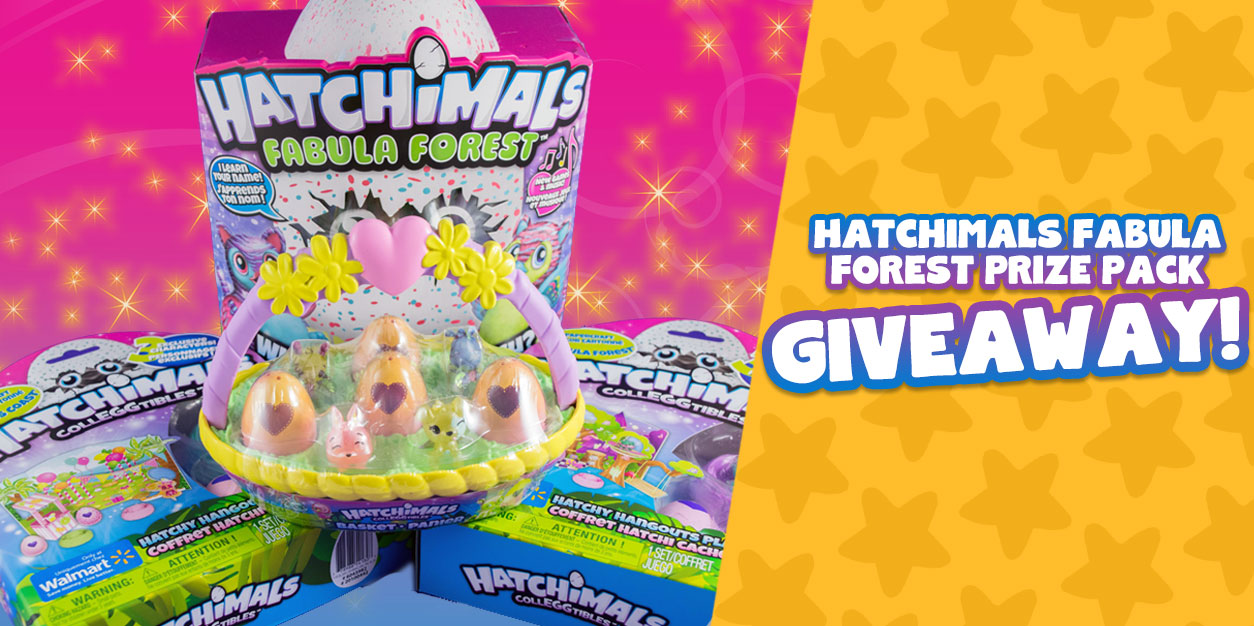 Hatchimals Fabula Forest Prize Pack Giveaway
It's a seriously exciting time to be a Hatchimals fan. New Hatchimals, CollEGGtibles, and other Hatchy swag have been releasing pretty much constantly – it's been hard to keep up! It's a good problem to have and with New York Toy Fair coming up this weekend, we know we're about to get a peek at some seriously amazing Hatchimals stuff releasing this year.
That's why we picked our favorite new products that have released recently and put together an awesome giveaway for you guys! Be sure to scroll down and enter to win our Hatchimals Fabula Forest Prize Pack!
Hatchimals Fabula Forest: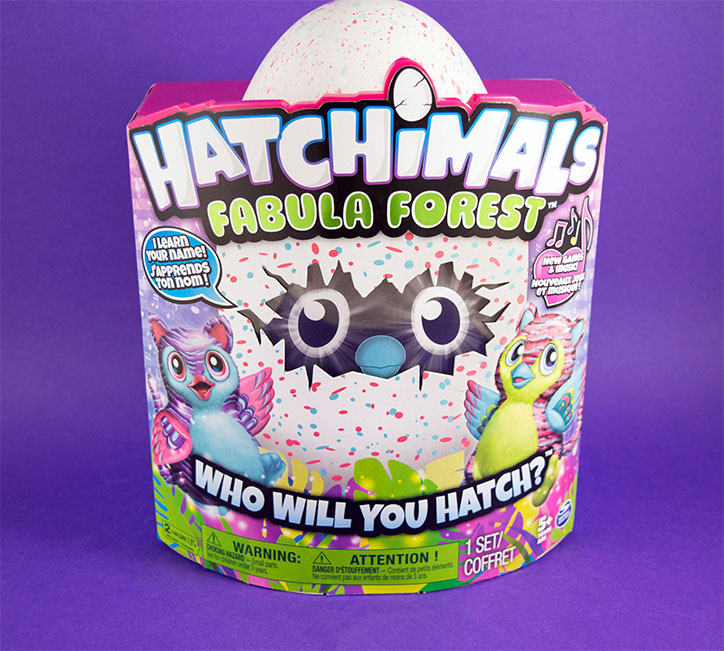 First up we have the Fabula Forest Hatchimals. These are the latest update to the original Hatchimal family and feature lots of new ways to play. You'll start off the experience by caring for the metallic speckled egg until it's time to hatch. Once your Tigrette or Puffatoo has emerged from the shell, the fun can begin! Each of the Fabula Forest Hatchimals features new games, new music, and can even be trained to say your name. These new species can only be found in the Fabula Forest and feature traits that are exclusive to this area of Hatchtopia.
Tigrettes have soft striped fur and shiny metallic ears and Puffatoos have ombre fur and a colorful tuft of hair. Each new species comes in two possible colors, but you'll have to hatch yours to find out which one you got! Our giveaway includes a chance to win a Tigrette so be sure to enter below!
Hatchimals CollEGGtibles – Hatchy Hangouts Papercraft Playset: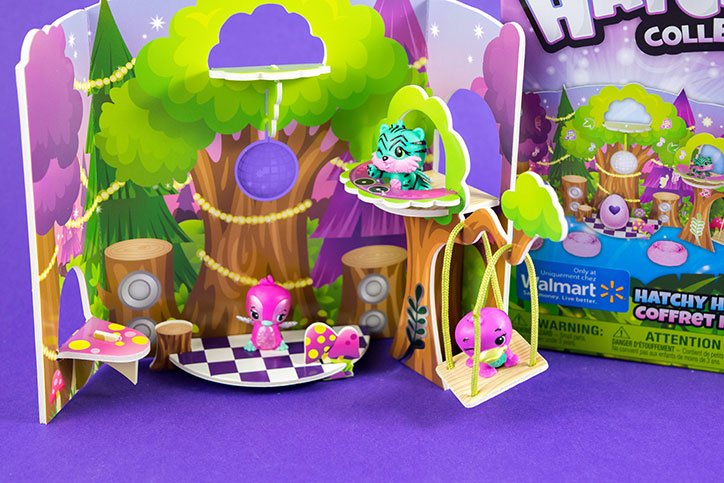 Loving the unique styles of Fabula Forest? Then you'll definitely love the next item in our giveaway! The Hatchimals CollEGGtibles line is now in Series 2 and with that have been some pretty amazing releases. In addition to the typical packs, there has been a focus on really cute playsets. Our favorite? The Hatchy Hangouts Papercraft Playsets. There are currently two sets in the line, one set in Fabula Forest and the other on the Citrus Coast. Each of the sets include three EXCLUSIVE Hatchimals that can only be found in these playsets and a papercraft backdrop you can build and decorate.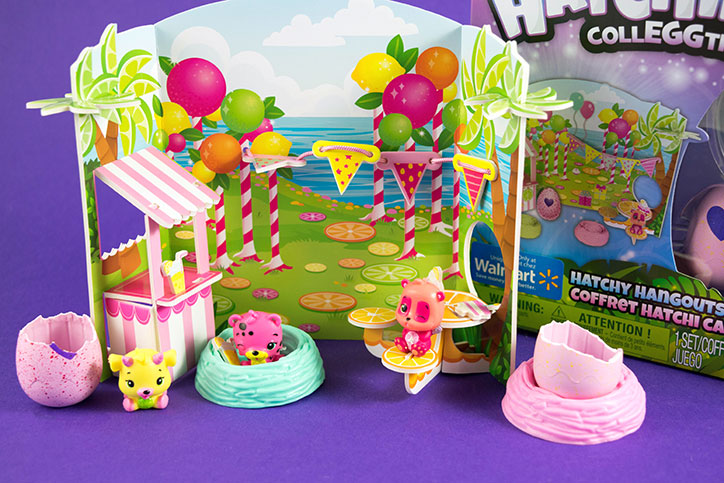 The Fabula Forest version lets you throw an awesome forest party! The playset includes a tree-top DJ station, checkered dance floor, glowing fairy lights, and adorable stickers for you to bring the whole thing to life. Citrus Coast boasts more of an island party theme. There are brightly colored party banners and balloons, citrus trees, a lemonade stand, and lots of stickers. These playsets are currently exclusive to Walmart, but you can find BOTH sets in our giveaway!
Hatchimals CollEGGtibles Spring Basket: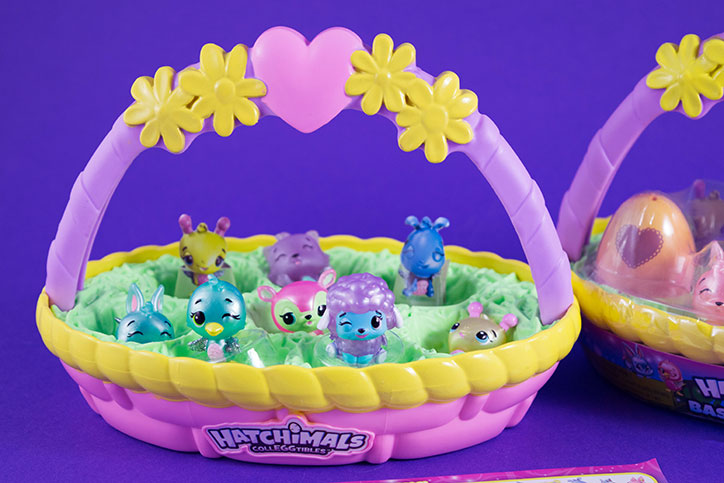 The final item we're giving away will cure your winter blues. It's the Hatchimals CollEGGtibles Spring Basket! This adorable basket closely resembles an Easter basket and is filled with 6 Hatchimals for you to collect. The eggs in this set are utterly adorable, and the reason we absolutely needed to get our hands on one of these sets! Instead of the usual speckle pattern, they're a lovely yellow to pink ombre with a lacey magenta heart in the center. In these sets, you can see 2 of the pearlescent Spring versions of your favorite Hatchimals, but the other 4 you'll have to hatch to see what surprises await!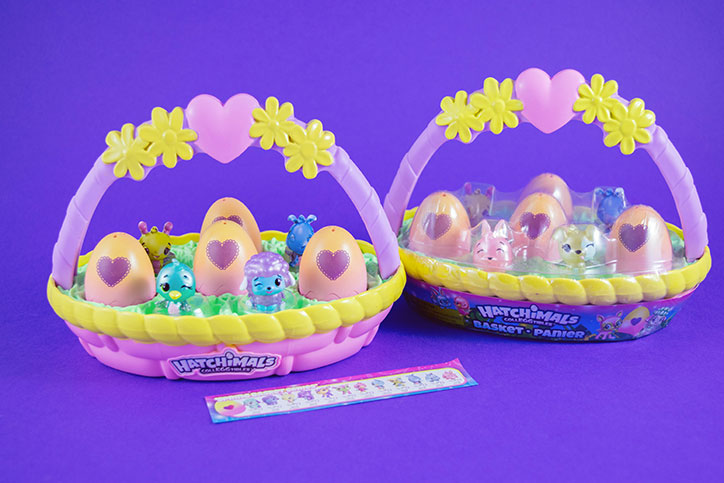 There are two versions of this basket we've seen in the wild and a total of 12 EXCLUSIVE Hatchimals to collect. The Spring Basket features adorable pastel pearlescent versions of some of the most popular Hatchimals species. Our Hatchimals Fabula Forest Prize Pack includes one of these precious baskets!
Ready to enter? Grab a parent, read the rules, and fill out the form below!
Hatchimals Fabula Forest Prize Pack Giveaway:
WHAT DO I WIN?:
One lucky winner will receive a prize pack that includes the following items.
– ONE (1) Hatchimals Fabula Forest Tigrette
– TWO (2) Hatchimals CollEGGtibles Hatchy Hangouts Papercraft Playsets – Fabula Forest and Citrus Coast
– ONE (1) Hatchimals CollEGGtibles Spring Basket
*Remember – part of the fun of Hatchimals is the surprise! We can't guarantee which colors or characters you'll receive in your prize!
HOW DO I WIN?:
Get permission from your parent/guardian and fill out the form below by March 5, 2018! Giveaway begins on February 19, 2018 at 12:00 pm ET and ends on March 5, 2018 at 11:59pm ET.
You must be 18 or older to enter. If you are under 18, you'll need to get permission from your parent/guardian to enter and again if you win. Please provide THEIR email address when entering below. If chosen as a winner, you'll need to provide contact info where we can reach your parent/guardian if you win. They'll need to sign an affidavit permitting us to send your prize. Be sure to read the fully detailed rules HERE before entering.
THIS GIVEAWAY HAS ENDED AND THE PRIZE HAS BEEN CLAIMED.
*NOTE: This giveaway is being run entirely by YAYOMG! and is in no way associated with Spin Master or Hatchimals.
Crazy for collectibles? We've got you covered!