Rileigh McDonald Chats Acting on Broadway, Her Fav Places in NYC, and More!
Rileigh McDonald is a Broadway star who is shining loud and bright. She has starred as the leading role of Matilda in Matilda the Musical and is currently playing the role of Frannie in the off-Broadway production of Good for Otto. She's a talented actress with a love of the theater, both on and off the stage. Rileigh loves the feeling of empowering audiences through her performances and hopes that people feel inspired by the roles and projects she takes on.
When she's not wowing audiences on stage or screen, you can usually find her hitting up all the latest theater productions in town and indulging in her favorite NYC treats! If you've never seen her dazzle a crowd on stage, you may have heard her voice on The Unexplainable Disappearance of Mars Patel or The Ghost of Jessica Majors, two popular serialized mystery podcasts for kids.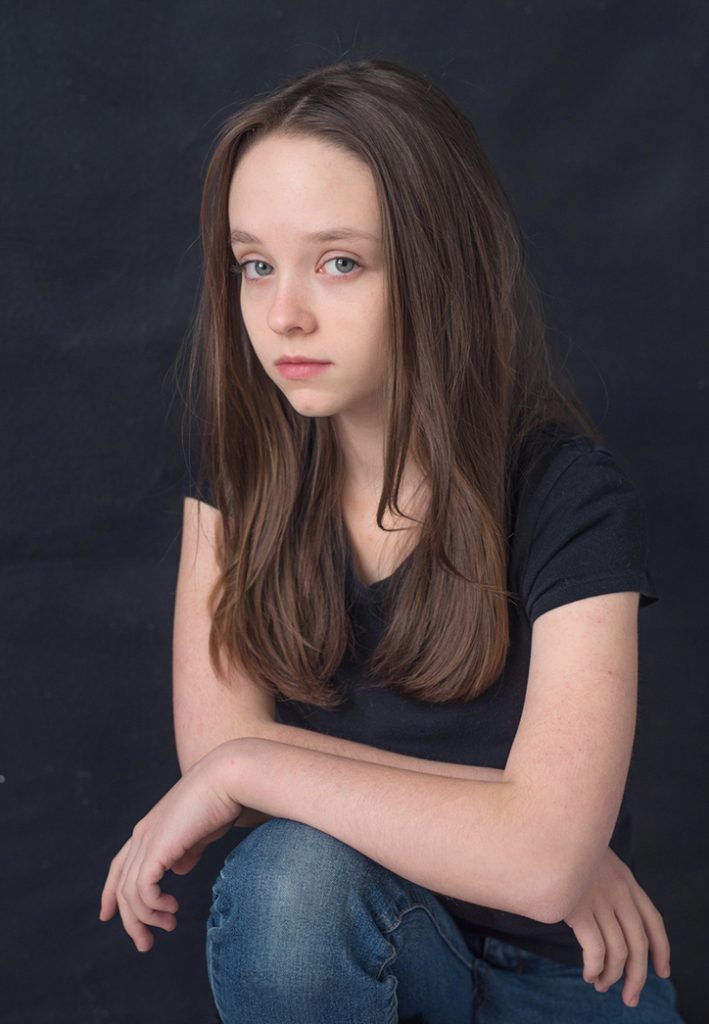 Even though she's already landed some seriously amazing roles before her 14th birthday, Rileigh has her sights set on acting in college to perfect her skills and help her achieve her dreams. We were so excited to chat with Rileigh about her experiences on the Broadway stage, her favorite places in New York City, and her advice for other girls who dream of taking the stage one day like her.
Get to Know Rileigh McDonald:
You've been in quite a few stage productions from Matilda on Broadway to your latest show, Good for Otto. What is your favorite thing about performing on stage?
RILEIGH MCDONALD: My favorite thing about performing on stage is the audience! When I first started doing shows back in Cincinnati (my hometown), I was so nervous that I had to shut the audience out and just do my part. But, after a while, I realized how cool it was to feel the energy of the audience, and that made me enjoy performing even more. In my current play, Good for Otto, I think the show varies from night to night because each audience feeds us a different vibe, and we play off of it and off of each other. That is what makes live theater so exciting, and I can't get enough of it.
Do you ever get nervous before a performance? Do you have a pre-show ritual?
RILEIGH: I used to get nervous during my first couple of months doing Matilda on Broadway because it was such a big and demanding role… and because it was Broadway! But, I had an amazing group of people there that helped me a lot. My director taught me that the feeling of nervousness was very similar to the feeling of excitement, and if I felt nervous, that really meant I was excited, which was a good thing! I also realized I wasn't alone. I had an entire cast and crew who had my back and would be there to help me if I needed them. At that point, I could just relax and focus on being the best Matilda I could possibly be.
My current pre-show ritual is pretty fun. Me and a few of my Good for Otto cast mates go out on stage before the audience comes in and just get a feel for the theater. We do voice exercises, talk, laugh and joke around and just get comfortable with the space. It's a great way to prepare for a performance.
What would be your dream Broadway role?
RILEIGH: I want to play Annie Twilloil in, "The Play That Goes Wrong!" I first saw this play on Broadway with the original London cast, and Nancy Zamit played the part of Annie. She was absolutely hilarious and brilliant, and I kept going back to see the show again and again. So far in my career, the characters I have played are kind of dark and complicated, but I would really love to have the chance to do that kind of comedy.
Who are some of your acting inspirations?
RILEIGH: I have been so inspired working with the incredible cast of Good for Otto. When you're lucky enough to book a role in a play with some of the best actors in the world, you basically have a front row seat to some major inspiration. I could honestly talk for hours about each of them, but it would probably be better for time's sake to share the things they have in common that inspire me.
My cast mates are Ed Harris, Amy Madigan, F. Murray Abraham, Rhea Perlman, Mark Linn-Baker, Maulik Pancholy, Charlotte Hope, Kenny Mellman, Laura Esterman, Kate Buddeke, Nancy Giles, Lily Gladstone and Michael Rabe.
They inspire me for so many reasons. First, they are incredible human beings. They are so kind, generous and respectful of everyone working on the play. Second, they are artists. Watching how each of them approached their roles and developed their characters was so eye-opening to me. They have no idea how much I learn from them. Finally, they care. They care about honoring the beautiful material David Rabe has written and Scott Elliott so masterfully directs. They care about telling such an important story to the audience members. They care about each other, lift each other up and look out for each other. And they care about me. I'm the only kid in the cast, and they treat me like they treat each other – as a professional and a friend. I take that as a compliment every single day. I know that I am a better actor and a better person because of each of them, and I am so grateful for how they have inspired me.
You've done some voice work for popular podcast series The Unexplainable Disappearance of Mars Patel and The Ghost of Jessica Majors. Can you share a little about what it's like to work on a podcast for our readers?
RILEIGH: Working on a podcast is really different than working on stage or on camera. Basically, everything about your character and the story has to come through sound. So, what would normally be expressed with my face and body language on camera has to come through only my voice instead. It's really interesting to do that without being too over the top with it. I've worked with some great directors, audio engineers, and creatives on these podcasts, and they did such a great job helping me get into character. In, The Ghost of Jessica Majors, my director, Sandy Rustin-Fleischer, actually taped up photos in my audio booth that reminded her of my character, and those photos kept me in the mindset of who my character was as I voiced her.
You just turned 14! How did you celebrate your birthday?
RILEIGH: Funny story! Good for Otto had its opening night on my birthday! Best present ever! My wonderful cast and crew sang happy birthday to me before the show, and at the opening-night party afterward, they brought out a huge cake, and the entire party sang happy birthday to me. I can honestly say I will remember my fourteenth birthday for the rest of my life!
What are a few of your favorite places to go in NYC?
RILEIGH: I'm pretty obsessed with Broadway in general, so you'll often find me at a Broadway show. I love ice skating at Bryant Park in the winter, and I love shopping at the Oculus mall. One of my favorite restaurants is called Café Un Deux Trois, and I also love cookies from Schmackary's and gelato from Amorino. When my friends and I go out, we usually meet at Schnippers for dinner and then see a movie around Times Square.
But my absolute favorite place is a restaurant called Edward's in Tribeca. Edward's is special because one night every month, they serve a "Cincinnati menu." (I was born in Cincinnati and moved to NYC when I booked Matilda at age 11.) I am obsessed with Cincinnati's famous, "Skyline Chili." I practically grew up on it. Since there are no Skyline restaurants in NYC, I love going to Edward's on Cincinnati night and getting my Skyline fix.
What is a dream you have for the future?
RILEIGH: My dream is to study acting in college here in New York City and continue to work on projects that challenge me as an artist. Ultimately, I want to always choose projects that make a difference in people's lives. If the work I do can make people happy, entertain them, inspire them or empower them to stand up for themselves or to follow their dreams, then I think I will feel like I'm doing good work.
What advice would you give to other girls hoping to follow their theater dreams?
RILEIGH: I think this applies to everyone, but it's especially important for girls. Be happy with yourself. With what you look like. With your body. With how you like to dress. With the things that interest you. You will always have people telling you to be more like this person or that person, but if everybody listened to that, then everybody would be exactly the same. And that is uninteresting in the world of theater. There will always be plenty of people who put you down for who you are, and you have to believe that those people aren't worth listening to. Being exactly who you are makes you special and unique. That is where your real power is. Be happy with yourself and be good and encouraging to others, and those negative voices won't be able to hurt you.
If you loved getting to know Rileigh McDonald, check out our interview with Ripley Sobo who has also played Matilda on Broadway!