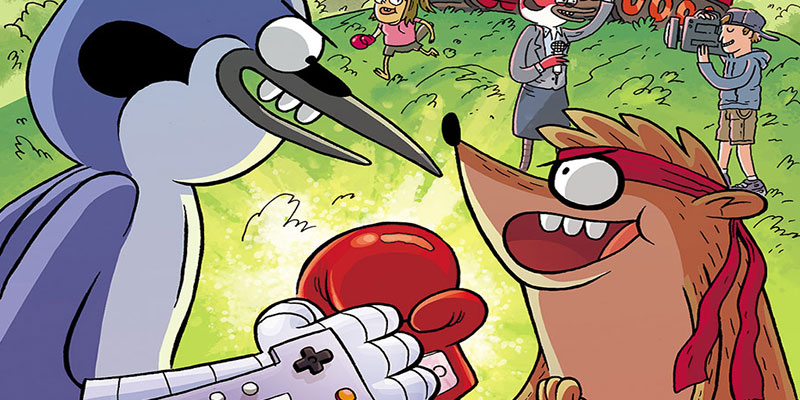 Regular Show: A Clash of Consoles OGN
Regular Show: A Clash of Consoles is the next OGN (Original Graphic Novel) from KaBoom Studios! The previous two, "Hydration" and "Noir Means Noir, Buddy" have been really fun sidekicks to the already awesome show. They pack a punch of laughs and wacky action-packed adventures that hit just as hard as watching the show itself. If you're a fan of the Regular Show comics or other OGNs (or even just the show), you'll be psyched to find out that Regular Show: A Clash of Consoles is headed your way on May 10th, 2016.
As you can probably tell from the title, this story is all about video games! When the Big 3 companies in gaming release their new consoles on the exact same day (ha!), Mordecai and Rigby must figure out which of the systems they want to buy most. However, before they're able to make a decision, they're drafting onto opposing teams in an epic gaming war! With lasers, Maximum Gloves (OMG POWER GLOVE REFERENCE, YOU GUYS!), and pixelated casualties, will the guys be able to make it out alive and able to buy their new console?

If you're a gamer like us, you're probably gonna wanna pick this one up. It's bound to be littered with great gaming references both old and new. Sounds like we're in for another thrilling Regular Show OGN adventure!
Robert Luckett and Rachel Connor (who wrote "Noir Means Noir, Buddy") are back as the writing duo, and the artist on this one is Zé Burnay, who's previously done covers for issues of the Regular Show and Adventure Time comics.