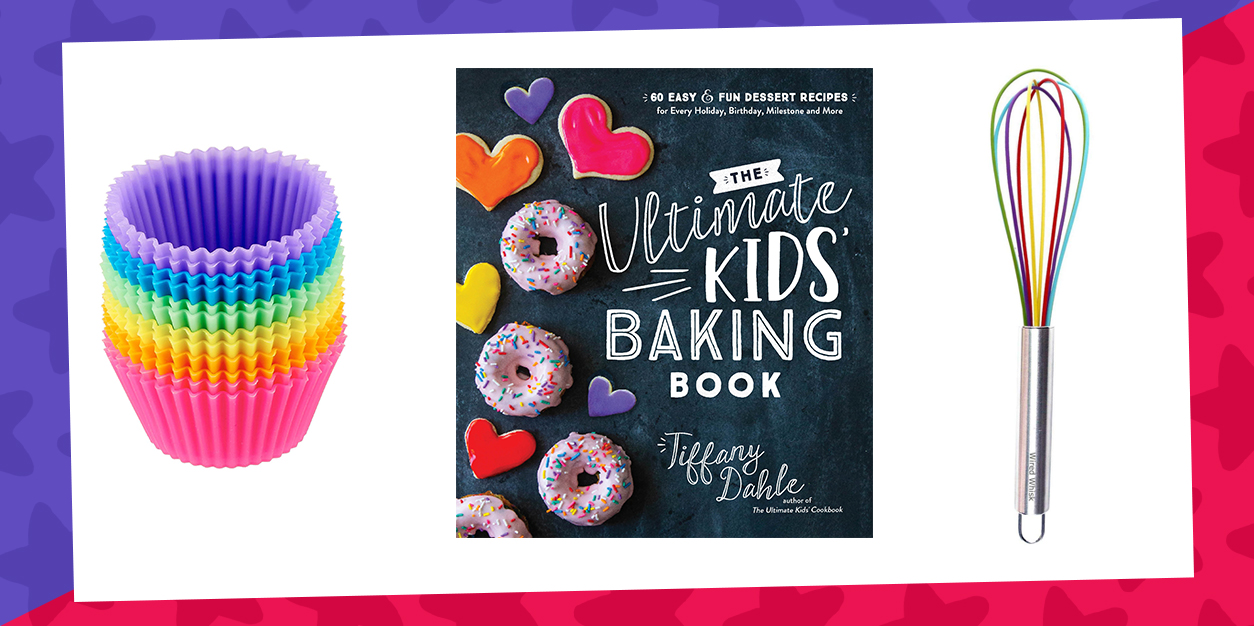 Follow Your Baking Dreams with the Ultimate Kids Baking Book + GIVEAWAY!
NOTE: We teamed up with Page Street Publishing for this Ultimate Kids Baking Book Giveaway. All opinions are our own; we were under no obligation to give a positive review. Giveaway prizes provided by Page Street Publishing and YAYOMG!
Calling all budding bakers! If you dream of one day becoming the next Christina Tosi or Duff Goldman, we found an essential kitchen companion for you. The Ultimate Kids' Baking Book is out today from author Tiffany Dahl, and it's overflowing with delicious recipes for every holiday, season, and occasion!
Even if you have never done more in the kitchen than open your fridge, The Ultimate Kids' Baking Book will have you whipping up tasty treats in no time. Filled with colorful photos of sweet desserts and easy to understand instructions, you'll feel inspired to bake everything from gooey, fudgy brownies to perfectly crumbly biscuits.
There are 60 recipes to try, ranging from simpler starter recipes like Sprinkle Dipped Crispy Treats and Earth Day Dirt Cups to more intricate pastries like Pistachio Tortes and Epic Chocolate Layer Cakes.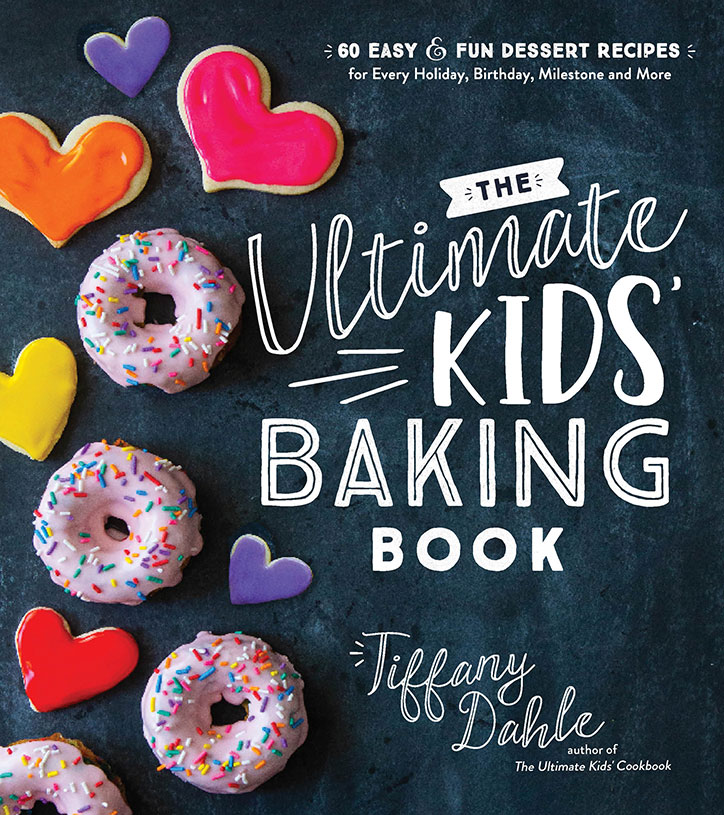 Take the Lead Baking Treats You and Your Family Will Love
This time you're in charge of making dessert instead of your parents! Master what all the best bakers know, from separating eggs to creaming butter and sugar together and even rolling your own cookie dough. Each skill you learn will make you a next-level baker so you'll be ready to deck out the Thanksgiving table with a Thankful-for-You Cake Pop Bouquet, wow a friend with Birthday Sprinkle Donuts or bake Smart Cookies for back to school. With something for every celebration, your friends and family will be amazed at all the wonderful treats you can bake.
Now that you're the head baker at home, you can make each dessert your own with unique decorations! Choose your own shapes for the Gingerbread Cookie Cutouts. Finish off your cookies and cakes with Sweet Buttercream Frosting using your favorite colors and flavors. Top Confetti Cupcake Cuties with any sprinkles you like. Once you've mastered all the decorating basics, you can put your skills to the test with the Epic Chocolate Layer Cake. Full of fun desserts for any day of the year, The Ultimate Kids' Baking Book has all the tips, tricks and treats you need to become the best baker ever!
The Ultimate Kids' Baking Book: 60 Easy and Fun Dessert Recipes for Every Holiday, Birthday, Milestone, and More
AUTHOR: Tiffany Dahle
PUBLISHER: Page Street Publishing
DATE: November 12, 2019
This fantastic cookbook will teach you the basics of baking – like how to melt chocolate, create different types of frosting, and make substitutions. You'll learn essential kitchen skills while you blend, mix, and bake your way through every delicious recipe.
We're giving you a chance to win not just the book, but all the supplies you need to get started in the kitchen! From measuring cups to super cute cookie cutters, our Ultimate Kids' Baking Book Prize Pack will have you baking in no time. Ready to enter? Grab a parent and fill out the form below for your chance to win!
The Ultimate Kids' Baking Book Giveaway:
WHAT DO I WIN?: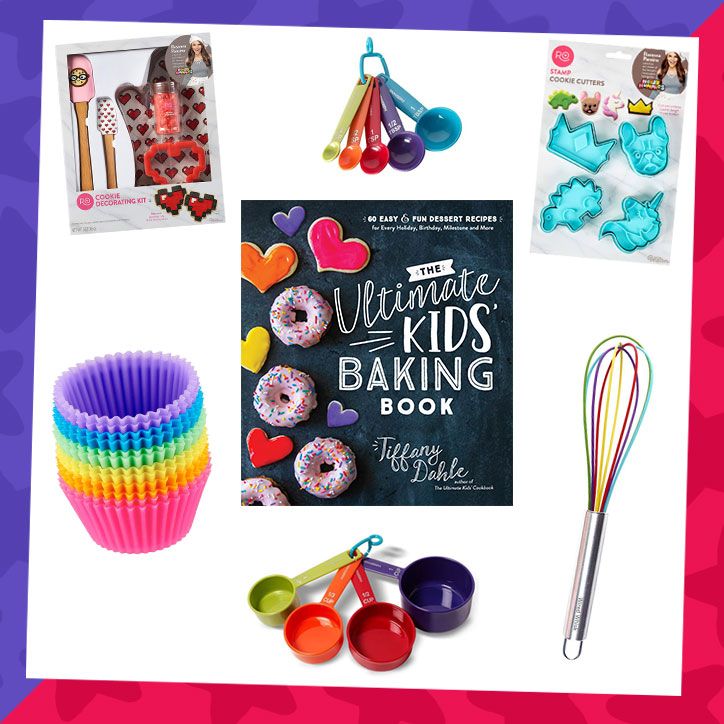 One lucky winner will receive an Ultimate Kids' Baking Book Prize Pack that includes:
– ONE (1) copy of The Ultimate Kids' Baking Book by Tiffany Dahle, generously provided by Page Street Publishing
– ONE (1) set of Wired Whisk Rainbow Silicone Whisks (3 Pack)
– ONE (1) set of Amazon Basics Reusable Silicone Baking Cups (12 Pack)
– ONE (1) set of Faberware Plastic Measuring Cups and Spoons (9 Pack)
– ONE (1) set of Wilton Rosanna Pansino Animal Stamp Cookie Cutters (4 Pack)
– ONE (1) Wilton Rosanna Pansino Cookie Decorating Kit
HOW DO I ENTER?:
Grab a parent or guardian and have them fill out the form below by November 26, 2019 at 11:59pm ET.
Giveaway runs from 11/12/19 at 03:00 pm ET through 11/26/19 at 11:59 pm. Open to US residents ONLY. Be sure to read the fully detailed rules HERE before entering.
THIS GIVEAWAY HAS ENDED AND THE WINNER HAS BEEN CONTACTED.
You must be 18 or older to enter. Please, only ONE entry per person. If selected as a winner, we will provide your parent/guardian with an affidavit to confirm that you are a valid winner who has permission to win. They will be REQUIRED to sign and return the affidavit to YAYOMG! to claim your prize. Prizes will not be mailed out without signed parental consent.
If you LIVE to bake, we think you'll love reading the magical baking-focused fantasy, Midsummer's Mayhem!