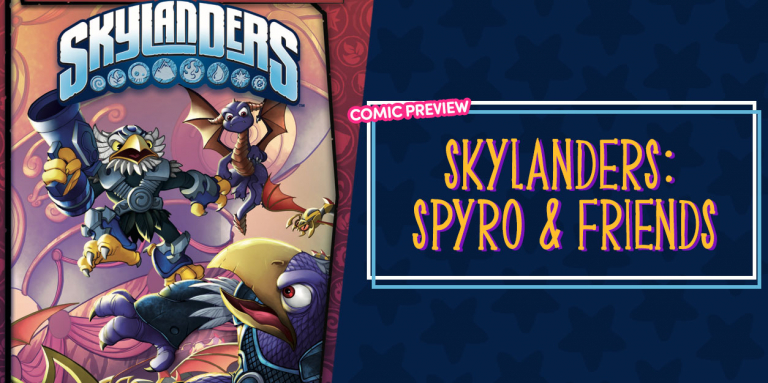 PREVIEW: Skylanders: Spyro & Friends
Get ready for a ton of all-new adventures featuring Spyro, Eruptor, Stealth Elf, and all your other favorite Skylanders! The new Skylanders: Spyro & Friends trade from IDW Publishing features 80 pages of non-stop Skylanders action. This hardcover book collects the oversized quarterly Skylanders: Spyro and Friends issues, Full Blast and Goldslinger.
Spyro & Friends features multiple mini-comics about the fearless Spyro and his friends facing off against the villainous Kaos. If you love playing the Skylanders video games or watching the Skylanders Academy series on Netflix, you'll love reading all about Spyro's latest battles against evil!
Before you head to the Skylands or the comic shop, preview one of the stories below to get a taste of the action.
PREVIEW – Skylanders: Spyro & Friends:
As you can see from the preview, Spyro and Stealth Elf are in a sticky situation as they prepare to go to head with the evil Dr. Krankcase to try and prevent him from tearing down a forest in order to put up a factory! Will they be able to stop him?
You'll have to wait to pick it up and read for yourself on January 17th to find out! Check out our preview of Skylanders: Spyro & Friends: FULL BLAST! for a quick peek at few of the other stories you'll find inside this book.
Skylanders: Spyro & Friends
Publisher:IDW
HC • FC • $12.99 • 80 pages
Author(s): Ron Marz & David A. Rodriguez
Artist(s): Jack Lawrence & Various
Cover: David Baldeón
SYNOPSIS: Join Spyro and his fellow Skylanders as they embark on all-new adventures! Stealth Elf, Eruptor, Jet-Vac, and all of your favorites are here ready to battle Kaos and the rest of the various vile villains of the land!
Need some ideas on what else to pick up on your next trip to the comic shop? We've got some ideas, check them out!