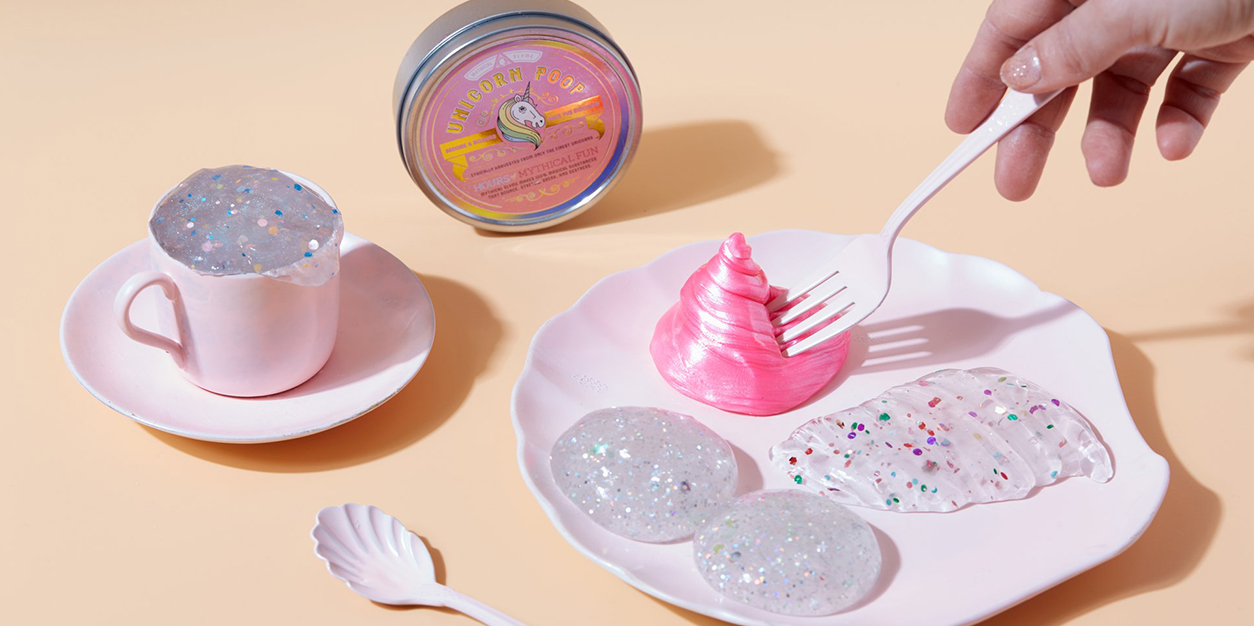 Embrace Your Inner Unicorn with Mythical Slyme + GIVEAWAY!
NOTE: We teamed up with Mythical Slyme for this giveaway. They provided us with samples and provided us with prizes for the giveaway. All opinions are our own; we were under no obligation to give a positive review.
Get ready, unicorn lovers! We just discovered the most magical line of slimes and putties. Introducing Mythical Slyme! These imaginative products are fun to play with and an even more enchanting story.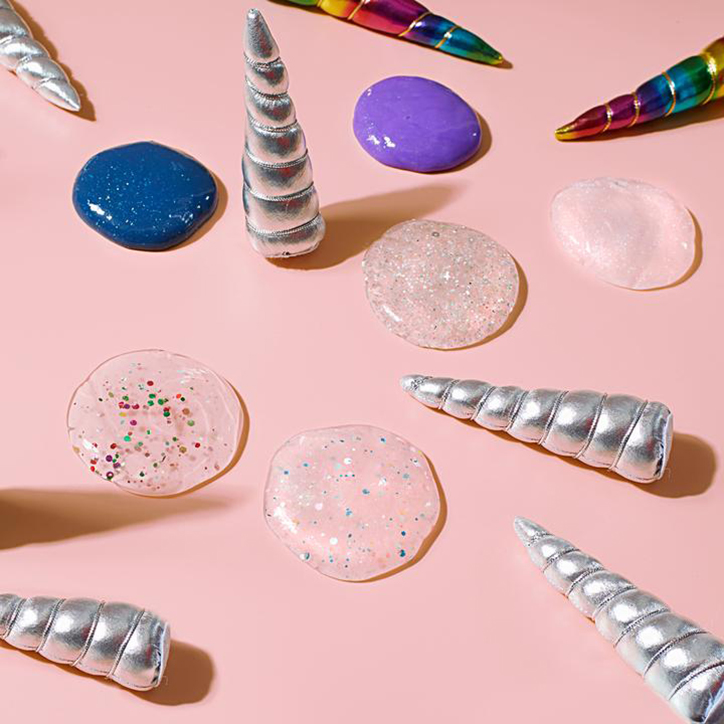 We've teamed up with the amazing team at Mythical Slyme for a majestic giveaway! Scroll down to enter for your chance to win a prize pack that includes EIGHT Mythical Slyme putties!
Mythical Slyme Lore: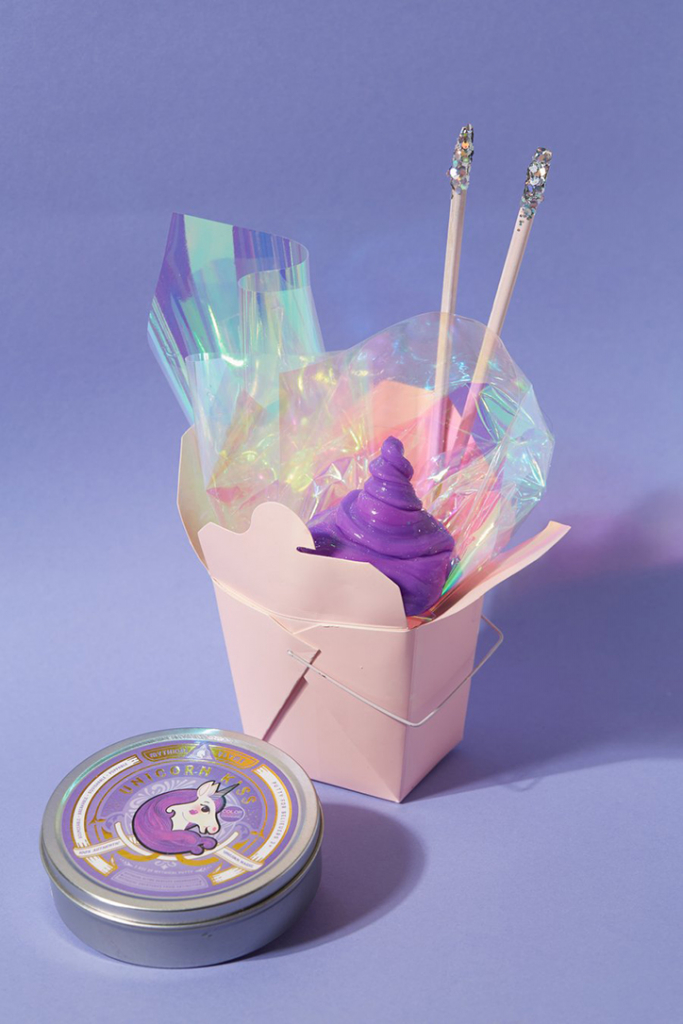 Just like in some of your favorite fantasy novels, the story behind Mythical Slyme is a little bit magical and a little bit tragic.
According to their website, magic DOES truly exist – but only if you believe! And with less and less people out there believing in magic, the founders of Mythical Slyme knew they had to step in and help. They compare their business to a bake sale to save the unicorns, and we're pretty obsessed with that concept. It's just so cute!
Their products are made with 100% pure unicorn and mermaid bits – their literal blood, sweat, and tears – ethically harvested from the few mythical creatures who still roam free.
Slymes and Putties: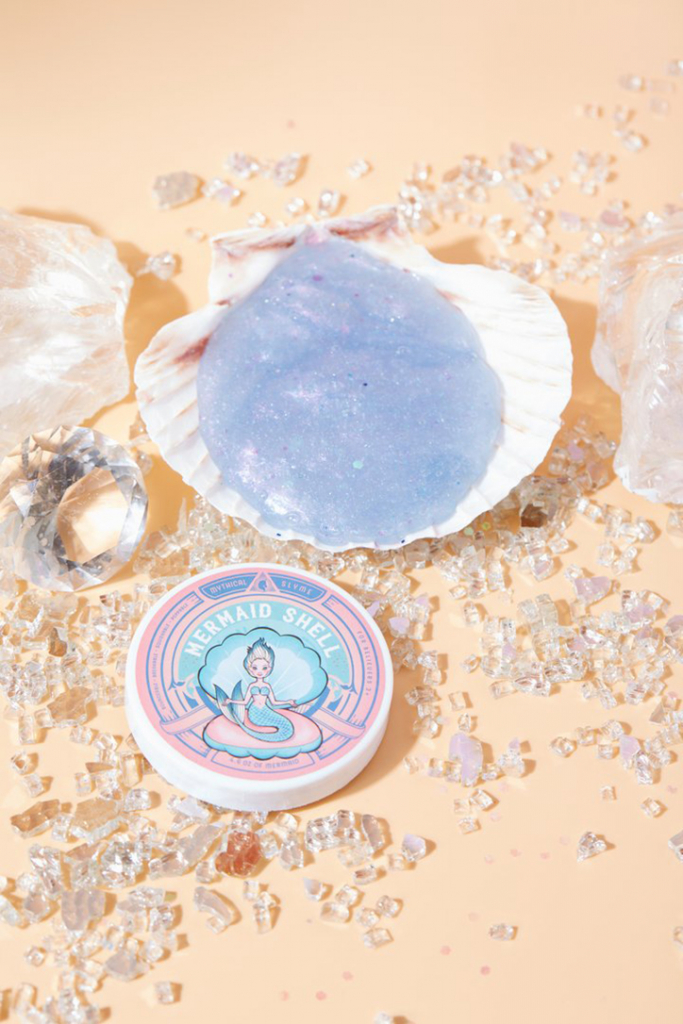 Mythical Slyme currently sells two types of products – slymes and putties.
These slymes are made with enchanted mermaid bits – things like mermaid bra shells and tail scales. These slimes are pretty much in-line with the slimes you're used to making at home. They're soft and gooey, and each has a lovely scent!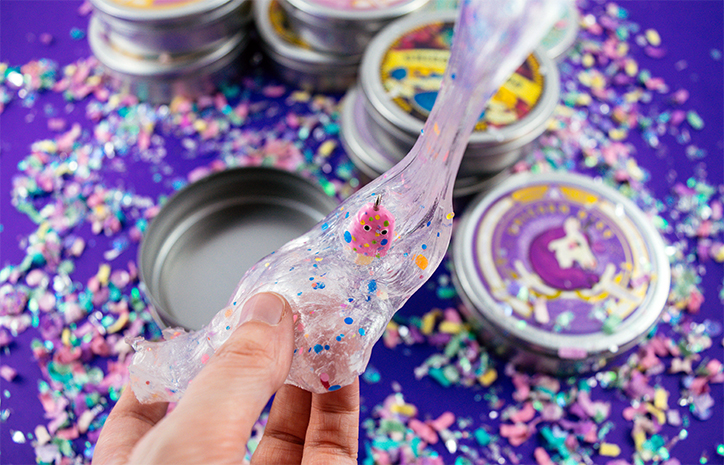 Made with pure unicorn bits, the putties are our absolute fav. They feel so good to squish, stretch, and twirl and are perfect for creating videos or just passing the time. Plus, they all have creative names like Unicorn Cooties and Unicorn Dreams. The putties give off a satisfying crackling sound as you mold and pull them, making the experience even better.
We can't get enough of the clear putties, filled with sparkling glitter and vibrant confetti pieces. Some of the Mythical Slyme putties even have hidden charms or color change effects!
Mythical Slyme Giveaway: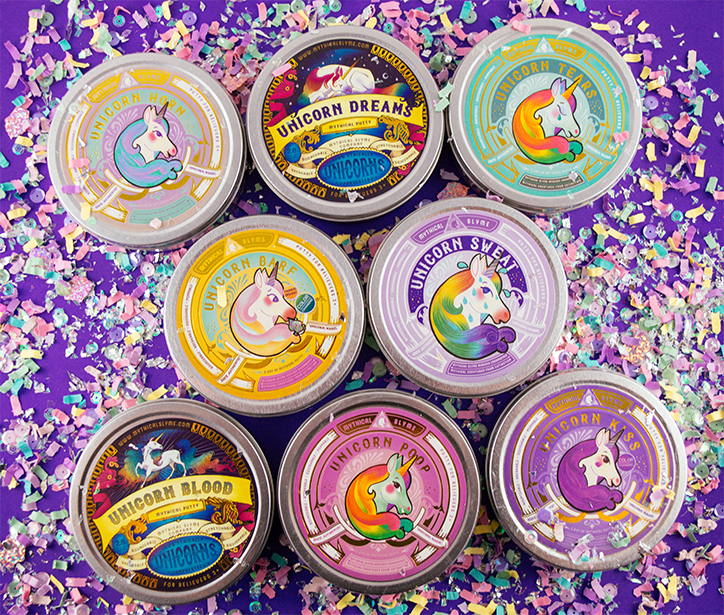 WHAT DO I WIN?:
ONE lucky winner will receive a Mythical Slyme Prize Pack that includes EIGHT (8) tins of Mythical Slyme Putty:
– ONE (1) Tin of Unicorn Barf
– ONE (1) Tin of Unicorn Dreams
– ONE (1) Tin of Unicorn Horn
– ONE (1) Tin of Unicorn Blood
– ONE (1) Tin of Unicorn Kiss
– ONE (1) Tin of Unicorn Sweat
– ONE (1) Tin of Unicorn Tears
– ONE (1) Tin of Unicorn Poop
HOW DO I ENTER?:
Grab a parent or guardian and have them fill out the form below by May 24, 2019 at 11:59pm ET.
Giveaway runs from 5/10/19 at 06:00 pm ET through 5/24/19 at 11:59 pm. Open to US residents ONLY. Be sure to read the fully detailed rules HERE before entering.
THIS GIVEAWAY HAS ENDED AND THE WINNER HAS BEEN CONTACTED.
You must be 18 or older to enter. Please, only ONE entry per person. If selected as a winner, we will provide your parent/guardian with an affidavit to confirm that you are a valid winner who has permission to win. They will be REQUIRED to sign and return the affidavit to YAYOMG! to claim your prize. Prizes will not be mailed out without signed parental consent.
Want to win even more amazing stuff? Check out our Sleepover Day Giveaway and enter for your chance to win a prize pack filled with sleepover goodies!