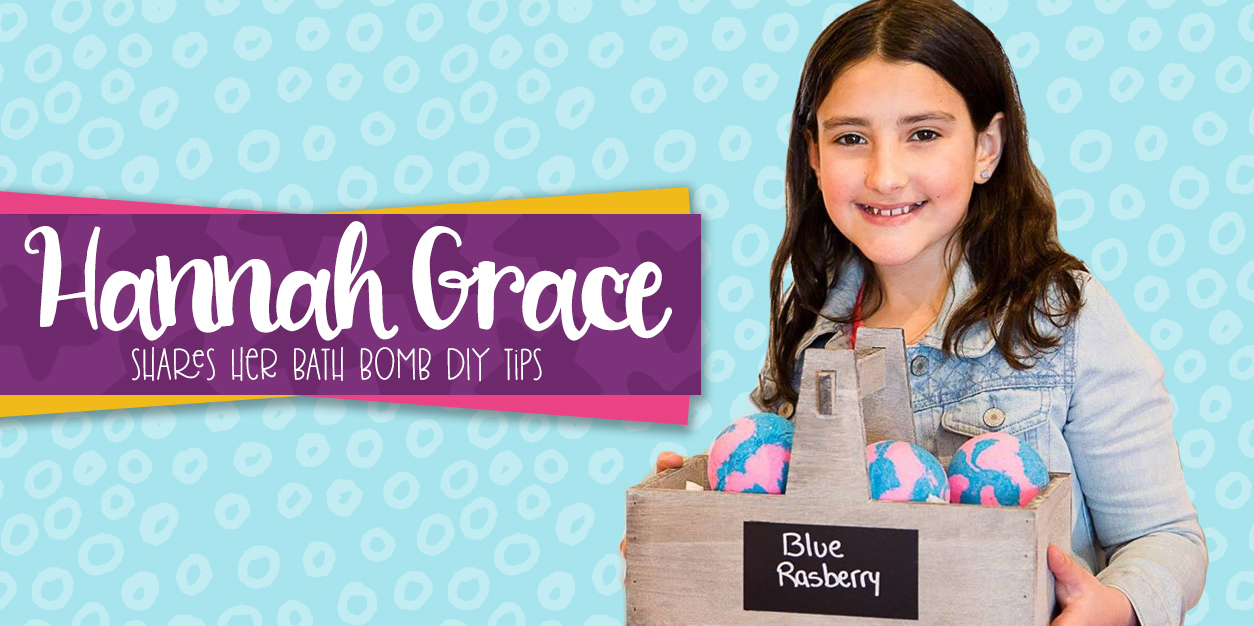 Hannah Grace Shares Her BeYOUtiful Bath Bomb DIY Tips
If you're not familiar with 11-year-old entrepreneur, Hannah Grace, it's time to get her on your radar! Hannah Grace is the creator behind BeYOUtiful, a line of bath bombs and other fantastic bath products with an amazing cause. In addition to donating proceeds of her BeYOUtiful sales go to Type 1 Diabetes research, Hannah Grace uses her platform to remind girls to be themselves and that they're beautiful just the way they are.
Like lots of you, Hannah Grace loves all things DIY and beauty, and can often be found sharing her latest makeup reviews, slime creations, and bath bombs on her Instagram and YouTube channel. Since she is basically an expert, we asked her to share her best bath bomb DIY tips for our readers so you can master making bath bombs at home.
Making bath bombs isn't just an art, it's a Science! It takes lots of experimenting and tweaking to find the perfect balance of ingredients that will hold together, smell great, and give that satisfying fizz once plopped in the tub. The bath bomb process can definitely take a little trial and error, as well as patience, but if you follow Hannah Grace's advice, we think you'll be an expert in no time!
Plus, enter to win a BeYOUtiful Summer Prize Pack that includes 2 Strawberry Lemonade bath bombs and a slime made by Hannah Grace herself! She will also be hosting a giveaway on her Instagram account, so be sure to head over there to enter!
Hannah Grace's Bath Bomb DIY Tips:
Find the Perfect Balance:

Getting the right mix of wet and dry ingredients is the key to creating the perfect bath bombs. You will find your bath bomb is dry and crumbly if you use too many dry ingredients or you will find your bath bomb cracked if there are too many wet ingredients. That happens because of the air trying to escape the wet ingredients.

A good base recipe for 2 bath bombs is:
Dry Ingredients: 1 cup Baking Soda, 3/4 cup Citric Acid, 1/4 cup Cornstarch. Mix these together first.
Wet Ingredients: Mix 2 teaspoons olive, coconut, or another type of oil, 1 teaspoon essential oil (for scent), 1 teaspoon water, and 10-15 drops of food coloring. Slowly mix the wet ingredients into the dry ingredients. If you add too much too fast, it will activate the mixture too quickly. Once you have a wet sand type of mix, put it into your mold halves. Make sure to overflow the molds so that when you push them together the extra spills out the sides. Let dry overnight and carefully take off the molds to reveal your creation.

Safe Ingredients are KEY:

Safe ingredients are essential when making bath bombs. Only use cosmetic grade ingredients, especially the oils. There are some essential oils that are used specifically for aromatherapy and shouldn't be used on your skin. Read the bottle before using to make sure you have the right kind.

Storage Essentials:

Here are my bath bomb storage tips: Don't leave them in direct sunlight because the color will fade and store them in a cool, dry, and dark place. Too much moisture and they'll get soft and won't fizz in the bath!
Get Creative:

Try new shapes! If you put a cookie cutter on a flat surface and pack it tight with your bath bomb mixture it will harden in that shape. Don't use shapes that have skinny points, like stars or other shapes like that. They will break when you remove the mold. Try to use rounded shapes when possible. The cookie cutters can be a little hard to remove it so be sure to go slow!

Don't Be Afraid to Experiment:

Be brave and try new things! Nobody gets it right the first try so don't get down about it if your bath bombs don't turn out perfect. Keep trying until it works for you. When it doesn't come out right, it doesn't mean you failed – it just means you learned how not to make a bath bomb! ??
BeYOUtiful Summer Prize Pack GIVEAWAY:
WHAT DO I WIN?:
ONE (1) lucky winner will receive a BeYOUtiful Summer Prize Pack that includes:
– TWO (2) Strawberry Lemonade Bath Bombs
– ONE (1) of Hannah Grace's Homemade Slimes
HOW DO I ENTER?:
You must be 18 or older to enter. If you are under 18, please get your parents permission before entering or have a parent enter on your behalf. Then, head to Instagram and complete the following steps by August 7th!
1. Follow @yayomgofficial and @hannahgracebeyoutiful on Instagram
2. Head to the post below and leave a comment telling us your favorite bath and beauty product!
Giveaway begins on July 31, 2018 at 01:00 pm ET and ends on August 7, 2018 at 11:59pm ET and is open to US residents only.
– You must be 18 or older to enter. If you are under 18, you will need your parent's permission to enter and win.
*If selected as a winner, we will provide you with an affidavit to confirm that you are a valid winner who has permission to win. You will need to sign and return this affidavit in order to claim your prize. Entrants under 18, your parents will need to sign and return this document granting permission for you to win before we can send your prize. This step is non-negotiable and required to claim your prize.
THIS GIVEAWAY HAS ENDED AND THE PRIZE HAS BEEN CLAIMED!
Be sure to read the fully detailed rules HERE before entering.
Good luck to everyone who enters! Want to know more about Hannah Grace and BeYOUtiful? Get to know her in our interview!