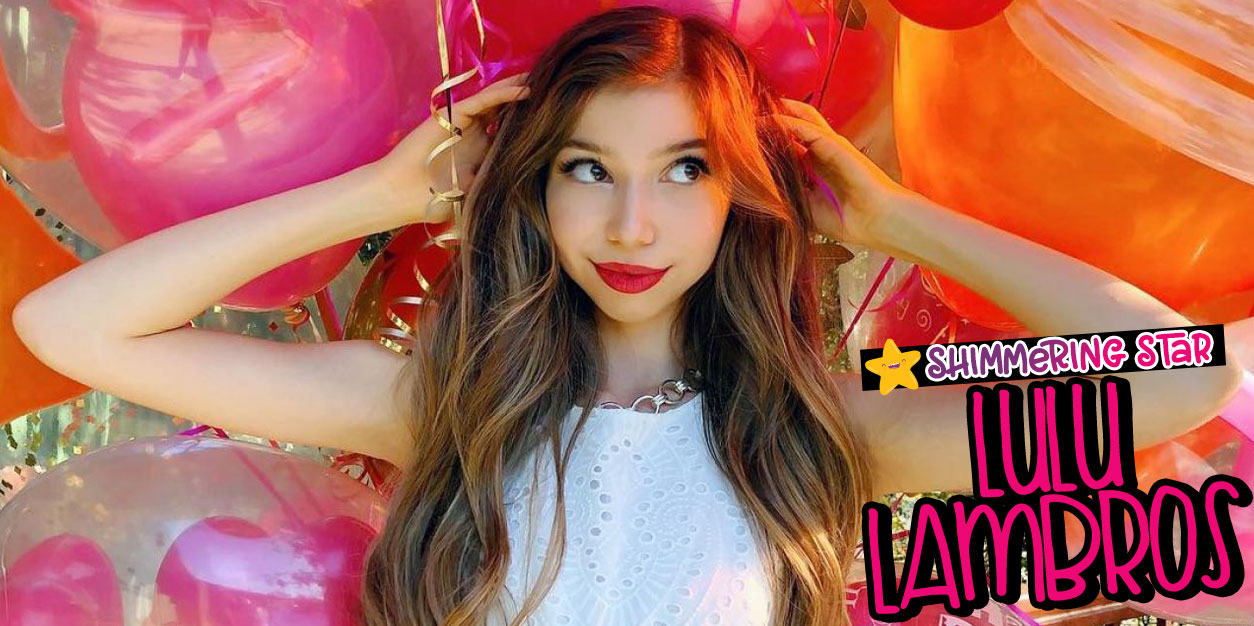 Shimmering Star Spotlight: Lulu Lambros
Shimmering Star is a brand new series on YAYOMG! Follow along each month as we shine a light on girls who represent kindness, positivity, empowerment, philanthropy, drive, and confidence. They're sure to inspire you!
We are so excited to introduce our Shimmering Star for February, Lulu Lambros! Best known for playing the role of Ellie Peters on Disney Channel's Stuck in the Middle, Lulu discovered her love of performing at just four years old. Whether she's rocking the runway or slaying on screen, Lulu is always puts everything she has into her work.
Lulu has been one of our go-to sources for fashion inspiration and positivity on Instagram for a while, but it was once we noticed all of her collaborations with charitable organizations that we knew we had to have her as one of our Shimmering Stars. After chatting with Lulu it was super clear to us – this girl is going places! She is incredibly talented, driven, and kind – a true inspiration for girls everywhere.
What's next for Lulu? She's auditioning in search of her next big role and focused on school. She is also always on the lookout for new ways to make a positive impact. Pretty amazing, right? Get to know Lulu Lambros as she shares the importance of believing in yourself, bouncing back when things don't go your way, and the women she admires.
Get to Know Lulu Lambros: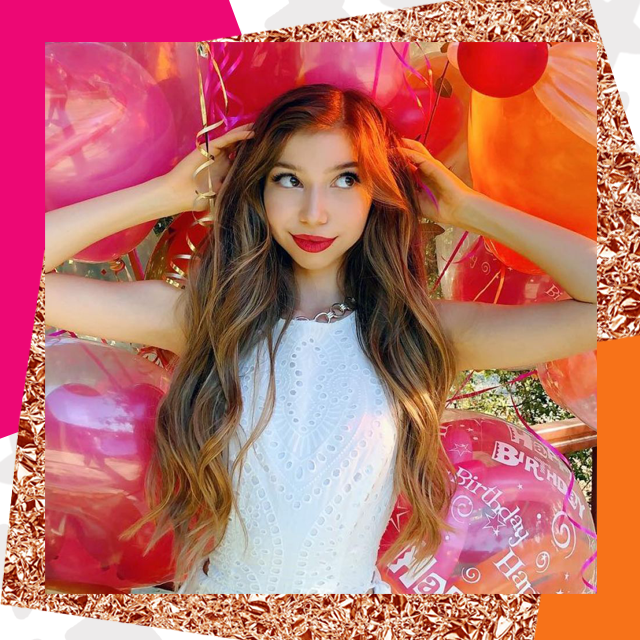 Tell us a little bit about YOU!

LULU LAMBROS: I'm a fifteen-year-old girlie born and being raised in Los Angeles. I was actually born in the beach community of Santa Monica. I'm super lucky to be surrounded by my entire family. Both of my parents are from Los Angeles (well actually, my dad was born in Washington DC, but he came out to California when he was just a little bean), so all my grandparents, aunts, uncles and cousins are here. Not to mention, we always have a house full of dogs at family gatherings. I have three dogs, and when our family is all together we have 11 dogs total!

I started acting in children's community theater when I was just four years old. What I really wanted to do was be on TV and in movies, but my parents thought four-year-old was a bit young to make decisions that involve getting an agent and running around town on auditions. I actually fell in love with acting in the theater and starred in plays year round, including Shakespeare Camp every summer until I was ten. It was then that an agent scouted me at a talent showcase at my acting school. Since then I've been pursuing an acting career which led to a three-season run as Ellie Peters, a recurring character on the Disney Channel series, Stuck in the Middle.

Today I'm homeschooled and auditioning in the hopes of landing my next BIG role. Wish me luck!

What are three words you would use to describe yourself?

LULU: Confident, friendly and determined. I think you can pretty much succeed at anything if you can master these three qualities. I'm an only child, and I found out early that being with adults most of the time if I wanted to make friends I had to take the initiative. Developing these three qualities made it easy and fun to be outgoing and make friends everywhere I went.

If you believe in yourself, others will believe it too. Confidence inspires people and draws them to you. Being friendly is a good thing, and is kind of a no-brainer. Who doesn't feel good when someone gives you a welcoming smile, accepts you and shows a genuine interest? Finally, determination – it's like a superpower. Talent and knowledge are necessary in any field, and you definitely need to put the work in, but if you are determined to succeed no matter the obstacles, you can't be stopped. So go for it!

What is something you are super good at? What is something you would like to learn to be better at?

LULU: For the something good, besides my acting, which I have been working on all these years, training in classes and learning something new with every experience, whether it's auditioning or on an actual job or project, I would have to say academics. In the last couple of years, I have pushed myself more than ever before to really succeed at a higher level. I am again proving to myself that hard work and determination always win the race. I finished my first semester of high school with straight A's!

As for the something I'd like to improve, definitely singing. I took a few voice classes when I was very young, but eventually, I picked up a guitar, and that took over musically. Singing in general, I feel, is such a joyful thing. Whether you are doing it professionally or aspire to do so, or not, it is something that anyone can do as an expression of emotion or art, or just for fun. Would I love to be better at it? Absolutely!

How do you bounce back when things don't go the way you hoped?

LULU: That one is kind of built into my job, you could say I got a head start on managing disappointment. When you are auditioning for acting roles, the competition is intense and the odds are generally challenging. But if you love what you are doing, and you have faith in yourself, you learn to be patient and believe that something better, different, or both is in your future. You can't control everything, but you can control how you react to disappointment, and you can learn and grow so that you can come back stronger the next time.

How do you shine bright?

LULU: I shine brightest when I'm happy. Happiness looks good on everyone! Many things make me happy, such as the reward of success at something I've worked hard for, like work, school, travel, and art. But what really fills my heart the most is being loved and showing love for the people in my life like my family and friends. When you are grounded in love, it opens your heart and allows you to be kind and generous with your time and energy.

It's one of the reasons I love to be involved with anti-bullying organizations, as well as organizations spreading awareness about support and positivity whether it is girls building up other girls, shining a light on hunger, poverty and disease, or helping to stop animal cruelty.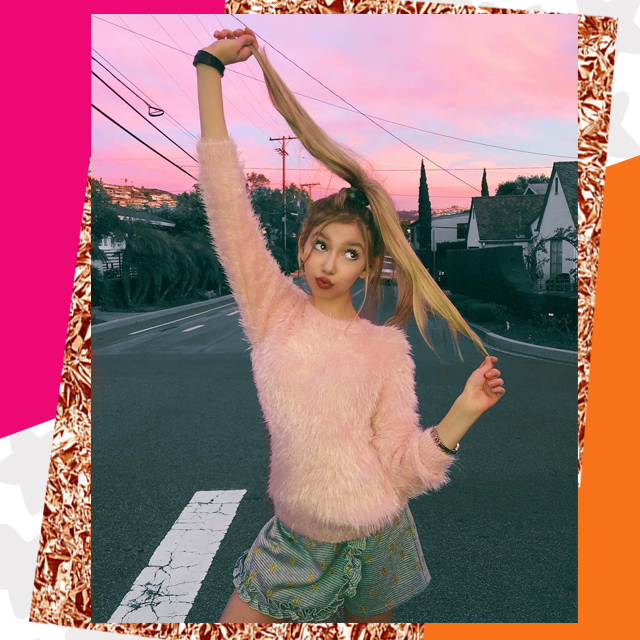 How do you give back?

LULU: There are several amazing organizations that I partner with that do inspiring work. Izzy Be is a clothing brand with a message – I mean literally, on the clothing (cool right?), of kindness, beauty in everyone, love, acceptance and making a difference. Izzy Be is named after one of my besties, Izzy Brown, who was inspired by her mom, Karin, who always encouraged her to find and embrace the beauty in herself and others, especially other girls. I love that!

Free2Luv is an anti-bullying movement which supports and empowers victims, but also spreads awareness about the importance of educating and empathizing with those who have not yet found love in their hearts and are hurting others because they are hurting. Let's work on that!

Rosie G is a clothing brand and foundation dedicated to raising funds to cure cystic fibrosis. Grace Rose, the 16-year-old founder, designer (wow!) and also one of my besties, suffers from Cystic Fibrosis. Progress in this research would change the lives so so many children.

Nail and Bone is a nail polish brand for humans working to change the lives of dogs in need by supporting pet rescue for homeless dogs and helping find their forever families. I did a collab with Nail and Bone and designed a nail color named after one of my dogs, Kona. A contest to win a nail kit including Kona is coming soon – watch for it on my Instagram: @lululambros. I am always happy and proud to help do good work on a global scale!

The women who inspire me are:

LULU: All strong, independent women who follow their dreams and work hard to create a life that they love, all while being awesome human beings! That's it, that's what I aspire to be.

I am most passionate about:

LULU: Right now I would say I'm most passionate about growing and learning to be the best actor I can be. Every day is a new experience, so I watch and learn and ask questions, hoping to absorb everything I can today so that I can be better tomorrow, and the next day, and the next.
I feel most confident when:

LULU: I feel most confident when I believe in myself, feel good about myself, trust myself and most importantly, feel comfortable in my own skin.
My biggest dream is:

LULU: Because most of my passion is in my acting right now, my dream is to work with the best actors, directors, and producers in the industry. I get teary-eyed just thinking about the possibility of working with these experienced artists who have so much to teach and share with young dreamers like me.

The advice I want to share with other girls:

LULU: Life is a series of ups and downs. Things won't always go your way and not everyone you meet will become your friend. STAY STRONG AND POSITIVE! Love yourself and stay focused on your dreams. You are unique and special, there is only one of you, and you are awesome. Share that with the world!
Loved getting to know Lulu? Get to know our Shimmering Star from January, Giselle Lomelino of GEM Sisters! See you next month!