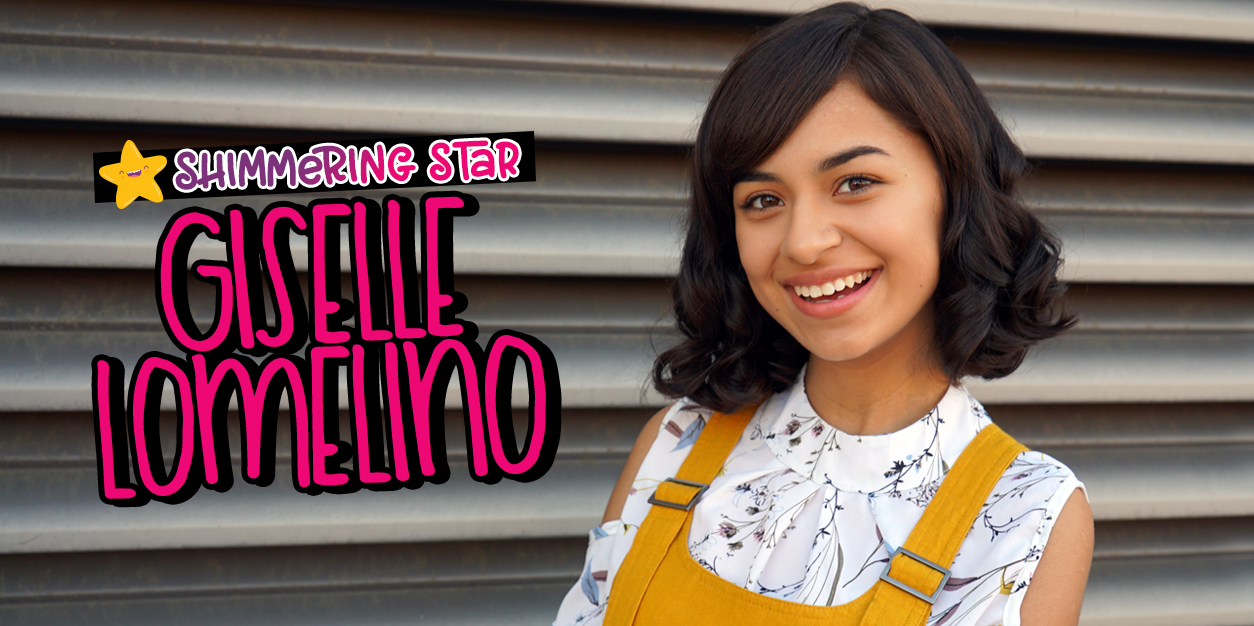 Shimmering Star Spotlight: Giselle Lomelino
Shimmering Star is a brand new series on YAYOMG! Follow along each month as we shine a light on girls who represent kindness, positivity, empowerment, philanthropy, drive, and confidence. They're sure to inspire you!
Today is an exciting day! We're finally kicking off our Shimmering Star series, a new series on YAYOMG! celebrating the amazing girls who inspire us. Our first ever Shimmering Star is an extra special one because YOU voted for her! Back in November, we hosted the YAYOMG! Shimmering Star Celebration, giving our readers the chance to vote for the girls who inspire them most! Your pick? Giselle Lomelino from GEM Sisters!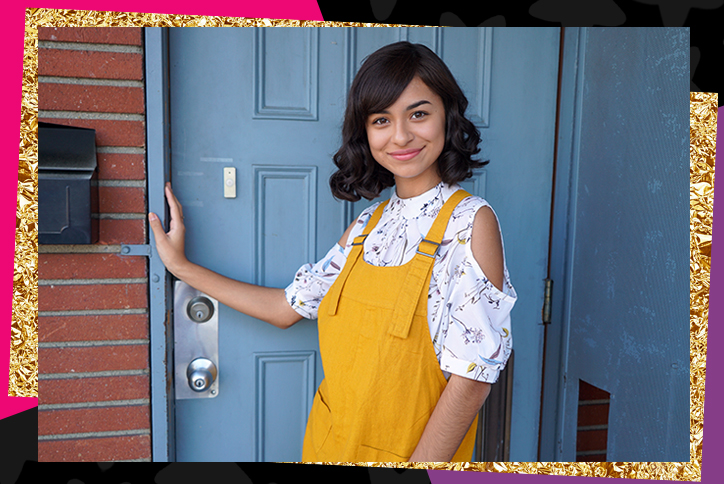 If you aren't already a fan, you're about to be. Giselle and her sisters create hilarious sketches, skits, and challenges on their massively popular YouTube channel. It's their mission to show the world that girls are funny and make people laugh. Giselle loves doing comedy, especially using physical humor, and even hopes to make it to the big screen someday! She also told YAYOMG! about her passion for giving back and helping others. "I totally recommend donating your time to causes you believe in. It always feels so good to give back."
What's next for GEM Sisters? Giselle dished on what fans can expect to see this year. "I know 2019 is going to be the best year yet for GEM Sisters. We have a lot of sketch comedy videos we are excited to share as well as fun collabs with our celebrity friends. Be on the lookout because you don't want to miss them! And I can't wait for Book #3 of Sister Detectives, Runway Rumors, coming soon!"
Ready to get to know our first-ever Shimmering Star? Get to know Giselle as she dishes on the women who inspire her, how she supports her sisters, and why she loves doing comedy!
Get to Know Giselle Lomelino: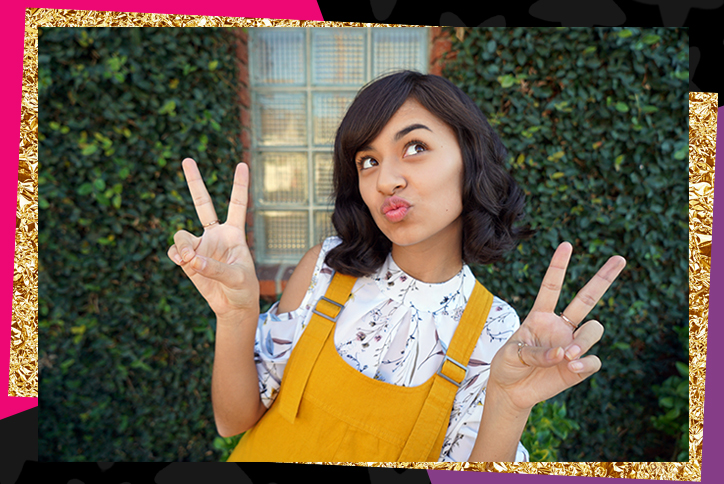 Tell us a little bit about YOU!

GISELLE: Hey! I'm Giselle the "G" in GEM Sisters, and I'm 15 years old. I love being funny especially when it comes to using physical humor. In my free time, I hang out with my friends and go to the movies. I'm a huge movie buff.

What do you love most about doing GEM Sisters?

GISELLE: I love being able to express all the different parts of my personality in different characters. I love playing this character named Kevin. He's a dorky boy who is very lazy and loves to have fun. I think if I were a boy I would definitely be Kevin!

As the oldest sister, how do you help support Evangeline and Mercedes?

GISELLE: I support my sisters in any way I can. I love helping them with learning different faces they can use for new characters. I also try to be there for them at all times. Even though I'm the oldest, I feel like they support me in so many ways as well. I don't know what I would do without them.

Tell us a little bit about the Read For Your Dreams initiative.

GISELLE: Read for Your Dreams is a campaign that means so much to me. It's about spreading literacy and putting down your screen and picking up a book. We have a funny book series called Sister Detectives, and I love being able to connect with all of our GEMS through reading.

How do you shine bright?

GISELLE: I think I shine bright by showing girls not to be afraid of being yourself. Sometimes girls are afraid to be funny because they think it can be embarrassing. I try to show everyone to be themselves and express your creativity in any way you can. GO FOR IT!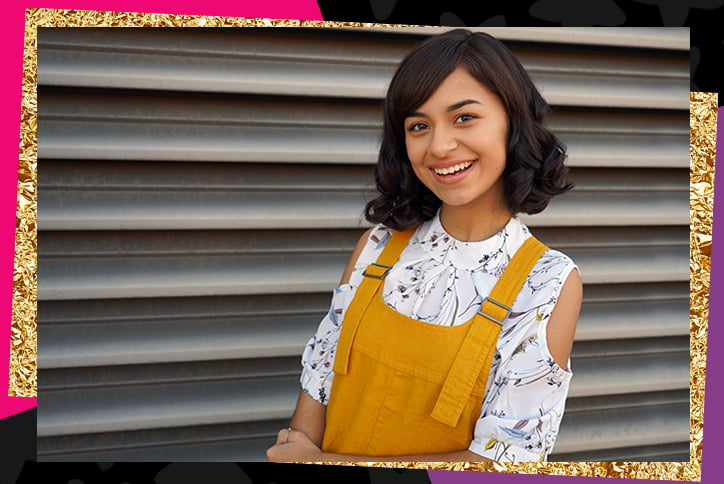 The women who inspire me are:

GISELLE: I look up to so many powerful women like my mom. My mom is definitely at the top of my list because she is so hardworking, driven and determined. I have never met someone as driven as she is. I also love Zendaya, Vanessa Hudgens, and Jessica Alba.

My biggest passion is:

GISELLE: I am most passionate about making people happy! I love doing comedy so much because I know it puts a smile on people's faces.

How I give back:

GISELLE: Recently I helped pack 500 bags for Project Hollywood Helpers to give to Children's Hospital Los Angeles patients. I've also donated time for the LA Mission serving meals and Operation Gratitude making care packages for military families. Plus, I have a big place in my heart for Boys & Girls Clubs. I was a member when I was younger, and now with GEM Sisters, I've lead assemblies and workshops to encourage reading.

I feel most confident when:

GISELLE: I feel most confident when my sisters and parents push me to be the best I can! I know with them on my side, I can achieve anything because they are for sure my biggest supporters.

My biggest dream is:

GISELLE: My biggest dream is to be in movies with my sisters. I feel like I would have tons of fun working with my sisters on set and being able to pursue my dream with them.

The advice I want to share with other girls is…

GISELLE: Believe in yourself! You can do anything and make anything possible when you have confidence in yourself. I have trouble with this sometimes, but I've made my dreams come true and so can you!
Be sure to check back in February to find out our next Shimmering Star! While you wait, get to know these other amazing girls!