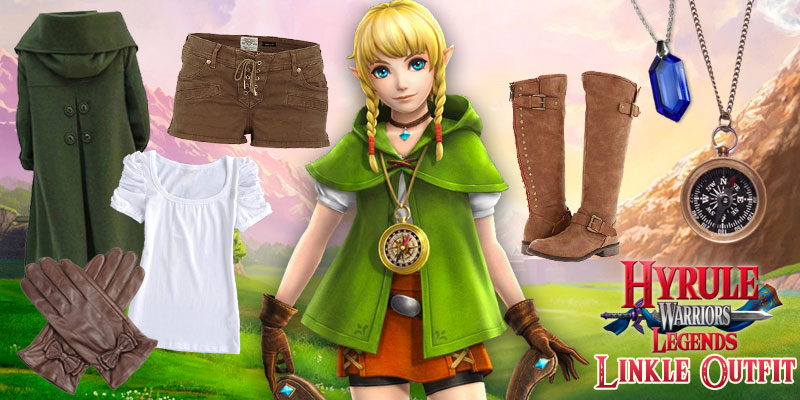 Hyrule Warriors Legends: Linkle Outfit
Nintendo just announced that a brand new GIRL will be joining the battle in Hyrule Warriors Legends for the 3DS! Her name is Linkle, and not only is she a lady capable of kicking insane amounts of butt, she's got kick-butt Hylian style as well. Here's how you can whip up a Linkle Outfit of your own!
In the game, Linkle rocks two crossbows and a spin kick, meaning that she's totally hardcore, and so is her look. The most important piece of Linkle's outfit is her hooded green cape jacket. Since finding a green cape might be a little hard, we think that a green cardigan or green peacoat would work in it's place.
Underneath her cape, there's an adorable white tee with puffy sleeves, which is a pretty easy piece to find at most stores. (And you can always swap in a regular white tee if you're having trouble finding one with puffy sleeves. We won't judge!)

Linkle's shorts lace up the bottom, but a pair of shorts that lace up the sides or where the zipper would normally be totally work too. You can even try a leather skirt in place of the shorts if you're feeling girly. Under the shorts, she's got a pair of short black leggings, which help making running around and adventuring nice and comfortable.
We offered a few choices for longer leggings as well, including awesome TriForce leggings. No matter how you decide to interpret the look, make sure not to forget the most comfortable pair of brown buckle boots you can find and you're pretty much ready for your big adventure!
Accessorize with a compass necklace or locket and a diamond shaped necklace. (We picked a Rupee instead of a diamond, to fit the Legends of Zelda theme even more closely!) Add those braided pigtails, and you're done! You'll blend in to Hyrule so well, people will be mistaking you for the Hero of Time!