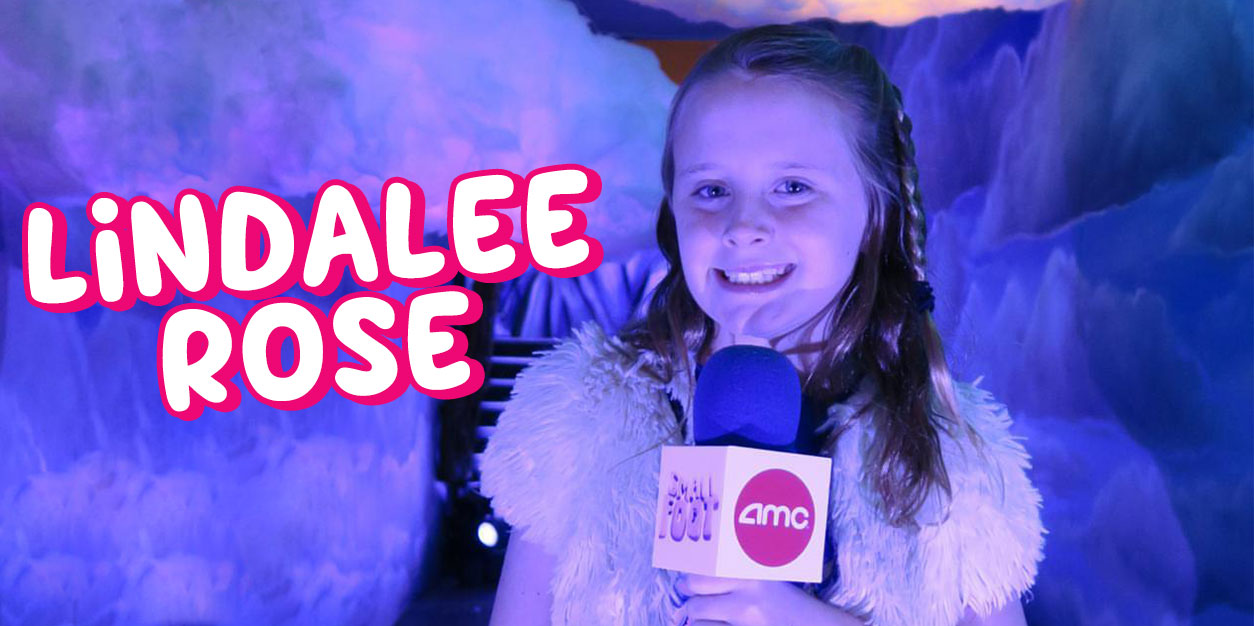 Meet Lindalee Rose, Junior Reporter
As a junior reporter, Lindalee Rose can often be found on the scene reporting from red carpets, movie premieres, and special theme park events for her YouTube Channel. She has also worked as a junior reporter on behalf of AMC Theaters, ZAG Entertainment, and Jim Henson Studios.
Lindalee discovered her passion for reporting and reviewing at just 4 years old and has been an unstoppable force ever since. It all started with a few Doctor Who episode reviews which eventually led to invitations from fan conventions, amusement parks, movie premieres, and tv sets. She's chatted with everyone from JoJo Siwa to John Cena and doesn't plan on stopping anytime soon!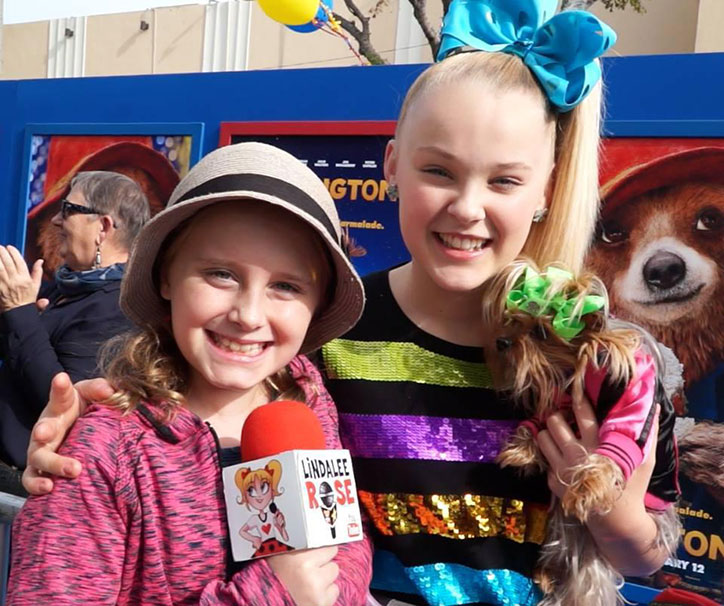 We're inspired by Lindalee's enthusiasm and dedication, and we hope you are too! Get to know Lindalee Rose as she takes you behind the scenes of what it's like to be a junior reporter!
Get to Know Lindalee Rose: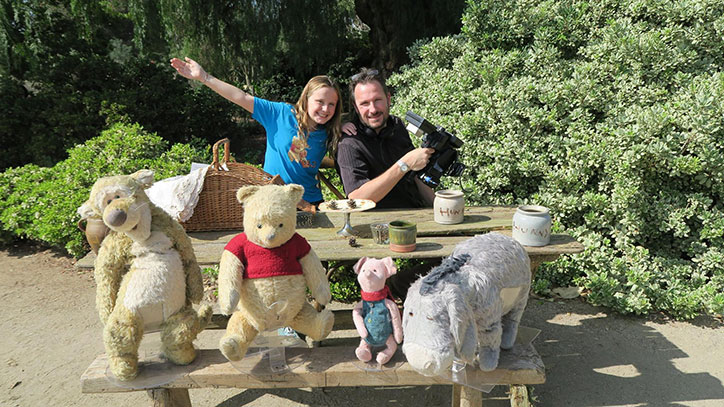 Tell us a little about yourself and about how you got your start as a junior reporter.

LINDALEE ROSE: I'm an 11 year old girl and I love just about everything! My first job as a reporter started after I was watching an episode of Doctor Who with my dad. I was 4 and a half. After the episode was over, my mom asked me about it and I gave a really fun and long review of it to her. She then told my dad that he should record me talking about the episode and posting it on YouTube – he did.

A week later the Executive Producer of Doctor Who saw it, tweeted the link to my video on his Twitter page and everyone loved it. I kept reporting on episodes each week after that and it grew from there to reporting on events, red carpets and more.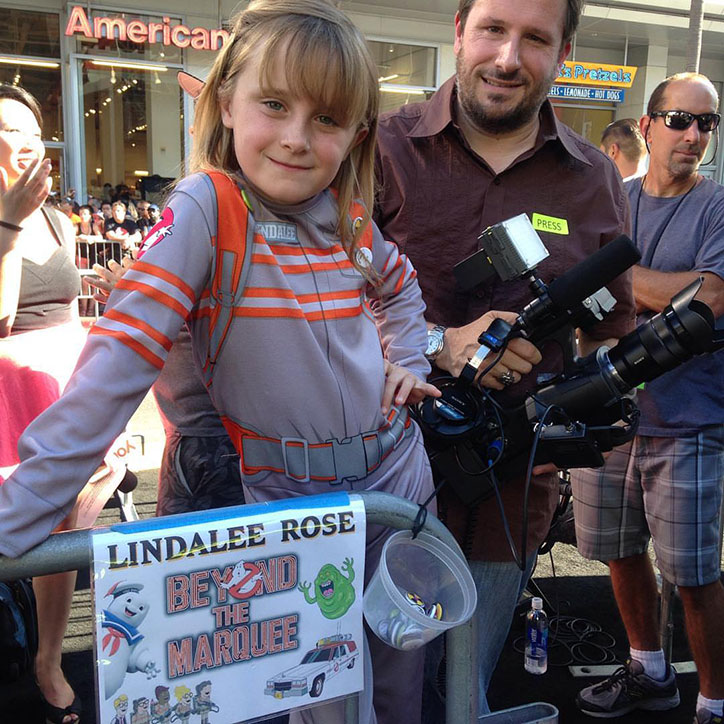 Take us behind the scenes a bit. What kind of planning and prep goes into covering a red carpet and other big events?

LINDALEE: Normally during the week before an event or a premiere, my Dad and I research who's going to be at the event or red-carpet and start writing questions to ask them. We also write out some of my lines to read on camera or for voice overs so we're ready the day of the shoot.

Sometimes people show up to the event that we didn't expect, so we always have generic questions about the movie to ask everyone, just in case. And other times I just make up questions on the spot. It's fun to work with my dad, we spend a lot of quality time together!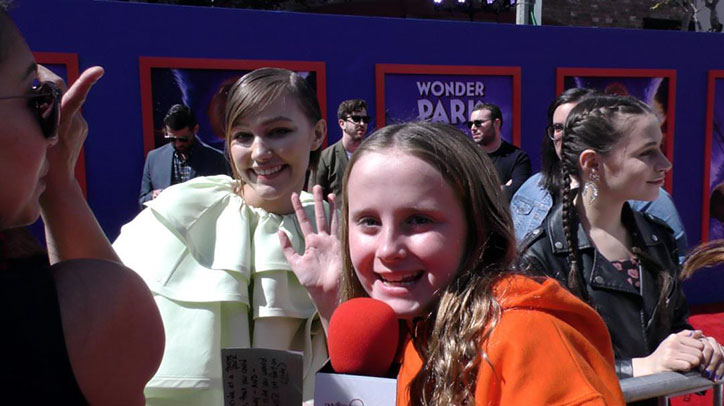 Do you have a favorite celebrity encounter or one that has meant a lot to you?

LINDALEE: I have met so many stars from some of my favorite TV shows and Movies, but most recently I got to meet singer Grace VanderWaal and YouTuber Colleen Ballinger (Miranda Sings). Grace is one of my idols and Colleen makes my siblings and I laugh so much, so it was really fun to meet them and interview them both in person.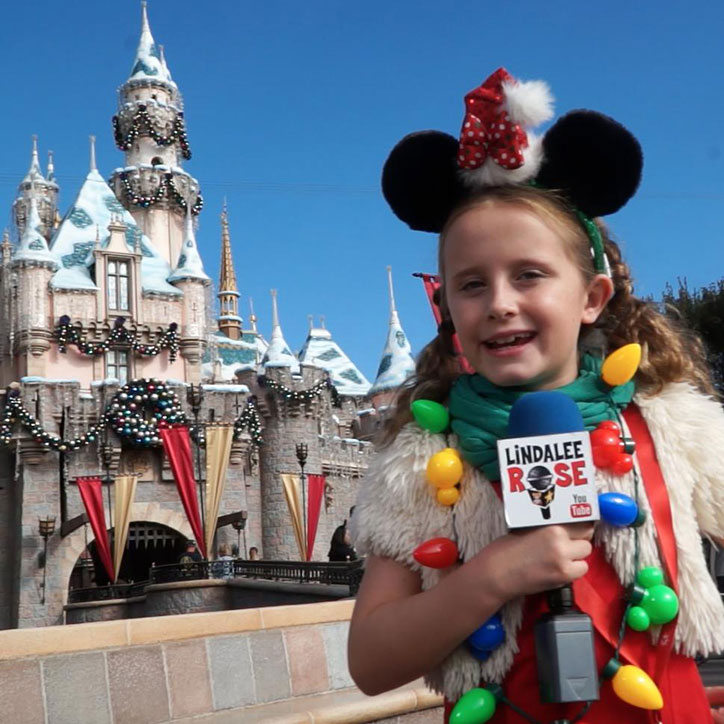 Besides red carpets and celebrity interviews, you also cover theme park special events. What is that like?

LINDALEE: It's really special because suddenly we're not just guests, we're there to help cover a sneak preview or a grand opening at a theme park, so we get to see certain things earlier than the rest of the world. Plus there's a lot of the behind the scenes moments where we get to see how some of the magic of the parks all come together before anyone else.

Over the years I've been invited to do reports from Disneyland, Universal Studios, Legoland, SeaWorld, Great Wolf Lodge, and other family attractions. One of our favorite things is that they have lots of themed treats at these press events! Plus – I usually get to bring my family in with me, so we all end up having a lot of fun for the whole day together!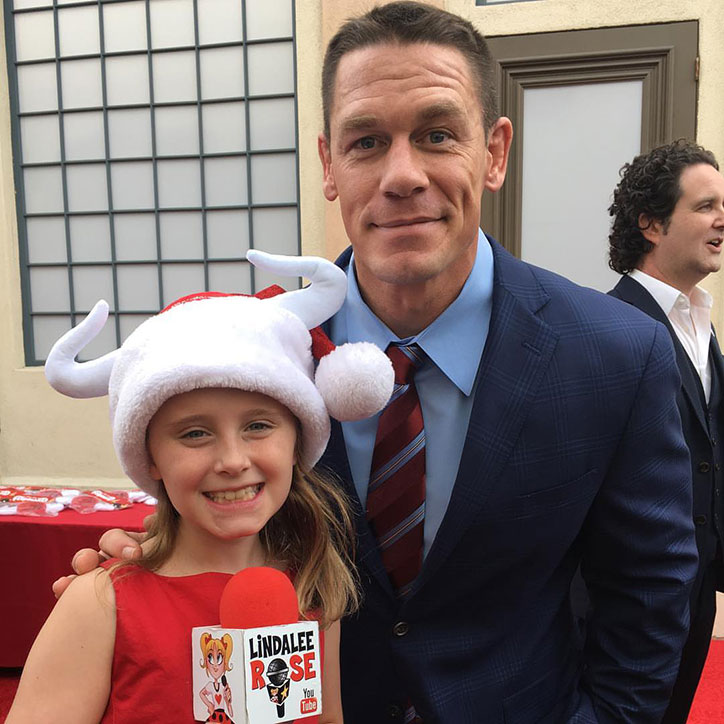 What is something you've learned as a junior reporter?

LINDALEE: I've learned to never expect anything. There are always surprises along the way. Sometimes you prepare for weeks ahead of time for a big interview or red carpet and it gets canceled, or it fills up and they can't fit you in. Other times you think you are just going to interview the celebrities, and then the studio invites you at the last minute to attend the World Premiere or go to the after party to hang with the special guests, so that's always super fun!

No matter what, I know that I'm so lucky to be invited to cover these events so I always am as professional and have as much fun as I can, so I can be invited back to the next one.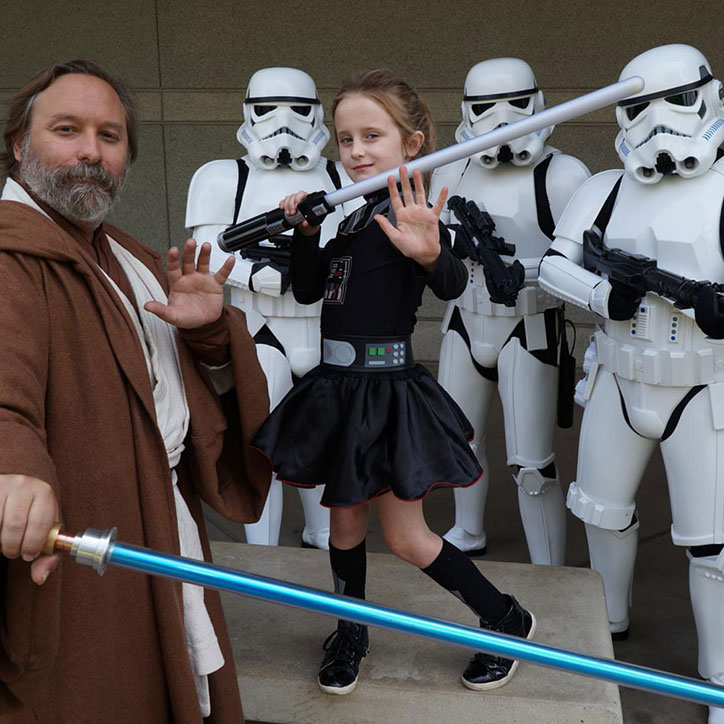 How do you make a positive impact?

LINDALEE: I help out kids in Pre-K at my school by helping them learn to read and write. I also always help my three younger siblings by teaching them to how to be good people.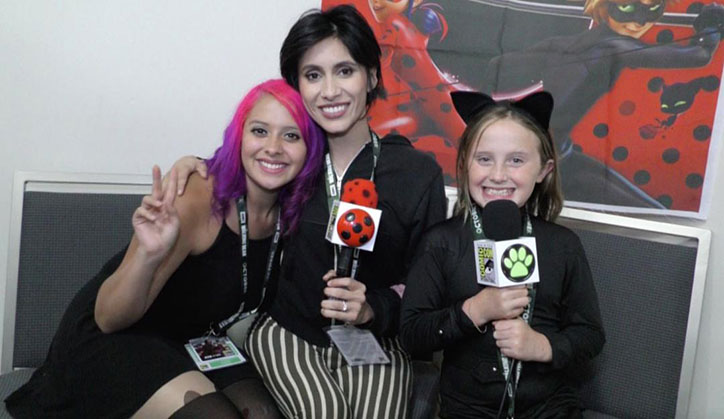 What is something you think our readers would be surprised to learn about you?

LINDALEE: I'm currently working with some friends to start a band, I love to sing. I love ice skating in the Winter, shopping at Justice, and I am addicted to reading Archie Comics. I love dolphins and would love to become a dolphin trainer one day!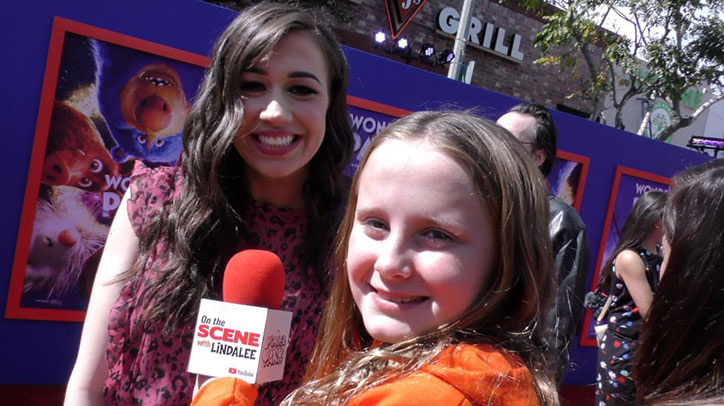 Who has has inspired your recently?

LINDALEE: My besties are big inspirations because through them I've learned to have more self confidence and to not let anyone bring me down. In return, I stand up for them, like they do for me. We love to have sleepovers and get Boba together.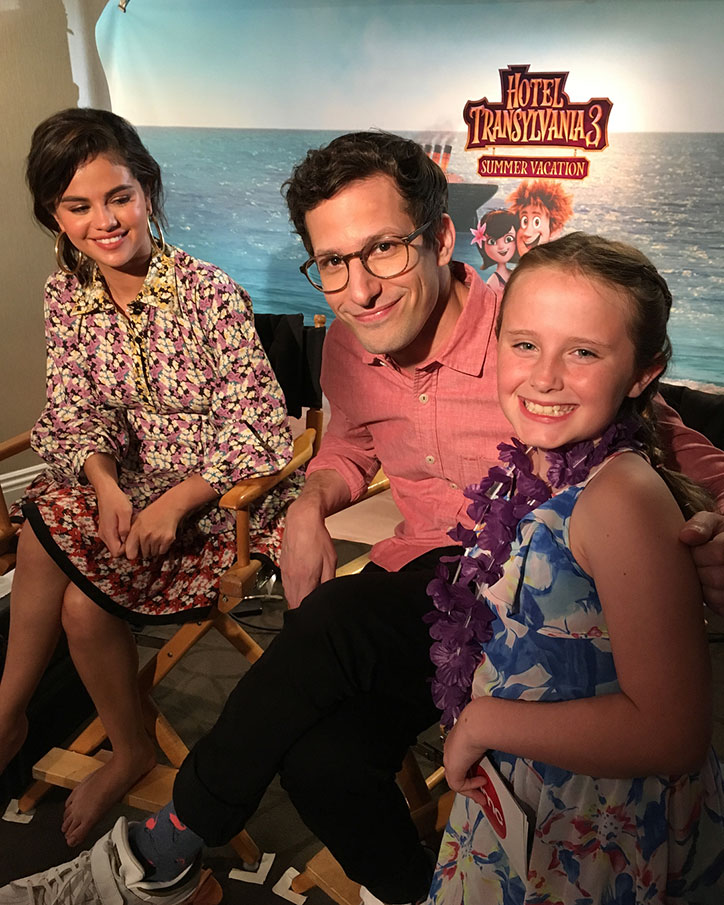 Do you have any advice you'd like to share with YAYOMG! readers?

LINDALEE: Never let anyone bring you down and if anyone says or thinks you're not good enough, ignore them. Know that you are perfect the way you are and never stop trying to follow and live your dreams!

When I started reviewing Doctor Who on our living room couch 6 years ago, I never could have imagined 6 years later I'd be interviewing famous celebrities and being flown all over to cover big events and World Premieres. So you never really know what the future has planned, you just have to be the best at what you're good at and make sure you have a lot of fun doing it.

Also, never forget that girls are just as powerful as boys!
Be sure to subscribe to Lindalee's channel to watch all her new videos and behind the scenes moments with your favorite stars!