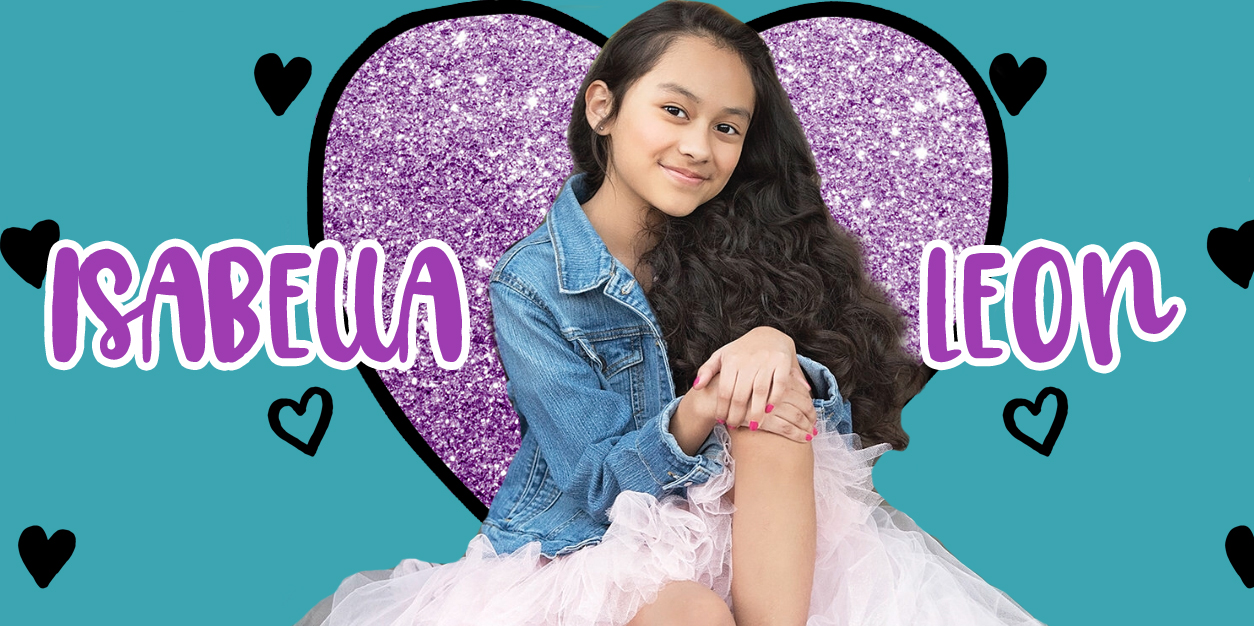 Isabella Leon on Dance With Me, Her Musical Inspirations, and More!
Isabella Leon is a spirited 9-year-old with a passion for singing, acting, and dancing. She recently released her first single, Dance With Me, an inspiring song that tells the story of a girl who's ready to break free from the typical stereotypes girls face and live her own life. Isabella hopes that her song will encourage other girls to feel confident to be themselves and break free from anything holding them back in their own lives. The music video released today on Isabella's YouTube channel as well as Instagram TV, so be sure to head over there to check it out!
In the meantime, get to know Isabella Leon as she chats about her inspiration behind Dance With Me, what it was like to work on her first music video, and more!
Get to Know Isabella Leon:

How did you first discover your love of singing?

ISABELLA LEON: When I was 3 years old, I told my mom I wanted to be on the TV screen. At the age of 4, my mom took me to go see Annie on Broadway, and I cried because I wanted to be on stage, not in the audience.

You just released the music video for your song, Dance With Me, and it has such a great message of female empowerment! Tell us a little about the inspiration behind the song.

ISABELLA: The inspiration for my song is all the powerful women in my life, from my mom, my grandma, aunts, cousins, and friends.

What was it like to work on your first official music video?

ISABELLA: It was a surreal experience, there were so many emotions leading up to the big day. But I think it really hit me when I was riding my bike, the wind blew away like all of my worries, and it felt like all my hard work paid off. I couldn't have done it without the support from my parents, my manager, and team. I accomplished a lot, I learned how to ride a bike a day before the shoot.


How are you hoping that sharing your experiences through your music will help other girls?

ISABELLA: I hope that this helps inspire young girls with girl power! With hard work and determination, your dreams can come true.

Who are some of your musical inspirations?

ISABELLA: My musical inspirations are Etta James, Christina Aguilera, Elvis Presley, and Ariana Grande.

Linda Ronstadt and Selena Quintanilla have been the 2 amazing women people have compared me too. Just like me, they didn't speak fluent Spanish, but we had a love for the language that was big enough for us to learn it and sing it. I grew up listening to my grandma's Spanish music, I loved the rhythm of the music and how it connected me to my heritage.

Anthony Gonzales is also an amazing role model in this industry, his voice in the movie Coco moved me. I even did a cover of his song Remember Me for my great uncle's memorial.

You are also an actress. What do you love most about stepping into the shoes of different characters?

ISABELLA: I love everything about acting, Whoopi Goldberg once said "An actress can only play a woman. I'm an actor, I can play anything." I am an actor, I don't just get to play dress up, I can bring a whole new story and character to life in an instant.


What are some things you like to do for fun?

ISABELLA: A fun thing I love to do is collect different types of trinkets, such as squishys, erasers, lip gloss, LEGO sets, stuffed animals, different types of fancy socks, and even vintage Disney collectibles.

What is something you're hoping to accomplish in the future?

ISABELLA: I have so many things planned for the future. My biggest wish is to create a non-profit organization called Sprinkles where twice a year, fellow creators and I, come together to throw a huge birthday party for kids in unsheltered communities. Everyone deserves sprinkles on their birthday.

Do you have any advice you'd like to share with your fans?

ISABELLA: We are all strong enough to stand up and follow our dreams!
Now that you know everything there is to know about Isabella Leon, check out our interview with GEM Sisters about their Summer bop, Lazy Summer!