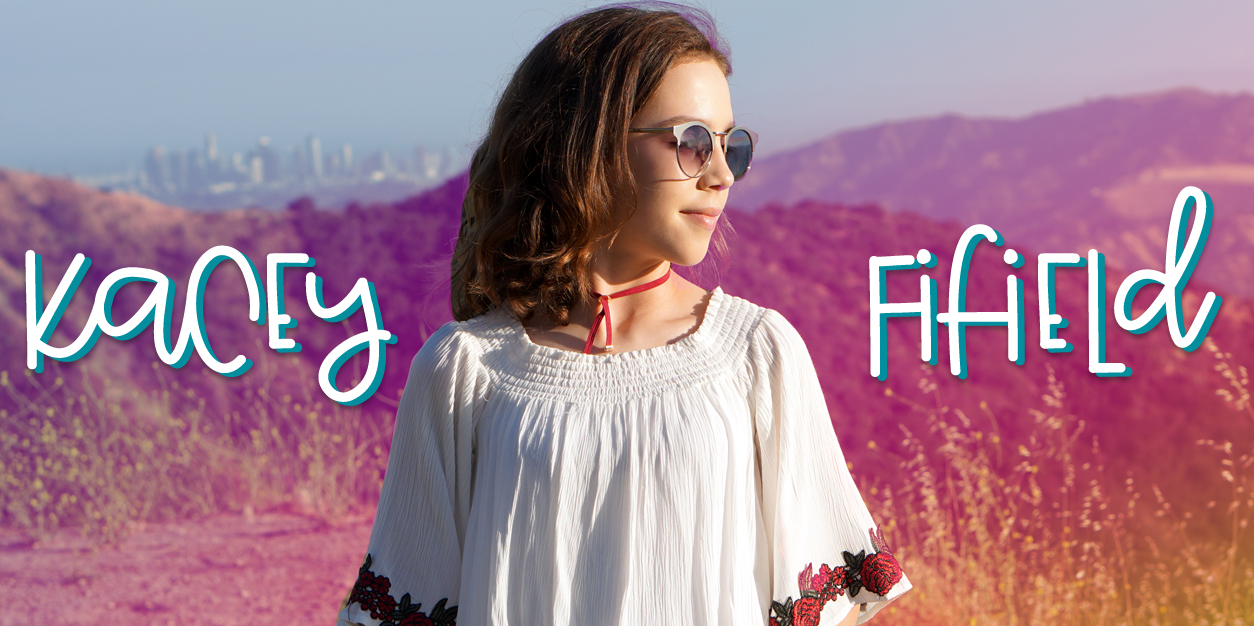 Kacey Fifield Chats Listen to the Silence, Animal Rights, and More!
Kacey Fifield is a passionate actress, singer/songwriter, and animal rights activist. You may recognize her from popular reaction shows like Kids React and Nickelodeon's React to That where she shares her reactions and opinions on everything from old songs to strange foods. She also has a YouTube channel where she keeps fans up to date about her life.
Her music video for her latest single, Listen to the Silence, dropped today, an inspiring song about slowing down and enjoying the world around you. Get to know Kacey Fifield as she shares the inspiration behind the song, standing up for animal rights, and her musical influences.
Get to Know Kacey Fifield:
Your new song, Listen to the Silence, is about taking a step back, appreciating the little things, and enjoying life. What inspired you to write this song?

KACEY FIFIELD: I feel like sometimes people rush through life and skip through the small moments that matter. Sometimes you just need to stop and enjoy life, take in the beauty of your surroundings and forget about the little problem that's currently stressing you out. Things will get better and it's important to take a moment, think things through and listen to the wind or the silence ☺

The music video for Listen to the Silence released today! Tell us a little about what it's like transforming your songs into music videos.

KACEY: It takes a bit of time figuring out the concept. I always want my videos to convey the message(s) of the song. I try to make it relevant and enjoyable to watch. I love being on set and it's really cool to see my vision come to life!

Do you have any other music in the works?

KACEY: I am always working on new music! So yes I do! I'm currently working on a new song I'm really excited about! Stay tuned!

What are your favorite songs at the moment?

KACEY: I'm really loving the entire soundtrack from the Broadway musical Hamilton especially My Shot. I also love Ariana Grande's

No Tears Left To Cry

.

Who is someone you'd love to do a musical collab with?

KACEY: I'd love to collab with Taylor Swift or Lin Manuel Miranda, both huge musical inspirations to me!

You recently visited Poland and Alaska. What were some of the best things you saw/did while traveling? Is there somewhere you're hoping to visit next?

KACEY: I loved visiting family in Poland and really just enjoying the culture! I'm half Polish and speak fluently so it was amazing to find out even more about my roots in addition to seeing important historical monuments.

In Alaska, I enjoyed the incredible scenery. I went ziplining through the forest, met animals at a wildlife refuge, explored Alaskan glaciers in a seaplane, and saw whales up close in their natural habitat. It was amazing to see a completely different place, in our own country. I'd love to visit Japan and France someday! They both are such interesting countries!
What are you most passionate about?

KACEY: I am very passionate about animal rights. Animal rights are important to me because animals can't stand up for themselves, we need to stand up for them. I'm a vegetarian, I have two rescued cats, I've volunteered for multiple animal rescues for many years, I started a club at my school dedicated to helping animals and part of that club was organizing fundraisers so we can donate dog and cat food to my local animal shelter! I am also on a Youth Council at Farm Sanctuary.

Tell us a little about Kids React and React to That. Is it fun working on reaction shows like these? Do you have a favorite that you've done?

KACEY: It's so fun! I love being myself and sharing my ideas. It's also really interesting to see what they have us react to, it's always a surprise!

Do you have any words of wisdom you'd like to share with your fans?
KACEY: Always stay true to yourself! Be the best person YOU can be and don't care about what others think about you. In the long run, what really matters is what you think of yourself.
Now that you know Kacey, check out our interview with actress and singer Isabella Leon!