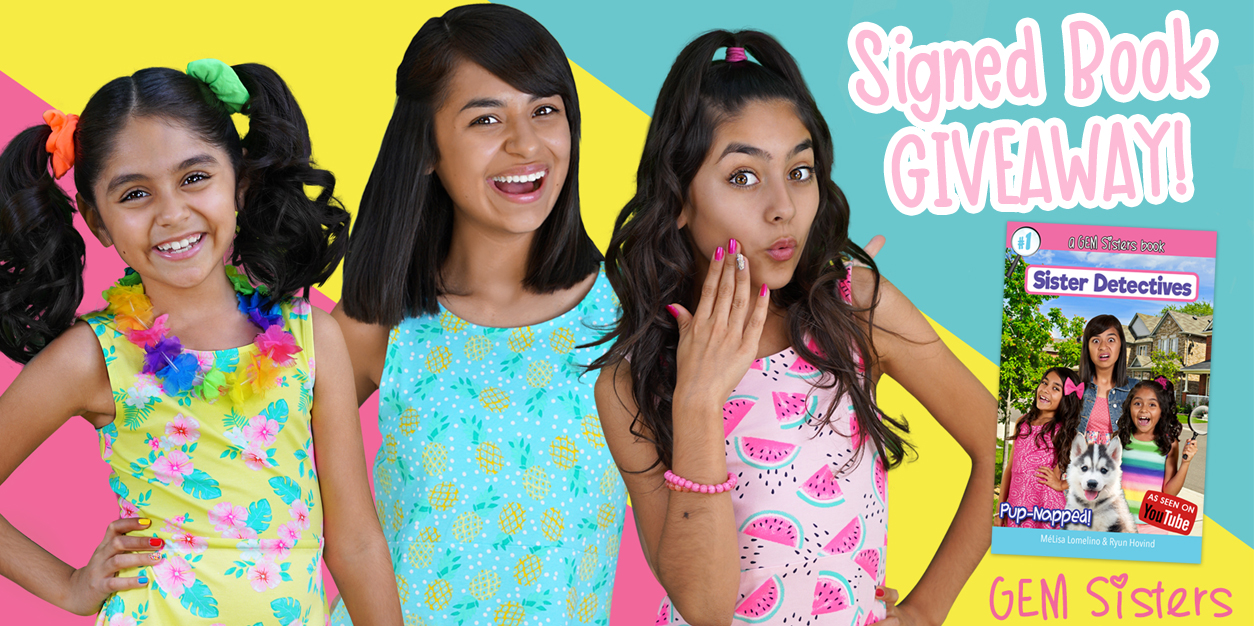 GEM Sisters: Giselle, Evangeline, and Mercedes on Lazy Summer and Their Summer Favs + AUTOGRAPHED BOOK GIVEAWAY!
Beach days, park picnics, chasing down the ice cream man, family vacations, Summer camp. There are endless fun things to do when school lets out and the weather gets warm, but do you ever wish you could spend your Summer vacation just being LAZY? That's what the new GEM Sisters song, Lazy Summer, is all about. Kicking back, not brushing your hair, sleeping in, and embracing your laziest self! The song is the perfect Summer anthem, and it's super funny too!
The Lazy Summer music video already has nearly a million views and features Giselle, Mercedes, and Evangeline living their best Summer lives. It's a ton of fun! If you like the song, you can download it on iTunes and stream it on Apple Music and Spotify!
We were excited to chat with GEM Sisters about what they liked best about working on their new music video and the things they love most about Summer! Since the girls love to spend their Summers reading by the pool, they teamed up with us to give away TEN copies of their book, Sister Detectives: Pup-Napped! Get to know the girls and then scroll down for how YOU can enter, plus download the Lazy Summer posters below!
GEM Sisters Interview: Giselle, Evangeline, and Mercedes Share Their Summer Favs:

Your new music video, Lazy Summer, is totally hilarious! Which part of the video was the most fun to work on?

GISELLE: I loved all the dancing and being funny, especially playing the dad character. My dad Papa GEM inspired my dad dance!
EVANGELINE: It was so fun filming in the park with our onesies on. I got to stay in my PJ's all day!
MERCEDES: The rap! I really love to rap, and I was so excited to show a different side of myself.




Do you have a favorite lyric from the song?

GISELLE: "Why can't I sleep in every day." It's so relatable to my life!
EVANGELINE: "Don't make me change my underwear."
MERCEDES: "Cut my nails there's no need, they hold all my snacks for me."





What do you love most about Summer?

GISELLE: Being able to go to one of my favorite places, the beach! And…no school.
EVANGELINE: Going to the beach, and wearing bright summer clothes. I love neons and rainbows!
MERCEDES: Summer vacations are the best! Going to the beach, swimming and making sand castles.




What are some of your favorite things to do in Summer?

GISELLE: Wearing all the cute summer clothes. Fun tank tops, dresses, shorts, sandals and super cute swimsuits!
EVANGELINE: Swimming is my favorite, but this summer I want to try new things like tennis and gymnastics.
MERCEDES: Shopping, having sleepovers and laying by the pool reading!





Do you have any favorite Summertime snacks?

GISELLE: Bomb pops are the best. They are those red, white and blue popsicles. They turn your tongue blue!
EVANGELINE: Watermelon and french fries and frozen yogurt! I could eat a whole watermelon by myself!
MERCEDES: Summer fruit is fabulous! Watermelon, pineapple, and strawberries. Yummers!
GEM Sisters Sister Detectives Giveaway:
Giselle, Mercedes, and Evangeline LOVE reading their favorite books, no matter what time of year! They want their fans to love reading just as much as they do, so we teamed up with GEM Sisters to giveaway TEN autographed copies of the first book in the Sister Detectives series, Pup-Napped! We loved reading this hilarious mystery and getting to spend time with our favorite funny sisters in a whole new way. If you love watching GEM Sisters on YouTube and social media, then you'll enjoy spending your Summer with them while reading this awesome book!
Ready to enter? Follow the rules below!
THIS GIVEAWAY HAS ENDED AND THE PRIZE HAS BEEN CLAIMED.
WHAT DO I WIN?:
TEN (10) lucky winners will receive:
– ONE (1) Autographed Reading is Fun GEM Sisters poster, signed by Giselle, Evangeline, and Mercedes.
– ONE (1) Sister Detectives: Pup-Napped! book, signed by Giselle, Evangeline, and Mercedes.
*All prizes generously provided by GEM Sisters
HOW DO I ENTER?:
Get permission from your parent or guardian and head to Instagram and complete the following steps by July 9, 2018!
1. Follow @yayomgofficial and @gem.sisters on Instagram.
2. Head to the post below and leave a comment telling us your favorite thing to do in Summer!

Giveaway begins on July 2, 2018 at 12:30pm ET and ends on July 9, 2018 at 11:59pm ET. Open to US residents only.
– You must be 18 or older to enter. If you are under 18, you'll need to get permission from your parent/guardian to enter and again if you win.
*If selected as a winner, we will provide you with an affidavit to confirm that you are a valid winner who has permission to win. You will need to sign and return this affidavit in order to claim your prize. Entrants under 18, your parents will need to sign and return this document granting permission for you to win before we can send your prize. This step is non-negotiable and required to claim your prize.

Be sure to read the fully detailed rules HERE before entering!
If you love GEM Sisters as much as we do, check out their style tips so you can rock their merch like a true GEM!