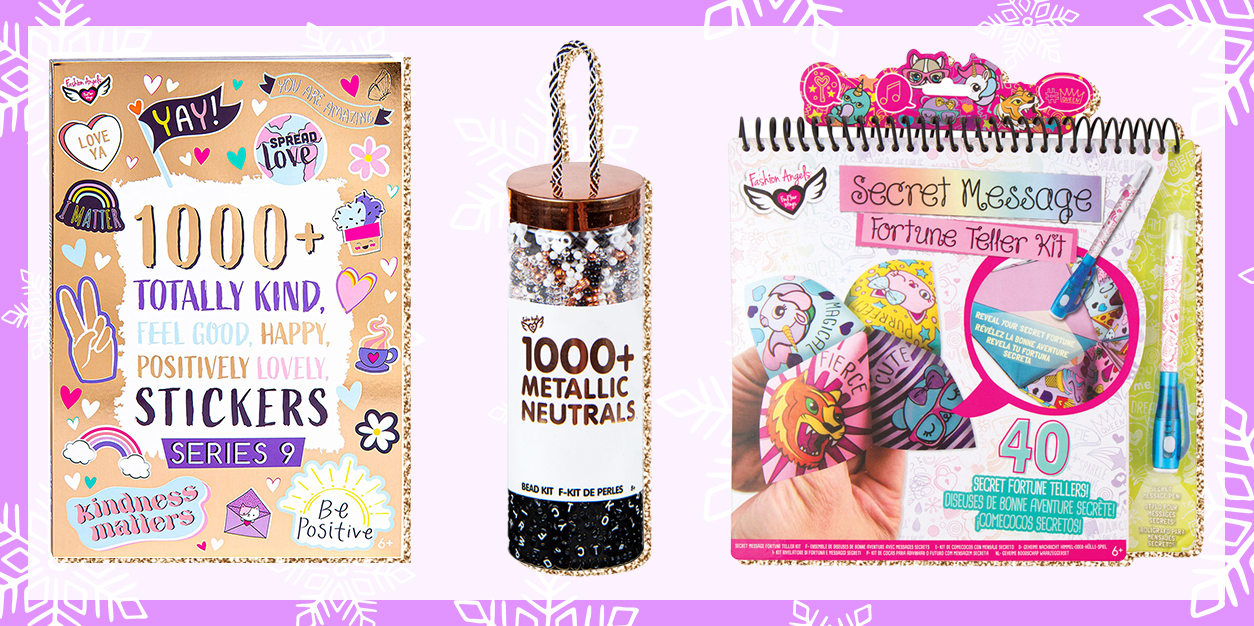 Holly Jolly Giveaway: Fashion Angels New Year Vibes Bundle
NOTE: The items in our Fashion Angels New Year Vibes Bundle Giveaway were provided by the brand for the purposes of our Holly Jolly Giveaways. No money was exchanged, and all opinions are our own. We reached out to these brands for this giveaway series because they create products we love.
The holiday szn is in full force, and while today we're crowded around a table filled with delicious turkey, reflecting on the things we're most thankful for, as we inch closer to the end of 2021, you're probably thinking about what's next for you. Our next Holly Jolly Giveaway is here to help you find your vibe for 2022 and set an intention that totally suits you!
Where do you want to be in 2022? As you look back on your year and think forward to what's to come, where do you see yourself? Do you picture a version of yourself who's started a club at school to advocate for the environment? Are you a bit overscheduled and setting an intention to make space for more me-time? Whatever intention, goal, or resolution you're making, our friends at Fashion Angels have a product to pair with your 2022 vibe. The best part? We teamed up with them to give ONE lucky winner a chance to snag an amazing prize pack that'll help you make 2022 your best year yet!
Ready to find your vibe? Grab your favorite adult and have them enter below for your chance to WIN!
Find Your 2022 Vibe With These Amazing Fashion Angels Products: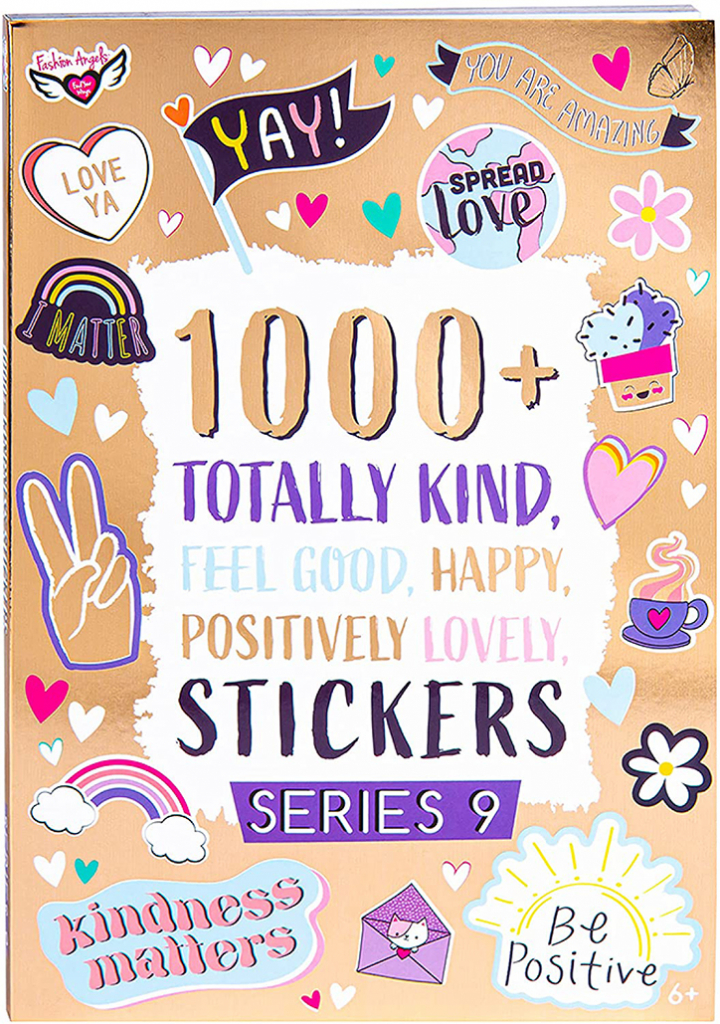 1000+ Totally Kind, Feel Good, Happy, Positively Lovely Stickers:
YOUR 2022 VIBE: Positive & Kind
WHY YOU'LL LOVE IT: These stickers will help you spread kindness wherever you go! This sticker set includes empowering quotes and reminders of how amazing you are and encouraging messages for when you need them most.
Plaster them on your water bottle, your school supplies for a positively perfect reminder to keep a sunny vibe and optimistic outlook every time you gaze down at your stuff. Stick them on birthday cards for your besties, stick them in your scrapbook, and use them in a collage of all your goals for the new year. It'll motivate you to spread kindness, help others, and always be there for your squad. Who knew stickers could do so much?!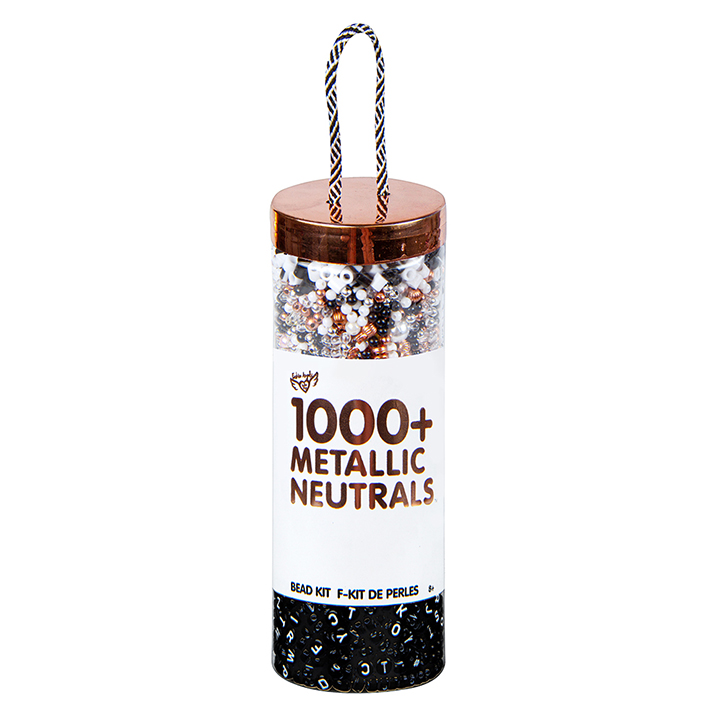 1000+ Metallic Neutral Bead Kit:
YOUR 2022 VIBE: Crafty & Creative
WHY YOU'LL LOVE IT: If you watch DIYs on TikTok and YouTube and dream of making tons of adorable things, this bead kit is the perfect first step!
Even if you're a total beginner, these chic metallic beads will inspire SO much inspiration. Filled with over 1,000 shimmering beads and 4 yards of elastic, the possibilities are practically endless! Channel those creative vibes to craft name bracelets to share with your BFFs, bands with your favorite quotes, or just make pretty patterns to match your fav outfit. The only thing holding you back from being the DIY queen you're destined to be is taking that first step!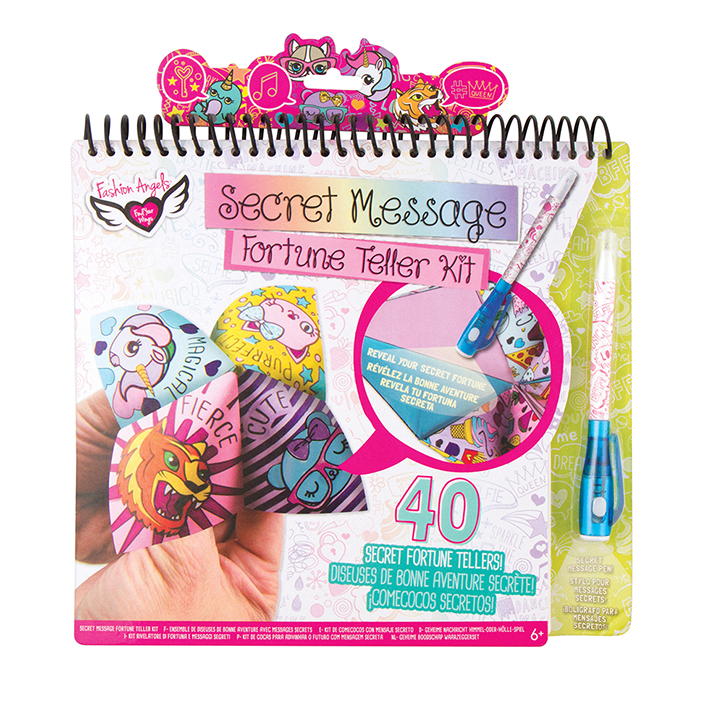 Secret Message Fortune Teller Kit:
YOUR 2022 VIBE: Ready for Anything
WHY YOU'LL LOVE IT: What better way to kick off a brand new year than letting the universe decide your destiny? If you're trying to be more spontaneous in 2022, this is a fantastic way to start.
If you and your friend group are zodiac obsessed, this is the activity you NEED at your end-of-year sleepover! Craft these origami fortune tellers, write secret messages or inspiring quotes for your besties using invisible ink, and customize the whole thing with stickers! When you're ready to find out what the future holds, fold it all up, and play to discover what 2022 has in store!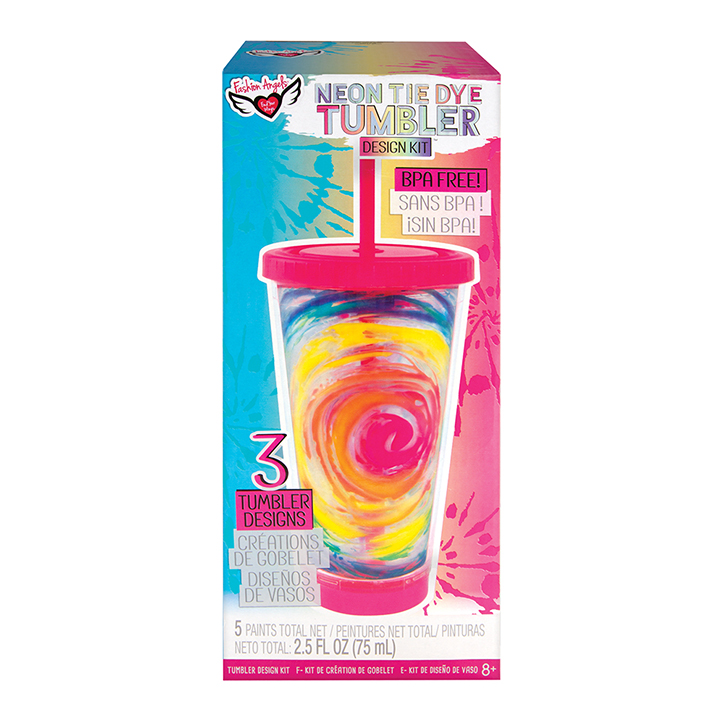 Neon Tie Dye Tumbler Design Kit:
YOUR 2022 VIBE: Eco-Friendly Feels
WHY YOU'LL LOVE IT: If your 2022 goals include swapping out your stuff for sustainable choices, you'll love this DIY tumbler! Create your own vibrant tie-dye design and then head to the recycle bin with all those plastic water bottles (or better yet, upcycle them into a planter, bird feeder, or candleholder!) because you're now the proud owner of a reusable way to sip on your favorite beverages!
If this is how your year of eco-friendly choices begins, just think of what's to come! Plus, you'll stay hydrated and feel fabulous all year long!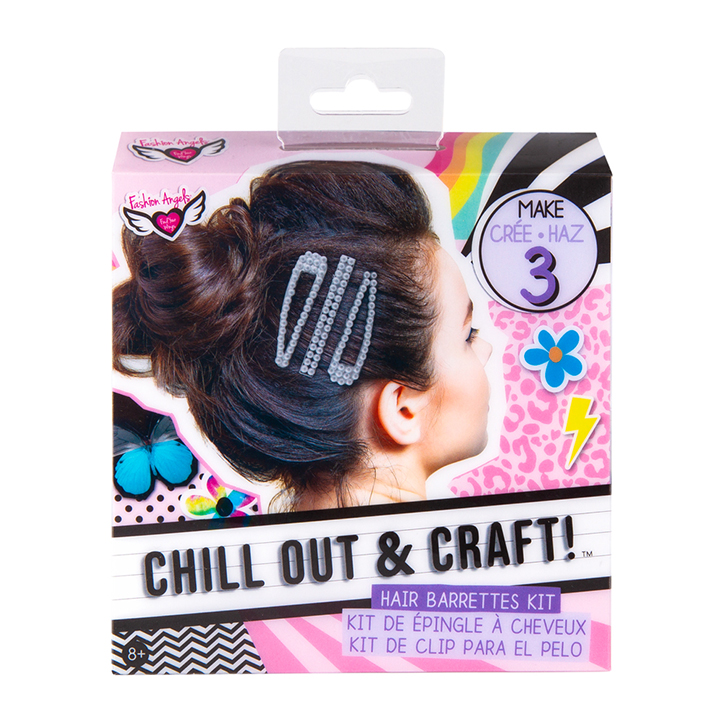 Chill Out & Craft Hair Barrettes Kit:
YOUR 2022 Vibe: Chill & Cute
WHY YOU'LL LOVE IT: If chic, chill, and cute is your vibe for 2022, you're in luck! This Chill Out & Craft Hair Barrettes Kit is exactly what you need to take a step back from your hectic schedule.
If your life is starting to feel like nothing but homework, soccer practice, student leadership, and marching band, we have a feeling you'll be searching for more me-time in the new year. These mini craft kits are perfect for chilling out! You'll unwind, get some much-needed relaxation, and when you're done, you'll have a fab creation you made yourself!
And because they're a way to unwind that doesn't take up too much time so you can get back to duties as a go-getter ASAP!
Fashion Angels New Year Vibes Bundle Giveaway: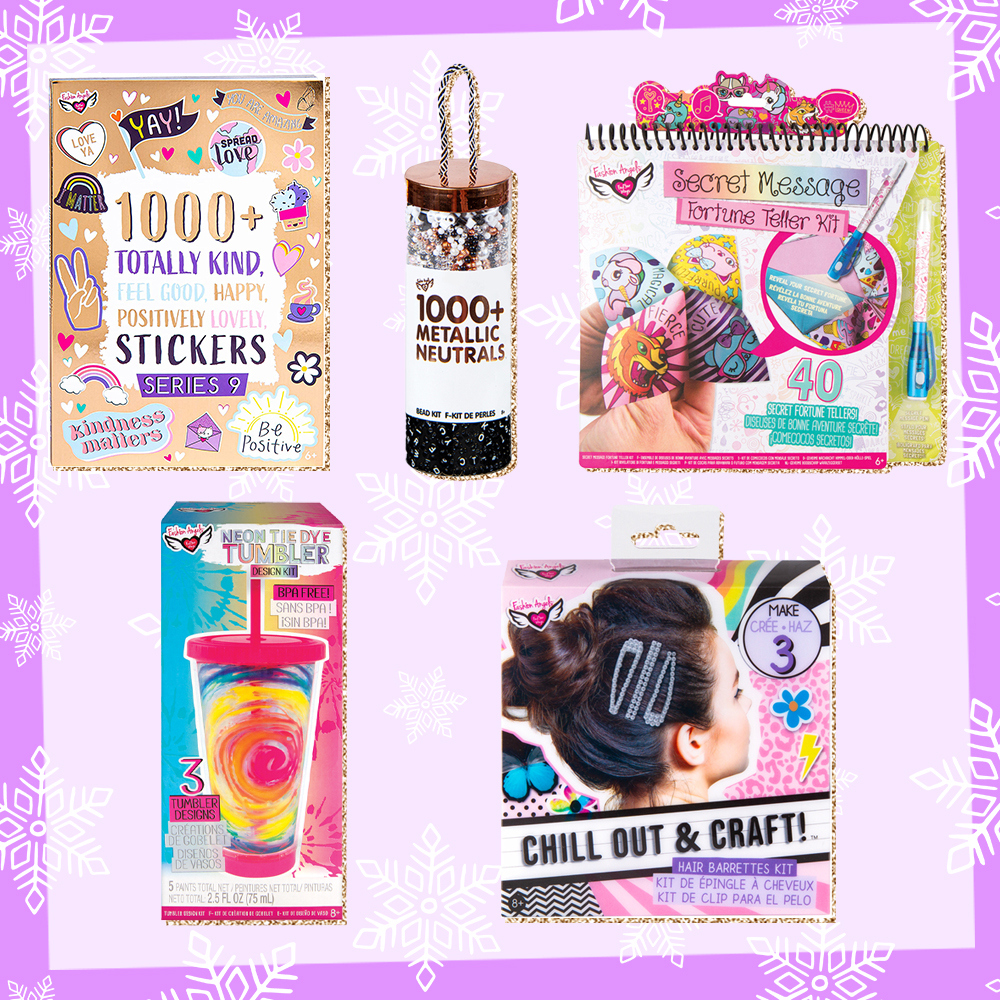 WHAT DO I WIN?:
ONE lucky winner will receive a Fashion Angels New Year Vibes Prize Pack that includes:
– ONE (1) copy of 1000+ Totally Kind, Feel Good, Happy, Positively Lovely Stickers
– ONE (1) set of 1000+ Metallic Neutral Bead Kit
– ONE (1) Secret Message Fortune Teller Kit
– ONE (1) Neon Tie Dye Tumbler Design Kit
– ONE (1) Chill Out & Craft Hair Barrettes Kit
Prizes generously provided by Fashion Angels
HOW DO I ENTER?:
Grab a parent or guardian and have them fill out the form below by December 9, 2021 at 11:59pm ET.
Giveaway runs from 11/25/21 at 12:00 pm ET through 12/9/21 at 11:59 pm. Open to US residents ONLY. Be sure to read the fully detailed rules HERE before entering.
THIS GIVEAWAY HAS ENDED AND THE WINNER HAS BEEN CONTACTED.
You must be 18 or older to enter. Please, only ONE entry per person. If selected as a winner, we will provide your parent/guardian with an affidavit to confirm that you are a valid winner who has permission to win. They will be REQUIRED to sign and return the affidavit to YAYOMG! to claim your prize. Prizes will not be mailed out without signed parental consent.
Need more holiday cheer (and free stuff!) in your life? Keep an eye on this link now through November 26th so you don't miss a single one of our Holly Jolly Giveaways!