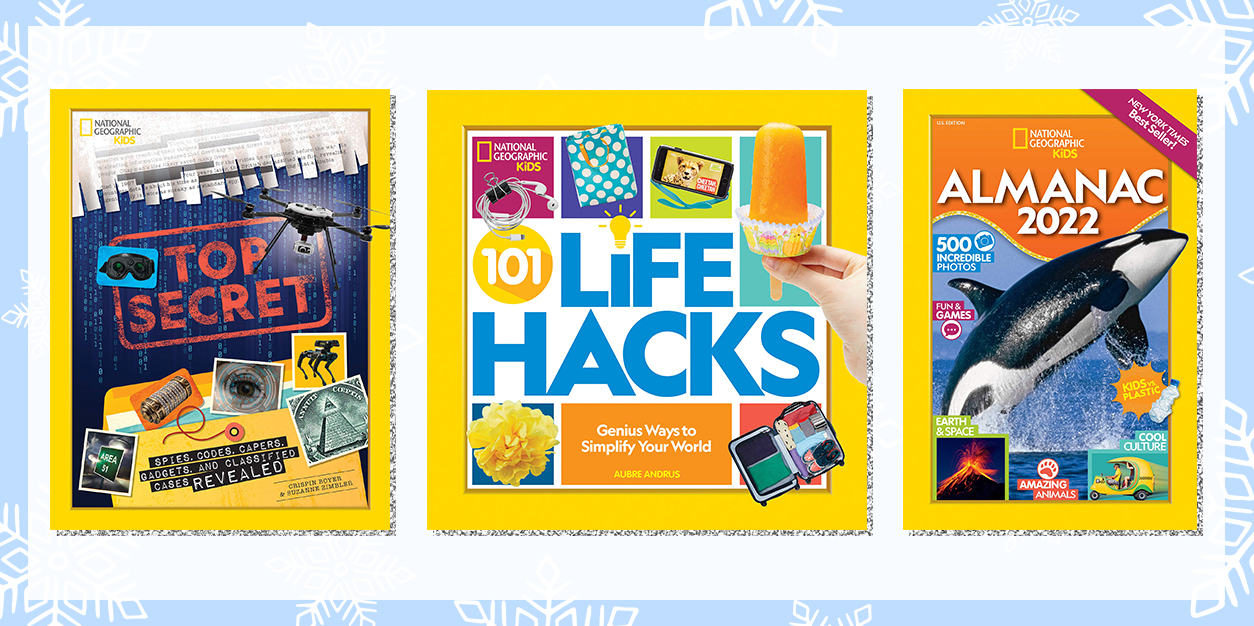 Holly Jolly Giveaway: Nat Geo Kids Book Haul
NOTE: The items in our Nat Geo Kids Book Haul Giveaway were provided by the brand for the purposes of our Holly Jolly Giveaways. No money was exchanged, and all opinions are our own. We reached out to these brands for this giveaway series because they create products we love.
Calling all curious, creative, and clever kids who are always hungry for adventure! Are you always on a quest for knowledge? Our next Holly Jolly Giveaway has got you covered!
From strange facts and historical tidbits to fun activities and life hacks, National Geographic Kids are pretty much the best at making education totally accessible and relatable. Their books are perfect for staying entertained during rainy days, road trips, or just flipping through when curiosity strikes!
That's why we teamed up with National Geographic Kids to give ONE lucky winner an epic haul of their newest and most exciting reads. From code-cracking to super-sweet facts, these 5 reads will help you explore and learn about the world in ways you never expected!
Ready to enter? Find out more about these awesome reads below, and then have your favorite adult fill out the entry form for your chance to WIN!
5 Books from Nat Geo Kids That You NEED on Your Holiday Wishlist: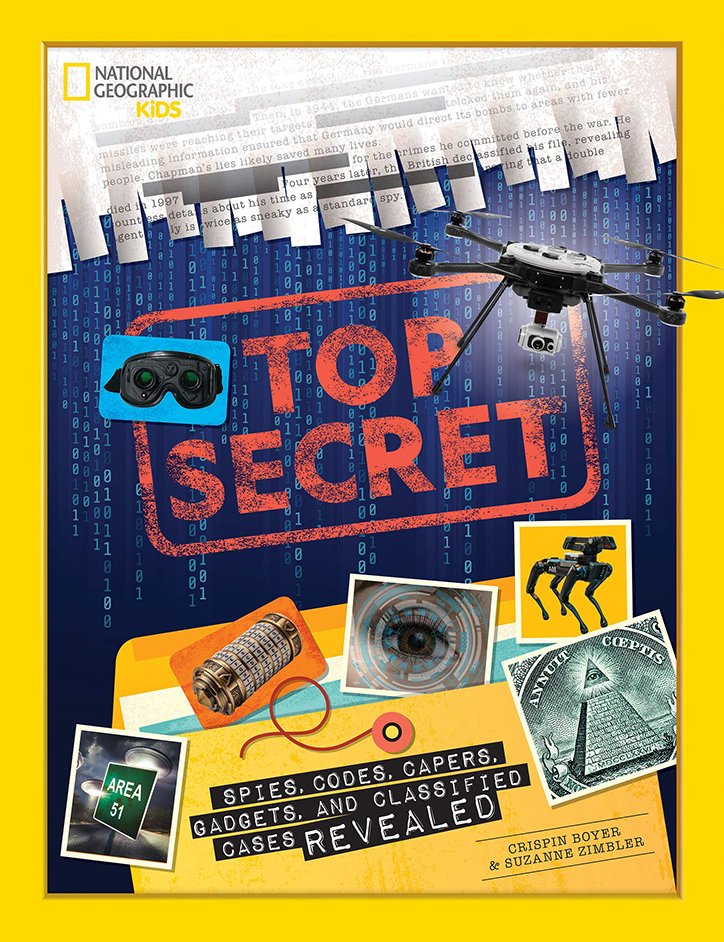 Top Secret: Spies, Codes, Capers, Gadgets, and Classified Cases Revealed
AUTHORS: Crispin Boyer and Suzanne Zimbler
SYNOPSIS: Oh, didn't realize you were leaving behind a trail of evidence? You will after you read this book! In fact, you'll know all the tricks of the spy trade, get the scoop behind sleuthing, and discover all kinds of skills, like how ninjas walked on water. You'll read about cold cases and hidden places, cool disguises and wicked surprises, menacing mysteries, undiscovered histories, and so much more!
From the world's most elite spy agencies to the coolest spy gadgets of today and the most spine-tingling conspiracies and covert cover-ups ever, this book is jam-packed with everything that's allowed to be revealed. You'll get to take a crack at codes that leave even the world's most elite code breakers totally stumped, get behind-the-scenes access to how movie magic really happens, take a sneak peek at the world's most covert recipes, unravel the tricks magicians use to astonish their audiences, and get up close with the world's most mysterious places. With tongue-in-cheek "How to Be a Spy" activities, you and your friends will get to put your budding spy skills to the test. And when you're all done … don't forget to wipe this book for prints and store it safely with your secret stash. After all, you don't want it falling into the wrong hands!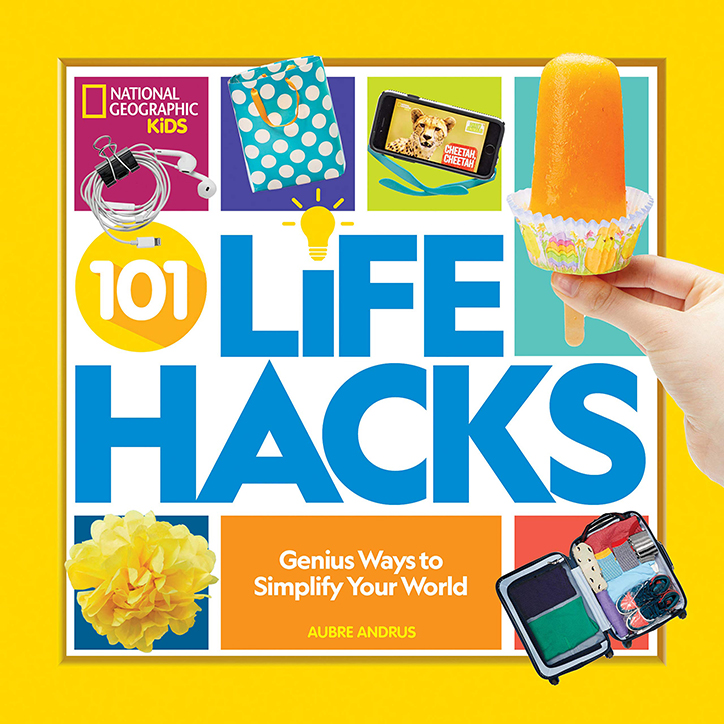 101 Life Hacks: Genius Ways to Simplify Your World
AUTHOR: Aubre Andrus
SYNOPSIS: Upcycle, recycle, and/or repurpose your stuff and engineer your way out of all kinds of sticky situations–all while learning about science and sustainability as you do it! Make cool lantern lights for your room, discover a tried-and-true brain freeze cure, learn how to boost your memory power, and more. In this easy-to-follow guide, kids get tips and tricks for upcycling and reusing old stuff, as well as hands-on activities, fun facts, and insights from professional-grade life hackers who use their problem-solving skills to change the world.
By the end, you'll be able to hack your way through all kinds of problems, from a messy backpack to stage fright, a drippy ice pop to smelly shoes!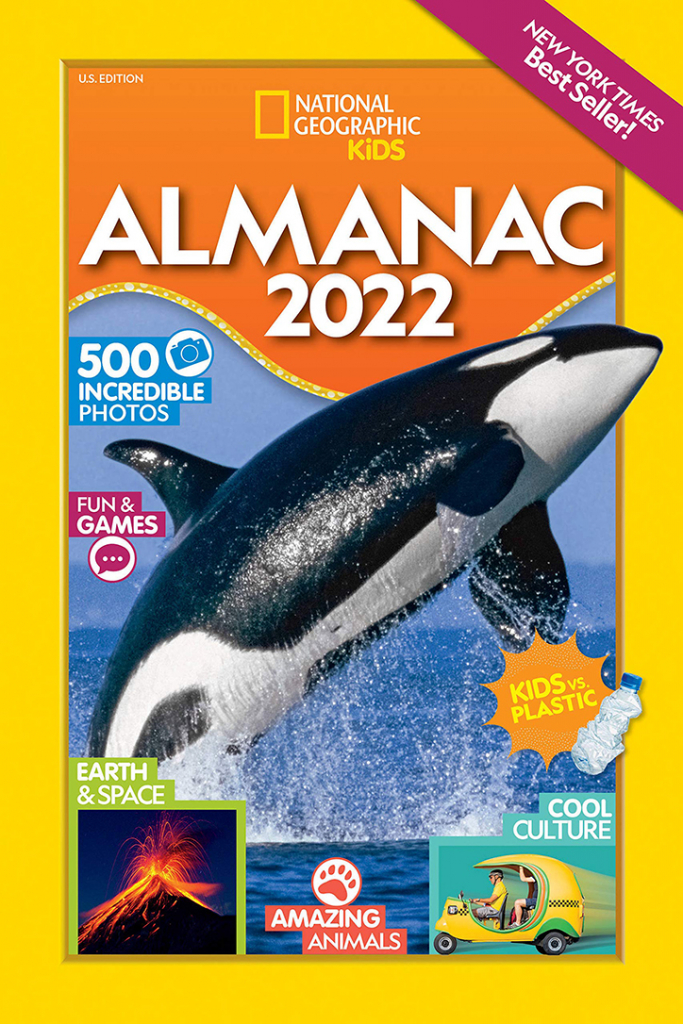 National Geographic Kids Almanac 2022
AUTHOR: National Geographic Kids
SYNOPSIS: Kids can have fun keeping up with our quickly changing world with the New York Times best-selling almanac, packed with incredible photos, tons of fun facts, adventures with National Geographic Explorers, crafts, activities, and fascinating features about animals, science, nature, technology, conservation, and more. The 2022 edition features a new Kids vs. Plastic chapter packed with ideas on how you can reduce your plastic waste. There's a whole chapter full of fun and games, including activities, jokes, and comics. Practical reference material, including fast facts and maps of every country, is fully updated. Homework help on key topics is sprinkled throughout the book.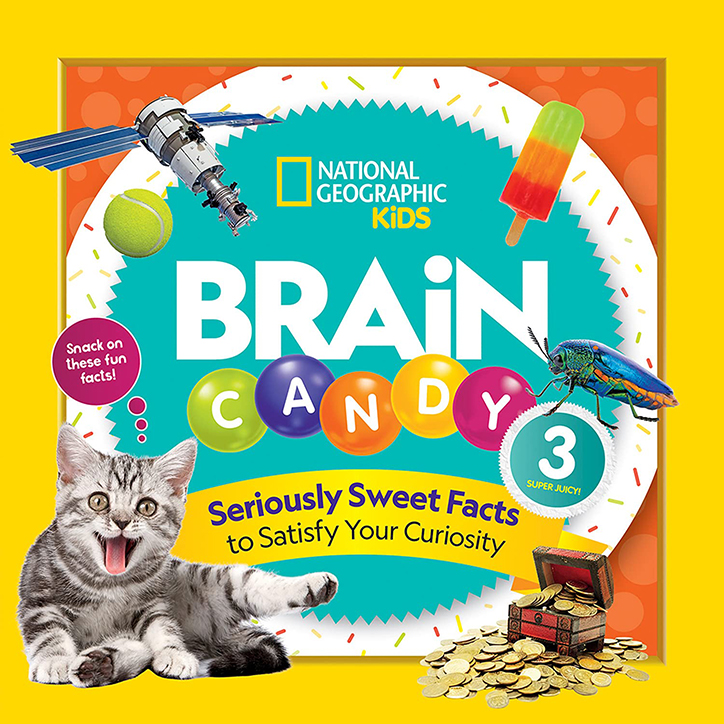 Brain Candy 3: Seriously Sweet Facts to Satisfy Your Curiosity
AUTHORS: Michelle Harris and Julie Beer
SYNOPSIS: Elephants have thick skin, but just how thick? Turns out it's 50 times thicker than human skin and can add as much as 2,000 pounds (900kg) to the weight of this massive animal!
Earth's smaller animals offer some sweet surprises, too. Hop on a honeybee to discover just how hardworking these fast-flying insects are. They beat their wings 200 times a second as they fly about. And no wonder they're so busy–they need to pollinate two million flowers to make just one pound (.45 kg) of honey.
Brain Candy books take a novel approach to learning by serving up an appetizing assortment of facts and numbers, then diving deeper into each topic.
Like learning cool facts and how they're connected to the bigger picture? Treat yourself to a little Brain Candy! Sure to be an addictive addition to the bookshelves of Weird But True! and Just Joking fans and curious kids everywhere.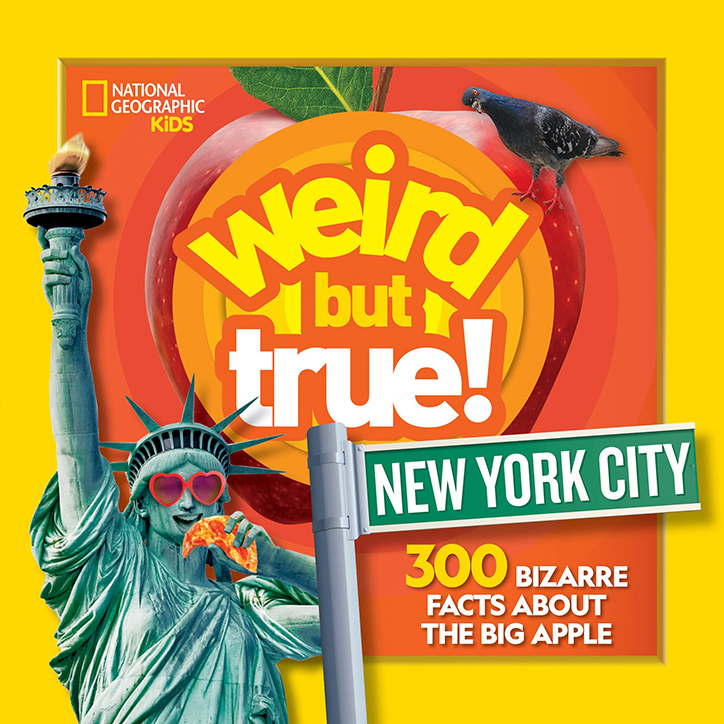 Weird But True!: New York City
AUTHORS: National Geographic Kids
SYNOPSIS: Think you know the Big Apple? Think again! Did you know that 25 species of shark swim off NYC's coastline? Or that astronauts can see the lights of Times Square from space?
And get this: In New York, Sesame Street is a real place AND there's a library where you can visit the actual stuffed animals that inspired the characters in Winnie the Pooh!
Explore 300 wacky facts and pictures from the five boroughs. You'll get a look at the city's storied past, learn about weird stuff in New York today, and even meet a couple of goats that held up traffic on the subway. The city that never sleeps truly has something for everyone–from giant pillow fights to epic Broadway musicals to pizza-loving rats.
Whether you're an NYC native, an adventure-loving tourist, an armchair traveler, or a trivia buff, this fact-packed, fun-filled book is for you!
Nat Geo Kids Book Haul Giveaway: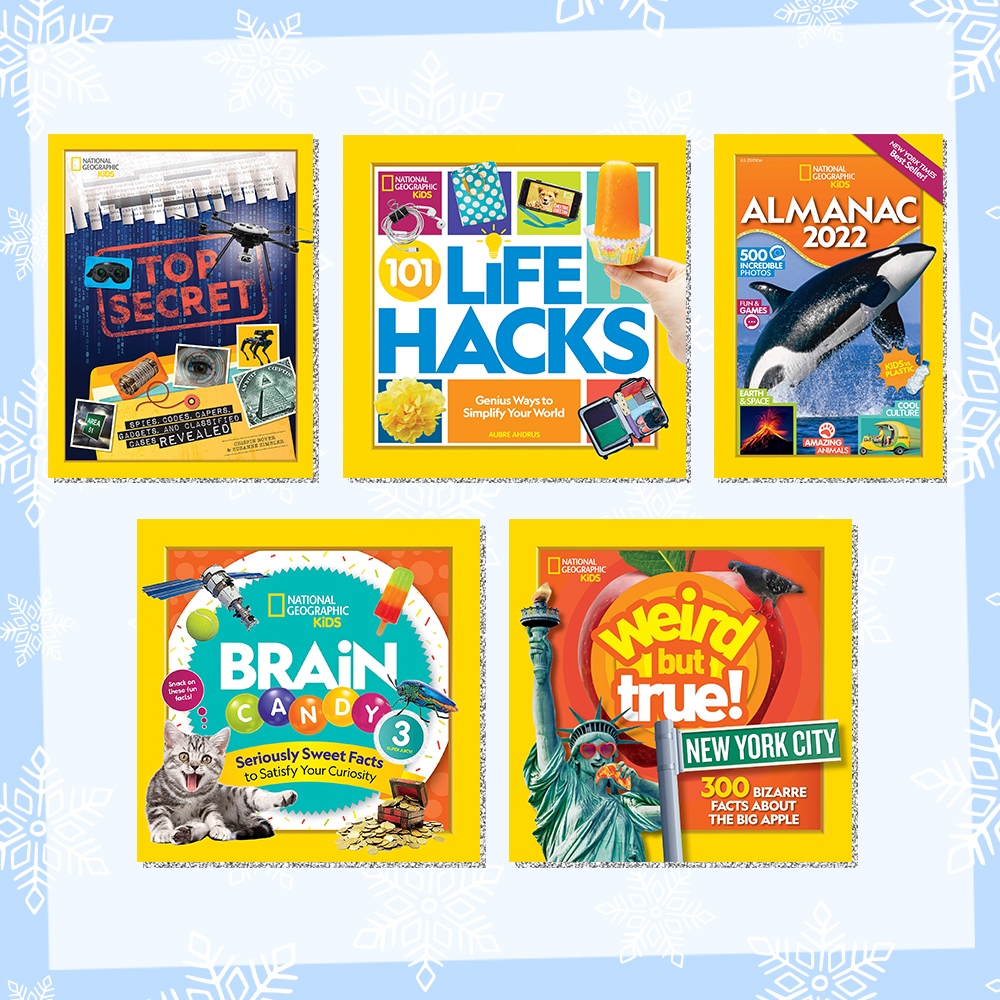 WHAT DO I WIN?:
ONE lucky winner will receive a Nat Geo Kids Book Haul Prize Pack that includes:
– ONE (1) copy of Top Secret: Spies, Codes, Capers, Gadgets, and Classified Cases Revealed
– ONE (1) copy of 101 Life Hacks: Genius Ways to Simplify Your World
– ONE (1) copy of National Geographic Kids Almanac 2022
– ONE (1) copy of Brain Candy 3: Seriously Sweet Facts to Satisfy Your Curiosity
– ONE (1) copy of Weird But True!: New York City
Prizes generously provided by National Geographic Kids
HOW DO I ENTER?:
Grab a parent or guardian and have them fill out the form below by December 8, 2021 at 11:59pm ET.
Giveaway runs from 11/24/21 at 02:30 pm ET through 12/8/21 at 11:59 pm. Open to US residents ONLY. Be sure to read the fully detailed rules HERE before entering.
THIS GIVEAWAY HAS ENDED AND THE WINNER HAS BEEN CONTACTED.
You must be 18 or older to enter. Please, only ONE entry per person. If selected as a winner, we will provide your parent/guardian with an affidavit to confirm that you are a valid winner who has permission to win. They will be REQUIRED to sign and return the affidavit to YAYOMG! to claim your prize. Prizes will not be mailed out without signed parental consent.
Need more holiday cheer (and free stuff!) in your life? Keep an eye on this link now through November 26th so you don't miss a single one of our Holly Jolly Giveaways!