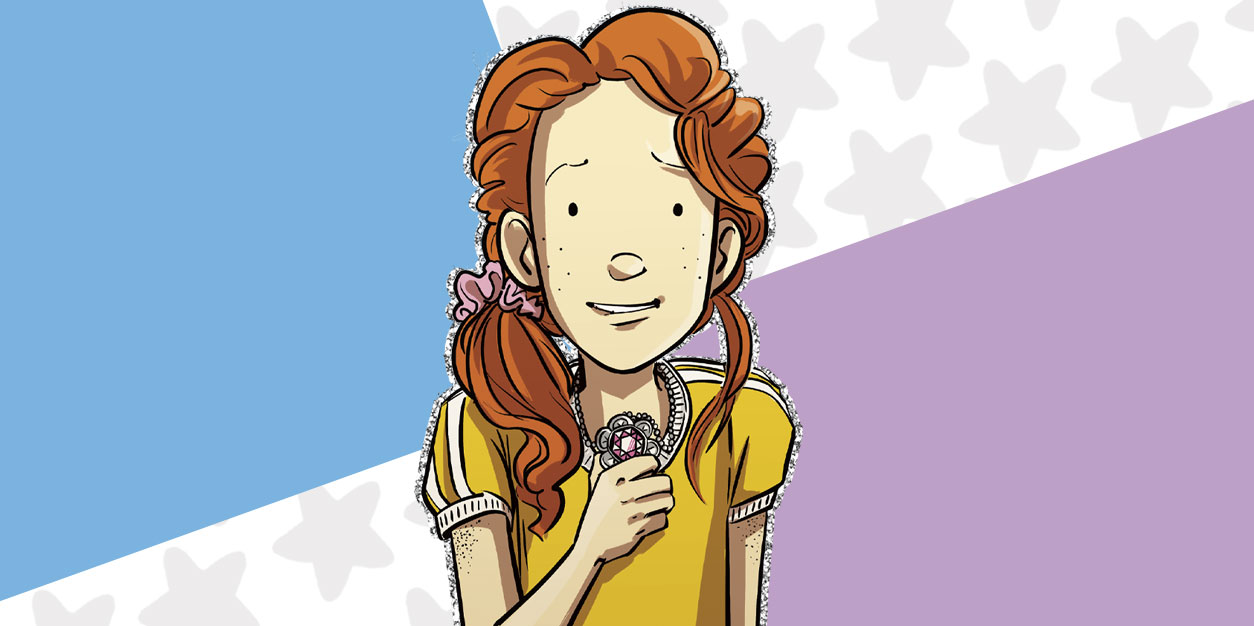 GROWING PANGS: The Six Friends You'll Meet in This Relatable Graphic Novel
Katie knows there's some stuff that makes her different. She's homeschooled, she has freckles, and her mind is pretty much always buzzing with worries. But to her BFF Kacey, none of these things matter. They totally get each other and have the friendship necklaces and a shared love of Broadway musicals to prove it!
In Growing Pangs by Kathryn Ormsbee and Molly Brooks, Katie and Kacey have an amazing idea – spending the summer before sixth grade at sleepaway camp. Spending the entire summer with your bestie by your side should be a dream come true, right? For Katie, it couldn't be more opposite. When Kacey bonds with cool-girl Delaney at camp, Katie's worries start manifesting in new ways, leaving her feeling totally alone and majorly concerned about middle school.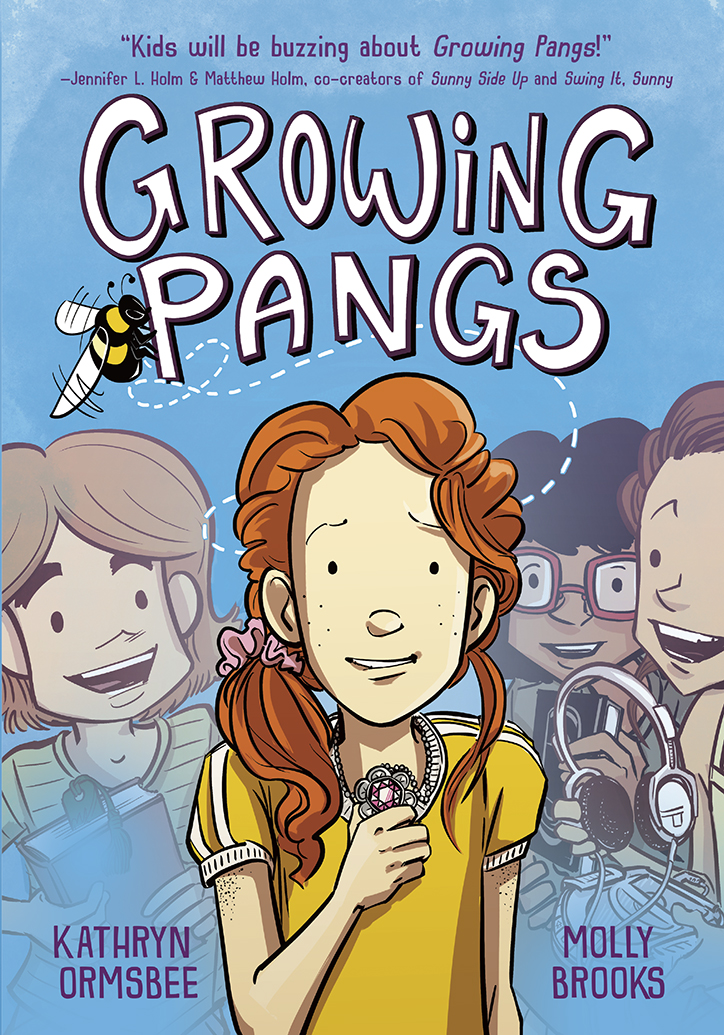 New grade. New friends. New worries? Introducing an irresistibly honest, relatable graphic novel about friendship, anxiety, and growing up–just right for fans of Real Friends and Guts!
Katie knows there's stuff that makes her different. She's homeschooled, she has freckles, and her teeth are really crooked. But none of these things matter to Kacey. They're best friends forever—just like their necklaces say. But when they go to summer camp, Kacey starts acting weird. What happened to the "forever"? And when Katie gets home, she can't stop worrying. About getting braces. About 6th grade. About friends. She knows tapping three times or opening and closing a drawer won't make everything better . . . but sometimes it helps stop the worrying. Is something wrong with her? And will anyone want to be friends with her if they find out?
Growing Pangs
AUTHOR: Kathryn Ormsbee
ILLUSTRATOR: Molly Brooks
PUBLISHER: Random House Books for Young Readers
DATE: May 3, 2022
An honest look at changing friendships, navigating mental health, and the struggles of growing up come to life in this super relatable graphic novel. Oh, and did we mention it takes place in the early 2000s? If you love all things Y2K, you'll love hunting for all the fun references while reading through the story!
Even better? Author Kathryn Ormsbee is giving YOU an extra special intro to all the characters in this amazing read. Get to know Katie, Kacey, and all their new friends below!
Six Friends You'll Meet in Growing Pangs:
In Growing Pangs, main character Katie heads to middle school for the first time and hangs out with all sorts of friends—new and old. Wanna meet some of them? Then let's go!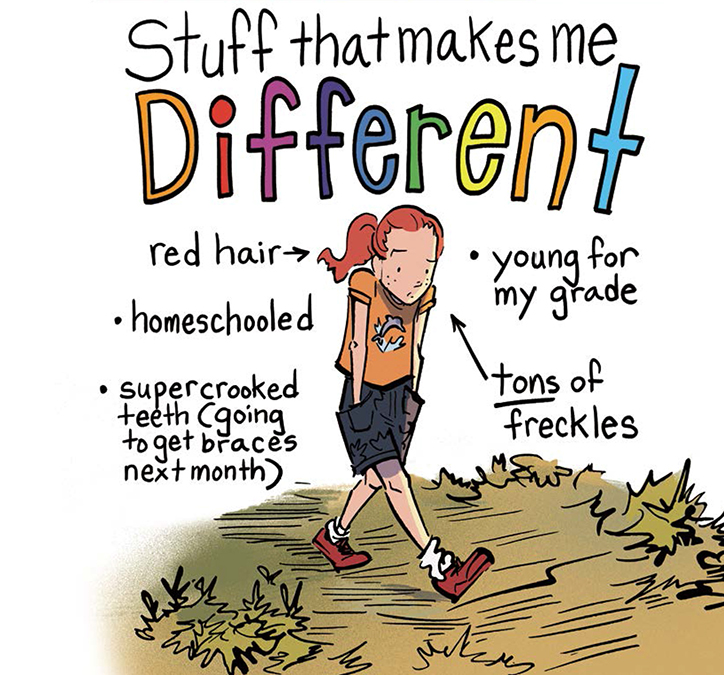 KATIE
Well, okay. It doesn't make sense to meet Katie's friends without meeting Katie herself, right? 
First off, Katie is based on . . . me, Kathryn Ormsbee, the author of Growing Pangs! That means that she and eleven-year-old me have a lot in common.
Katie loves to get lost in the world of ideas and create made-up stories. She's quiet around people she doesn't know, but once she makes a friend, she opens up and gets zany! Lately, she's been dealing with what she calls her "buzzing thoughts"—what she comes to learn is also called OCD. The buzzing gets especially loud when Katie feels anxious and worried . . . and that's been happening a lot as she gets older. 
Katie is going into sixth grade, but her school looks a little different from the norm. Katie's homeschooled! Her parents teach her at home for four days out of the week, and she attends a homeschool co-op every Friday. 
Other fast facts: Katie has bright red hair, which she gets snipped into an—um, unfortunate haircut. She loves theatre—especially old Broadway shows—and she's a major bookworm. She has one older sister, Ashley, and they live with their parents in Lexington, KY. 
And at the start of the book, Katie is very best friends with . . .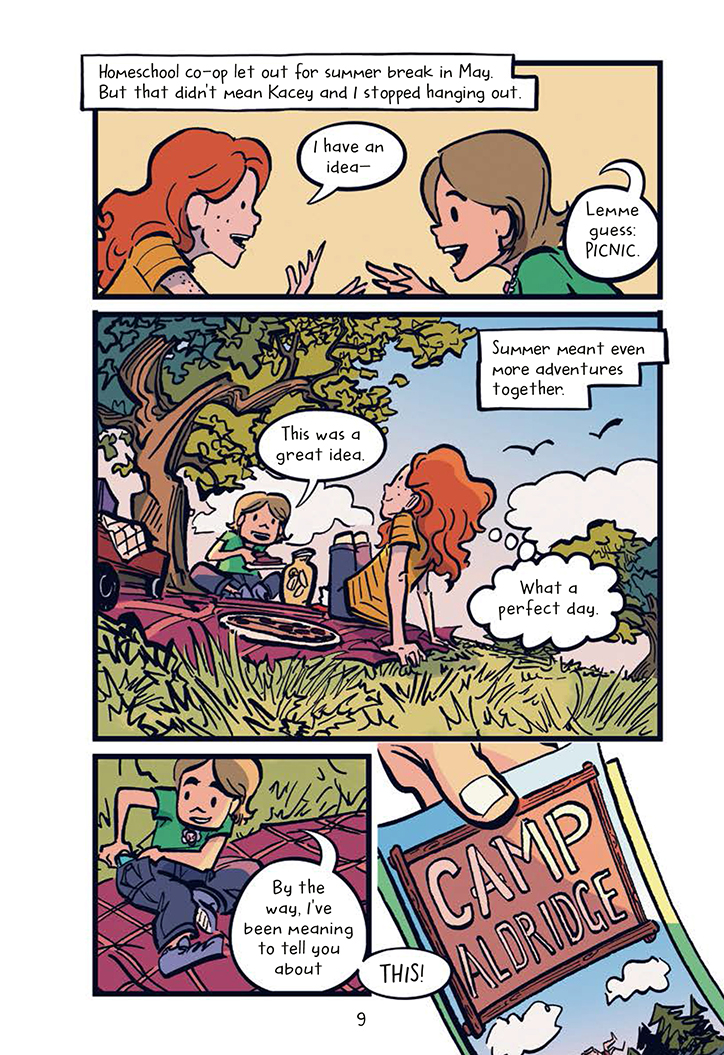 KACEY
Kacey met Katie in fourth grade, and they've been BFFs ever since. A "K" at the start of their names isn't the only thing they share in common. Kacey also loves Broadway musicals (Annie is her all-time favorite) and she attends Katie's homeschool co-op. 
Kacey is a big fan of the great outdoors and likes running, swimming, and hiking. She has family in Toronto, Canada, and she visits them every two years with her parents and little sister. She's smart and super determined, and she never backs down from an argument.
There are some major changes ahead for Katie and Kacey in sixth grade, but before the school year begins, they head to summer camp, where they meet . . .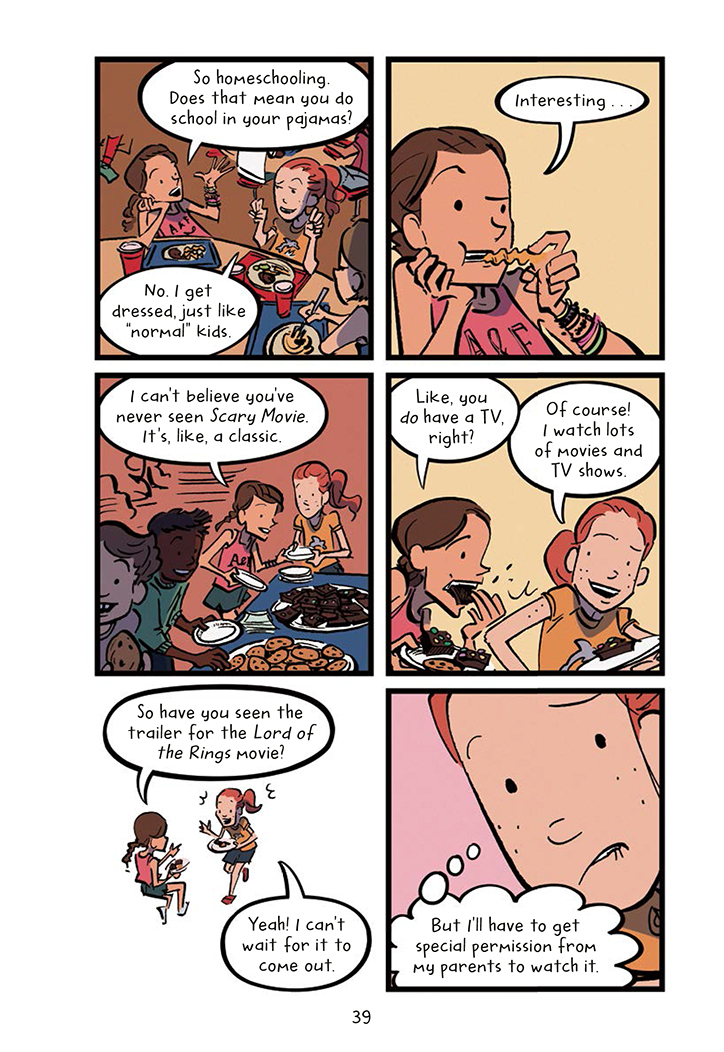 DELANEY
Delaney meets Katie and Kacey at Camp Aldridge. She's from a city called Bowling Green, and she's a super fan of the boy bands *NSYNC and Backstreet Boys. (Another fun fact: this story happens all the way back in the early 00s!) Delaney also loves super scary horror movies and rock music.
Delaney is bold and talkative and never afraid to speak her mind. Unlike Katie and Kacey, she goes to public school and has tons of questions about what homeschooling is like. She can't wait to watch the new Lord of the Rings movie coming to theaters, and she proposes "the fellowship of the bracelet"—a camp friendship pact between her and Katie. 
Eventually camp ends, and Katie and Delaney have to say goodbye. Katie heads back home for a new school year at the homeschool co-op, and that's where she meets . . .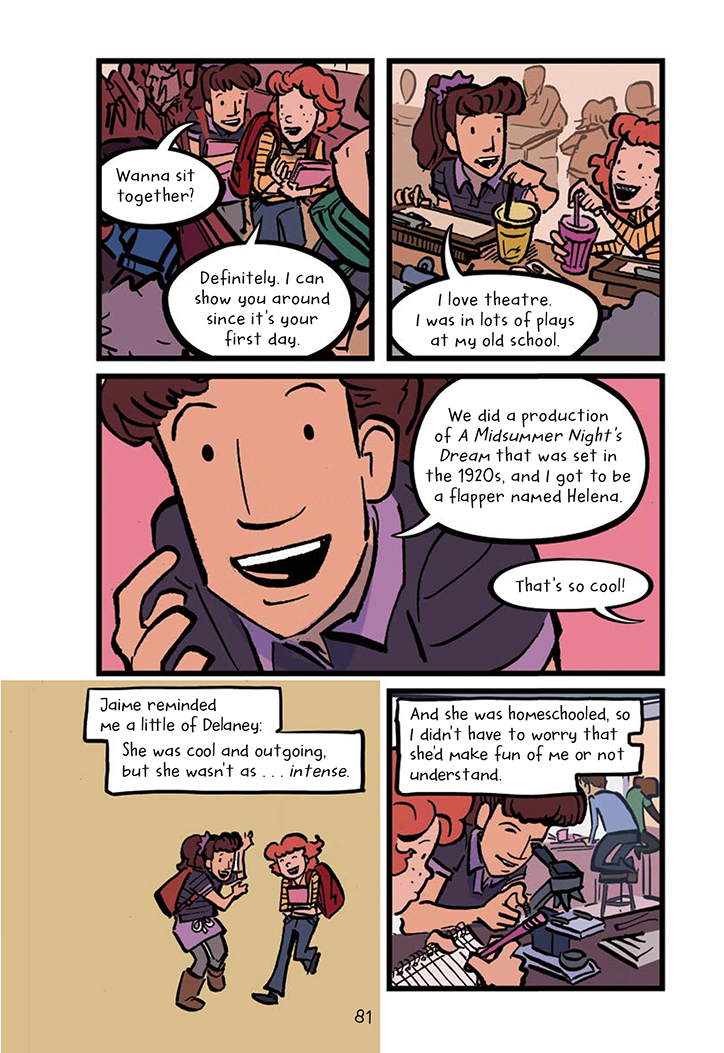 JAMIE
Jamie is the new girl at the homeschool co-op, and she knows a lot about stage performances. At her old co-op, she even starred as Helena in A Midsummer Night's Dream. She and Katie first bond when they notice that they have the same exact Lisa Frank binder. Their friendship is meant to be! 
Jamie is outgoing, and she loves to throw parties. Her favorite party themes are:
1. Movie premiere (she can't wait to watch The Princess Diaries!)
2. Candy-making (she found a totally killer recipe for homemade Laffy Taffy)
3. Halloween (endless candy, plus costumes!)
And Jamie isn't the only new girl in town. When Katie goes to her family's church in the spring, she meets sisters Ginnie & Amalie!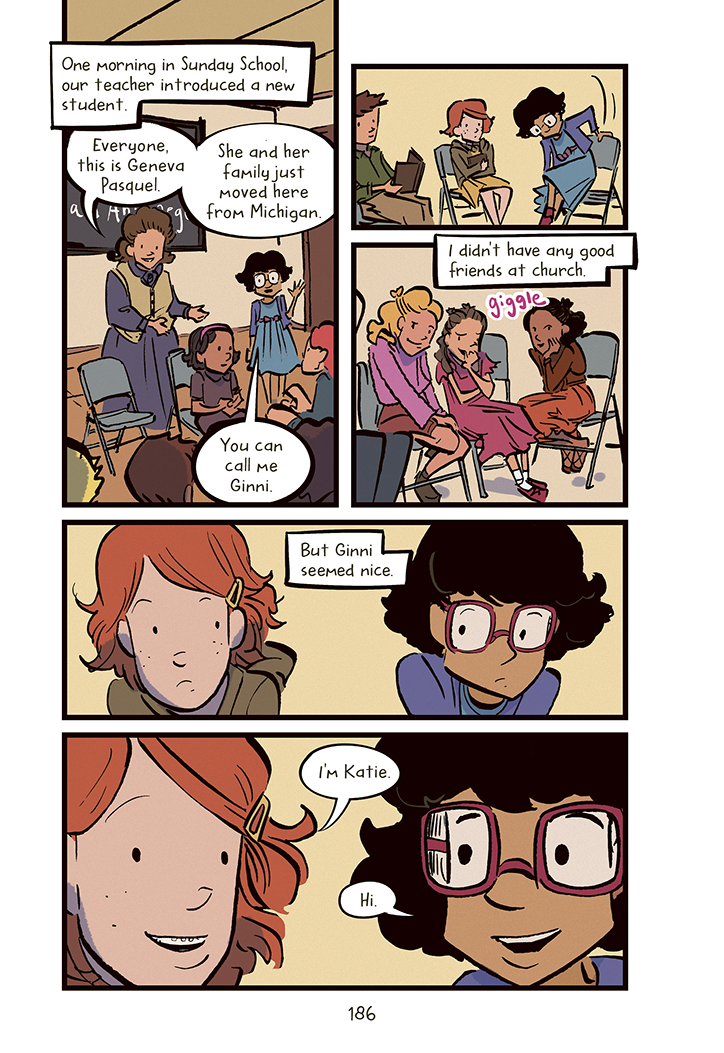 GINNI
Ginni and her family moved to Kentucky from Michigan. She has three younger brothers (whew, that's a lot) and one younger sister, who is, you guessed it . . . Amalie! Ginni loves the colors pink and purple, and you won't find her anywhere without her favorite pair of magenta eye glasses. 
Ginni is quiet and observant. Parties? Nuh-uh Not for her. She'd rather be reading a book or sewing a new cross stitch pattern. Even though she prefers alone time, Ginni likes hanging out with Katie—especially when the two of them are talking about their new favorite books. And don't be fooled! Just because Ginni is usually soft-spoken doesn't mean she won't scream her heart out when she's rooting for her favorite horse in the Kentucky Derby.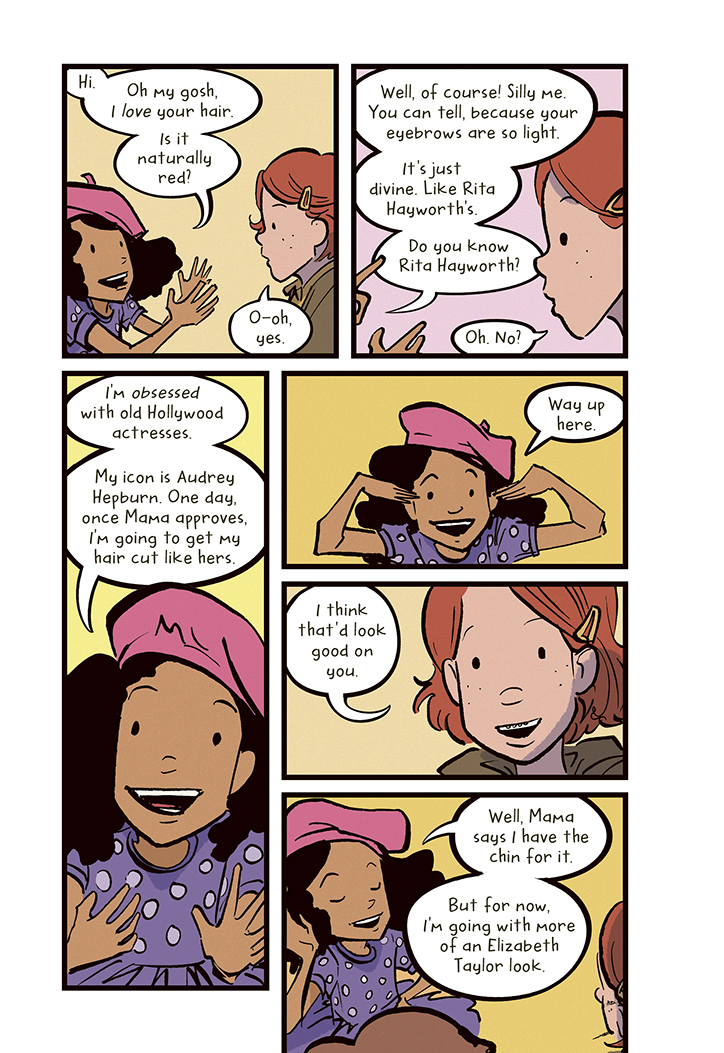 AMALIE
Amalie is Ginni's younger sister, but she'll have you know that it's just by a year. Unlike Ginni, Amalie craves the spotlight, and she could talk for hours about her favorite Old Hollywood actors from the 1940s. Amalie is a fashionista who loves makeovers and won't pass up any opportunity to dress up—for school, a tea party, or just a trip to the grocery store.
Amalie is talkative, inquisitive, and also a great listener. When she and Ginni first meet Katie at church, Amalie takes the lead, convinced that the three of them will be great friends. And it seems like Amalie might just be right!
That's it for these six fast facts about Katie and her friends, but there are even more characters that you've yet to meet inside of this book! Join Katie and all of her friends for the big ups and downs of middle school in the brand new graphic novel Growing Pangs.
Love books about friendship, summer camp, and middle school? Get to know more about these amazing reads:
✨ Spend the Summer at an Elite Summer Camp in Camp Famous + GIVEAWAY!
? Explore Your Imagination and Discover the True You in The Real Riley Mayes + GIVEAWAY!
☀️ QUIZ: What Makes YOU Bestie Material? Take our Dear Friends inspired quiz to find out!