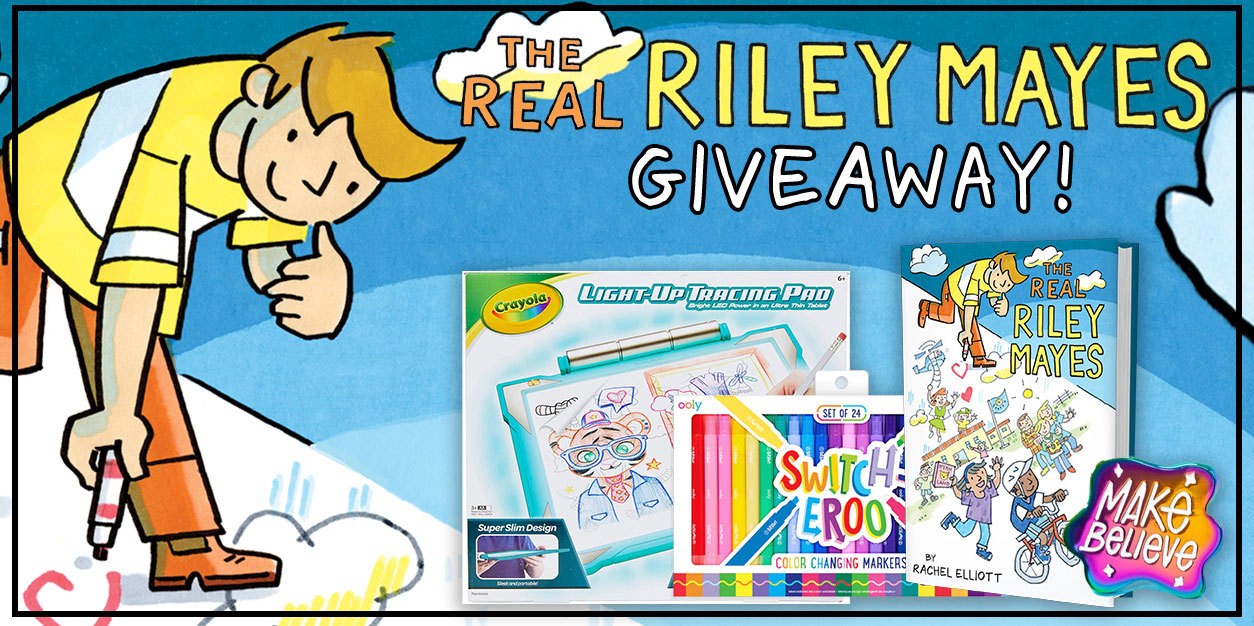 Explore Your Imagination and Discover the True You in The Real Riley Mayes + GIVEAWAY!
NOTE: This post is sponsored by HarperCollins.
Fifth grade is SO not Riley's vibe. Her BFF moved away, all the other kids are squaded up, and it seems like she's always in trouble for just being herself. Plus, no one seems to get her sense of humor.
In The Real Riley Mayes by Rachel Elliott, Riley is always getting called out for doodling in class, ignoring her assignments to draw pictures of her favorite comedian, Joy Powers. When her class is assigned to write letters to people they admire, Riley knows exactly who to pick and feels confident that she'll finally be able to ace an assignment!
Determined to get a good grade and make friends at school so her mom will let her take drawing classes at the Art Barn, Riley begins looking for ways to connect with the other students, and it seems to be working. Cate likes drawing with Riley and offers to help with her writing, and the new kid, Aaron, actually laughs at her jokes.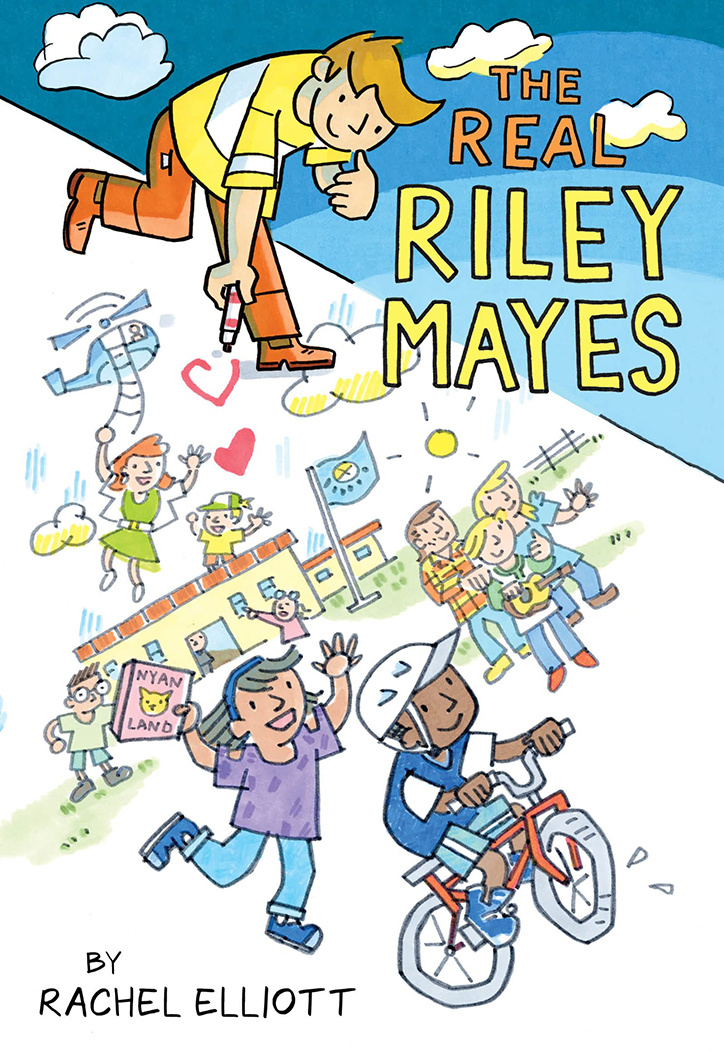 Funny and full of heart, this debut graphic novel is a story about friendship, identity, and embracing all the parts of yourself that make you special.
Fifth grade is just not Riley's vibe. Everyone else is squaded up—except Riley. Her best friend moved away. All she wants to do is draw, and her grades show it.
One thing that makes her happy is her favorite comedian, Joy Powers. Riley loves to watch her old shows and has memorized her best jokes. So when the class is assigned to write letters to people they admire, of course Riley's picking Joy Powers!
Things start to look up when a classmate, Cate, offers to help Riley with the letter, and a new kid, Aaron, actually seems to get her weird sense of humor. But when mean girl Whitney spreads a rumor about her, things begin to click into place for Riley. Her curiosity about Aaron's two dads and her celebrity crush on Joy Powers suddenly make more sense.
Readers will respond to Riley's journey of self-discovery and will recognize themselves in this character who is less than perfect but trying her best. And creative kids will recognize themselves in her love of art and drawing.
While often funny and light, Riley's exploration of what it feels to be an outsider and how hard it can be to make a friend break your heart in the best way. And with all of Riley's hijinks and missteps, this story is laugh-out-loud funny from start to finish.
The Real Riley Mayes
AUTHOR: Rachel Elliott
PUBLISHER: Balzer + Bray
DATE: May 3, 2022
But just when school starts to feel fun, mean girl Whitney starts a rumor about Riley that leaves her questioning everything – including herself. Riley's obsession with Joy Powers suddenly makes so much sense, but everything else just got so much more confusing, and she's not sure where to look for answers.
Riley's endless imagination is brought to life through the crayon doodle art vibes the author uses to illustrate this relatable graphic novel. Riley brings creative vibes and a silly sense of humor to everything she goes through, even when things don't go exactly as planned. She's definitely the kind of kid you'd want to sit next to in class!
We found ourselves wishing we could be friends with Riley IRL, which is why we teamed up with our friends at HarperCollins for a giveaway! The winner will snag a copy of The Real Riley Mayes and some awesome art supplies to encourage your own Riley-inspired doodles at home!
Ready to enter? Grab your favorite adult and have them enter below for your chance to WIN!
The Real Riley Mayes Giveaway: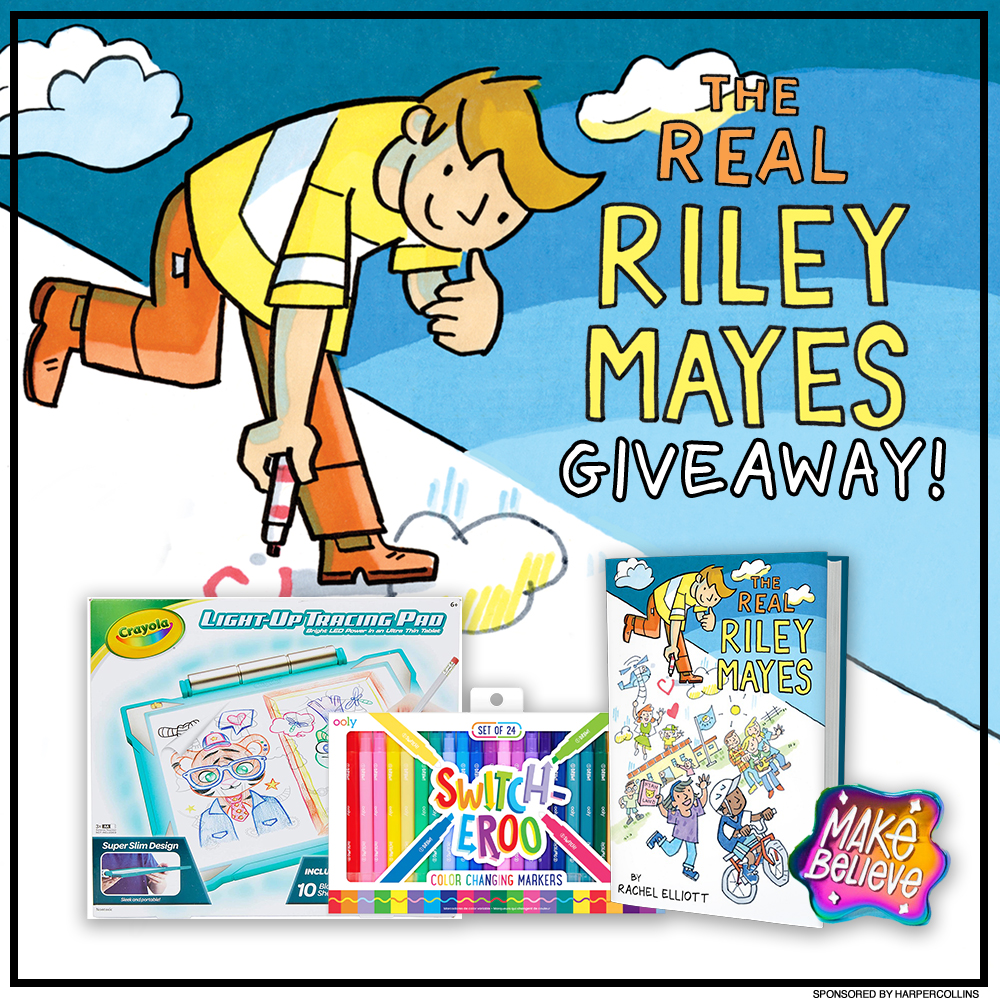 WHAT DO I WIN?:
ONE lucky winner will receive a The Real Riley Mayes Prize Pack that includes:
– ONE (1) copy of The Real Riley Mayes by Rachel Elliott
– ONE (1) Light-Up Tracing Pad from Crayola
– ONE (1) set of Switch-eroo Color Changing Markers (24-Pack) from OOLY
– ONE (1) Make Believe Rainbow Enamel Pin
*Prizes provided by HarperCollins & YAYOMG!
HOW DO I ENTER?:
Grab a parent or guardian and have them fill out the form below by May 05, 2022 at 11:59pm ET.
Giveaway runs from 05/05/22 at 10:00 am ET through 06/05/22 at 11:59 pm. Open to US residents ONLY. Be sure to read the fully detailed rules HERE before entering.
THIS GIVEAWAY HAS ENDED AND THE WINNER HAS BEEN CONTACTED.
You must be 18 or older to enter. Please, only ONE entry per person. If selected as a winner, we will provide your parent/guardian with an affidavit to confirm that you are a valid winner who has permission to win. They will be REQUIRED to sign and return the affidavit to YAYOMG! to claim your prize. Prizes will not be mailed out without signed parental consent.
Ready to explore the depths of Riley's imagination? The Real Riley Mayes is now available from HarperCollins!