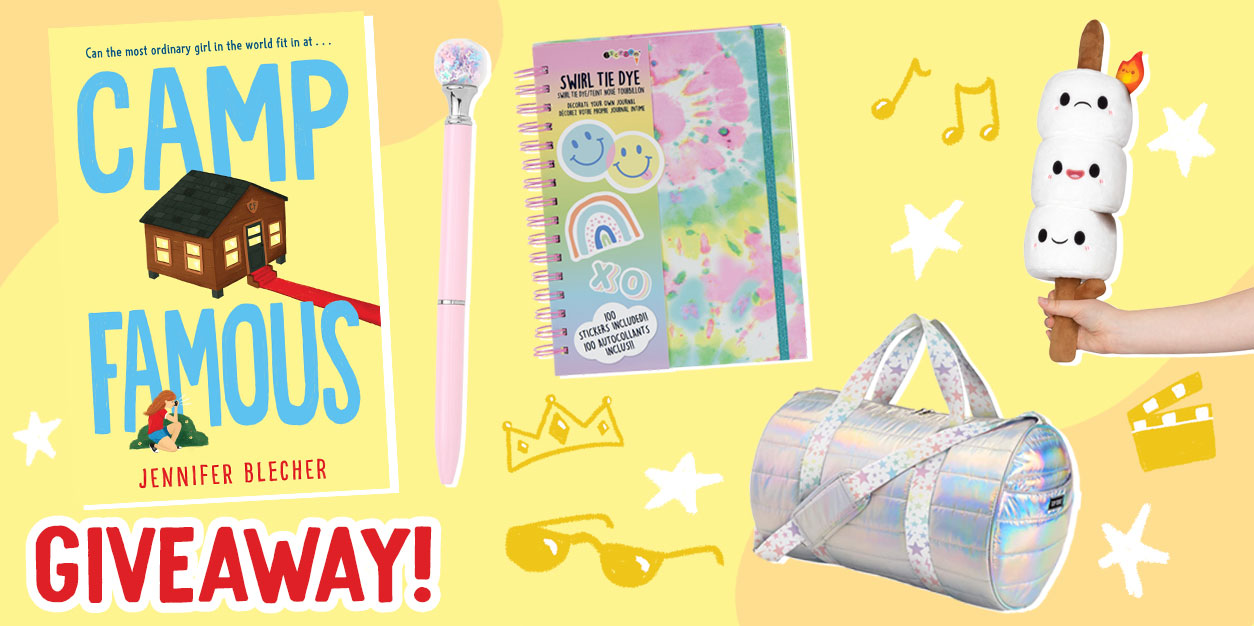 Spend the Summer at an Elite Summer Camp in Camp Famous + GIVEAWAY!
NOTE: This post is sponsored by HarperCollins.
Can the most ordinary girl in the world fit in at Camp Famous? Abby is about to find out in this exciting new read from author Jennifer Blecher!
11- year-old Abby Herman has always struggled to find her place. She's great at observing what all the other kids are up to, but not-so-great at understanding how to fit in herself. She always seems to be on the sidelines, feeling left behind by her classmates who have all found where they belong. All she's ever wanted is a best friend, and this summer, it seems like she might finally have her chance to find one!
After an upsetting cartwheel incident at school and a mysterious meeting with her teacher, Abby's parents have finally agreed to do something she's been begging them to do for years – let her go to sleepaway camp. With a packed duffel bag and her journal by her side, Abby is eager but nervous to board the plane and start her summer. But what she doesn't know is that her parents are sending her to Camp Famous – an elite destination exclusively for famous kids trying to escape the spotlight, and her life will never be the same.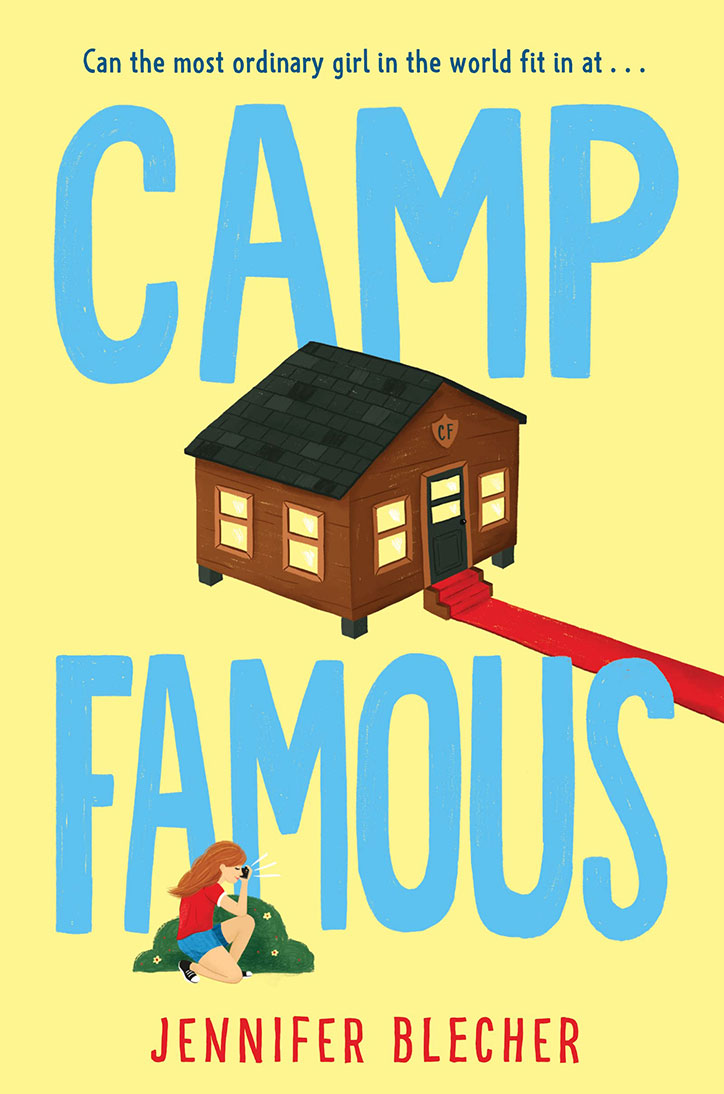 "Camp Famous expertly blends the joys of summer camp with the struggles of not fitting in. It's a fun and uplifting read!"—Janae Marks, author of From the Desk of Zoe Washington
"Like the best camp friends, this heartfelt story will stay with you for a long time."—Stacy McAnulty, author of The Miscalculations of Lightning Girl
The Princess Diaries meets Harriet the Spy when Abby—the most ordinary girl in the world—finds herself undercover at a summer camp for famous kids. From acclaimed author Jennifer Blecher, Camp Famous is an accessible and fun summertime adventure about fitting in, being brave, and letting others see who you truly are. Camp Famous is pitch-perfect for anyone who loves Disney's Camp Rock.
Eleven-year-old Abby Herman is beyond excited that her parents are letting her go to summer camp for the first time ever. Maybe camp will be the place she'll finally find what she's always wanted: a best friend. But—surprise!—she's not going to just any summer camp, she's going to Camp Famous, the one exclusively for famous kids escaping the spotlight.
Desperate to fit in with the pop stars, princesses, and geniuses, Abby creates a fake identity as a famous author. Everything goes as planned: the other girls welcome her, she participates in camp activities, and she even inspires a pop star! But as camp comes to a close, Abby finds herself torn between who she has pretended to be and who she truly is.
Camp Famous
AUTHOR: Jennifer Blecher
PUBLISHER: Greenwillow Books
DATE: May 10, 2022
Unsure of how she'll fit in amongst her fellow campers – everyone from pop stars to princesses and literal geniuses – Abby decides to reinvent herself and pretend to be a kid's book author who writes under an anonymous pen name. Getting lost in her new persona and letting go of her usual anxieties, she finds it easy to fit in. She quickly bonds with her bunkmates and starts having a seriously great summer, But keeping up a persona isn't easy, and as the summer comes to a close, Abby will find herself torn between who she is and who she's pretending to be.
We had a blast following Abby's journey to find her confidence and discovering that everyone has fears and insecurities – even the sparkliest influencer or the most picture-perfect popstar!
Camp Famous will surely have you dreaming of your own camp adventures, which is why we teamed up with our friends at HarperCollins for a giveaway! The winner will snag a copy of Camp Famous and some goodies you can bring along to camp, summer slumber parties, and family road trips, including a journal so you can document every detail like Abby!
Ready to enter? Grab your favorite adult and have them enter below for your chance to WIN!
Camp Famous Giveaway: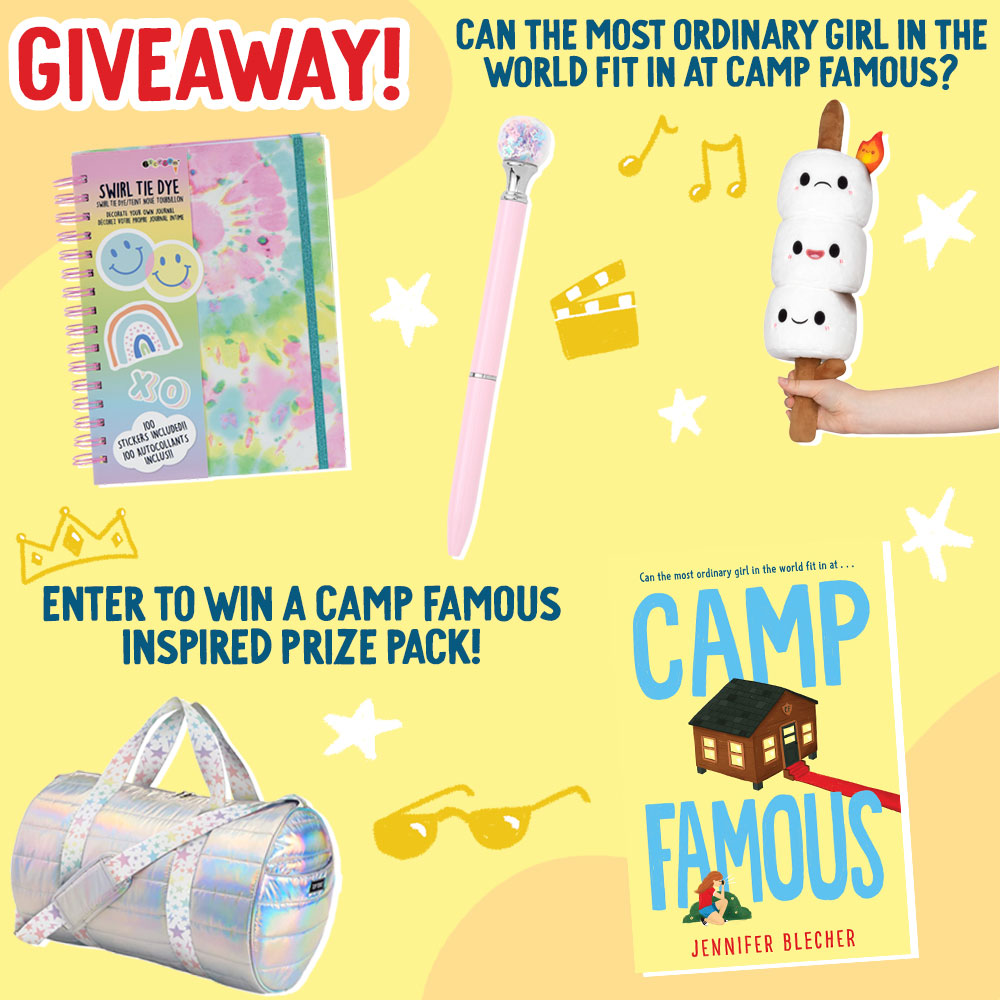 WHAT DO I WIN?:
ONE lucky winner will receive a Camp Famous Prize Pack that includes:
– ONE (1) copy of Camp Famous by Jennifer Blecher
– ONE (1) Iridescent Puffer Duffle Bag from TOP TRENZ
– ONE (1) Swirl Tie-Dye Journal from Iscream
– ONE (1) Star Confetti Shaker Pen from Claire's
– ONE (1) Mini Comfort Food Marshmallow Stack from Squishables
*Prizes provided by HarperCollins & YAYOMG!
HOW DO I ENTER?:
Grab a parent or guardian and have them fill out the form below by June 10, 2022 at 11:59pm ET.
Giveaway runs from 05/10/22 at 10:00 am ET through 06/10/22 at 11:59 pm. Open to US residents ONLY. Be sure to read the fully detailed rules HERE before entering.
THIS GIVEAWAY HAS ENDED AND THE WINNER HAS BEEN CONTACTED.
You must be 18 or older to enter. Please, only ONE entry per person. If selected as a winner, we will provide your parent/guardian with an affidavit to confirm that you are a valid winner who has permission to win. They will be REQUIRED to sign and return the affidavit to YAYOMG! to claim your prize. Prizes will not be mailed out without signed parental consent.
If you're in need of a perfectly relatable summer read, look no further than Camp Famous – out now from HarperCollins!