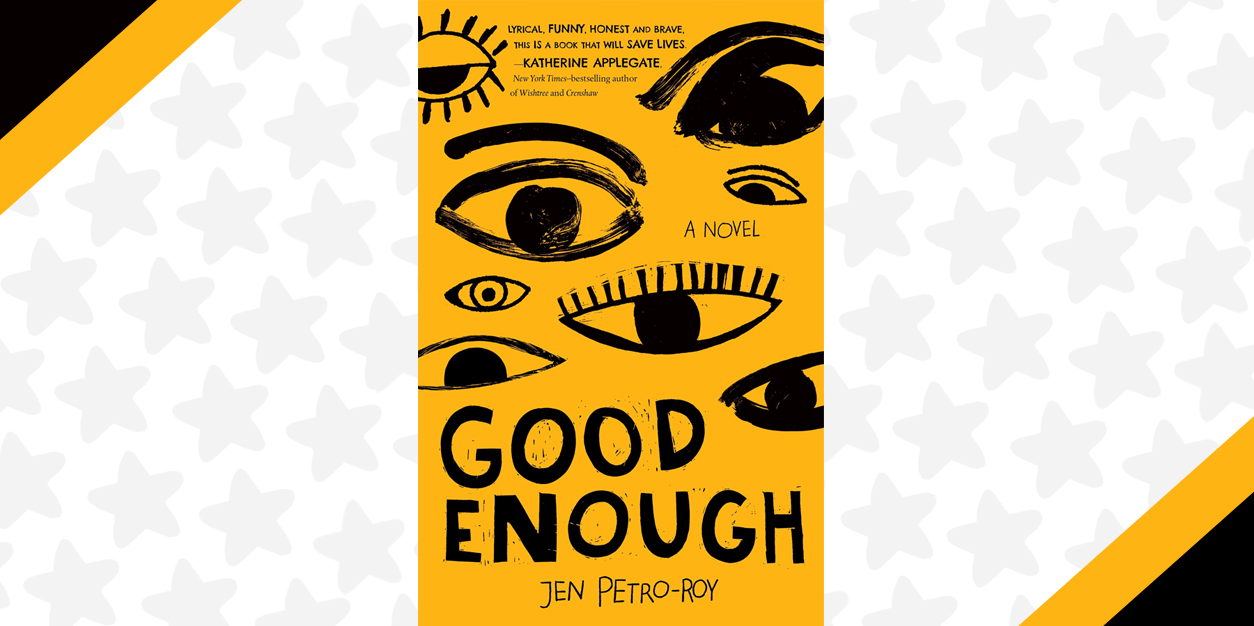 Good Enough: Interview with Author Jen Petro-Roy
Author Jen Petro-Roy is known for writing emotionally powerful books about the "tough stuff". She's been called the modern-day Judy Blume on quite a few occasions, and we'd have to agree. Like the iconic Judy Blume, this author isn't afraid to get real about the hardships of growing up. In Good Enough, she's tackling the ever-important topic of body image and eating disorders.
Riley's story is told through journal entries, written while spending two months in a recovery treatment center for anorexia. She takes readers through the ups and downs of her recovery in a very intimate way, giving readers a glimpse into the realities of eating disorders not always covered in health textbooks and tv shows.
Riley's story in Good Enough is fictional, but the struggles of disordered eating are very real. In fact, eating disorders affect nearly 30 million people of all ages and genders per year. That's why in addition to this warm, inspiring story, Jen also wrote You Are Enough, a non-fiction companion book for tweens and teens. This informative book is filled with supportive guided exercises, helpful resources, and the author's reflections from her personal recovery.

If you or someone you know is struggling with an eating disorder, you should always talk to a parent, guidance counselor, or other trusted adult for help.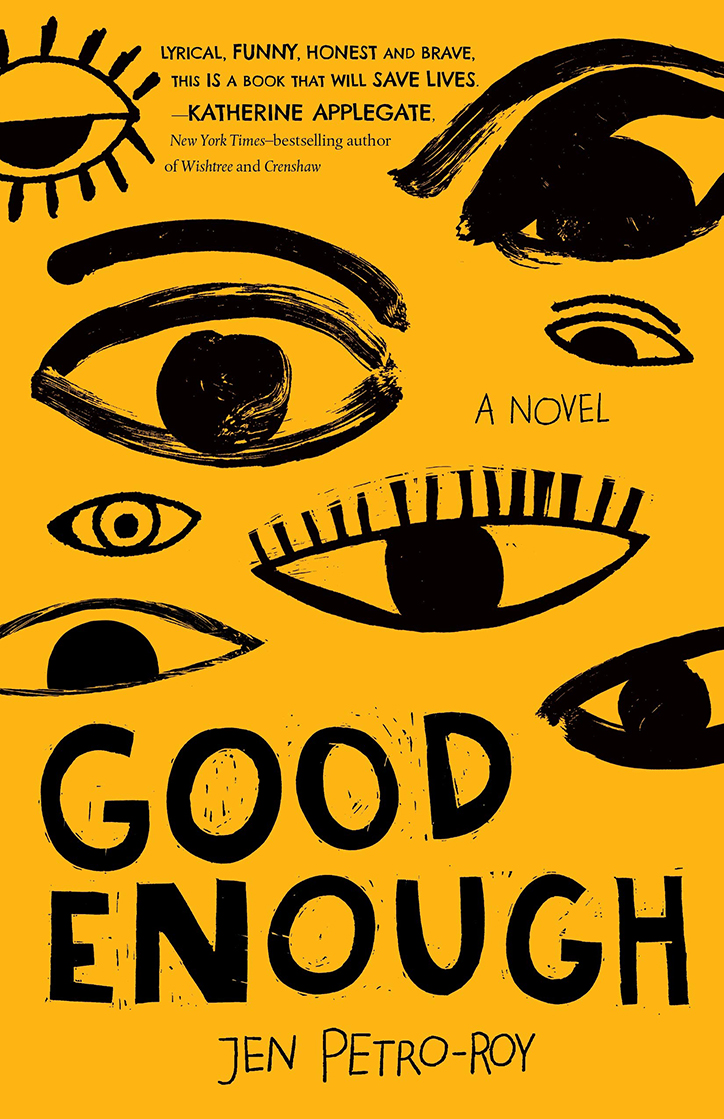 Before she had an eating disorder, twelve-year-old Riley was many things: an aspiring artist, a runner, a sister, and a friend.
But now, from inside the inpatient treatment center where she's receiving treatment for anorexia, it's easy to forget all of that. Especially since under the influence of her eating disorder, Riley alienated her friends, abandoned her art, turned running into something harmful, and destroyed her family's trust.
If Riley wants her life back, she has to recover.
Part of her wants to get better. As she goes to therapy, makes friends in the hospital, and starts to draw again, things begin to look up.
But when her roommate starts to break the rules, triggering Riley's old behaviors and blackmailing her into silence, Riley realizes that recovery will be even harder than she thought. She starts to think that even if she does "recover," there's no way she'll stay recovered once she leaves the hospital and is faced with her dieting mom, the school bully, and her gymnastics-star sister.
Written by an eating disorder survivor, this is a realistic depiction of inpatient eating disorder treatment and a moving story about a girl who has to fight herself to survive.
Good Enough
AUTHOR: Jen Petro-Roy
PUBLISHER: Feiwel and Friends
DATE: February 19, 2019
We had the honor of chatting with author Jen Petro-Roy about how her own eating disorder recovery inspired Good Enough. She also shares her favorite graphic novels and sage advice for kids dealing with body image struggles.
Good Enough: Interview with Author Jen Petro-Roy:
Tell us a little about Good Enough and what inspired you to write this story.

JEN PETRO-ROY: Good Enough tells the story of twelve-year-old Riley, who was just hospitalized for anorexia nervosa. As she navigates her feelings about recovery, she has to deal with her gymnastics star younger sister, parents who just don't understand, and a fellow patient who may or may not be trying to sabotage her progress.

I myself suffered from an eating disorder when I was younger, and ever since I recovered, I wanted to write a book about my journey. It wasn't until I realized that my story belonged as a middle grade novel that I truly found Riley's voice. Middle school is a time of such upheaval and personal growth, of realizing who you are and where you belong, too—all themes that work well with eating disorder recovery, too.
Your books always feels so authentic and raw. How do you draw from your own experiences to bring your characters to life?

JEN: I feel like every author does this in their own way, but for me, it helps to really put myself back in the mindset of a middle schooler. For Good Enough, I read through a lot of my own journals from when I was struggling with an eating disorder and put myself back in that place emotionally—I tried to remember what the treatment center looked like and what interactions I had with the other patients I met. I also strive to not censor myself when I write—because of this, a lot of Good Enough was hard to write, because of the emotions I ended up having. But I know that if writing makes me feel, then reading will make my readers feel, too.
What are three words you would use to describe your main character, Riley? What do you want your readers to know about her?

JEN: I was very much Riley when I was younger, although she is definitely her own person. I'd describe her as insecure, strong, and kind. While it may seem like those first two words might contradict each other, it's in her insecurity that she eventually finds her strength to persevere.
The pressure to be "perfect" has always been present in media, advertising, and even within our own families. As social media grows, it seems like it's more intense and present than ever, especially for teens and tweens. What advice can you share for kids trying to navigate growing up and feeling that pressure?

JEN: That pressure to be perfect can remain throughout life, but it can feel so much more potent in the middle grade years, when you're simultaneous trying to figure out who your real friends are, what you enjoy doing, and where your place in the world is. I think the thing to keep in mind is that there really is no "perfect." Everyone has flaws, which means that they shouldn't really be called flaws at all. One person's "flaw" may be something that someone else admires. Or thinks of as a fun, quirky aspect of your personality. It's only when we open up about what we're struggling with, about what makes us "not perfect," that we can connect to others, form connections and friendship, and feel the love that will sustain us throughout life.
If you had to select one quote from Good Enough to dazzle a potential reader to pick up your book, which one would you choose?

JEN: Oh, there are so many! But I think I'd go with the quote that my publisher chose for the back cover: "What if I forget that it's okay to gain weight? What if I start thinking that fat is bad, even though I know it's not? What if I forget how to love myself?"

This quote really captures the duality within Riley's mind—she wants to recover and she doesn't want to be sick anymore. But she's still so scared to move forward. The rest of Good Enough shows how she gains that strength.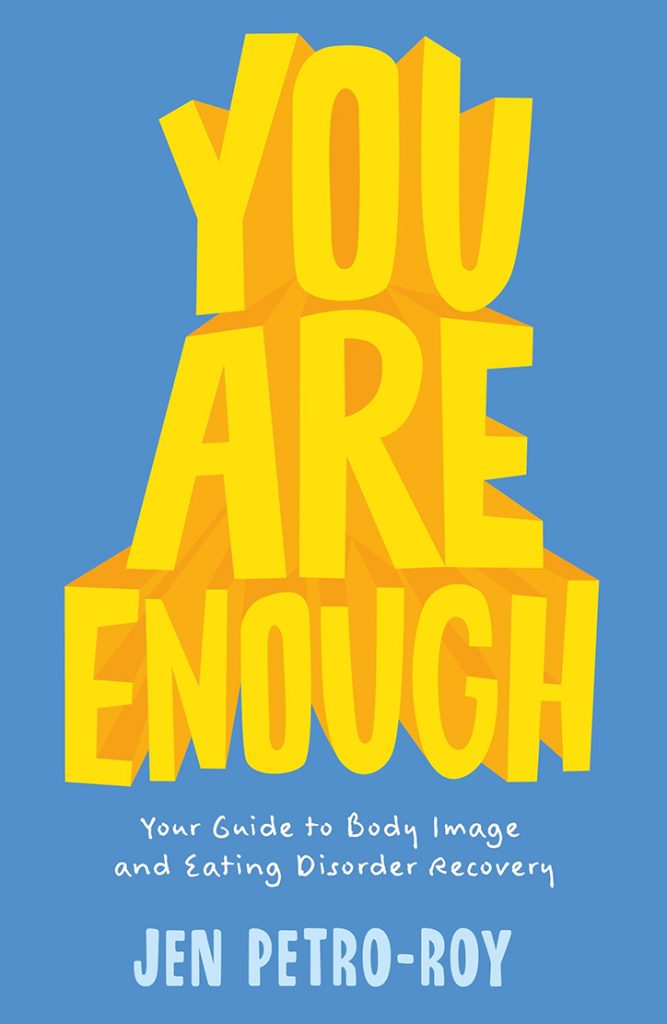 You also wrote a companion book to Good Enough, a self-help book called You Are Enough. What can you share about this and how it can help someone who is struggling with an eating disorder?

JEN: You Are Enough is a self-help guide for teens and tweens that is also informed by my experience (I discuss my personal journey), but also by a ton of research. I'm super proud about how inclusive this book is—I talk about males with eating disorders, the LGBTQIA+ population, and how fat acceptance is central to eating disorder recovery. I write about common situations kids could find themselves in that could interfere with their recovery, how to combat body image woes, and so much more. I hope that the combination of personal reflection, encouraging words, and exercises will help kids realize that struggling with body image is both normal and one hundred percent able to be overcome.
There are lots of pop culture references woven throughout the story, but Riley's new friend Brenna LOVES graphic novels. What are a few of your favorite graphic novels?

JEN: Oooh, great question. I recently read New Kid, by Jerry Craft, which was basically the perfect middle grade graphic novel. It deals with racism, microagressions, being the new kid in school, family and friendship. Highly recommended. I also adore anything by Raina Telgemeier, and was such a fan of Shannon Hale's Real Friends.
Is there anything you can share about what you're working on next?

JEN: I'm currently working on a few new ideas— I have a new project drafted about a girl struggling with an anxiety disorder and am about to start sketching out another concept that's been floating around in my head for a bit! I can't wait to share more when I can.
We always ask our authors their words of wisdom for our readers, but in this case, we'd love to hear from Riley's perspective. What do you think Riley would share with other girls her age as they take on middle school, high school, and beyond?

JEN: What a great question. I think that Riley's advice would be the same as my own, actually—that you don't have to change yourself, your personality or your body to fit in, despite what you think society and "others" expect. You are unique and wonderful and will find your place in the world. You can thrive just the way you are.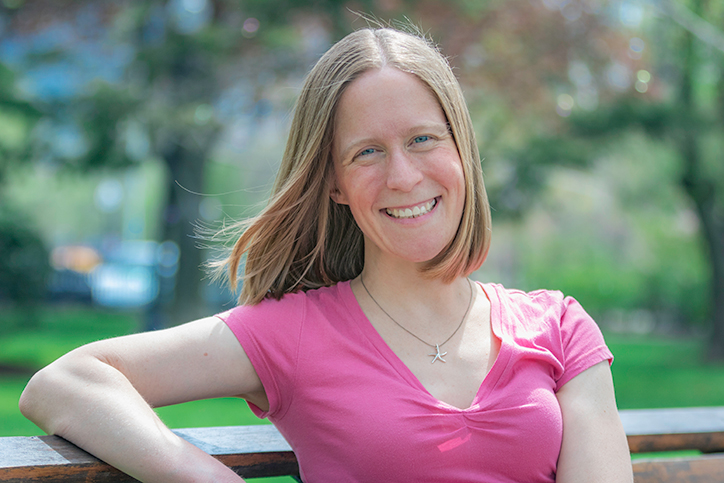 Want to meet Jen and a bunch of other amazing middle grade authors, take a writing workshop, or get your books signed?
She'll be appearing at the Smack Dab in the Middle: Middle Grade Author Festival! This free event takes place on Saturday, March 23rd at the Dedham Public Library in Dedham, MA. Have a parent click here to register.
If you're a sucker for an emotional story that will fill you with hope, we think you'll love The Remarkable Journey of Coyote Sunrise by Dan Gemeinhart!