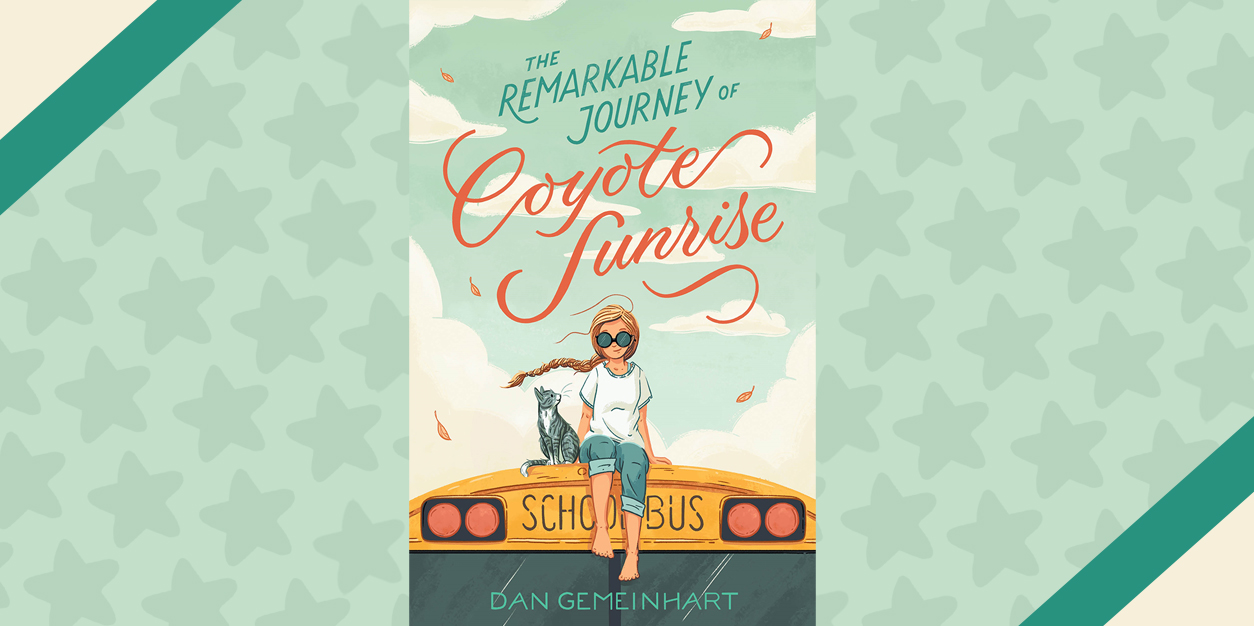 7 Fun Facts About The Remarkable Journey of Coyote Sunrise
Sometimes a book comes along that is so special, you feel like immediately flipping it over and starting again from the first page. You loved it the first time, but now that you've experienced it's amazingness, you need to re-read every single page to make sure you didn't miss a single detail. The Remarkable Journey of Coyote Sunrise by Dan Gemeinart is one of those books. It will make you laugh, make you weep, and fill your heart with so many feels and warm fuzzies. This story will remind you that no matter how challenging or sad life can sometimes be, there's always a glimmer of hope.
This may be the first book we're celebrating in 2019, but it has left quite an impression on us, and we can't recommend it enough. If you love road trip stories, emotional reads, or inspiring female protagonists, you'll absolutely adore stepping on board the bus with Coyote and Rodeo for their life-changing road trip adventure. Who knows, it might just change your life too!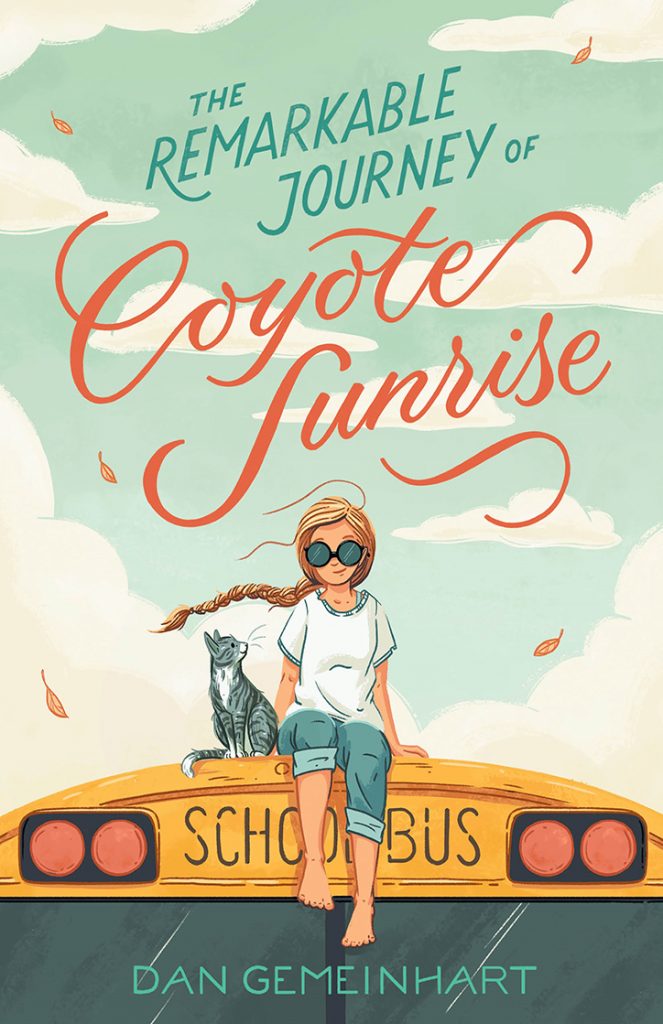 Five years.
That's how long Coyote and her dad, Rodeo, have lived on the road in an old school bus, criss-crossing the nation.
It's also how long ago Coyote lost her mom and two sisters in a car crash.
Coyote hasn't been home in all that time, but when she learns that the park in her old neighborhood is being demolished―the very same park where she, her mom, and her sisters buried a treasured memory box―she devises an elaborate plan to get her dad to drive 3,600 miles back to Washington state in four days…without him realizing it.
Along the way, they'll pick up a strange crew of misfit travelers. Lester has a lady love to meet. Salvador and his mom are looking to start over. Val needs a safe place to be herself. And then there's Gladys…
Over the course of thousands of miles, Coyote will learn that going home can sometimes be the hardest journey of all…but that with friends by her side, she just might be able to turn her "once upon a time" into a "happily ever after."
THE REMARKABLE JOURNEY OF COYOTE SUNRISE
AUTHOR: Dan Gemeinhart
PUBLISHER: Henry Holt & Co BYR
DATE: January 8, 2019
Aside from the incredible story, we're obsessed with all the quirky little things about this book. The way Coyote and Rodeo have transformed an old school bus into such a cozy little home. How despite their broken hearts and the sadness they've spent so long running from, they haven't run from each other. Coyote's love of reading and her perseverance. The incredible cast of characters they pick up and befriend on their journey. Ivan the cat, watermelon slushies, and totally clutch goats.
That's why we're thrilled that author Dan Gemeinhart has shared 7 Fun Facts about The Remarkable Journey of Coyote Sunrise with our readers. Get to know more about Coyote's life, Dan Gemeinhart's epic book beard, and more below!
7 Fun Facts About The Remarkable Journey of Coyote Sunrise with author Dan Gemeinhart: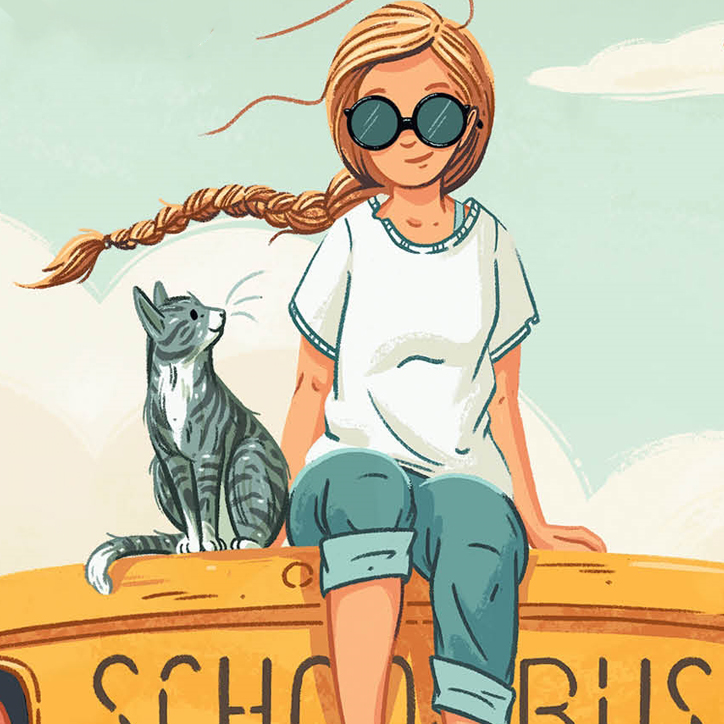 FACT #1:

The main character in this story, Coyote Sunrise, lives in an old school bus! Now, she and her dad have improved it a lot: taken out most of the seats, put in couches and bookshelves and beds and curtains (and even tomato plants!), but it's still a bright school bus. She lives a very interesting life, driving around the country, never staying in any one place for very long, and NEVER going to school! Even though there is plenty of sadness in Coyote's life, I think it would be a lot of fun to live like that. I love traveling and wandering and seeing new places, which was a big part of my inspiration for this story.

FACT #2:

"Coyote" is not the main character's real name. And even though her dad goes by the name "Rodeo," that's not really his name, either. They both left their old names behind years ago when they wanted a fresh start after a family tragedy. So they both got to pick new names for themselves, to start their new life! While it can definitely be sad to have to leave your old life behind, I do think it would be fun to get to pick a brand new name for yourself. What name would you choose for yourself?

FACT #3:

To do research for this book, I went on an epic road trip with my two best friends two summers ago. We rented an RV and drove basically nonstop for ten days. We woke up someplace new every day, saw a lot of amazing places, and met some really interesting people. We racked up almost 4,000 miles! We had a blast, and I really hope to do a crazy rambling road trip again someday.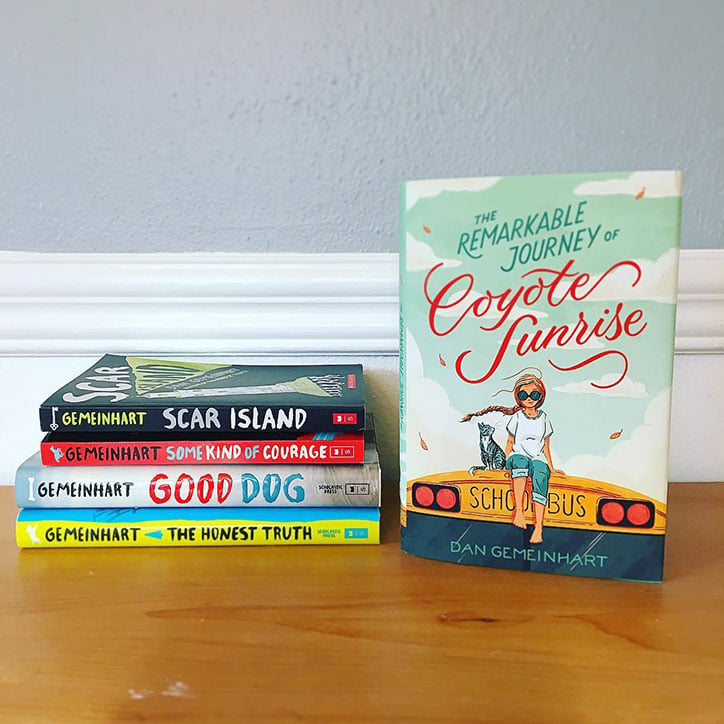 FACT #4:

Coyote is a big reader, just like I am. She has a bookshelf full of books in her "room" on the bus and is always ready to talk about stories with anyone she meets. She even names her new cat "Ivan" after the main character in her favorite book, THE ONE AND ONLY IVAN. If I lived on a school bus, I would definitely have a bookshelf just like Coyote does.

FACT #5:

Sometimes Coyote and her dad pick up hitchhikers and give other travelers rides. Before they let anyone on the bus, though, they make them answer three questions: what is your favorite book, what is your favorite place in the whole world, and what is your favorite sandwich? Since I wrote this book, I've been asking people those same three questions, and I've had a lot of really interesting conversations! It's not usually the answers that are interesting, but the reasons behind the answers. If someone says, "My favorite sandwich is a grilled cheese, because my grandma used to make them for me and I really miss her," I just got to know something important about them even though it started with a silly question! Give it a try!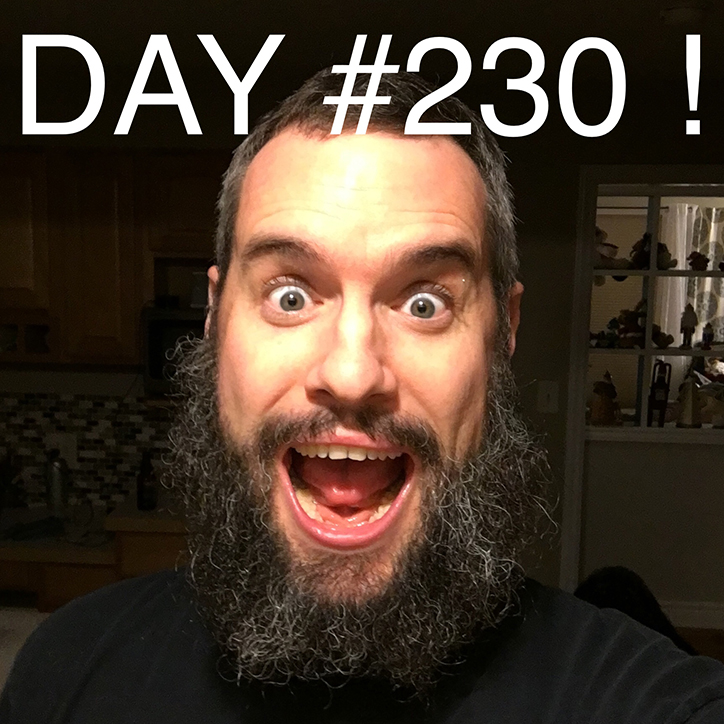 FACT #6:

I grew out a kind of crazy beard to promote this book! Coyote's dad, Rodeo, has a big 'ol bushy beard that is talked about quite a bit in the book. So I decided to grow out my beard until the book comes out, on January 8th. I've been taking a selfie of the beard every day, and when it's all done, I'm gonna edit all the pics together into one of those cool time-lapse movies where you can watch the beard "grow." I am soooooo ready to finally shave this thing off!

FACT #7:

There is a wacky goat who plays an important and surprise role in this story…and that's all I'll say!
Want to meet author Dan Gemeinhart and learn more about The Remarkable Journey of Coyote Sunrise? He'll be at Anderson's Bookshop in La Grange, IL on January 15th at 7 pm! If you live in the area, you should definitely stop by for a night of books and fun. You should also pick up his other incredible books, Scar Island, Some Kind of Courage, and The Honest Truth.
Looking for more books to be excited about? Our latest YAYBOOKS! Roundup has 13 reads we're looking forward to this January.