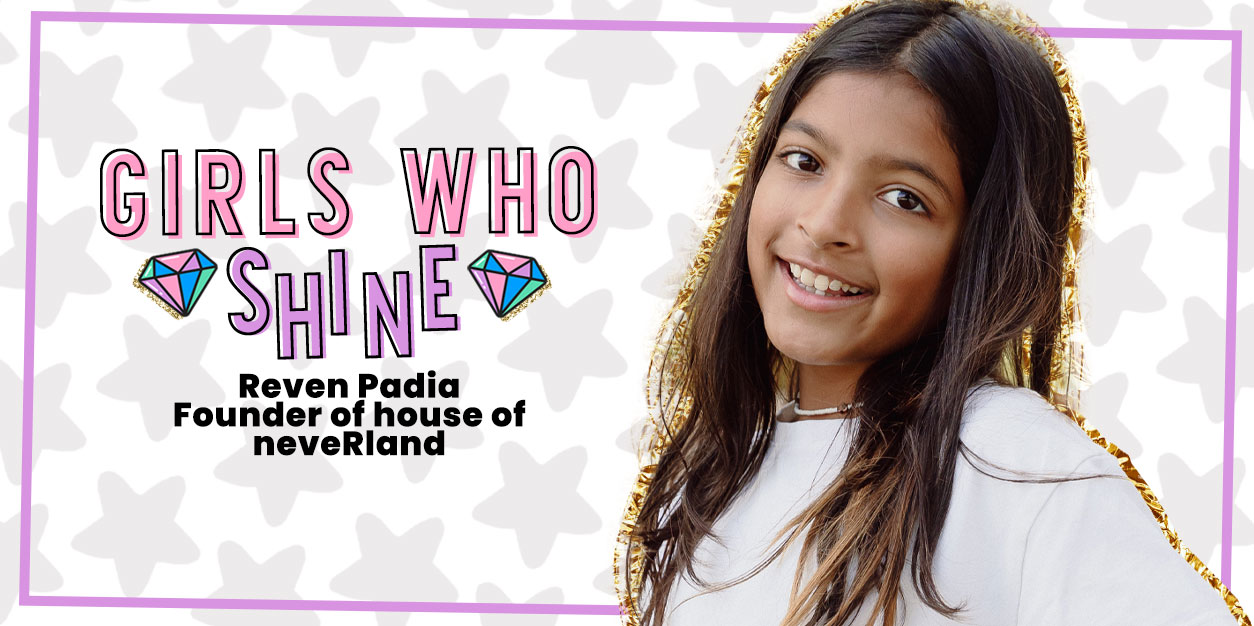 GIRLS WHO SHINE: Reven Padia, Founder of house of neveRland
GIRLS WHO SHINE is a recurring series on YAYOMG! where we're spotlighting passionate young entrepreneurs, activists, innovators, and other girls who shine bright in a big way!
Our GIRLS WHO SHINE series continues today with a girl who transformed her time at home during the pandemic into a thriving business!
During the early days of the pandemic when everything felt uncertain, 9-year-old Reven Padia was at home like the rest of us. One night while setting the table for dinner, Reven's mom wished she had something to brighten up the table and lift everyone's spirits. That's when a lightbulb went off for Reven – she loves getting creative and doing DIYs, so she made her mom some hand-dyed napkins. Once friends and family got wind of her gorgeous creations, she started getting custom orders, and house of neveRland was born!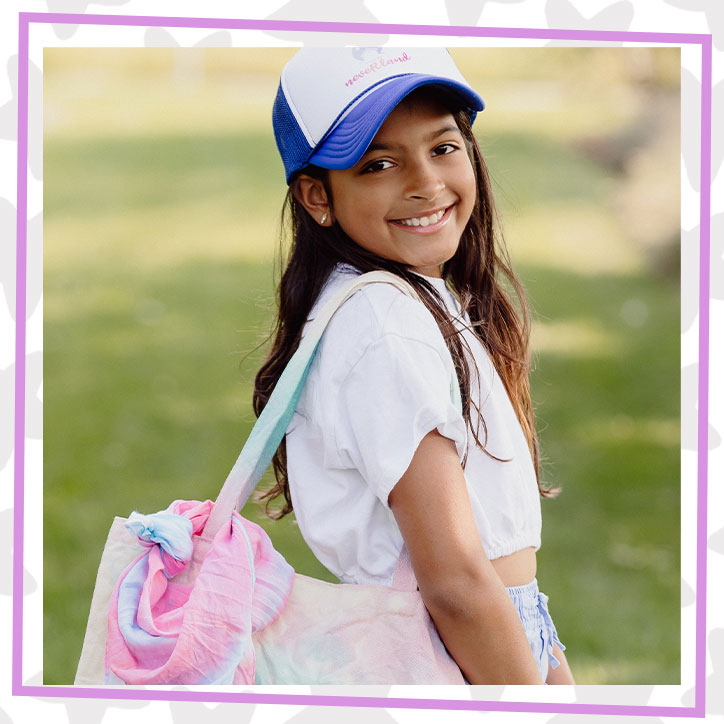 Now, Reven creates custom-dyed tote bags, scrunchies, napkins, and more out of a spare bedroom turned dye studio in her house. She loves bringing a bit of magic and whimsy to the lives of everyone who places an order – and donates some of the proceeds to help others in need. Each neveRland piece is stamped with the signature Angel heart which represents the orphaned children in India, and 20% of neveRland proceeds go to support UNICEF Project Lion.
Get to know Reven Padia as she dishes on house of neveRland, running her own business, and the importance of spreading kindness and magic to others!
Get to Know Reven Padia, Founder of house of neveRland: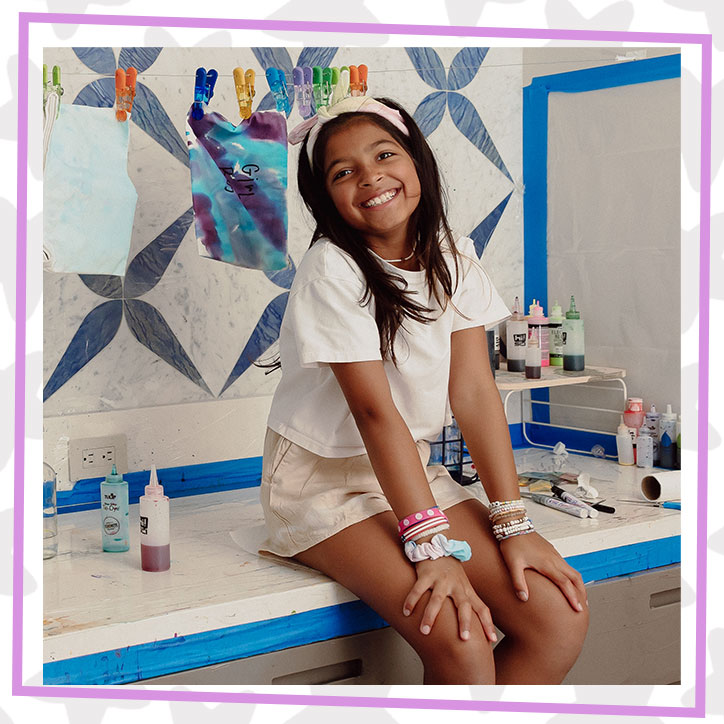 What inspired you to start your line of hand-dyed accessories, house of neveRland?
REVEN PADIA: At the height of the global pandemic, my mom was setting the table for dinner one night. She mentioned how she wished she had something colorful to add to the mix, and that's when it came to me!
I've always loved color and crafting (and granting wishes!), so I told her I'd hand dye some napkins. I loved how they came out and shared some photos with friends and family – before I knew it, I had so many orders for custom-dyed napkins. And that's how house of neveRland started!
From scrunchies to totes, every piece in your collection is hand-dyed by you. What's the process like to bring one of these items to life?
REVEN: The creative process is so fun! I love to work with people to design something special and unique. And then the dying process varies depending on what the desired look is – like something bright and vibrant or more vintage and washed out.
In addition to selling your product, you're also using house of neveRland as a voice for good. Tell us a little about how you're giving back!
REVEN: Giving back and helping others is something that has always been super important in my family. Ever since I can remember, we as a family have talked about different ways to put goodness into the world. So when I started neveRland, I knew that I wanted it spread love.
20% of all proceeds from house of neveRland are donated to Project LION, a UNICEF initiative founded by my mom that focuses on improving the lives of India's 1.5 million orphaned children.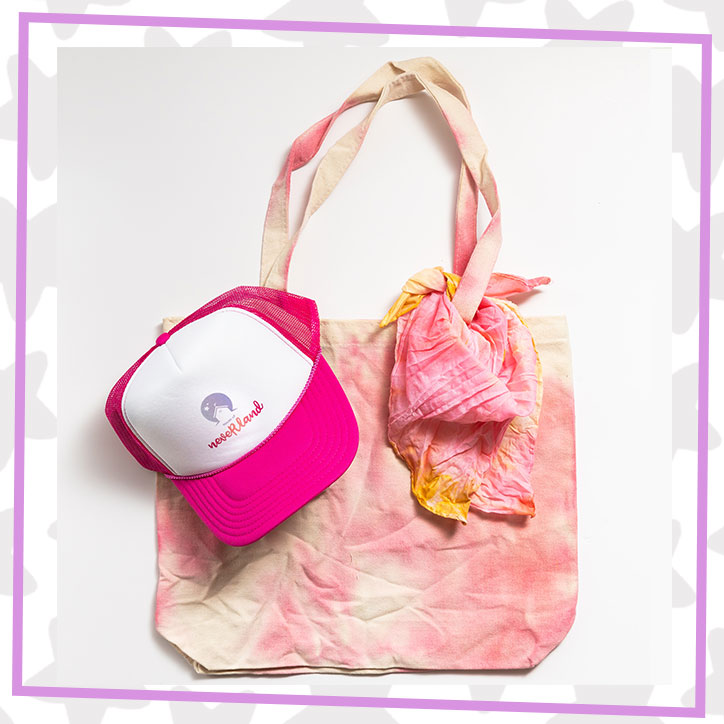 What is your biggest goal for the future of the brand?
REVEN: I always like to dream big! I'd like to add new products to the collection and new categories and be sold in a lot of stores. I would love for girls across the country to know the mission of neveRland!
We love your message of kindness, magic, and positivity! Why is it important to you to spread kindness and wonder?
REVEN: It's so important to put goodness in the world because every small act of kindness can bring happiness to someone and making people happy makes me happy!
This is how I shine bright…
REVEN: I try to shine bright by being a good friend and by supporting others. I also think it's important to try your best to give back to others and I do that through LION and other initiatives as well.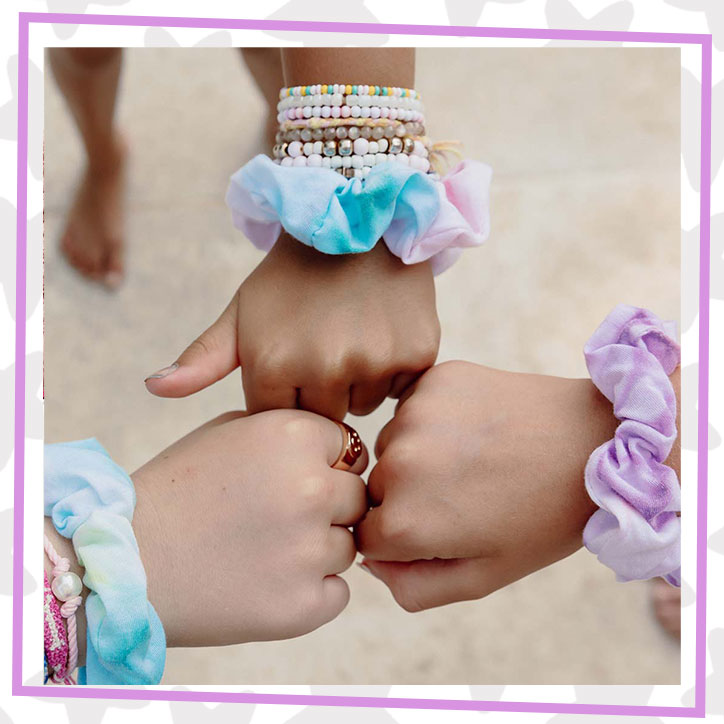 My biggest dream is…
REVEN: I have 2 dreams – one for house of neveRland to be a publicly-traded company and the other is to become a professional ice skater.
The women who inspire me are…
REVEN: Allie Long and my Mom
The advice I want to share with other girls…
REVEN: If you believe you can do something, you can!
Want to get to know other amazing girls who've made their dreams come true? Click HERE to catch up on our entire GIRLS WHO SHINE series!