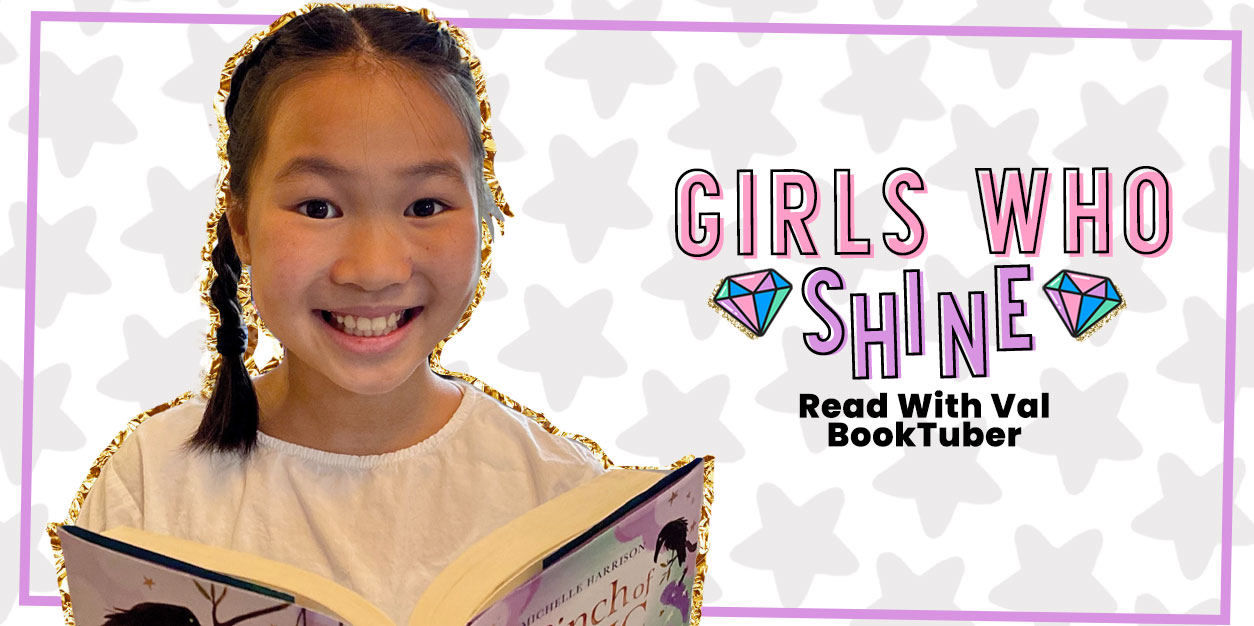 GIRLS WHO SHINE: Read With Val, BookTuber
GIRLS WHO SHINE is a recurring series on YAYOMG! where we're spotlighting passionate young entrepreneurs, activists, innovators, and other girls who shine bright in a big way!
Our GIRLS WHO SHINE series continues today with a spotlight on Read With Val, a girl who loves books so much she turned a quarantine reading assignment into a series of book reviews and amazing cover recreations on her YouTube and Instagram!
Val's love of reading started when she was a baby. Like a lot of kids, Val's dad would read to her before bedtime, and those sweet father-daughter reading sessions ended up sparking a love of reading that Val has carried with her ever since. Rarely spotted without a book in hand, it's no surprise that Val turned a school assignment into a way to express herself and connect with other avid readers. What started as homework is now a full-blown passion for Val, who posts Book Talks regularly on her socials, sharing her thoughts about the books she's reading and why they're meaningful to her.
The thing that captured our attention most about Val? In addition to her Book Talks, she often recreates the covers of the books she's reading, creating graphics of herself in similar outfits and poses and pasting herself into the scene. They're super creative, and it's that creativity that truly makes Val shine!
Get to know Val as she dishes on Read With Val, her favorite reads, and the fictional world she'd love to explore most!
Get to Know Read With Val: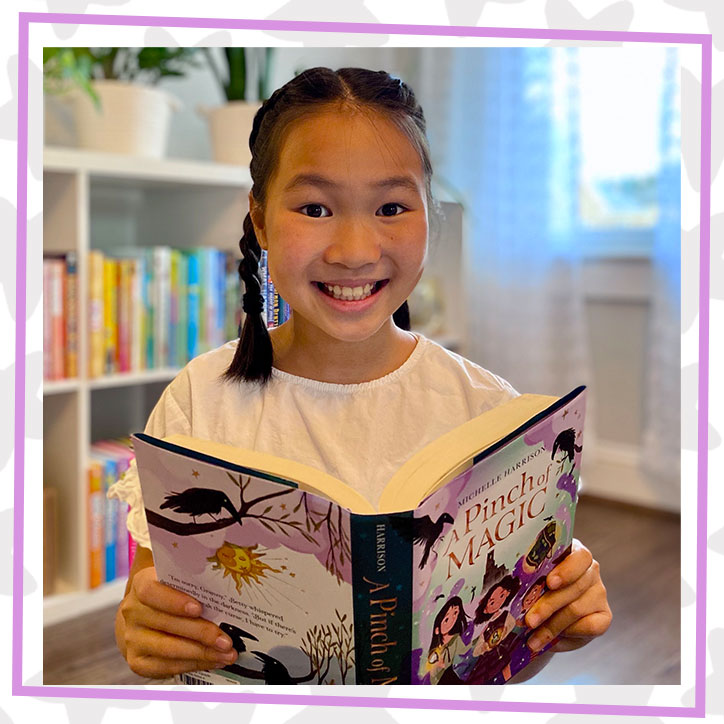 What inspired you to start sharing your book reviews on YouTube and Instagram?
VAL: It all began when I was a baby. My dad read to me every night before bed when I was little. I have always loved reading books, and I feel more secure when I have a book in my hand. At school, my classmates frequently ask me for book recommendations.
One opportunity showed up during COVID-19 virtual learning in April 2020, where one of our assignments was to present a virtual book talk. So I filmed my very first one! I found it a really fun and interactive experience to learn and share different books with other avid readers. Ever since, I can't stop doing it!
If you could explore any fictional world, which would you choose?
VAL: This is a hard question, but New From Here by Kelly Yang would be one of my top choices. New From Here is a book to which I can fully connect because its backdrop is surrounding COVID. I can definitely relate to the characters and their struggles with COVID, such as being separated from family and friends.
Story plots of Kelly Yang's books are so inspiring, and New From Here is no exception!
What are a few of your favorite books at the moment? What are your favorite genres to read?
VAL: My favorite books right now are Room to Dream by Kelly Yang, A Batch Made in Heaven by Suzanne Nelson, and All Thirteen by Christina Soontornvat. These books are awesome for different reasons.
Mia in Room to Dream is so adventurous and persistent. She proves to others that age doesn't limit your abilities. 
I love baking and A Batch Made in Heaven is just such a great book to embrace baking. The twists and turns in this book keep you on the edge of your seat!
Last but not least, All Thirteen is just so thrilling to immerse yourself in. There are many detailed pictures that make you feel like a part of the journey. The story is a true adventure! 
The genres I like reading the most are realistic fiction and historical fiction because all the topics in these genres of books are things I can personally relate to, and that just makes me connect even more with the messages that the books want to deliver.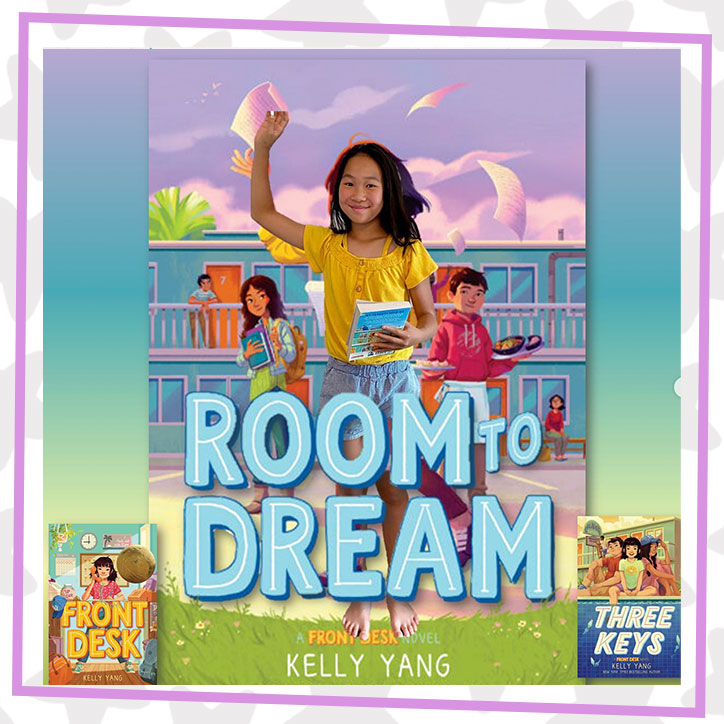 What has been your favorite (or proudest) Read With Val moment so far?
VAL: My proudest moment so far was when I completed my 100th book talk!
To me, Read With Val has never been about the number of followers or likes, but about sharing the joy of reading and learning from all the amazing books out there! Reaching this 100th book talk milestone truly gives me indescribable excitement.
Outside of reading, what are some of your favorite things to do?
VAL: Outside of reading, I love playing basketball, cooking, baking, drawing, and spending time with family and friends.
This is how I shine bright…
VAL: I love how I can share my passion for books through my channel. I gladly know that the book community enjoys it!
I have used my platform to spread positivity and fun toward books. For example, I made bookmarks for other avid readers! I also like seeing friends starting to read more because of my book recommendations! I hope my journey will continue!
My biggest dream is…
VAL: My biggest dream is to explore the world. Learning about different cultures and traditions and meeting people would be epic!
At this moment, my dream career is to be an architect and an interior designer, where I can apply my creativity to making conceptual ideas a reality.
The women who inspire me are…
VAL: My mom is no doubt my biggest inspiration because she is so loving and caring. She always has my back and encourages me in ways I can never repay her back.
I also think Elena Delle Donne is incredible because of her keen perseverance. Being in the WNBA, players are prone to getting injured, and Elena Delle Donne has gone through many tough back injuries and recovery. Every time, she manages to keep pushing and get herself up past her challenges.
The advice I want to share with other girls…
VAL: Don't let ANYTHING get to you. Of course, it's easier said than done, but it is extremely important.
A lot of girls may face various levels of fear and struggles throughout our lives, no matter if it's physical or mental. We should provide support to each other in overcoming obstacles. Be encouraging and help each other grow!
Inspired by girls paving their own path and making their dreams come true? Find your vibe below and get to know your next role model:
✊?Budding Activist? Get to know activist & author Marley Dias!
??‍?Chef in Training? Get to know Tyla-Simone Crayton, CEO of Sienna Sauce!
?Love Cartoons? Meet Sisters & Voiceover Artists, the Glow Girls!