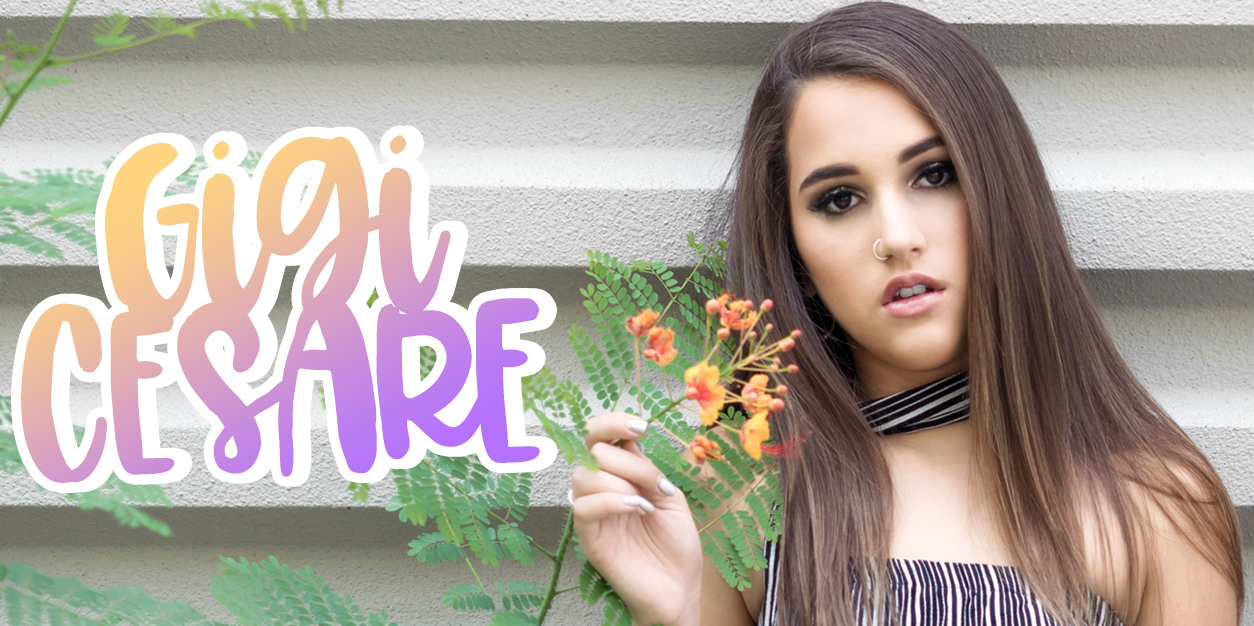 Gigi Cesare Dishes on her New Music and Empowering her Generation
At just 13 years old, Gigi Cesare is already taking the music and acting worlds by storm. She has already dropped quite a few songs, including her most recent, Boys Like Me. She loves experimenting with her music and using her own musical influences and interests to shape and find her sound. Her upcoming single, Alien, is a trap pop track with dance vibes that boasts a powerful message about teen depression and suicide, a cause that Gigi is extremely passionate about. She's hoping to use her music to inspire and lift up her generation and can always be found spreading positive vibes on social media.
Gigi's talents don't end with music, she is a talented actress with a ton of roles in the works. She is most well-known for her role of Jessy in the Street series, but her upcoming part in Space Captain and Callista is one that has genuinely touched her on a personal level. She has projects with both Netflix and Disney in the works, so you'll definitely be seeing a lot more of her soon. We were so excited to chat with Gigi about her upcoming music, her passions, and the three things you might not know about her!
Get to Know Gigi Cesare:
How did you discover your passion for acting and how did you get your start?

GIGI CESARE: When I was little, my parents couldn't find any sport or activity that I really liked. They tried everything…ballet, tap, soccer – you name it, nothing worked. I then attended an open call for Wilhelmina in Pennsylvania. I was signed, and in my first year, I booked commercials, films, and a popular tv show. From the age of 6 on, performing was all I wanted to do.

I get daily requests from teens wanting to pursue the arts, and I tell everyone, start by creating your own content, be consistent with your content, and strive for the next to be better than the last and you'll soon be on your own creative path. I don't think there's ever been a time in history where it's been easier to make your own platform for success from anywhere in the world!

What is your favorite role you've taken on so far?

GIGI: There's a special place in my heart for my role Jessy in the MMA Street film franchise because I literally am growing up playing her. Right now I am playing a tough as nails, troubled teen in the film Space Captain and Callista. There is a plotline that involves Asperger's, and the role is really stretching my skills and range as an actor. My scene partner in the film, Ben Stobber, is so gifted in his portrayal of a person with Asperger's, that it has been amazing having the opportunity to share a screen with him. I can't wait to see the trailer and final cut of the film!
You have a single dropping soon! Tell us a bit about what fans can expect from Boys Like Me and your other upcoming tracks.

GIGI: I just dropped Boys Like Me and just found out that it's trending on Spotify and other streaming services which is awesome! I have 2 new songs in production. One is still in writing phase, so I don't have a title yet. My other single, Alien, written by Oscar, Emmy, and Golden Globe nominee Jud Friedman, I recorded in Burbank in July. We are fine-tuning it at the moment, its a teen anthem that addresses teen suicide and sends the message "don't let the monsters win, cuz you know who you are and baby you're a star." I hope to perform it in schools and events for teens, it's so empowering with a high energy dance feel to it.

Who are some of your musical inspirations?
GIGI: Right now my inspirations are Billie Eilish, Kehlani, and Lil Miquela. I am completely immersed in the new music genre, trap.
Do you have any upcoming projects that you're excited about?

GIGI: Alien, my pop single, my next single with Anthony Mirabella of Bella Music in NYC which will be more trap pop. I have two films coming out this year, two movies on Netflix, a top secret project that I'm working on in Las Vegas, starting a music tour and performing in 2019.




What are three things your fans might not know about you?

GIGI:
I'm half Uruguayan – my biological dad was a professional soccer player from Uruguay, South America and I have a huge family there.
I love to watch old black and white Cary Grant movies.
I auditioned twice for Stranger Things for the role of Eleven, but I didn't want to shave my head.
What is one way you are hoping to make a positive impact in the world?

GIGI: I am really passionate about Autism acceptance and awareness, it touches my own family, and I think its just beginning to scratch the surface of mainstream understanding. I am also an advocate for suicide prevention and empowering youth.

What has inspired you recently?

GIGI: Working with some very strong women on my current film Space Captain and Callista. The writer, Lisa Savy, is a strong, talented producer/writer. Watching Lisa run a film set so efficiently was a great learning experience. Also, our equally strong director A.R. Kagan who enhanced the film, and my performance taught me a lot.

Do you have any advice you'd like to share with your fans?

GIGI: We are growing up in the digital age. Anyone anywhere can tell you what to think or feel about yourself. Don't listen to the noise. Above all, don't let anyone tell you can't do this or that, because not only can you, but you will. Hard work, focus, and determination will get you everywhere. We've seen it in our lifetime, anything is possible.

I want to inspire kids to reach, believe, and strive. Have compassion, be kind, be strong, and don't be talked into things that don't feel right. Our generation is about to do some great things, let's be part of that!

Oh and PS…think before you click 'send' on anything you write, say, reply or snap!
If you loved getting to know Gigi, check out our interview with singer/songwriter and animal rights activist, Kacey Fifield!