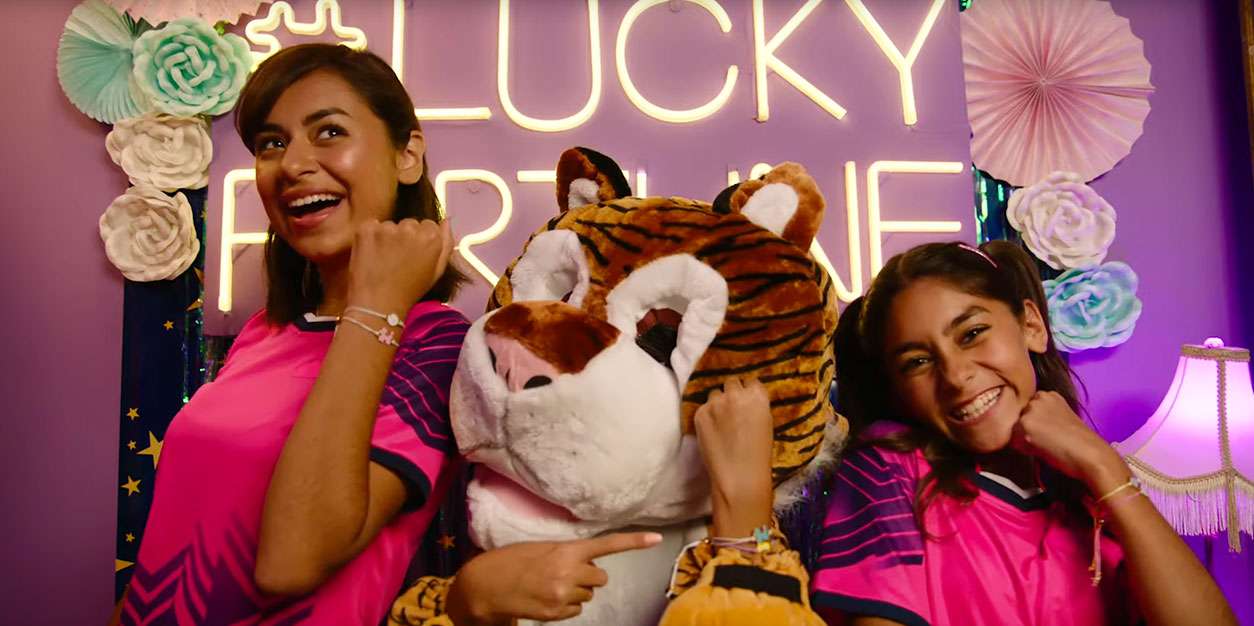 GEM Sisters Dish on their Just My Luck Experience + GIVEWAY!
NOTE: We teamed up with WowWee for this Lucky Fortune Just My Luck Giveaway. All opinions are our own; we were under no obligation to give a positive review. Giveaway prizes provided by WowWee.
GEM Sisters Giselle, Evangeline, and Mercedes are getting into the holiday spirit, Lucky Fortune style! The girls made a special appearance on the Just My Luck holiday special, out today on the Lucky Fortune YouTube Channel.
During an epic game of hide and seek, Giselle and Mercedes stumble upon the Fantastical Fortune Emporium while searching for Evangeline. While there, the girls ask Maya (Alexis Curry) and Sophia (Sophia Pippen) for help with a soccer team struggle. You'll have to watch the episode to find out what happens!
To celebrate this exciting episode, we chatted with GEM Sisters about their experience working on the show and they shared some EXCLUSIVE behind the scenes pics from set!
This isn't the only way Evangeline, Mercedes, and Giselle are celebrating the holidays this year. They also have two songs featured on the Jam Jr. Christmas album, out today! After you watch their episode of Just My Luck, cozy up with some hot cocoa and check out their festive renditions of Feliz Navidad and Have Yourself a Merry Little Christmas!
Even more exciting, we teamed up with WowWee to give one lucky winner a chance to wear their luck! Grab a parent and enter below to win a set of Lucky Fortune bracelets and Lucky Fortune Collectors Case!
GEM Sisters on Just My Luck and their Luckiest Moments:
GEM Sisters are guest-starring on Just My Luck! What can you share about the episode you worked on?

GISELLE: It was so fun being able to make new friends and see all their cool set knick-knacks.

EVANGELINE: I'm not gonna spoil anything but… I was in a Tiger costume.

MERCEDES: Seeing all of the cute charms. I love charm bracelets!
What was your favorite part of working on the show?

GISELLE: My favorite part was seeing Evangeline dressed up in this hilarious costume. You have to wait to see what it is! LOL.

EVANGELINE: Being on the set, it looked so magical!

MERCEDES: I made a new friend with cast member Sophia Pippen.
Tell us about your luckiest life moment!

GISELLE: My luckiest life moment was when Cameron Dallas reposted my #NationalBoyfriendDay post on Instagram.

EVANGELINE: Probably being able to start a YouTube channel. It took a lot of begging!

MERCEDES: Starting GEM Sisters!
Do you have a favorite Lucky Fortune charm?

GISELLE: I love the instant camera!

EVANGELINE: My favorite is game controller. I love video games!

MERCEDES: The gemstone charm. It feels like I'm with all of our GEMS!
If you could write a fortune for your fans, what would it say?

GISELLE: Go with the flow and live in the moment.

EVANGELINE: You are special, you are unique, you're a GEM. Shine bright!

MERCEDES: Keep shooting for the stars!
Lucky Fortune Just My Luck Giveaway: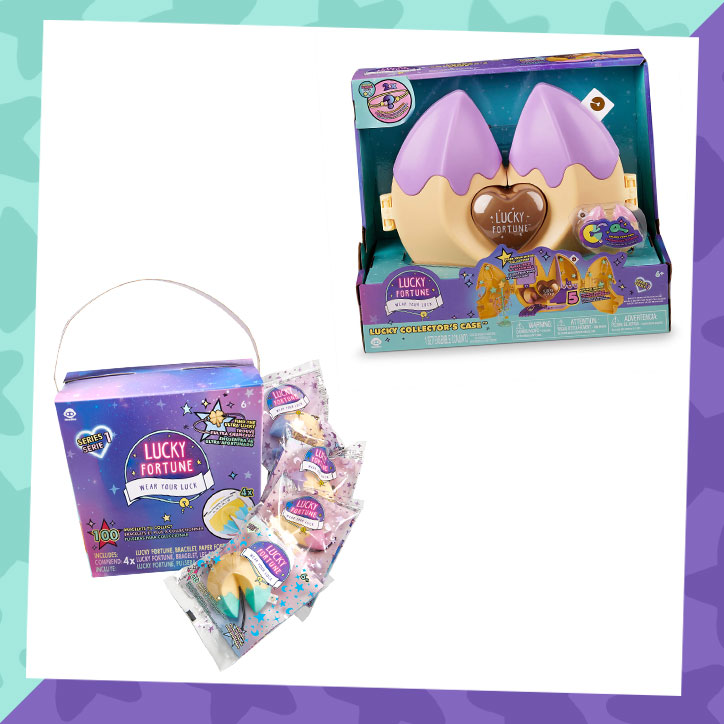 WHAT DO I WIN?:
ONE lucky winner will receive a Lucky Fortune Just My Luck Prize Pack that includes:
– ONE (1) Lucky Fortune Collector's Case (Includes 5 EXCLUSIVE bracelets)
– ONE (1) Lucky Fortune 4-Pack
*Prizes generously provided by WowWee
HOW DO I ENTER?:
Grab a parent or guardian and have them fill out the form below by November 29, 2019 at 11:59pm ET.
Giveaway runs from 11/22/19 at 04:00 pm ET through 11/29/19 at 11:59 pm. Open to US residents ONLY. Be sure to read the fully detailed rules HERE before entering.
THIS GIVEAWAY HAS ENDED AND THE WINNER HAS BEEN CONTACTED.
You must be 18 or older to enter. Please, only ONE entry per person. If selected as a winner, we will provide your parent/guardian with an affidavit to confirm that you are a valid winner who has permission to win. They will be REQUIRED to sign and return the affidavit to YAYOMG! to claim your prize. Prizes will not be mailed out without signed parental consent.
Want to share your luck? Check out these six small acts of kindness you can do every day!