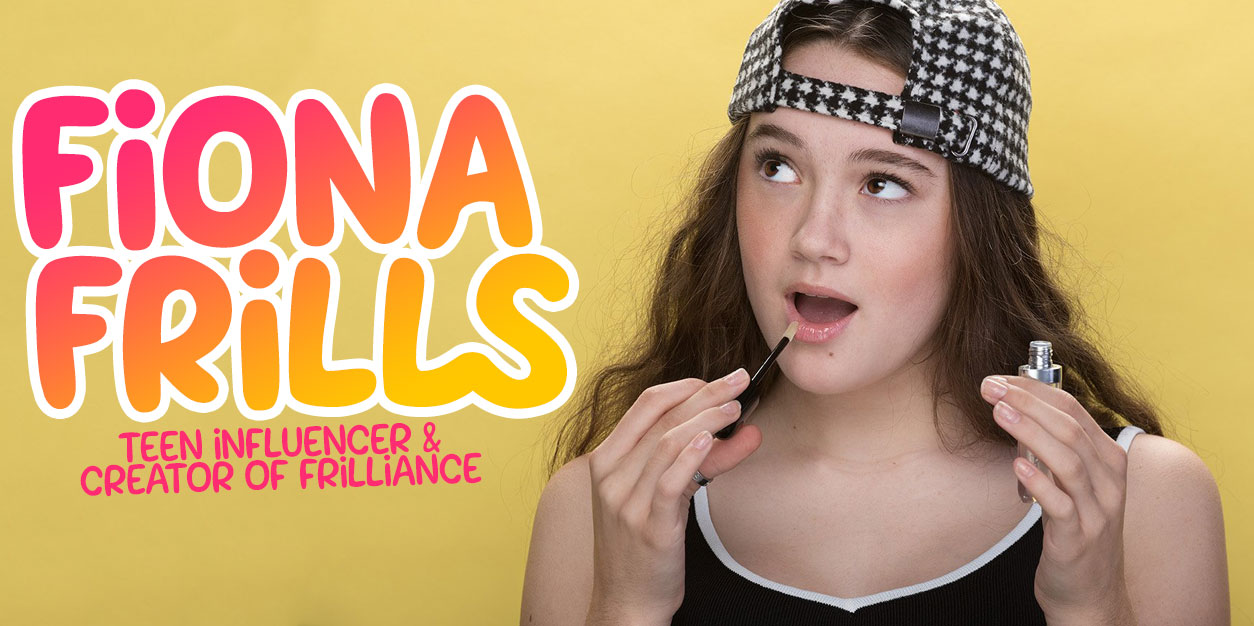 Meet Fiona Frills: Teen Influencer and Creator of Frilliance Beauty Products
At just 14, Fiona Frills is already a force to be reckoned with. She's a popular YouTube Influencer with over 800,000 followers and her own line of teen-focused beauty products called Frilliance. While it may seem like she's had it easy, Fiona had to work super hard to get where she is today.
After struggling with reading growing up, she discovered that she was legally blind in her left eye. Even with glasses to help, she still wasn't able to see and read as easily as other kids her age, so she turned to visual media and videos. Her love of watching YouTube videos quickly turned into a passion for making videos of her own, and the rest is history! Through the years, Fiona's passion for makeup blossomed, but she realized that not all products worked well on her teen-prone skin. Skin goes through a lot of changes in your teen years, so certain products are more prone to drying out you out, making you break out, and irritating your skin.
Rather than give up her love of makeup, she turned it into a business! Fiona has her own line of beauty products called Frillance, created with teenage skin in mind! Her products range from facial mists to lip glosses and are specially formulated to not clog your pores and leaves your skin feeling beautiful and healthy. Along with her products, Fiona helps other teens out their embrace who they are by starting a "teen-prone" movement.
According to Fiona's website, "The teen years are powerful years. It's where we start writing the first chapters of our independence, our authentic self." She's completely right – you might have breakouts or other awkward moments, but your teen years are important years that you'll remember forever. Fiona's biggest challenge now? Keeping up with the demand for her awesome products!
Fiona's story is proof that no matter what obstacles life throws your way, you can totally handle them, overcome them, and turn a negative into a positive. Next time you're faced with a life-altering problem or just a bump in the road on the path to following your dreams, look to Fiona for inspiration. Her positive attitude is infectious, and she truly believes that kids and teens can do anything they set their mind to. She's an amazing inspiration for girls everywhere, and we were so excited that she took a few minutes out of her day to chat with us!
Get to know Fiona Frills as she chats about following her passions, building her beauty brand, and her advice for girls everywhere!
Meet Fiona Frills – YouTube Influencer and Creator of Frillance: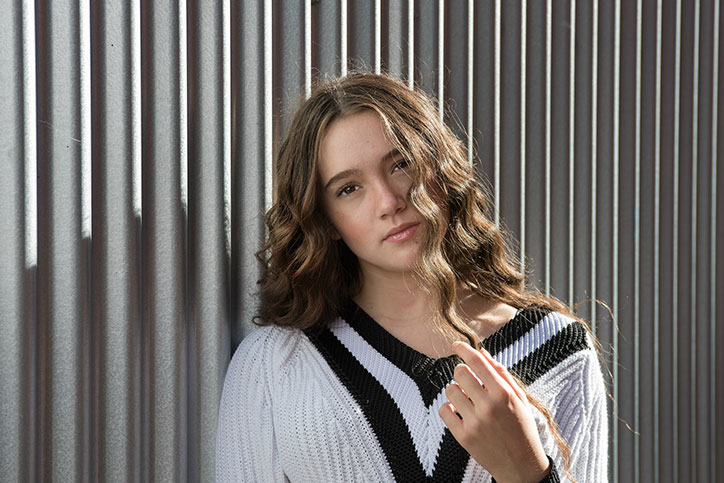 (Photo Credit: Fiona Frills)
Tell us your story! How did the Fiona Frills journey begin?
FIONA FRILLS: Well, everything started out fine in school but by about second grade teachers (and my parents) noticed I couldn't read. Third grade started and I STILL couldn't read. Tutors and after-school sessions barely helped. I was pretty miserable not knowing why I couldn't read (or learn) like everyone else. Long story short, it turns out I'm legally blind in my left eye. My right eye was compensating for both eyes but couldn't do all the work. Glasses (now contacts) have helped for sure, but my eyes just don't work like everyone else's. Since I had trouble reading, I turned to watching YouTube videos instead of books and magazines for everything including makeup tips (I LOVE all things makeup). I started to film my own DIY projects using the webcam on my MacBook.
When I was 10 years old, my mom noticed my interest and asked if I wanted to start a YouTube channel as part of my homeschooling. Of course I said, yes! My obsession with makeup grew and it became another form of art for me – my face was a blank canvas. Fast-forward to 9th grade and I have 800,000 followers on YouTube, started my own beauty brand (Frilliance) and am pursuing my dreams and passions.
Despite the challenges you've faced, you've managed to stay positive and passionate. How do you stay motivated when things get tough?
FIONA: I've learned that I just have to power through things that aren't so great or challenging. And as I do, I realize it really isn't that bad after all. Also, my friends are so important to me and always put me in a good mood! We laugh, joke around, and get outside. Now with so many followers, I get a lot of encouraging messages on how my positivity has helped them through tough times. I never get tired of reading about that because we all have tough times that we go through and we are in this together!
What goes into creating one of your Frilliance products?
FIONA: It takes a lot more than I thought! You never know what really goes into something unless you go through it. So, let me take you through the steps. First I found an amazing cosmetics lab that formulates the Frilliance products. I give them the specifications of the products I want to create (like consistency, color/shades, ingredients that are good for teen-prone skin, etc.). The lab then works on creating a 'first' formula. I test out the formula myself (and on my friends) and then give feedback on what I like and what I want to be changed or different. Typically, there are 2-3 rounds like this (on some initial products it was even more because I am really picky!). I don't settle for just any formulations because I want the best for you!
Once the final formula is done then packaging is designed. The products are filled and ready. Next up is photoshoots of the product and teen models wearing Frilliance. Finally, it's time to sell and I announce the products on my YouTube channel and social media. Whew, that might be more than you want to know but there really is a lot that goes into each product I formulate. I want it to be perfect for teen-prone skin.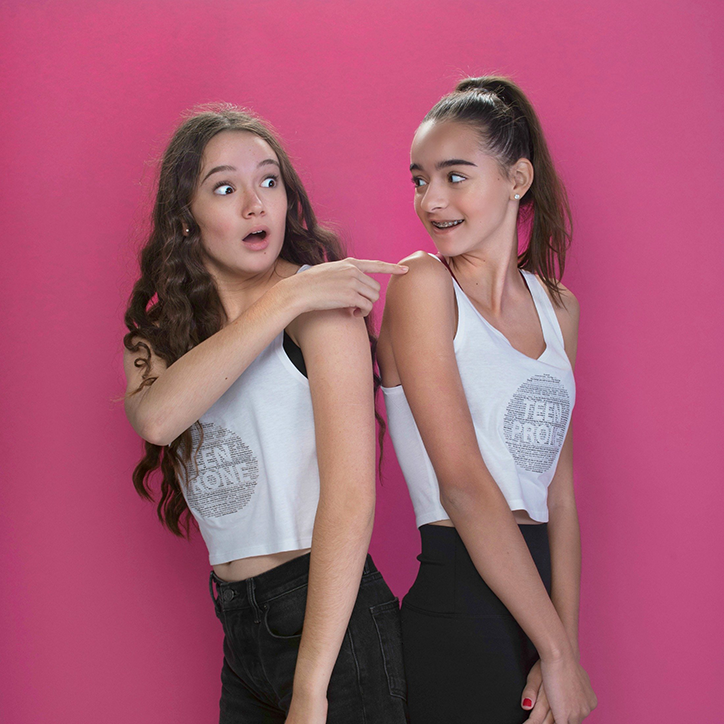 (Photo Credit: Fiona Frills)
What are some challenges you've faced while working to grow your business?
FIONA: Balancing time between school, my YouTube channels, and hanging out with my friends. I am homeschooled so I have a flexible schedule to fit everything in but it can be challenging at times. The other challenge is having enough product to meet the growing demands. We work with our lab to get small batches that we can manage with the fulfillment and warehousing that we have now. We are working on scaling up so we have more product in stock for the growing demand.
Outside of your own, what are some of your favorite/go-to makeup and beauty products?
FIONA: Mascara and concealer are definitely my go-to makeup products. My fave mascara right now is L'Oreal Lash Paradise and my fave concealer is Tarte Shape Tape. I like a simple natural look.
Who is someone you look to for inspiration?
FIONA: Selena Gomez. She has gone through so much with her health and busy schedule from Disney to musician. She really adores her fans and encourages everyone through her own actions on taking care of yourself. I think that is really important. Now she is now producing TV shows. Selena is an example of pursuing your dream and all the bumps in the road that it takes.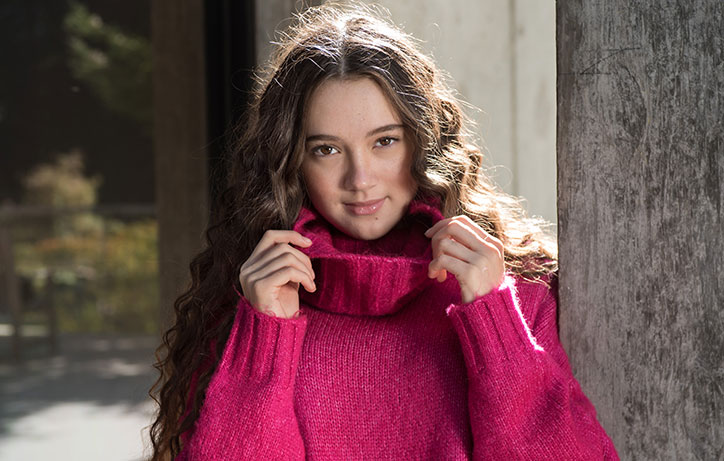 (Photo Credit: Fiona Frills)
What's next for you? Where do you see yourself taking Frilliance in the future?
FIONA: YouTube is always my number one! I love being able to step into the role of sharing my life with other girls. For Frilliance, I am expanding the product line to include more of my favorite go-to products (hint-hint). My ultimate goal is having Frilliance in Ulta. Ulta was my first makeup store experience. The minute I walked in I was in heaven (and I still am today!).
What is something you've learned that you'd like to share with other girls your age?
FIONA: Life is full of challenges and bumps in the road but keep powering through them – it is worth it. Hard work really does pay off!
Anything else you'd like to share?
FIONA: One of my favorite sayings is 'be yourself everyone else is taken' – I want readers to know they are amazing and beautiful and funny and creative and perfect the way they are!
We completely agree! Everyone should be able to feel confident just being themselves, and Fiona has such a passion for spreading that message and celebrating teens everywhere! Want to keep up with Fiona Frills or check out Frilliance for yourself? Grab a parent and head on over to fionafrills.com!
If you loved reading about how Fiona followed her dreams, check out our interview with Madison Greenspan, creator of Maddie Rae's Slime Glue!